Aurora in ARC
December 4 - Atlantic Ocean
Earlier this year, Mark and David Bernhard of the East Bay took delivery of a new Catana 581 catamaran which they are now sailing across the Atlantic as part of the 217-boat ARC fleet. There are two other Catana 581s in the event. Crew include Alicia, Irmgard and Jesse Bernard, Chris Maher, and Pat Nolan.
Nolan reports that it seemed as though half of Las Palmas turned out for the November 24 start. Despite forecasts of up to 60-knot winds, the start had to be postponed because of no breeze. Later on that day, it was blowing 30 - on the nose! It's supposed to be downwind to the Eastern Caribbean. Cats aren't the most comfortable boats sailing upwind, and before long four of the seven crew were feeling poorly. On the 25th, it blew 25 knots most of the time, and those who were feeling bad got to feeling worse. Those not sick enjoyed the ride. On the 26th, the wind started to calm down, and at night it was too light. On the 27th, they finally hit the trades. They set the 3/4 oz. chute from an SC 70 - and a half hour later it split on the starboard tape. Now they only had one other chute, a 2.2 oz. With a forecast of up to 30 knots that night, they dropped the chute. Nonetheless, they averaged 8.5 knots and hit a top speed of 16.4. On the 28th, school had begun on the boat for the girls, and the trades were blowing at 20 knots. On the 29th, they crossed the 2,000 miles-to-go mark. "It's exciting and depressing at the same time, as we have a long way to go." With the trades blowing at 20 to 25 knots, they risked putting the chute up, and the average speed jumped from 8.5 to 10.5. And Nolan hit a best of 18.6 knots. But with Aurora having flown just white sails for a couple of days, the two other Catana 581s are considerably further ahead.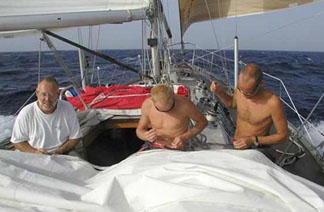 Sail repair at sea aboard Tarok VI, a Swan 46 out of Denmark
Photo Tarok VI Courtesy www.worldcruising.com
We did the ARC back in '95 and blew out our two chutes. Capt. Jim Drake did a ton of sewing. Still, we spent a lot of time heading either for Miami or Cape Horn, unable to go deep.