Geant's Mast Not Strong Enough?
August 13 - France
While sailing off France on August 9 in 25 knots of wind, Michael Desjoyeaux's Open 60 trimaran Geant had her mast snap in two. Desjoyeaux, last year's winner of the Vendée Globe Singlehanded Around the World Race, like everyone else in Europe with a fast boat, was prepping for November's Route du Rhum from France to Guadeloupe in the Caribbean.

Since we're not having to pay the bills, the structural shortcomings of the latest and greatest Open 60 trimarans is a little comical. For before the problems with Gitana X and Geant, there was Alain Gautier's new trimaran Foncia 2, which lost her rig, Jean-Luc Nelias' Belgacom, which lost her rig, and Bertrand de Broc's Banque Covefi, which lost her rig. Come the Route du Rhum, we expect the Atlantic to be littered with very expensive pieces of the latest in racing trimarans.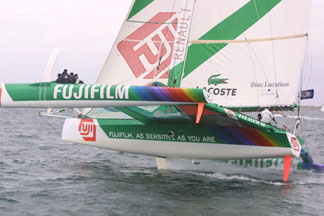 Fuji is one of the (few) Open 60s whose rig is still intact!
Photo Courtesy FujiFilm