High Speed Internet Access in Your Dinghy!
August 12 - Catalina Island
While at Catalina on Saturday, Steve Hollen, who works for Sprint PCS, came by with that company's latest and greatest - high speed Internet access via a Sprint cell phone. We plugged the thing in, and shazam, Yahoo! popped up in a matter of seconds. And it was just a few seconds more for 'Lectronic Latitude with all the photos. According to the monitor on the computer, we were surfing the web at 115 kilobytes per second - which is about double that of dial-up.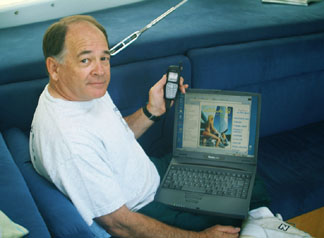 Steve in the salon of Profligate with just a cell phone and computer.
According to Hollen, Sprint customers can now not only have access to their email and the Internet, but if they know how to get through their company firewall, they can work as if at their desk in their office - all while on their boat or even in their dinghy. The new system, called 3G, is being rolled out today. We're going to try to get hooked up with our Mac and give it a more thorough test when we return to Profligate late this week. We'll let you know how it turns out.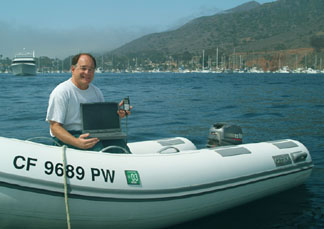 Steve proving it can be done in a dinghy

Donna de Mallora surfs Yahoo!

Photos Latitude/Richard