Photos of the Day
November 1 - San Diego
With a 8-10 knots blowing out of the norhwest, 106 boats crossed the starting line of the eighth annual Baja Ha-Ha Rally off Coronado Roads, many flying colorful asymmetrical chutes - or trying to. For once, many of the competitors in the fleet actually arrived at the starting line at the same time - we saw the tightest clustering of boats ever - with the Deerfoot 62 Raven leading the pack, followed closely by the custom three-masted schooner Millennium Falcon (top photo).
As in years past, photographer Tom Lyon arrived in a helicopter to take aerial portraits of each entry. The photos will be for sale in Cabo, with all profits going to the La Paz orphanage.
The fleet spread out as it approached the Coronado Islands, but all were experiencing the same ideal conditions: flat seas, gentle breezes and sunny skies. The wind built during the afternoon with the arrival of moderate cloud cover, reaching a peak during the night of about 18 knots. The fleet was blessed that first evening by the setting of the sun in the west, while an almost-full moon rose in the east. Many were said to be lathering up with 'moon lotion' to avoid a moon burn - at times, it was literally light enough to read by.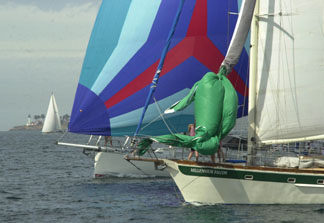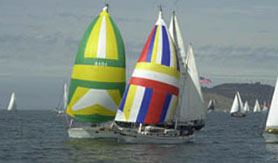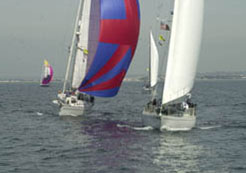 Photos Latitude/Andy
Day Two began with light winds and sloppy seas, with increased winds predicted by the official Ha-Ha weather routers, Commander's Weather, for later in the day. At this writing, it is a gloriously sunny day with 360 degree clarity.
The Rally Committee boat, Latitude 38's Profligate, reports having experienced two 'full-immersion baptisms' of its brand new spinnaker, a one-hour wrap of an old chute and one broken halyard - par for the course based on past experience.