---
Photo of the Day

July 30 - Australia

Not long ago, Don and Kathy Radcliffe of the Santa Cruz-based Beneteau First 456 Klondike, participated in the Gove-Over-The-Top Rally, which takes a group of 30 boats over the top of northeast Australia to Darwin. The fleet makes a number of stops along the way, including one at the Banthula aboriginal settlement - which is normally off limits to cruisers. As you can see from Don's photo, the Abo's put out the welcome mat. It turns out they hadn't spoken to any yachties since the previous year's rally. There was, however, a helicopter nearby, which had come to the island to fix their telephone!


Photo Don Radcliffe
---
The Trouble with Brits

July 30 - Papeete, Tahiti

"My husband and I left San Diego in April for French Polynesia," write some Ha-Ha vets who wish to remain anonymous. "The trip took nearly 25 days. We arrived in the Marquesas and then went on to Papeete, Tahiti. This was one beautiful place! We have always thought mariners were really special people; sadly, however, we've found that this is not true. After being out here for three months, we have discovered that even though most American cruisers are really nice and helpful, a lot of the British boaters are rude and seem to really dislike Americans. This really surprised us. We should add that the French and Tahitians here in the islands have been ever so helpful and friendly.

"Another thing cruisers should be prepared for is intimidation by large British boats. If one of these big boats wants your place in an anchorage, he usually parks right on top of you. When you try to call him on channel 16, he will not answer. If you go over to his boat in your dinghy to talk the situation over, the Brit always says he knows what he is doing and he is watching things. This really makes one feel safe if you are the one going to be smashed by one of these boats! Twice in one week in the same anchorage on the west side of Papeete, we have had a big British boat park right on top of us. Each time there were numerous other places to anchor. After the first one parked too close and would not re-anchor, we moved our boat. The next day another large British boat came in and parked on top us. Again there were numerous other places to anchor, nobody would answer on channel 16, and the Brit boat would not re-anchor. So again we moved. We have other American cruisers here complaining about other European boats doing the same thing.

The other thing we have seen is when the people line up at Immigration to get checked-in or out, the Europeans - especially the Brits - cut in line. If you object, they call you Ugly Americans. We have always thought that the British were our friends, and it was the French that were rude. But we've hardly had any trouble with the French. Since we have a couple of good friends who are British ex-pats, we request that you not use our name or boat name. But we just thought that maybe the American cruisers should be prepared for the hostility and superior attitude that is out here from our would-be British friends. We were really shocked by their rudeness and attitude toward us Americans."

S. & J.

There are a couple of possible explanations. The first is that some of the more affluent Brits, where class and privilege still reign supreme, are in denial about losing the Empire and having needed help in World War II. (Just reminding them is enough to start World War III.) Another possible explanation is that you folks, having come from Mexico, and they, no doubt having come from the Caribbean, have totally different concepts of what it means to anchor "right on top of someone". In Mexico, where there are so many anchorages, and there is so much space in most of them, nobody has to anchor close to anyone. But if somebody's spent time in English Harbor, Marigot, Gustavia, the BVIs, or many other crowded places in the Caribbean, they're accustomed to 50 and 60-footers being anchored right next to one another - meaning 25 feet on each side as well as the front and back. Check out the photo from Gustavia, St. Barts. West Coast cruisers just aren't accustomed to that kind of thing. Or the fact that boats bumping in an anchorage is not considered the end of the world. It's a big world, and there are different ways of looking at it.

RS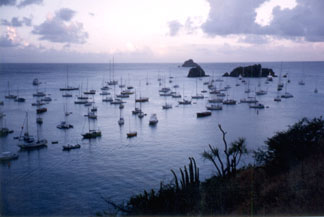 Gustavia, St. Barts
Photo Latitude/Richard


---
Record Run & Race Postponed
July 30 - Australia

Aussie Sean Langman and his turbo-charged Open 60 Grundig Xena have been waiting for months until there were strong enough winds to go for a 24-hour monohull record. Initially. It looked like the Sydney to Gold Coast Race last weekend was going to have just what he'd been waiting for: lots of wind. Unfortunately, for him and the fleet, there was two much wind, as steady winds of 50 to 60 knots and 30-foot seas have been battering the Gold Coast all weekend. As a result, the 369-mile race has been postponed three times. If winds and seas subside, the race may go off today.
---
Adventure Shoals

July 30 - New York

Team Adventure, Cam Lewis' 110-foot maxi cat, finished her Around Long Island Race before she began it last weekend when one or both of her daggerboards hit bottom. Reports are that the quick stop threw a couple of crew overboard and damaged the boards too much to continue.




Photo Courtesy Team Adventure
---
MacArthur Wins Again In Atlantic

July 30 - Baltimore, MD

Ellen MacArthur and co-skipper Nick Maloney and crew brought MacArthur's Open 60 Kingfisher in this morning, finishing 200 miles ahead of the rest of the EDS Atlantic Challenge Fleet. "We're pretty chuffed," MacArthur said of their finish. "We've seen all sorts of weather and really tested the boat."

What is the EDS Atlantic Challenge? Their PR folks explain it as a "a race of extremes - extreme yachts sailed by extreme competitors under extreme conditions. The yachts chosen for this race - Open 60s - are the Formula 1s of sailing. These boats are not for the casual sailor. They are designed and built with one thing in mind - speed. Open 60s are designed to be sailed by a single person. Conditions below decks are, to say the least, spartan. A single bunk, a single gas-burner stove, and a navigation station are generally all the creature comforts aboard. The rest of the yacht's 60-feet length is stuffed with sails, lines, emergency gear and food. Nevertheless, in the EDS Atlantic Challenge these yachts will be fully crewed. A skipper and up to four crewmembers will live and compete aboard them for up to 25 days at a stretch. The race course will take the yachts across the treacherous North Atlantic twice - once from Portsmouth, England, to Baltimore, Md., U.S., and then from Boston to St Malo, France. From start to finish, the yachts will cover more than 8,000 nautical miles, leaving from and returning to St. Malo, France."

Having just finished in Baltimore, Kingfisher is getting ready for the leg to Boston, then back across the Atlantic.



Photo Courtesy Jacques Vapillon


Photo Courtesy Kingfisher Challenges
---

YOTREPS
July 30 - The Pacific Ocean and Cyberspace
Who is out making passages in the Pacific and what kind of weather are they having? Check out YOTREPS - 'yacht reports' - at http://www.bitwrangler.com/yotreps/
---

Weather Updates
July 30 - Pacific Ocean
San Francisco Bay Weather
To see what the winds are like on the Bay and just outside the Gate right now, check out http://sfports.wr.usgs.gov/wind/.
California Coast Weather
Looking for current as well as recent wind and sea readings from 17 buoys and stations between Pt. Arena and the Mexican border? Here's the place - which has further links to weather buoys and stations all over the U.S.: www.ndbc.noaa.gov/stuff/southwest/swstmap.shtml.
Pacific Winds and Pressure
We dropped in on our favorite University of Hawaii Dept. of Meteorology page and found that it has resumed daily postings of the NE Pacific Ocean barometric pressure and winds map. We used to run this satellite map everyday, but discontinued using it when it stopped updating sometime in late December. You can find it at http://lumahai.soest.hawaii.edu/cgi-bin/satview.cgi?sat=g10&region=hus&channel=uI4&anim=no&size=large.
Pacific Sea State
Check out the Pacific Ocean sea states at: http://www.mpc.ncep.noaa.gov/RSSA/PacRegSSA.html.
For another view, see http://www.oceanweather.com/data/global.html.
---
Top / Index of Stories / Subscriptions / Classifieds / Home
©2001 Latitude 38 Publishing Co., Inc.