| | |
| --- | --- |
| | |
---

Sorry about missing yesterday; the main computer slipped a hard disk and we couldn't perform. However, as you can see, we got it back up.
Photo of the Day

February 14 - World Headquarters

Crew hats, shirts, foul weather gear and even shorts with boat names on them have long been a staple in sailing. Now - apparently on the theory that 'less is more' - we've received our first boat thong - a hot pink one, no less. It comes to us courtesy of Dana Sack of Oakland, who owns the J/105 'Hazardous Waste'. Sack calls the thong "reward wearing apparel." Frankly, we don't know what that means, and were too afraid to ask. The Victoria's Secret brand thong has the boat name, boat type and hull number silk-screened on what little of the front there is. Since the boat's name is 'Hazardous Waste', it seems as though it would have been more appropriate if it had been silk-screened on the back, but with a thong there really isn't a back, is there?

Now that we think about it, thongs have actually been used as racing crew uniforms before, most famously by the legendary Joel Byerly of Antigua. A terrific sailor who has owned everything from the great schooner 'Lord Jim' to the Olson 30 'Ebb Tide', Byerly always did Antigua Sailing Week with an all woman crew, which he outfitted in nothing but black thongs and sandals that consisted of a couple of strings wrapped around the big toe. We often thought some of the most dangerous moments in sailing were off Cades Reef during Sailing Week, because you'd be beating toward the hard-to-see reef on starboard in 20 knots, and have to flop away on port - directly into scores of boats from 30 to 120 feet, moving at different speeds, with crews hollering 'starboard' in five different languages. And right in the middle of all this would be a grinning Byerly and his nimble boat full of nearly naked girls, bare boobs bouncing with the chop. Suddenly, half the crews and skippers forgot about the race, the other boats and the reef. No wonder there were so many collisions and Byerly always did so well.

Speaking of the great schooner 'Lord Jim', if you read the February charter section of Latitude 38, you know that she'll soon be on her way back to the San Francisco after completing her fourth circumnavigation. Owners Holger and Tracy, formerly of Sausalito, are looking for crew.


Back view


Front view
Modeled by Mother Earth
Photos Latitude/Annie
---


St. Francis Yacht Club and Oracle Racing
February 14 - San Francisco

A couple of days ago we published a letter indicating that some members of the St. Francis YC would like their board of directors to resurrect a possible America's Cup effort with Oracle Racing. We'd caution folks not to get their hopes up, as Oracle Racing was hoping to have a deal signed with the privately owned California YC by tomorrow.
---


Patrick O'Brian Fans
February 14 - Portsmouth, UK

"I am the Deputy Director of the Royal Naval Museum in Portsmouth, UK (right alongside Nelson's famous flagship 'HMS Victory!'). A friend has drawn my attention to the excellent article you have published about Patrick O'Brian and his remarkable voyage in the Mediterranean, which I have read with much interest - and has, naturally led me to explore the rest of your excellent publication. May I offer my warm congratulations? I have thoroughly enjoyed myself! My other reason for contacting you is to say that the RN Museum is currently putting together plans for a special 'Patrick O'Brian' weekend in Portsmouth on September 21-23. This will include dinner on board 'HMS Victory', a concert of music from the novels and a series of lectures by some key naval historians - plus Geoff Hunt who, as you may know, is the artist responsible for the wonderful covers of POB's books. Do you think this is an event that might interest your readers? If so, would you like me to supply some editorial copy for you?" - Colin White, Deputy Director
We wrote Director White to ask him to keep us apprised of the celebration. We also told him that we'll be contacting Tom Perkins, the Northern California author of the story and a big fan of O'Brian's. Since Perkins will be taking part in the big America's Cup Jubilee in England this summer with several of his boats - including the 1916 Herreshoff 135 gaff-schooner 'Mariette' - we suspect he might want to attend.
---
When Cruising Destinations Become Too Crowded
February 14 - Isla de Cabrera

What's the solution when some popular cruising destinations don't have enough room to accommodate everyone? In many places, it's first-come, first-served, so if the place has filled up, you're out of luck. But not the lovely island of Cabrera, just five miles off the coast of Mallorca in the Balearic Islands of Spain, where authorities want to give everyone a chance to enjoy the lovely spot. As such, before going there, you must buy a cruising permit. Even with a permit, a yacht is only allowed one night in the most popular months of July and August, two nights in June, and seven nights during the other months of the year. There is no mercy shown for yachts that don't adhere to the policy, and they are booted out!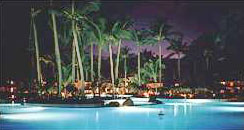 It's not far from the glitz of Puerto Portals, Mallorca, to overloved Isla de Cabrera.
Photo Courtesy Tourist Board
---


Problems in Puerto Angel
February 14 - Puerto Angel, Mexico
A few days ago we had a shortie on some folks who were making Puerto Angel, Mexico, a great place for cruisers. Unfortunately, that's not true of all the locals.

"I'd like to report a distressing event that took place onboard my sailboat in December of last year at the beautiful anchorage of Puerto Angel, Mexico. While cruising up the Mexican coast en route to points north from the Panama Canal, I was warned by another cruiser not to stop at Puerto Angel, as he had been ripped off of much of his gear while anchored there. He, like me, is a singlehander. When he later confronted a person who was trying to sell his binoculars, dive gear and fishing rods, he was told he would be killed if he didn't leave Puerto Angel immediately. In addition, he told me that three other cruising boats had been robbed there.

"I nonetheless decided to pull into Puerto Angel for one night and leave early the next morning. I felt there wouldn't be a problem as long as I remained onboard. Boy was I wrong! Sometime during the night I was woken up by a noise. I sat up in my bunk - which that night was in the main salon - and listened intently. Hearing no more suspicious noises, only the slap of the waves on the hull and on the beach, I went back to sleep. But when I awoke before dawn, I realized that my boat had been boarded and that many items from the immediate vicinity of the companionway were missing: binoculars, backpack, camera, flashlights . . . all items that could have been reached from the cockpit.


The beach at Puerto Angel
Photo Courtesy Photos Courtesy Joss and Heather K.

"I wasn't happy because it's a potentially very dangerous situation when thieves board occupied boats. Sooner or later somebody is going to get hurt. I didn't report the theft to the authorities as I didn't want to get caught up in red tape, nor did I want to stay there longer and become a victim a second time. I just wanted out ASAP. I'm still cruising Mexico, and I would appreciate it if you withheld my name and my boat name."

Theft from active cruising boats is not common in the main cruising areas of Mexico, and it's almost unheard of for thieves to board occupied boats.
---

The Race Update
February 14 - Atlantic and Southern Oceans

Oddly enough, all the boats in The Race, no matter if it's Cam and 'Team Adventure' trying to get to Wellington for a repair stop, or 'Club Med' and 'Innovation Explorer' in the South Atlantic, are slowed by light winds. We'll get back to that event when the wind picks up again.
Dalton Can't Get Enough
February 14 - Atlantic Ocean

Shortly after rounding the Horn, Grant Dalton of 'Club Med' advised the media that he has accepted a position as sailing director for Nautor Swan's two-boat entry in the upcoming Volvo Around the World Race. The division of Nautor Swan will be headed by Paul Cayard of Kentfield, who won the last Volvo - when it was known as the Whitbread - with 'EF Languages'. One of Nautor's boats will be designed by Bruce Farr, the other by German Frers.
---


Quotes of the Day
February 14 - Cyberspace
"If I had my time again, it would be the same boat." So said Pete Goss during a Webcast at www.petegoss.com. Goss, whose radical 'Team Phillips' wave-piercing maxi-cat with two free-standing masts had to be abandoned in bad weather before the start of The Race, has anything but given up on the Adrian Thompson concept.
"'Team Philips' was designed for high average speeds, not high peak speeds. We always felt confident that 40 knots would be easily achievable, and given that we got to 35 knots at around 60-70% of power. I am happy in my mind that we created what we were looking for. Beyond 40 knots would be impossible to predict, but I am sure that we would have got there on the odd occasion. 60 knots - who knows?"
---



Puerto Vallarta Race

February 14 - Pacific Ocean

Bundled up in winter clothes and looking up at snow on the Bay Area hills, our thoughts naturally are turning to sunny Mexico. And with plane tickets to PV as low as $230 on Alaska Airlines (a deal that came and went last week), why not head south for a few weeks? A whole bunch of sailors - including seven Bay Area entries - are doing just that right now in Del Rey YC's 16th biennial Puerto Vallarta Race. Five of the eight classes are underway, with two more classes going off tomorrow and five boats ('Pegasus', 'GI', 'Mongoose', 'Pendragon 4' and 'Sorcery') starting on Friday. The latter boats have the best shot at Joss's 4 day, 23 hour record - which along with the Pineapple Cup record is one of the longest-standing ocean racing records yet to be demolished. Could this be the year? Check www.dryc.org to watch the race unfold.


Pegasus could have a chance at the PV Race record.
Photo Latitude/Andy
---

YOTREPS
February 14 - The Pacific Ocean and Cyberspace
Who is out making passages in the Pacific and what kind of weather are they having? Check out YOTREPS - 'yacht reports' - at www.bitwrangler.com/yotreps/
---


Weather Updates
February 14 - Pacific Ocean
San Francisco Bay Weather
To see what the winds are like on the Bay and just outside the Gate right now, check out http://sfports.wr.usgs.gov/wind/.
California Coast Weather
Looking for current as well as recent wind and sea readings from 17 buoys and stations between Pt. Arena and the Mexican border? Here's the place - which has further links to weather buoys and stations all over the U.S.: www.ndbc.noaa.gov/stuff/southwest/swstmap.shtml.
Pacific Sea State
Seas are normal in the Pacific. But you might check out the Pacific Ocean sea states at: http://www.mpc.ncep.noaa.gov/RSSA/PacRegSSA.html.
For another view, see http://www.oceanweather.com/data/global.html.
---
Top
/ Index of Stories / Subscriptions / Classifieds / Home
©2001 Latitude 38 Publishing Co., Inc.