| | |
| --- | --- |
| | |
---
Photos of the Day

February 12 - Montego Bay

Here's the Cliff Notes version of the 2001 Pineapple Cup (811 miles from Ft. Lauderdale to Montego Bay, Jamaica):

1) First-to-Finish: Jim Dolan's beautiful Langan 78 'Sagamore' crossed the finish line at 6:05 p.m. local time last Tuesday, just as the sun was sinking. They were over a day off 'Windward Passage's increasingly legendary 1971 record time of 3 days, 3 hours and 40 minutes. The celebration on 'Sagamore' was muted, as 'Pyewacket' - which led the race from the get-go - had dropped out 160 miles from the finish line due to owner Roy Disney's work commitments.

2) Honors in the five-boat IMS class went to Jim Dockery's Farr 60 'Carrera' (ex-'Deep Powder'), which beat sistership 'Rima' by about 45 minutes. Dockery stacked the deck in his favor before the start, lining up an all-star crew which included navigator Ed Adams, Ken Read, Chris Larson, Jerry Kirby, Greg Gendell, Dan Neri and other rockstars.

3) Just as 'Carrera' was getting ready to celebrate overall honors in the 17-boat fleet (calculated on PHRF time), 'Bonkers', Bill Zartler's 42-foot Texas-based J/130, came zooming across the finish line at 4:30 p.m. Wednesday afternoon. 'Bonkers' had been out of contact for several days, as they didn't have an SSB and were out of VHF range - and her crew had no idea that they'd just won the race overall by 45 minutes. Among 'Bonkers' nine-person crew were five Bay Area sailors - Chuck Riley, Gordy Nash, Ruth Suzuki, Bob Musor and Ed Kriese, all of whom sail on Musor's local J/130 'Sceptre'. "Congratulations, you guys did it!" we told them as they docked. "Did what?" they asked blankly. A fine celebration ensued as it dawned on them that they had won the 25th running of the Pineapple Cup.


'Bonkers' on the way to a win.


The winning crew included some familiar faces.
Photos Latitude/Rob

4) Three boats DNFed, including the mighty 'Pyewacket', all with arguably more interesting stories than the winners. The new J/145 'Strabo' plowed into a coral head early in the race, lodging her bow on a "Volkswagen-sized rock" while her depthsounder still registered 22 feet. "You could have gone over the bow pulpit and stood on the rock without getting your feet wet," they told us. . . 'Gemini', a Polish one-tonner, sailed the last 350 miles of the race with just one third of a rudder. They diverted into Cuba to resupply, and limped into Montego Bay just in time for the Friday night awards ceremony.

If any of the above whets your appetite for more, check out www.montegobayrace.com. Stay tuned for our feature article on this small but classic East Coast ocean race (jokingly called "the best kept secret in sailing") in the March print issue.
---
Vendée Globe Finishers
February 12 - Atlantic Ocean
As expected, Frenchman Michel Desjoyeaux of 'PRB' crossed the finish line on Saturday, one day ahead of Ellen MacArthur of 'Kingfisher', to win the fourth Vendée Globe singlehanded around the world race. Hundreds of thousands of mostly French enthusiasts were on hand to greet Desjoyeaux, 35, who completed the course in 93 days, three hours, knocking more than 12.5 days - or 11% off Christophe Augain's previous record.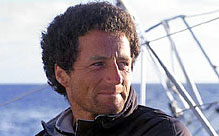 Michel Desjoyeaux
Photo François Mousis
Courtesy www.quokkasailing.com
Desjoyeaux told reporters that most of his improvement over Augain's time had been in the Southern Ocean because Augain didn't have anyone hot on his heels. Desjoyeaux, on the other hand, had Yves Parlier sailing an average of two knots faster in an attempt to recapture the lead. Desjoyeaux decided not to try and match Parlier's furious pace because, "I didn't believe it was possible to go so fast for so long." Shortly thereafter, Parlier suffered a terrible wipeout at speed, causing his mast to fall.

Magnanimous in victory, Desjoyeaux, expressed almost puzzled admiration for Ellen MacArthur, the 24-year old Brit who dogged him so gallantly in 'Kingfisher'. "Ellen for me is a great mystery. She is 10 years younger than me, and she could have beaten me. She came so close to me in the Saint Helen anticyclone, and she came back on me in the Doldrums and the Azores High. She has displayed a great deal of courage and determination, and threatened me right until the end."

The French skipper said that 80% of his victory could be attributed to boat preparation and a little good luck, and that he was only 20% responsible. He said that he was never afraid for himself, only worried about breaking his mast or some system on his unusually complex boat. Desjoyeaux has always been an innovator. He introduced the concept of a canting keel several Mini Transats ago, and now 80% of the Open 60s sport them. Desjoyeaux ended his press conference expressing solidarity with the other participants, encouraging racing enthusiasts and supporters to give an equally warm welcome to every finisher, right up to the very last.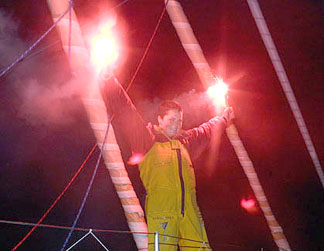 Ellen MacArthur after the finish.
Photo Thierry Martinez
Courtesy www.kingfisherchallenges.com
MacArthur, who finished on Sunday a little more than a day after Desjoyeaux, became both the fastest woman to solo around the world - beating Catherine Chabaud's record by about 40 days - and the youngest person to complete a Vendée. Last year she took top honors in the Europe 1 New Man Star with 'Kingfisher', and prior to that won the Open 50 class in the Route du Rhum. Nobody considers her triumphant second place finish a fluke. England's newest hero, MacArthur received a 15 minute phone call from British Prime Minister Tony Blair, who invited her to visit him. "Yep, see you later," she told him in her unpretentious manner that has made her such a favorite.

As did Desjoyeaux, MacArthur was quick to share credit for her incredible performance against 23 of the top boats and skippers in the world. "I was just the pilot," she said, and claimed that 95% of the credit belonged to the team who prepared her boat and helped her get through the bad days. In reality, most of the time it was Ellen alone against the elements and the competitors:

"Unfortunately, I was way behind Mich coming out of the Saint Helene high pressure system but was keen to keep my position in the west. Coming to the Equator I spent a lot of time mending my genniker. I spent 18 hours with it laid out on deck; I was fairly careful with the sail as I wanted a big sail in the doldrums. The wind instruments broke on two consecutive nights, so I had to change the anemometer at the top of the mast twice. Sailing with a fragile genniker now, I was pretty tired. The first anemometer I fixed was faulty, so I had to go up the rig a second time. That was the moment I was most scared. I was at the top of the rig, there was this big squall, lots of rain, but I didn't mind that. The wind died off and the boat gybed seven times while I was up the mast. With a boat that has a canted keel, if the main had been on the wrong side and the wind had come back, the boat would have fallen over on top of me. So I was completely exhausted and sailed further to the east. I needed to sleep. I ended up due south of Mich - well that's life."

MacArthur said she wants her message to be that you can achieve just about anything you want, and that she just happened to choose sailing. "In the face of adversity you find solutions, you put all your time and energy into finding the solution. There was a moment that I feared for my life, that I wasn't sure I could get out of what I'd got into. But I had no option but to sort the problem." She also says she's far from tired of sailing. "If the race was going to start tomorrow, you can bet your bottom dollar that I'd be on that start line again! It was the hardest race ever, but it's very difficult to get off the boat." She already has a crewed transatlantic race in the offing this summer.
For more details, visit www.vendeeglobe.com.
---


Oldest Circumnavigator Loses Boat off South Africa
February 12 - South Africa

The details are still sketchy, but 76-year-old David Clark, whose wife lives in Antioch, was rescued off South Africa a couple of days ago after his 45-foot steel boat 'Mollie Milar' sank. Clark left Fort Lauderdale about a year ago in an attempt to officially become the oldest person to sail around the world singlehanded. Clark apparently discovered water sloshing around in his boat, but she sank before he was able to identify and rectify the problem. He and his beloved dog Mickey were being transferred by a sling to a rescue ship when the dog scrambled free and fell into the ocean. The dog was lost, but Clark is in good health. We'll have more details in the March Latitude 38.
---


Schism at the St. Francis Yacht Club?
February 12 - San Francisco
As was recently reported, Oracle Racing and the St. Francis YC shocked everyone by not being able to reach an agreement on an America's Cup effort. Oracle Racing is currently negotiating to sail under the flag of the private California YC in Marina del Rey. Not all the St. Francis club members were happy with the decision of the flag officers, and some want them to try to revive an agreement with Oracle Racing. Member Tim Scherer wrote the following letter hoping to get as much support as possible from the general membership:

"Dear Board and Flag Officers:

We, the undersigned as members of the Club, received the letter from Steve Taft this past week and understand the position of the Board of Directors. We are disappointed, however, that this incredible opportunity for the Club to remain in the forefront of America's Cup racing is vanishing. Since Oracle Racing is already in advanced discussions with another yacht club, we wanted to express our opinion as it relates to the America's Cup and Oracle Racing. We understand that Oracle Racing has approached the Club and wants to be the challenger for the Club in America's Cup XXXI. Oracle Racing intends to fund this effort on its own and not require any financial support from the Club. Should Oracle Racing be successful and win the America's Cup, the subsequent defense would be on San Francisco Bay in front of our Club. We understand that Oracle Racing has asked the Club for a significant structural change within the Club so that Oracle Racing, represented by designated Club members, would have a majority vote as it relates to future decisions made within the Club relating solely to the America's Cup. Specifically, these structural changes include the Club changing its Bylaws to expand the Board of Directors by three positions to include Oracle Racing representatives that are Club members and have significant America's Cup experience. Oracle Racing representatives would fill these additional Board positions only during the challenge period and any subsequent defenses. While this contemplated structure is a huge departure from the traditional way that the Club selects its Directors, we are of the opinion that the risk is well worth the potential reward. The risks are that decisions relating to future defenses of the America's Cup will be made by the Club, without the majority support of the members. That, however, is nothing new, and is a risk worth taking. If we were lucky enough to win America's Cup XXXI, the Club membership together would win the greatest trophy in the history of yacht racing. This experience, as tasted with AmericaOne in America's Cup XXX, is something that all Club members dream about. The economic impact to the Club and to the City of San Francisco would be incredible. Finally, the prestige and honor of having the America's Cup in our 'Cup Room' would be indescribable. There are obviously many reasons why the Club should and should not be involved in the America's Cup. We are a yacht Club, however, and many of you have frequently said we are the world's greatest yacht club. We agree. We strongly encourage you and ask you, as our leaders and representatives, to go back to Oracle Racing and make a deal. By all means don't give away the Club, but make a deal. We want to be part of America's Cup XXXI and we want a chance to make America's Cup history. The only thing worse than not winning Americas Cup XXX, would be missing a great opportunity to sail for Americas Cup XXXI.

Tim Scherer #4936 "
---
Banderas Bay Regatta

February 12 - Banderas Bay, Mexico

If your boat is in Mexico, don't blow it by missing the Banderas Bay Regatta on March 23-25. It's free, and as you can see from this photo, the sailing conditions are usually excellent.

Photo Latitude/Richard
---

The Race Update
February 12 - Atlantic and Southern Oceans

Grant Dalton and his crew aboard 'Club Med' passed near enough to see Cape Horn in moderately good weather, and then turned the corner to the northeast at continued high speed. Out of the Southern Ocean and with an 800-mile lead over 'Innovation Explorer', Dalton says it's possible they could finish in 60 days. Meanwhile, the crew aboard 'Innovation Explorer' is just a couple of hundred miles from the Horn, but apparently will be overtaken by a real blow before they can round. They are gearing up to be hit by steady winds of 60 knots or more. Meanwhile, things just keep getting worse for Cam Lewis and 'Team Adventure', which will be pulling into Wellington for continued repairs to their main beam. It's not in danger of failing, but the outer layers that were recently put on are peeling off, and could lead to a more substantial failure. Since this will be their second stop, 'Team Adventure' must take a 60-hour pause.

We got a chuckle to learn that Bruno Peyron, who founded and is managing The Race, was down at Cape Horn aboard Yvon Falconnier's 'Darwin Sound' to be on hand for 'Club Med's rounding the Horn. 'Darwin Sound' is an Ocean 71, sistership to 'Latitude's former charterboat 'Big O'. What's more, Falconnier, a famous French monohull and multihull racer from the '80s, had called us about buying 'Big O' shortly after we sold her. He apparently ended up buying 'Darwin Sound', which had been doing charters out of Vancouver for about a dozen years before doing charters all around the world.
Ranking of Feb. 12, 2001, 19:00:00 GMT

1. Club Med / dtf 6,193.5 miles
2. Innovation Explorer / dtl 926.5 miles
3. Team Adventure / dtl 5,742.4 miles
4. Warta Polpharma / dtl 6,419.9 miles
5. Team Legato / dtl 7,351.6 miles
---

YOTREPS
February 12 - The Pacific Ocean and Cyberspace
Who is out making passages in the Pacific and what kind of weather are they having? Check out YOTREPS - 'yacht reports' - at www.bitwrangler.com/yotreps/
---


Weather Updates
February 12 - Pacific Ocean
San Francisco Bay Weather
To see what the winds are like on the Bay and just outside the Gate right now, check out http://sfports.wr.usgs.gov/wind/.
California Coast Weather
Looking for current as well as recent wind and sea readings from 17 buoys and stations between Pt. Arena and the Mexican border? Here's the place - which has further links to weather buoys and stations all over the U.S.: www.ndbc.noaa.gov/stuff/southwest/swstmap.shtml.
Pacific Sea State
Seas are normal in the Pacific. But you might check out the Pacific Ocean sea states at: http://www.mpc.ncep.noaa.gov/RSSA/PacRegSSA.html.
For another view, see http://www.oceanweather.com/data/global.html.
---
Top
/ Index of Stories / Subscriptions / Classifieds / Home
©2001 Latitude 38 Publishing Co., Inc.