Sydney-Hobart Racers Approach the Finish
December 28 - Hobart, Tasmania
Five of the Volvo Ocean 60s and the Swedish maxi yacht Nicorette have rounded Tasman Island and are sailing, albeit slowly, the final 30 nautical miles across Storm Bay and up the River Derwent of the 57th Sydney Hobart Yacht Race. They have set the stage for one of the closest mass finishes in the history of this event. The leaderboard on the Volvo Ocean Race Web site has the leaders changing places frequently, and we won't know the winner until the gun has gone off. illbruck, the leading yacht at the last sked (position report) did not report in at Tasman Island. The Australian Volvo racer, Team News Corp, was first to report their rounding time to Race Control at the Royal Yacht Club of Tasmania at 0242 hours this morning (local time), giving an ETA at the finish off Hobart's Castray Esplanade of 0745 hours. Her time was only two minutes ahead of Tyco, at 0243 hours. Then came Amer Sports One at 0253, followed by Nicorette at 0258, both yachts improving their positions since the last sked. Next came Assa Abloy followed by djuice.
Reports indicate less than 5 knots in the area south of Tasman Island, and Assa Abloy and Nicorette appeared to have made the best time over of the past six hours. Tyco is not eligible for line honors in the Sydney-Hobart and even if she finishes first across the line will not get a gun because the Race Committee has scored her DNF for failing to comply with the strict safety rule requiring yachts to report in when abeam of Green Cape. Tyco has indicated that she will seek redress against the Race Committee's decision, with an appeal to the International Jury.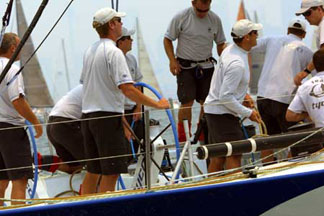 Tyco at the start of the Sydney-Hobart
Photo Peter Bentley/madforsailing.com
SEB has retired from the Sydney-Hobart, as well as Leg 3 of the Volvo Race, after the main rudder's bottom rudder bearing went to pieces last night and the rudder broke away from the hull. The crew managed to salvage the rudder before it went to pieces and installed the emergency rudder. The damage occurred 70 miles north of Tasmania's northeast tip while doing 10 knots in strong southwesterly breezes. A great deal of water flooded the boat until before the watertight hatches were closed and the hole in the hull, due to the missing rudder, was plugged. When the damage to the bottom rudder bearing was discovered, it had already broken from its hull fastening, and the main issue was ensuring that the rudder would not break to pieces or damage the hull. "This is a very hard blow for all of us in the team, being stopped for the full leg by things like this is very unfortunate," reports skipper Gurra Krantz from onboard. SEB will get only one point for this leg.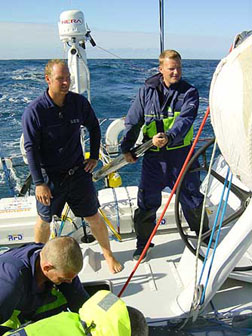 Steering with emergency rudder
Photo Magnus Woxén/Team SEB
SEB is now motoring in almost no wind, and is expected to get in to the docks in a few hours. After having examined the rudder damage, the crew is estimating the same rudder blade can be used, and that the damage can be mended fairly quickly.
A pressurized part of the water ballast system on Amer Sports One exploded and almost drowned Pete Pendleton plus one of the navigation computers. Roger Nilson reports that, "Water was spraying everywhere and suddenly we were badly wounded. Pete and Pepe Ribez got very busy starting the repair work as we found ourselves and all other boats becalmed under a cloud of smoke from the bush fires. We did not dare to take out the ballast water on port side, but when new breeze filled from southwest we had to drop it all. We were on starboard tack where we still could fill water. An hour later, when a scary waterspout approached, ripping off the surface of the ocean with 60 knots of furious winds, we blew out jib #3 while taking it down. As the spout passed and turned the wind into southeast we had to tack to port again. But now we had no water ballast and had to nurse the boat under three reefs and storm jib as the wind was still 35 knots."
It takes a lot to scare a hardened ocean racer, but even John Kostecki admitted to being seriously frightened after a waterspout chased illbruck across the Bass Strait. "At the same time I saw the waterspout to leeward, Richard [Clarke] noticed one developing to windward of us. This one developed quickly and formed a vertical funnel cloud down to the water. It was an incredible sight. Those of us who have sailed offshore a lot have seen several of these, but normally from a distance of 5-15 miles. This one developed quickly about two miles from us and started racing right at us. So we tightened sheets and tried to make some windward gauge on it. The spout started moving to leeward of us at a quick pace of 40 miles an hour. Then, it started changing direction. I guess the southerly winds started to steer it more and it was headed directly at us about half a mile away. Scary sight. We bore away and tried to run away from it and we dropped our jib. The wind built to 50 knots as the waterspout got closer to us. I asked for everyone onboard to have their harnesses on and to be ready for anything. We started running away from it and it appeared to be passing to windward of us, but then suddenly it changed course again, the warm westerly winds started pushing it offshore directly at us again. Now it was only 400 meters away, blowing 60 knots and this huge spiraling cloud was nearly on top of us. We had to change course again, 90 degrees up so that it could pass to leeward. There was a moment where we were all just silent hoping that it would pass by us. It came very close to us, about 200 meters, and it slowly passed in front of us and went to leeward. We saw 63 knots on the windspeed dial at that time. We had a helpless feeling, where this freak of nature was chasing us down. Nobody onboard has ever experienced anything like this and we all hope we never do again."
SEB's Gurra Krantz observed that not all the Sydney-Hobart fleet emerged as unscathed as the hardy Volvo 60s. The waterspout, he said, looked "like a gigantic vacuum cleaner coming down to suck away all the tiny boats littering the water. It was formed very quickly and picked up speed immediately. It went for the maxis Wild Thing and Nicorette, as they had to take the sails down. Wild Thing ended up right in it and had to retire with torn sails."
Nicorette's skipper thought he might die. Ludde Ingvall, one of the most experienced sailors in the fleet, said: "I really feared for my life. It was the most unbelievable thing I have ever seen. I saw it coming and tried to out-run it. It looked like it was going behind us, but then it turned and got us. I was looking up a tunnel of water and could feel my jacket riding up my back." The water spout rained hailstones the size of golf balls down on Nicorette, shredding its new mainsail. The Swedish 79-footer lost the lead and dropped back to ninth after the incident, and is racing under her spare main. Nicorette had been the Sydney-Hobart pre-race favorite.
'Lectronic Latitude will be visiting more southerly latitudes next week, so for results of the Sydney-Hobart Race, see www.s2h.tas.gov.au/2001/home.php
To follow the Volvo Ocean Race, see www.volvooceanrace.com