Disaster Strikes Amer Sports Too
December 27 - Sydney, Australia
Disaster struck Amer Sports Too this morning at 0936 GMT when their forestay broke at deck level while sailing in 20 knots winds from the southwest. They were racing in the Sydney to Hobart Race, as part of the Volvo Ocean Race Leg 3 to Auckland, New Zealand. The all-woman crew is skippered by Lisa MacDonald, who reported that an eye at the base of the forestay had failed. The crew hurriedly bore away to the northeast and dropped the sails in an attempt to reduce the loads on the rig and prevent it from toppling overboard. MacDonald said that they had considered putting into Eden, New South Wales, 110 miles away, but instead they would jury rig a system and continue on to Hobart and have it fixed there.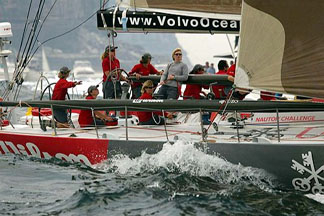 Amer Sports Too at the start of the Sydney-Hobart
Photo Carlo Borlenghi/SEA&SEE
Tyco has been excluded from the Sydney to Hobart race because they failed to call in a mandatory safety check just before entering Bass Strait. They may challenge the ruling and are continuing to race to Hobart.
The eight Volvo Ocean Race boats were closely tied as they crossed the eastern mouth of Bass Strait. Tyco and illbruck were just over a mile apart with Assa Abloy and News Corp, while djuice and SEB were duking it out on the other side of the race course. As of this writing, News Corp has taken the lead from illbruck. The first boats are expected to reach Hobart tomorrow night (GMT).
Whereas conditions have improved somewhat, the fleet has sailed through some really wicked weather. Some of the boats, Amer Sports Too included, saw water spouts. djuice skipper Knut Frostad reports on one: "We managed to hike up and stay to weather of it. At the most we saw about 55 knots of wind. To leeward of us it looked like carnage. Most boats got their mainsails down. It looked like the waterspout was going to hit right in between illbruck and News Corp, but they all managed to get through it. We felt pretty lucky, managing to avoid it by just a mile."
The Norwegians did not get away scot-free however. Soon afterwards they broke their main halyard, and then a had more serious problem, one familiar to the crew of illbruck. "Early this morning the boat felt a bit bow heavy and slow," reported Frostad. "The front deck hatch hadn't sealed properly and the bow sections had filled up with a huge amount of water, spraying most of the communication electronics in the second watertight compartment. It took us almost an hour to get rid of all the water, and four miles lost."
In other Sydney to Hobart news, Nicorette did battle with a water spout and reported seeing 70 knot winds. An excellent Australian Broadcasting Company video of their encounter can be viewed at www.s2h.tas.gov.au/2001/news/newsitem.php?newsID=146&period=day2
Other boats in the race reported being showered by hailstones the size of golf balls. At least 13 have dropped out, most due to damage caused by the gnarly weather. At least two have dismasted. The 66-ft yacht Grundig, from Sydney, has withdrawn due to delamination of their carbon fiber hull. They are limping up to Eden, 120 nautical miles away from where the damage occurred.
For more on the Sydney-Hobart race, see www.s2h.tas.gov.au/2001/home.php
For more on the Volvo Ocean Race, see www.volvooceanrace.com (We find this Web site to be extremely slow, sometimes stalling out our computer altogether. We have the highest speed connection available and pretty whiz-bang equipment, so it's probably due to a high volume of traffic on the site.)
Grundig at the start
Photo Carlo Borlenghi/SEA&SEE