San Francisco Company Backs Seattle America's Cup Challenge With $10 Million.
August 7 - San Francisco

Paul Allen, who owns most of Microsoft that Bill Gates doesn't, has just thrown in with Seattle YC's OneWorld Challenge for the 31st America's Cup. The OneWorld Challenge was founded by Craig McCaw, who, thanks to reversals in the tech world, has been looking for partners to help shoulder the financial load. Allen, a multibillionaire, will be providing the money through San Francisco-based Tech TV. Allen already owns the Portland Trailblazers basketball team and the Seattle Seahawks football team. Here's the official announcement:
"TechTV announced today that it will join forces with Craig McCaw on the OneWorld Challenge campaign to win the 31st America's Cup. The San Francisco-based cable television channel is the leading network covering technology news, information and entertainment 24 hours a day. Vulcan Northwest, which owns TechTV, will support the campaign on behalf of TechTV through a $10 million sponsorship to the America's Cup syndicate, which was founded by McCaw.
"'There is no better partner to have in this effort than my friend Paul and the team at TechTV. Paul is a true sports enthusiast, a man who shares my concern for environmental stewardship, and someone who loves the adventure of boating and being on the water,' said McCaw."
[For what it's worth, McCaw owns a small armada, headed by the nearly new Le Grand Bleu, which is the largest privately owned American yacht. She carries 65 crew, the 68-foot motoryacht, and the 72-foot Dubois-designed Bellatrix. Last winter we raced against Bellatrix in St. Barts on New Years. The New Years before, we raced against McCaw's other sailboat, the 118-ft Frers designed Extra Beat. (Keith McCaw, Craig's younger brother, owns the nearly new 303-ft Tatoosh and the big motoryacht Katrion. A dropping stock market means that Tatoosh was on the market less than a year after she was built. We're not sure what role, if any, Keith has in OneWorld.) Paul Allen currently owns the 198-ft Meduse, which usually spends the summer in Antibes, France, and last New Years was at St. Barts - reportedly with Gates aboard. It was recently announced that he paid $5 million for an Antibes berth, apparently for a new and larger boat he is building. While the McCaw brothers may not be as wealthy as they once were, Allen is doing just fine.]
The players' toys: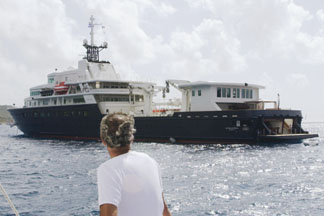 Le Grand Bleu, Craig's motoryacht.

Tatoosh, one of Keith's motoryachts.
It's unclear what role, if any, he has in OneWorld.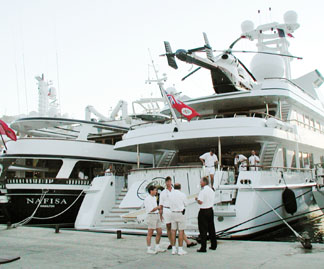 Meduse, Paul Allen's motoryacht -
although he may be building bigger.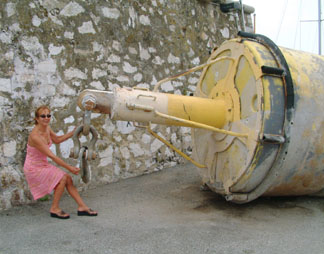 Doña de Mallorca tugs at a mooring buoy in
Antibes used by Meduse.
All Photos Latitude/Richard
About Vulcan Northwest Inc: Vulcan Northwest Inc. was founded by Paul G. Allen in 1986 to manage his personal and professional endeavors, including various investments, more than 100 portfolio companies, the six Paul G. Allen Foundations, First & Goal Inc., the Experience Music Project museum, Clear Blue Sky Productions and others. Vulcan is headquartered in Seattle, Washington.
About Craig McCaw: He is an active technology investor, primarily through Eagle River Investments, whose primary investments include substantial interests in Nextel Communications, XO Communications, ICO Global Communications, Inc., Teledesic L.L.C., Nextel Partners and a series of smaller technology companies. Mr. McCaw was the Chairman and CEO of McCaw Cellular Communications, Inc., which was sold to AT&T in 1994 prior to the formation of Eagle River. He has been an active philanthropist through the Craig and Susan McCaw Foundation supporting education, environmental and human service causes across the globe.
About OneWorld: In May of 2000, the Seattle Yacht Club and telecommunications investor Craig McCaw launched the OneWorld Challenge campaign for the America's Cup, to be held in Auckland New Zealand in 2003. OneWorld assembled a world-class team of 85 people including designers, boat builders and sailors from around the globe, many of whom were already America's Cup winners, Olympic medallists and world champions. The OneWorld mission is to win the 31st America's Cup in the name of the health of our planet. The syndicate will use its profile to draw the World's attention to a broader environmental message. Underwriters of OneWorld at this point include Craig McCaw, Paul Allen's TechTV, SAIC, and Ford/Lincoln Mercury.
Allen's investment makes OneWorld a player once again in the next America's Cup. It also makes for great drama, as intense business rivals will be playing out their animosity on the water in Auckland. Oracle Racing's Larry Ellison, of course, is an intense rival with Microsoft and Allen, as well as with Hasso Plattner of SAP, who has given big money to the Kiwi team.