Cat Test
August 6 - La Grande Mott, France

During our trip to Europe in June, we visited Noel Gaudinet, an old sailing friend of ours from Sausalito. He'd bought and cruised a Union 36 to Mexico, then had to store her on the hard as he took a series of jobs in Europe for several years. While in Europe, he became interested in multihulls. In fact, he recently purchased the Outremer 45 - see accompanying photo - which had kicked butt in last year's Europe 1 New Man Start. So when we visited him in La Grande Mott, France, he was happy not just to show us his boat, but also the nearby Outremer factory. While at the factory, who would walk in but Mark and David, a couple of guys from San Francisco who'd been aboard Profligate and are looking to buy either a large monohull or large multihull for a circumnavigation. As it turned out, we - Mark and David, Dona de Mallorca, Noel, and the factory sales rep and his assistant, and the Wanderer - all went out sailing on the new Outremer 55.
See the second accompanying photograph of the delightful sail.
It turns out that Mark and David aren't the only ones in the Bay Area who are looking to purchase and/or build a 55 to 65 foot cat. So this Saturday, from noon to about 5:00, we're taking a group of them out aboard Profligate, Latitude's 63 foot cat, so they can get experience on a big cat in big wind and pick the Wanderer's small brain. If you're also interested in purchasing a large cat and would like to take part, give the Wanderer a shout by email. All we're asking is that anyone who comes be willing to donate $100 to $150 - sliding scale, you know - to Profligate's 'sister city' in the mountains above San Blas, Mexico. With the $400 the boat raised last year, they were able to purchase 1,500 items of clothing for the very poor and send a young blind boy to school to learn braille.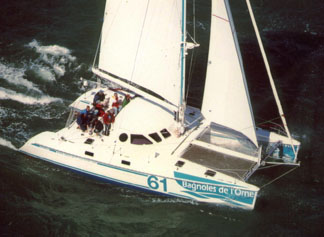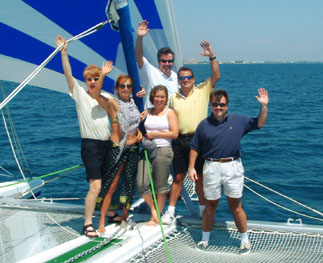 Photo Latitude/Richard