---
Photos of the Day

April 10 - Newport Beach

Today's Photo of the Day is of Dan and Anne Prigmore's Andrews 44 Nehushtan that's based out of the Balboa YC in Newport Beach. The photo, which was taken last Sunday, looks like a typical boat returning from a daysail off Newport. In fact, the Prigmores and their daughter were sailing back into their home port after doing the Baja Bash. According to Bruce Ladd, who did the Bash with Profligate about the same time, the Prigmores, and their daughter, sailed the entire way. We saw them off Dana Point covering the last few miles, and they looked very, very good, hauling ass and pointing high in typically light Southern California conditions. We tried to contact the Prigmores for more details of their Bash, but their Tustin number is disconnected. Can anybody help us out?


Nehushtan returns home
Photo Latitude/Richard
---

Grant Todd in Very Serious Condition after Boat Explosion

April 10 - San Antonio

As we reported yesterday, singlehander Grant Todd of the California based Hans Christian 48 Koonawarra was badly burned on the night of March 26 after his boat exploded off the coast of El Salvador. He was rescued by buddyboaters Dale Moore and Kathleen Murphy of the Island Packet 37 Karina D. and Barry and Kathy Devine of the Tayana 42 Joss. As of yesterday, Todd was reported to be unconscious in a San Antonio hospital with his best friend Kent Parker at his side when allowed. Todd is reported to have second degree burns on this arms, hands and shoulders, as well as a fractured vertabra and broken knee cap. He was supposed to have had surgery yesterday, but it was postponed because of kidney problems and pneumonia. No prognosis was given, but Todd needs everyone's prayers.

We haven't heard of any explanation for the explosion, but our primary suspect would be a gas or propane explosion. It's not often that these explosions happen on boats, but when they do they are usually horrific.
---



The People You Meet

April 10 - Oakland

While in the Oakland Airport waiting to catch a flight to San Diego to meet Profligate, we bumped into Stan Honey, inventor of SailMail and navigator on PlayStation. We congratulated him on the great photo of his Cal 40 Illusion steaming down a wave that we ran a few days ago in 'Lectronic Latitude. Stan said it really was a great shot, but that he hadn't even been aboard. Sally Honey, his wife, had taken the boat in the Lightbucket Race along with Sylvia Seaberg, Synthia Petroka, and the lone guy, Tom Condy.

When we got to Profligate at the La Playa Anchorage in San Diego, she was anchored next to old friends Ty and Toni Knudson of the Westsail 43 Sundowner. The couple spent many years cruising in Alaska and the South Pacific, and with their son now raised, are about to head off again. In fact, within the next couple of weeks they should be headed down to the Sea of Cortez.

After delivering Profligate to Newport, we had dinner with Brad Avery, the honcho at Orange Coast College's terrific sailing program. He entertained us with tales of sailing Alaksa Eagle all over the world. He also gave us the latest on the social scene in Newport Beach. Josh Slocum's Restaurant and Bar, long a hangout for sailors, was bought by Dennis 'the Worm' Rodman, the famous basketball player and bad boy. According to Avery, the limos are pouring down from L.A. with all the gangstas, body guards and women.

The following morning we bumped into Richard and Sherry Crowe, who also work for Orange Coast. They've sailed all over the world on a variety of boats, including Alaska Eagle, which they're about to bring up the coast to the boat show. We first heard about the Crowes many years ago in English Harbor, Antigua, when they along figured out how to stop Big O's runaway dinghy, which was terrorizing the area.


This lovely 6-Meter was out for a cruise.

When we sailed into Newport Harbor, we found ample opportunities to photograph boats at play:


Two Shields racing


"Hey! I sailed in the '98 Ha-Ha!"


And two Knarrs racing - oops! This is SoCal, so those are Shields.
Photos Latitude/Richard
---
Ocean Planet Launched for Bruce Schwab

April 10 - Portland, OR

Ocean Planet, Bruce Schwab's new Tom Wylie-designed Open 60, was launched at Schooner Creek Boat Works in Portland on April 7. A crowd of about 200 of Bruce's supporters and sponsors showed up to watch the first and only state-of-the-art Open 60 built in the U.S. make her splash. Plans call for the boat to participate in three circumnavigations as well as a series of Atlantic and transatlantic crossings. Schwab will be sailing most of them singlehanded.

Built of wood/epoxy and carbon-Kevlar, Ocean Planet is dramatically lighter and narrower than most Open 60s such as Ellen MacArthur's Kingfisher. Ocean Planet features a unique unstayed mast built of rotating braided carbon fiber tube configuration fitted into titanium butt collars. The sailplan is a fractional rig with the jibs on free luff roller furlers. Bruce and crew, including Bill Colombo from Doyle Sails in Alameda and Steve Rander of Schooner Creek, leave Portland Monday to head down the coast to San Francisco, arriving in time for Ocean Planet's official christening by Ellen MacArthur at Pacific Sail Expo next week. Ocean Planet will be on display at the boat show April 18-22.


Ocean Planet is lowered into the water.


A double rainbow came out for the stepping of the mast (the second is faintly visible to the right of the first)

Photos Bruce Schwab
---



Wahoo! It's an Ono!
April 10 - The Pacific Rim

Yesterday we asked to have a couple of big fish identified, and we got responses from one end of the Pacific to another. Rudy Salazar, Eric Jones, Mike and Ali Bacon, Royse and Stacey, Keith Rarick all agreed the fish is a wahoo or what the Hawaiians call an ono. Bob Underwood of Vashon Island, Mike McKimens of Alaska, and George Backhus down in Australia all agreed. George even said it was his favorite fish, although others said they preferred mahi. Jared DeWitt said they were King Mackerel. John Farnsworth said they were of the tuna family, which included tuna and mackerel. So we're guessing they were wahoo.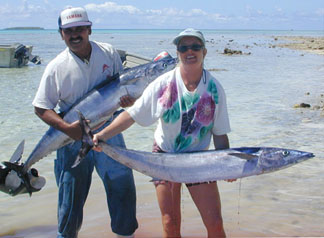 Photo Paul Weiner
Royse and Stacey of Southern California added a postscript: "We love your mag and hold you partly to blame for the fact that we just placed our 60' power boat on the market and have purchased a 48' Murray Peterson-designed schooner. If your mag wasn't so damn good, we'd have kept the powerboat. But seeing all that we've been missing out on all the fun your readers are having, we've decided to join em! Chock one up for the rag baggers!"
Good on ya!
---

YOTREPS

April 10 - The Pacific Ocean and Cyberspace

Who is out making passages in the Pacific and what kind of weather are they having? Check out YOTREPS - 'yacht reports' - at http://www.bitwrangler.com/yotreps/
---


Weather Updates
April 10 - Pacific Ocean
San Francisco Bay Weather
To see what the winds are like on the Bay and just outside the Gate right now, check out http://sfports.wr.usgs.gov/wind/.
California Coast Weather
Looking for current as well as recent wind and sea readings from 17 buoys and stations between Pt. Arena and the Mexican border? Here's the place - which has further links to weather buoys and stations all over the U.S.: www.ndbc.noaa.gov/stuff/southwest/swstmap.shtml.
Pacific Sea State
Seas are normal in the Pacific. But you might check out the Pacific Ocean sea states at: http://www.mpc.ncep.noaa.gov/RSSA/PacRegSSA.html.
For another view, see http://www.oceanweather.com/data/global.html.
---
Top
/ Index of Stories / Subscriptions / Classifieds / Home
©2001 Latitude 38 Publishing Co., Inc.