Pacific Puddle Jump
April 4 - Nuevo Vallarta
The most popular way to get to the South Pacific is to leave from Mexico and sail to the Marquesas. That's what the Pacific Puddle Jump Class of 2001 are doing. We're introducing them to you in a continuing series of profiles. Check back for more in tomorrow's 'Lectronic, and you'll find all of them in the pages of the April issue of Latitude 38, which came out on March 30.
Four Winds - Tayana 37
Greg Nickols, Sausalito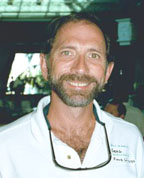 Sometimes life just isn't fair. There are probably thousands of West Coast sailors who would give their eye teeth to jump on a boat bound for Tahiti. Yet here was a likeable young guy with a sleek 37-footer ready to shove off, but in need of crew. We were tempted to sign on ourselves.

A capable sailor, Greg came south with the '99 Ha-Ha fleet and has since been all the way to the Panama Canal and back. Keying in on the less-traveled places, he particularly enjoyed the Las Perlas Islands of Panama and a trek through Costa Rica's rain forest. In the months ahead he looks forward to visiting "all the places I've been reading about for the past 20 years like the Marquesas, Tuamotus and Cooks."

In a few years he'll head back to the Bay Area, as he's "not really retired, just temporarily unemployed."
Free Spirit - Pearson 424
Jerry & Barbara Philips, San Francisco
"We've fallen in love with Mexico and its people," says Barbara. After coming south with the '99 Ha-Ha, she and Jerry took Spanish lessons to help them assimilate, then balanced their time in coastal anchorages with trips to remote mountain villages.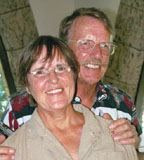 This will be the couple's first trip across the Pacific, but they are certainly no strangers to cruising. "Even back in the '70s, when our daughter was only three, we took the boat down the Mississippi and up the eastern seaboard to Maine." Both retired teachers, they used their precious summers to travel under sail. Twice they went from San Francisco up to British Columbia and back, exploring outlying destinations like the Queen Charlottes and Princess Louisa Inlet.
Realizing that most working stiffs don't have that kind of flexibility, they advise, "Build up your experience over a long period of time. Sail outside the Golden Gate and get some practice in real sea conditions."
Photos Latitude/Andy