---
WATCH YOUR TONE
The tone of the May 16 'Lectronic Latitude [Tack or Attack] enraged me. I'm a lifelong sailor and retired tugboat operator who has spent many years escorting and assisting tankers — and occasionally LNG tankers — primarily in the Pacific Northwest and Prince William Sound. Currently I'm roaming the South Pacific on a Yamaha 33.

Clearly, the armed patrol boats escorting these vessels are there to ward off terrorists, not pleasure boaters, regardless of how foolish they are. It was the blasé attitude by the author, and the appalling remark about being under sail and on a starboard tack when encountering an outbound LNG tanker dealing with an ebb tide and a confined channel (directly under the Golden Gate no less) that raised my hackles. I have seen many near misses in my years.

That remark — among others — and the tone of the article, seemed out of place to me in the electronic pages of a highly-circulated publication like Latitude 38. "Since we were just cruising it was no big deal." Argh. So if you're racing, it's OK to pass close to a large commercial vessel? Like Lowell North did years ago? (There were articles in Latitude 38 about that incident).

The majority of sailors have little or no appreciation of the difficulties the pilots of these vessels are dealing with. Few have even a fundamental understanding of the rules of the road. Even experienced, gifted sailors sometimes exhibit terrible seamanship on the race course in the heat of battle. It seems to me that Latitude's role is to illuminate. I think this article did damage.

But I've loved Latitude 38 since its inception. My favorite boating publication, period.

John Tebbetts
Ichi Ban, Yamaha 33
Whangarei, NZ (heading back to Tonga soonish)
John — We appreciate your feedback and readership all the way in Whangarei, New Zealand, but think you may be suffering from a bit of PTSD (Post Traumatic Ship Disorder). We are sure that, "after many years of escorting and assisting tankers," you've had more than your share of tense situations with recreational sailors and other obstacles. But to say that, "The majority of sailors have little or no appreciation of the difficulties the pilots of these vessels are dealing with. Few have even a fundamental understanding of the rules of the road," feels way out of line with reality. We consider incidents between ships and sailboats to be newsworthy, but we rarely hear stories that are worth a mention. Suggesting the frequency of sailboat-and-ship scenarios, you reference a well-known incident that happened between a commercial ship and Lowell North while skippering the Peterson 44 Secret Love. That was in 1983!

The truth is, despite the very busy commercial traffic on an exceptionally active sailing venue like San Francisco Bay, the actual instances of ship and sailboat collisions are almost nil.

That doesn't mean there aren't close calls that stress out both ship pilots and sailors. Even though we have put in our time on the Bay, we take every sail seriously, and know that we don't know everything. We have been out and heard the dreaded 'five blasts on the horn' but, given all the thousands of sailors, windsurfers, kiters and others on the Bay, we'd say that by far the vast majority have a decent enough understanding of the basic rules of the road to stay well out of the way.

In this hypersensitive world it is hard to insert a tongue-in-cheek comment like "starboard tack and under sail," which was meant completely in jest. From the USCG perspective it may have still looked a little too close, so they zipped over with their gunboat for a pleasant, short visit. No big deal. As we noted in 'Lectronic, "...when you consider an LPG tanker under the Golden Gate Bridge, you understand their desire to be cautious." With or without a gunboat, we were sailing with the understanding that the ship had indisputable rights and that we were, from our perspective, staying well out of the way. But to be fair, we've been in race protests and philosophical discussions where our perspective was also deemed a little off.
AND WATCH WHERE YOU'RE GOING
Readers — a few months ago, we posted the following picture on Instagram with the following caption, followed by the following comment: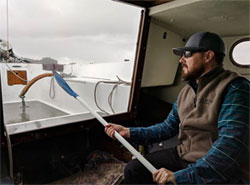 Caption: Testing out a new type of tiller extension during a St. Patrick's Day sail, which saw some light rain that forced us to retreat to the cabin (which was stocked with whiskey). We kept the boat on course toward the emptiness of San Pablo Bay and managed to stay dry!

Comment: Pretty awesome. Until the tugboat runs you over cuz you can't see where you're going and can't hear them blasting the danger signal.

tugcaptain11
Instagram Planet

Tugcaptain (and John Tebbetts) — Sigh. Does anyone out there really think that we try to starboard-tack ships, or that we just go below and sail blindly on a busy waterway? If Latitude has set any precedents in its 41-year history, it's that we enjoy a good joke.

We understand that you're both professional mariners who have worked on the water, rather than just recreating on it, like we do. We understand that you've probably seen some unbelievably stupid shit over the years, and are therefore skeptical of ignorance, even as a joke. And in your comments, you both advocated for safe boating, so thank you for that. We don't want anyone to think that in either our joking or slightly indignant response here, we don't believe in being as safe as possible on the water. We realize that lots of sailors read us, and that we set a de facto example.

So just to clarify: Don't starboard-tack a ship (as if the machine gun weren't deterrent enough), and don't go below and step away from the helm if there's a tug bearing down on you. Please, stay safe everyone, have some fun out there, and be sure to tell and enjoy jokes.

SO I HAVE SOME TIME ON MY HANDS. GOT ANY EXTRA LATITUDES?
I had some time on my hands so I attempted to draw out an 18-ft symmetrical daysailer that I would theoretically use a crab claw sail with. What a hoot! Boy, that was a lot of fun. No idea if I'll build it — I need to figure out a little more first — but already it was a worthy pursuit. Talking about pursuits, there are numerous worthy ones, like walking down the ice cream aisle at your favorite market and trying to pick out a flavor.

Anyways, I've done some thinking. Jail provides you with ample time to think, and if nothing else, I figure next to flying small craft, there is nearly nothing as freeing as sailing out at sea, preferably with a dog. Never really done it but I bet! At one point, I bought a Catalina 27 out of Sausalito. I had taken a sailing class — ASA 101 out of Santa Barbara — but still lacked the confidence to commit.

I've been up in Portland lately; might try Seattle soon. We will try the Bay Area when I'm more financially able. (Can you imagine that Santa Clara County flew me back with two fugitive officers over a probation violation?) Anyways, I used to really enjoy Latitude 38. We don't even have a book shelf where I'm at. Think you could send any old issues over here? Any advice on building that boat, i.e. a book to pick up when I'm out? Or any place to check out in Oregon or Washington?

Thanks immensely for your publication. I'll be here another month.

Anonymous
Milpitas

Anon — We hope you got the issues we sent you!

YOUR BOAT'S OLDER THAN MINE!
I stopped by the Latitude 38 booth [at the Pacific Sail and Power Boat Show], but only spoke with Doña M. Richard Spindler wasn't there — I wanted to have a chance to thank him for all he's done. Maybe another occasion.

Must tell you I appreciate editor Tim Henry's continuing tales of boat ownership and San Rafael. My boat is right next to the old Rubicon Yacht Sales, at 21 Third Street, just a few hundred yards past Lowrie [where Timmy keeps his boat]. Ha. However, the Chrysler 22 is still mired in cash-flow limbo, needing a haulout to R&R the 800-lb. centerboard pivot-pin. I'm living like a starving student, saving funds up.

Hobart Bartshire
San Rafael

Hobart — Thanks for the shout-out. We like to imagine that Latitude founder Richard Spindler lived by some variation of this credo: What's the point of working for a sailing magazine if you can't go sailing and write about it? It's been amazingly fun — and surprisingly humbling — to own and maintain my first boat, and I hope that I might have something useful to pass on to other would-be, newbie owners.

I LIKE ALL THE DIY
The DIYs are fun. Keep them coming. Thanks.

Tony Pooner
Latitude Nation

THE DEEP CLEAN — POWERBOAT DIVISION
Doing a deep clean [as reported in a May 7 'Lectronic] is not any better on a powerboat! This is the mess from the lazarette of my old boat when I upgraded to a new vessel in 2014. Seventeen years of accumulation.

Eric Artman
Cozy Lee, Island Gypsy 36
Tiburon

GOD'S REEFING SYSTEM
I got a good chuckle out of your title God's Reefing System in [the May 23] 'Lectronic Latitude. The end of February and early March I had a 6,5,2,DNF,DNS,RET,RET,RET at the 2018 Thistle Midwinters East Championship held at St. Petersburg Yacht Club.

We had no wind Tuesday, we were fourth overall after the first three races on Wednesday a couple of points out of first, broke my ash tiller at the rudder head during Thursday's first race giving us the DNF and DNS and then asked to be scored RET for Friday's three races after our middle left us for Miami to go race in the J/24 Midwinters.

Funny thing was that my wife Mardi and I actually won the last two races on Friday two-manning it, but the Thistle Class doesn't allow us to add/remove crew during the regatta.

More 'letter scores' in one regatta than I've had in the past decade!

Mike Gillum
East Bound and Down, Thistle
Bubba, Day Sailer
Loomis

Mike — Readers may have seen the 'Lectronic showing the stump of a mast left after a windward shroud failed on the IOD Cedric during the second day of racing in San Francisco Yacht Club's Elite Keel Regatta. We have to thank Rich Jepsen for sending in the photo, and credit him with the title of "God's Reefing System."

Despite the best preparation possible, you never know when higher powers are going to take command and deal you results with a lot of 'Ds': DNF, DNC, DNS or maybe an RET. There's always next time.

GOD'S WARNING SYSTEM
I wanted to sail [during a windy weekend in mid-May], but nature said no! This photo was taken while I was safe in my slip. I wondered why people were not checking their lines like I was.

Greg Clausen
Free Spirit, Beneteau Oceanis 390
Tiburon

THE FUTILITY OF PERFECTION
I have been sailing and "messing around with boats" for over 50 years, and I've learned that we will make mistakes. Most of the time, they don't kill us. Often, we think we're competent until we do something that slaps us upside the head and reminds us how fallible we are. I worked many years in the aviation industry where there's little room for error, so I consider myself quite meticulous with a great ability to pay attention to detail.

However, on my boat, I may have been a little lax. I had removed the wheel steering cable to lube it and replace critical components. Upon reassembling, unknown to me, I reversed the chain on the sprocket. Fast forward six months. I have decided to move my boat to a new marina across the Bay, and it is a beautiful day, so I invite my girlfriend to accompany me. I foolishly back out of the slip without checking which way the rudder is turning and find, much to my dismay, that the rudder is going the opposite way from which it should go.
So in reverse, and when I hope the bow will swing to port, it swings to starboard and vice versa. I am in a very narrow channel and don't have a lot of time to figure this out. But once I realize what's happening, I decide that I've steered a boat with a tiller for many years, so I will pretend that this wheel is a tiller. My girlfriend has very little sailing experience but is very intuitive and realizes something is awry. She realizes that maybe the dufus behind the wheel doesn't knows what he's doing. When we return to a slip that's empty, I open the binnacle and reverse the chain on the sprocket and then the rudder moves as it should. This time I check it.

And then we a have a beautiful sail across the Bay, arriving at the marina at sundown, with nature doing what it does best, putting the sun to bed. Had I not messed up the chain connection, we would have been too early for the sunset. As Shakespeare said, "All's well that ends well."

Tim Rogers
CAVU, C&C 40
San Francisco Bay

DELTA CRUISING DESTINATIONS
We enjoyed seeing you again and participating in the Delta Doo Dah X Kickoff Party. After listening to the presentation on where to go in the Delta I realized that there isn't a current guide for DDD'ers about the what-and-where information. I looked at your website on Delta Events and the reference to the commercial Delta Chambers site but really didn't see a lot of sailing and anchoring information.

What's your feeling for Active Captain and its database of the Delta? I haven't really explored it since the change of ownership and integration with Garmin. You can check out Active Captain at www.activecaptain.com/livemap. The website gives you access to the maps, but you have to join to make new entries or comments. I am in the "California Delta" group. Some of the stuff is pretty dated though, i.e. the dike at False River is gone.

Rio Vista has a farmer's market every Saturday that is easily reached from the public dock at the foot of the main drag.

Everyone touts the Bedrooms as an anchorage but there's also Decker Island and Steamboat Slough on the Sacramento. The public docks and Old Sacramento are still a viable tourist spot. Farther up from the Bedrooms on Potato Slough is Grindstone Joe's and of course Tower Park. They've opened a Yogi Bear Jellystone Park there for families with bored small ones.

You asked about Liberty Island as a gunkhole for cruisers, and I thought to send you some of the references on its creation and status. My references are online but also in tomes of information about Delta development, which, if you're a history buff, are somewhat fascinating.

See https://fishbio.com/field-notes/the-fish-report/happy-accident-restoration-liberty-island, https://baynature.org/article/liberty-island and www.ppic.org/wp-content/uploads/R_207JLChapter2R.pdf.

I wonder if we'd find the Delta such a marvelous place if it'd not been developed over the past century. Liberty Island is supposedly one part of the Delta that 'reproduces' the nature of the original marsh, in that it has no fresh water through-flow (at least until the Yolo Bypass is opened). Fish and Wildlife uses it as an environmental laboratory on 'natural' conditions. Unfortunately they can't get tidal saltwater to test its effects. As we enter another low-water summer, it'll be interesting to see how flows and farmers and Delta boatmen go. Sec 437 [eliminating judicial review] is the scariest thing in Congress.

If you recommend this site as a gunkhole to your readers, I'd suggest they have a dinghy to really see it all. The slough is deep enough for our type of boats, and there isn't a current to speak of. The levees are unfortunately high; you don't get an aesthetic view to the west. Ulatis Creek would flow into Cache Slough, only it is now the Ulatis Canal and has the Hastings Cut taking the water across to Lindsey Slough and then south for the farms. The Canal was developed for flood drainage for Vacaville and so probably has a lot of urban contamination. The greatest users are all bass fishermen and duck hunters.

I pride myself on having had great times on the water, having fished, kayaked and sailed on the rivers from the headwaters to the Golden Gate. Along the way I absorbed much of the local history of water use and development going back to the pioneer times, then the "Cadillac Desert" and more recently the CALFED era. What is being promoted with the WaterFix tunnels will make a permanent change in the nature of the Delta. I find it curious that your magazine hasn't taken a position on that issue. Your reporting of so many issues of our times has been accurate and fair. You don't seem to want to take a stand on the Delta water issue. There's a lot of journalistic meat there and I'm surprised you haven't taken a bite.

David Cowell
Mas Tiempo, Islander 30 MkII
Owl Harbor, Isleton

Dave — Frankly we haven't taken a position on the WaterFix largely because, so far, we don't feel we're enough up to speed to comment.

Marc Reisner's 1986 book, Cadillac Desert, was a fascinating read on the development of water, and, with continued population growth and climate change, water development/management is going to be an ongoing problem.

We love cruising the Delta just the way it is and are very concerned about the project's impact on the environment. Sailing, cruising, and boating on the Delta are activities we don't want to see disrupted, but even more important is the sustainability of the ecosystem.

However, one nagging question comes to mind. What's the alternative? Is it desalination? If we burn tons of fossil fuels to remove salt from seawater wouldn't we be exacerbating the climate issues that are contributing to the droughts we're trying to solve? Certainly water conservation, gray-water use, improved irrigation and numerous other tactics are needed to manage the water. One reason we don't like the WaterFix project is that if you simply increase the water supply with the WaterFix there's less incentive to pursue alternative measures.

In 'Lectronic Latitude at www.latitude38.com on June 1, we posted a political call to action issued by the Recreational Boaters of California. We don't know all the solutions to the state's water issues, but we do know it's important to make your voice heard.

For a PDF listing some possible Delta destinations and itineraries (compiled by Delta cruisers Craig and Ann Perez of the Express 34 Marrakesh), see www.deltadoodah.com. We appreciate Dave's suggestions of sailing destinations and hope to check out Liberty Island this summer.

DELTA RACING DESTINATIONS
I have been reading the Latitude 38 magazines on a regular basis for the last year or so, and I have seen some mention of "sailing and racing in the Delta." I live in Oakley, and I own a J/24 and a Catalina 22. I am very interested in doing some racing with the J/24, but I don't own a trailer to take it to the Bay, and it is difficult to make enough time to sail from my home marina, Big Break Marina, in Oakley, out to the Bay to participate in races.

I have considered attempting to participate in some races at the Vallejo Yacht Club, which is the closest yacht club that I have found so far that organizes races. I am wondering if you can provide me with any information about racing in the Delta that I might be able to participate in (I am only aware of the Delta Ditch Run and the Delta Doo Dah), or if you can offer me any suggestions as to how to become involved in racing activities in the Bay by sailing there from the Delta on a J/24. Are there other Delta sailors who do this on a regular basis? Where would I park the boat if I were able to sail it to the yacht club organizing the event the day before, etc.?

Any guidance that you can offer me would be greatly appreciated. As of yet, I am not a member of any yacht club or sailing/racing organization, so if you could tell me if I should join a club, the YRA, etc., that would also be very helpful.

Andy Bongiorno
Sosega II, J/24
Sosega, Catalina 22
Oakley

Andy — Andreas Cove YC has some races (usually monthly during the warm-weather season) out of Isleton on the San Joaquin River, near daymark 41. Benicia YC is closer to you than Vallejo YC, and they have racing on Thursday nights and also possibly some other times.

There is a group of sailors at the Antioch Municipal Marina who used to do really casual Wednesday night DIY races. I don't know if they still do. A visit to the docks chatting up some of the many sailors there would answer that question.
Stockton Sailing Club is a super-active racing club, but pretty far away for you. But sailors from as far away as Stockton do sail (probably mostly motor, actually) their boats down to the Bay to race. It helps to have some flexibility in your work schedule.

With rare exceptions, you don't need to join a yacht club to race, especially if you're just beginning. Best to start racing first, then decide which club or organization to join.

Yacht clubs holding regattas usually welcome guest boats to stay for a couple of nights in their marinas, as space allows. Contact the harbormaster or port captain at the specific club to find out — in advance. Find links to yacht club websites at www.latitude38.com/links.html.

You might also want to contact the Bay Area J/24 fleet. An active and friendly group of them sails out of Richmond, and they may be able to help you get started racing with them. Find them at www.facebook.com/j24sf. (If our readers have any more suggestions for Andy, please email them to us at

Good luck and have fun!

AN OK RACE, A FABULOUS PRO
The Delta Ditch Run this year was, well . . . "We had fun." The required chase boat for multihulls was vandalized about a week prior to the start. Despite strong support from Stockton Sailing Club (before and after the race), and many people at Richmond YC, initial options were not panning out.

At the 11th hour, we were put in touch with Jeff Zarwell of RegattaPRO. Hero to the rescue! Jeff was courteous, professional, and able to secure a boat. Setting aside his personal life, he made all the last-minute arrangements to escort the fleet to Stockton in well under 24 hours.

Alas, this year was not the 'blast' we all signed up for. No wind. None. Nada. This made getting to the start area and the starting line while also complying with the 'no spinnakers before the gun and crossing the start line' rule a bit hard to do! The race turned into a fun sail.

Jeff stayed with the fleet and supported each boat — three went into Benicia, another into Pittsburg, another retired, and one held out pushing to finish. The door slammed shut on the final boat when, in drifting conditions within ~0.5 miles of Stockton Sailing Club, the tide turned to an ebb . . . at 2 a.m. While they were working their way up the last channel in the dark, Jeff stayed positive, present, and protective. The multihull fleet is very grateful.

Travis Vetter
Inter the Dragon, Nacra 20
The Bay Area

PREPPIN' FOR THE PPJ
I'm several years into the process of preparing my Saga 43 sloop for Mexico and hopefully the Pacific Puddle Jump. One of the challenges is balancing time, money, the aging of the boat, and the aging of myself — I'm sure many cruisers and would-be cruisers have faced these often-conflicting factors in deciding when to cast off.

Two big-ticket items that have been on my list of potential gear additions are a steering vane (probably Hydrovane) and a watermaker. Similar in cost, both would be 'nice-to-haves', but I am leaning toward the vane as more of a 'must-have' considering a likely crew total of only two to three (I already have good electrical auxiliary power, but don't want to rely on that exclusively). Here are key questions that I hope experienced readers can answer: 1) What's the cost/availability/safety of potable water in coastal Mexico marinas? 2) What's the likelihood of catchable rain during a winter in the Sea of Cortez? And, most important, 3) What's the amount of catchable rain expected on a typical Cabo-to-Marquesas passage?

A rain catchment system can be easily rigged, and if a reasonable quantity of rain could be expected, it would make the decision an easy one — just add a good steering vane and still be able to have an occasional hot shower!

Roger Neiley
SoLunaMare, Saga 43
Laguna BeachA

WHO'S GOT THE BIGGEST FLEET?
It's the Star class, dating from 1911 with over 7,500 boats built by at least ten builders, as well as an 80-year history as the Olympic keelboat class. It's one of the granddaddies of one-design boats. And still a blast to sail today!

Unknown
Star Universe

A CLASSY BOAT IN CLASSIES
Classic wooden boats, like classic art, form a category of limited — but passionate — appeal. I advertised mine through an international broker who exposed the boat worldwide. We had several keen responses, including two from Europe and one who traveled from Australia, but after three years, no buyer. So I placed my ad in Latitude 38 less than a year ago, and in months had found the right person to take stewardship of this fine boat.

I finished building my new, smaller wooden craft last year, and thanks to your wide West Coast reach, I'm now sailing again and have a good home for my faithful vessel after a quarter of a century ownership. All parties have reason to thank you, Latitude 38.

Steve Roberts
Makora, 1933 47-ft gaff cutter
San Pedro

ARE YOU A PIRATES OF THE CARIBBEAN FAN?
The first Pirates of the Caribbean, The Curse of the Black Pearl, was definitely the best one. But my favorite memory of the movie is when we used a laptop and projector, and showed the movie drive-in style on the mainsail of our Formosa 41, Islero, while on a mooring in Isthmus Harbor on Catalina.

We used a small FM transmitter on the laptop so that the boats around us could play the dialogue through their radios. Everyone enjoyed rum drinks and a movie that night. The next morning, one of the people on shore told me that they watched the entire movie from the beach and did not realize that they were watching it reversed until the credits appeared. Thanks for reminding me of a great memory.

Gary Morris
Islero, Formosa 41
Silver Gate Yacht Club,
San Diego

YES I'M A FAN, AS LONG AS IT'S GOT THE OLD STANDARDS
No pirates without Johnny Depp or Keith Richards! Mindless fun viewing.

Charles L. Cunningham
San Saggio, Catalina 400
Brisbane Marina

IT'S TIME FOR A NEW FORMULA
More Captain Ron and Errol Flynn pirate movies, please!

Anonymous Old Sea Dog
Planet Latitude

Gary, Charles and Sea Dog — Ever since we started the Latitude Movie Club, we've enjoyed reminiscing about old sailing films, pulling out our favorite quotes, asking people what their favorite scenes are, and, on occasion, eviscerating bad movies. (We also brought the news that Disney is contemplating a Pirates 6, and there are rumors that it could be Johnny Depp-less. But these are just rumors). While the Curse of the Black Pearl was and remains a good film, the Pirates of the Caribbean franchise sailed into some rank, stinking waters.

But Gary's story reminds us that it doesn't matter what movie critics think, and, in some cases, it doesn't even matter how good a movie is or isn't. It's the experience and memories of watching movies that matter most (in fact, some of the worst movies make for the best watching with friends and beverages).

A SURPRISE QUIZ
Readers — This boat starred in the movie __________, and now resides in the West Coast city of __________.

I only know it because I have nearly the exact same photo.

Renee Wilmeth

I had no idea she was in San Diego — I will try to go see her next time I'm there. I love Patrick O'Brian.

Jos Cocquyt

I think Captain Ron was the Commander . . .

Helen Del Guidice

We walk past her daily.

Michael Gammond

One of the beautiful ships in my neighborhood in San Diego, now part of the maritime museum display. She is a replica of a British frigate and was originally christened the HMS Rose, purchased to star in the movie Master and Commander: The Far Side of the World.

Michael J. Mellor

DO YOU WATCH YOUTUBE SAILORS?
I watch Delos, Vagabond, Ran, the Wynns and also enjoy (and contribute to) Acorn, to Arabella, Sampson Boatworks and Salt & Tar and their boatbuilding channels. It's all great stuff!

Eric Jungemann
Devil Dog, Catalina 22
Folsom

SHEER PLEASURE WATCHING
I have been hooked on Sailing SV Delos for over a year now and love it. I am also hooked on Sailing La Vagabonde. Riley and Elayna are just great, and I drool over their new catamaran!

My latest pick is Free Range Sailing: a young Aussie couple circumnavigating Australia. If you are interested in fishing while cruising on a small vessel, this is for you. Very low-key and authentic. I miss Chase the Story and Cheeky Monkey. Wish they were still on.

Having been out there and now getting a bit long in the tooth, it's sheer pleasure to watch these videos.

Rick Whiting
Hope Floats, Floating Home
Sausalito

SAILING INSTEAD OF DRINKING
I think YouTube sailors are good for sailing, and I watch them. It's Delos most of the time, with Ran and Adventures of an Old Seadog, too. The best part is when they are sailing, but all the drinking gets old after awhile.

Greg Clausen
Free Spirit, Beneteau Oceanis 390
Tiburon

HOW MANY YOUTUBE SAILORS IS TOO MANY?
The proliferation of YouTube sailing and cruising channels is a positive evolution for the sport and is a contributor to why Concordia is currently on the hard at FONATUR's Guaymas marina. SV Delos is our favorite channel, followed by Sailing Vessel Adventurer and Adventure Adrift.

Time will tell if Trautman and crew avoid the pitfalls of over-commercializing as they embark on building/buying/refitting a boat for high-latitude sailing under Delos 2.0. What's great about Delos and other channels is their ability to share a window into the cruising lifestyle and deliver information that corrects or confirms the public's perception.

My worry, though, is when too many wanna-be YouTube stars make the itinerant lifestyle into a commercial enterprise and piss off the locals. How many vloggers yapping into a camera perched on a selfie-stick are too much?

Craig Moyle
Concordia, Cape North 43
Sacramento (currently in Guaymas, Mexico)

GOOD FOR SAILING, AND THE PLANET
These YouTube channels are great for the community and the sport. They get more people on the water, which gives us a bigger lobby, but foster the love and appreciation of the world's oceans and their ecosystems as well. Hopefully this will generate more concern for the environment.

Michael St. John
Stormsvale, 1971 Swan 40
Svendborg, Denmark

WHY IS SAILING SV DELOS SO SUCCESSFUL?
Having had a series of health issues since 2013, I accidentally found Delos whilst searching for something else on YouTube.

I believe my first Delos episode was where she was on the hard in Australia and Brian was throwing up because he had to fix the toilet and the smell overwhelmed him.

The most remarkable thing about them is they had to take time away from sailing to work as of just four years ago. They only became financially self-sufficient during and after their Thailand-to-Chagos time, after Karin came aboard full-time.

As a professional filmmaker I feel their success is entirely based on the truth they are willing to show in their videos, including personal crises, the hard work cruising can be, and the interpersonal — and intrapersonal — struggles they are willing to share. And, they view their videos as full stories, and work very, very hard to tell those stories well.

They are successful because they work hard, constantly try to improve in their craft, and aren't afraid to show all the elements, even the difficult ones, that are involved. And it doesn't hurt that Brian is one of the most resourceful, competent people I have ever seen in any craft or profession. It is obvious he has taken the time and made the effort to master every element of owning and 'commanding' a boat. And they (he, Brady, Karin) spend a great deal of time training their crews in safety, seamanship and general competence at sea. Perhaps the most differentiating thing about Delos is their constant efforts to make a real community among their followers, and, in particular, to make a 'family' among their crew, both those on board now, and those who have been on board for any time.

In my opinion Brian Trautman and Jules from Sailing Emerald Steel are the best examples of multi-level do-it-yourself captains to be found on YouTube, or anywhere, for that matter. They have demonstrated the ability to fix literally anything that breaks on their vessels. Seriously impressive.

As I see it, the videos I watch do much more than entertain. They teach, either about the social and personal stresses of living on a boat, or the technical aspects of sailing full-time, or both. And, as a video professional I do tend to view these videos from a different point of view than most other viewers.

This was a good piece [referring also to Greg Winters' article about YouTube sailors in the March issue of Latitude]. However, the ratio of one hour of production per minute of finished video is more than a little short — it's closer to two hours of post-production per minute of finished video, plus whatever shooting time was involved — but generous compared to most non-professional estimates.

This article was another wonderful example of why Latitude 38 is such an important and delightful monthly read!
Kenneth Parker
Planet Latitude

LET'S NOT FORGET ABOUT THE BOAT
What I think is interesting is that Amel Maramus are finally in the media. My folks lived on a Whitby 42 for 12 years, and I see the W42s in photos and blogs everywhere. The Amels not so much, but they seem like a great design that I have heard a few good things about. For my part, I have settled on a Hallberg Rassy 44 cutter that I could singlehand. Now I just have to figure out how to get my hands on one. As for YouYube, The Grand Poobah will tell you life is too short to edit video.

By the way, I think you guys have done a pretty good job in the transition of owners. Latitude 38, to my eye, reads as a much more youthful publication today.

Brad Smith
Searching for that boat
Latitude Nation

LIVING VICARIOUSLY
I love Delos and am a Patron of theirs, living vicariously through their adventures.

David Wilson
Mermaid Hunter, Hunter 37 cutter
Sacramento

MY HANDS-DOWN FAVORITE
SV Delos is my favorite show of any kind I've ever seen, anywhere. I kick them a few bucks every month through Patreon. It's not much, but I'm so happy to support them. I've been watching them since they picked up Josje and Karin, maybe six years ago? Every Saturday morning, my wife and I watch the latest episode on the big screen in the living room.

The photography: It's gorgeous, always improving and delightful to watch. They inspire me in my own sailing videos, which are nowhere close to their level. Delos' editing style gained some edge when Kiril came aboard.

The places: I have gotten to see so much of the world through their lens. Recently I came across St. Helena in a list of countries. Thanks to Delos, I know so much about that island. Maybe someday I'll go cruising and already have some concept of the places, thanks to them. Or maybe I'll never go, but God bless Delos for showing me around, and opening my eyes a little.

The people: I just love 'em. Brian is the perfect captain, MacGyver, camp daddy, thinker, doer. Brady is so fun and cool and full of life. They all seem so humble and kind — great humans. They've really done a good job recently of conveying the emotions. And like you said, it's practically drama-free. They are very educational on boat stuff and different things. They even inspired me to become a scuba diver.

I've enjoyed other sailing channels at times. I loved La Vagabonde back when they were humble. The Lady on White Spot Pirates has been inspiring, with her tenacity working alone on good old Karl. She's showed some cool places, too. Rick Moore has never really impressed me. There are so many channels now — many of the copycats I find kind of nauseating. Twice in the last month, I dreamed I was hanging out with the Delos crew. That's weird, I know. Thanks for reporting about some sailors who mean a lot to me.

Cheers from Montana!

Rafe Sigmundstad
Isla Bella, Catalina 30
Fort Peck Lake, MT

Latitude Nation — In preparation for Greg Winter's story YouTube Sailors in the March issue of Latitude, we started watching Delos, and then — as is often the case with Internet shows — binge-watching it. We tried Delos from Episode 1, as they were making a Pacific crossing from Mexico to the Marquesas, but couldn't get into it. The production quality was pretty basic, what you would expect from your own homemade movie. So we skipped around, and by Episode 15, the caliber of the videos had improved dramatically, with higher-quality cameras, time-lapse footage and tidier editing. As we were skipping around, we weren't really sure who the 'characters' were, which, to our surprise, was a little off-putting. Maybe we were programed by the old reality TV formula, which intentionally contrives and foments drama by pitting different personalities against one another. Maybe we were still trying to figure out who we were supposed to root for.

Our entry point was Episode 107, as Delos was mid-multi-week passage between South Africa and Réunion Island. The episode starts with a forecast calling for 30 to 40 knots, setting a serious tone. This was not to be a bikinis-and-partying episode (which many YouTube sailors are stereotyped as exclusively showcasing). This was serious sailing. "It feels like you're driving a car with your eyes closed down a bumpy dirt road for days, and knowing you're going to hit a tree, but not knowing when," said Brady Trautman, in an off-the-cuff way.

From there, we started watching Delos for all the reasons you watch a TV show: to see what happens next, to see the crew's next destination, and yes, to get to know the characters. A typical Delos episode is about 25 minutes in length, with plenty of beautiful scenery and mellow dives, all scored with relaxing (but hip) music. All of the crew take turns narrating (as well as shooting and editing). Captain Brian Trautman in particular has a soft, NPR-like voice that makes most episodes, well, soothing.

We were wary that the show was a little too what we'll call "bro" or "frat culture," meaning there are lots of scenes of beautiful young people doing shots, partying, and generally behaving like beautiful young people. But to be fair, their social life does not seem that different from ours — we enjoy a cold beverage too, we're just not as young and beautiful (or on the Internet) while we do it. The crew also does a nice job of balancing the content. Parties are tempered with hikes, dives, sailing, meeting people, etc.

The concept of living vicariously through sailors on YouTube is not as cut-and-dried for us. While we're certainly fans of Delos, enjoy the show, and are enthralled with their cruising, there is something a little sad about watching other people living the good life. Delos shrinks the world a little, and there are times when we want to look away, and save some of the sights for ourselves. — th

A GOOD FIND IN MEXICO
In June, while motorsailing our boat Annie's Song up from La Paz, we encountered rough seas (bashing) between Cabo and Turtle Bay, which caused us to stop in Asunción Bay seeking diesel fuel (Asunción Bay is only 55 miles south of Turtle Bay). It was our first time, and we didn't expect to see much.
Wow, were we surprised!

Asunción Bay is now a thriving, 4,000-strong fishing community with a doctor, a clinic and hospital, grocery store, new gas station, a baseball team and stadium with Astroturf, and — most importantly for cruisers — a wonderful hotel called the La Bufadora Inn, which is the creation of Shari Bondy (an expat from Canada) and Juan Arce Marron (from a well-known Baja family). Together, they've created a new mecca for cruisers. They monitor VHF 16, but it is easier to call Shari by phone at (+52) 615-155-7197.

Shari does arrangements for almost anything you need, and Juan provides a water taxi service and will transport fuel from town to your boat using his jerry cans. Juan charges exactly what the gas station charges (~$1 US/liter) plus US $20 for delivery to your boat by his panga. (Contrast this with Enrique in Turtle Bay who charges you US $1.65/liter and asks for a tip!)

We recommend you stay for at least one night at La Bufadora Inn. Their ocean view is spectacular with even a 'blow hole' (which is what bufadora means in Spanish). Shari and Juan also provide a washing machine and hot shower for cruisers. During our stay Shari drove us to town for supplies, and we had a wonderful dinner at Gloria's restaurant. We left Asunción Bay with fond memories and vowed to return soon.

Ed Staples
Annie's Song
Channel Islands

WHY WE SHOULD BE CONCERNED ABOUT ALAMEDA MARINA
I always enjoy reading the Letters, but one got me going last month, so I thought I would offer my own perspective. I am a lifelong sailor on San Francisco Bay, and I love Alameda. I was born in Alameda, raised a sailing family in Alameda, and maintain two in-water boats in Alameda.

In the June issue, the consultant for the developer of Alameda Marina wrote a letter to indicate some of the benefits the project will provide. As currently proposed, the project will provide the funding required to replace critical infrastructure needed for the development. The one thing that is missing from the proposed Master Plan is a full-service boatyard that can paint bottoms.
As all of us boaters know, you need to replace rigging every 10-15 years, but you need to paint your bottom every one to three years. This critical service in the Master Plan has been eliminated. One of the primary goals of the development should be to provide a full-service boatyard with infrastructure required to paint bottoms.

I did some counting on Google Earth from August of last year and noted that all three boatyards in the Estuary were completely full. Svendsen's had 36 boats, Grand Marina had 17, and British Marine had 12. The developer wants to reduce the capacity of the Estuary from 65 spaces to 29. Where are all these boats supposed to paint their bottoms? From my count, there were 2,927 in-water boats around Alameda, which is 1/6 of the boats on San Francisco Bay. If we want to support recreational boating in the Bay, we need to provide the services necessary to maintain our sport. The real estate along the waterfront is precious; once it is developed for housing, it is gone forever.

If you love boating, or Alameda, I would invite you to attend the Alameda City Council Meeting on July 10 at 7 p.m. to voice your opinion. The location is 2263 Santa Clara Ave., third floor.

Rodney Pimentel
Azure, Cal 40
Alameda

I'VE GOT A FEELING ABOUT THE WEATHER
Mike Dvorak's statement about the wind climate being complicated and human memory being short and nostalgic [in the June issue Sightings] is a calm in the storm. The storm of absolute BS being fed to us by the media, government and so-called "scientists" about something called first "global warming," and then when they couldn't fudge the data any more to their liking, settled for scaring us with "climate change."

I get that your article was intended to be lighthearted, but it had the underlying notion that "well, we all agree that there is something called "climate change" going on. I am here to tell you deniers are not all fanatics, and there is an argument.

We can both quote experts from either school of thought, but likely, regardless of their standing in society or government, they have an agenda. My argument comes from the understanding of certain undeniable truths, one being that all governments seek to control the masses (I'm not saying this is a bad thing — I don't want to live in a country that has no control of the people). The other truth is that data on the scale we are discussing can be construed as the reviewer sees fit. Studying weather on the scale we do today is a new phenomenon that we don't have much to compare to historically. Let's say the climate is warming from 1950 to now. Should we be alarmed? What happened from 1150 to 1220?
Any rational person could deduce that with more people on planet Earth than ever, Mother Nature is going to be strained to keep her equilibrium. This is why we buy into this BS so easily. The trouble is most of the data we can compare with is a mere eyeblink since even the last ice age, so we are comparing to nothing really (the last Ice Age ended arguably 12,000 years ago, so you are looking at .5% of the potential data).

No doubt man can pollute rivers, lakes, groundwater and the air and kill off species. So can we change the climate? Maybe. Does the data point to this? It can, if you want it to. The level of complexity of the weather or climate is so vast that this is exactly what we have, a plethora of data that can be skimmed as needed to prove one's point. If we could truly interpret the data decisively, we could likely also predict the weather three to six months out. If I gave you a stipend to study the effect of cell phone usage on teenage literacy and you concluded that there was no effect, the study is over, now you need to find another job. If you tell me there is an effect, and it's probably not good, then you have given cause for further study. It's rare for anyone to put themselves out of a job.

So if you buy into my argument that climate change is BS, does this mean you are off the hook and can get the bigger motor on that full-size pickup or SUV? Of course not, because real science (the Laws of Energy) has taught us that nothing can increase forever; God's laws tell us that the greedy will be punished, and common sense tells us we need to be part of the solution. The real problem is how to manage resources for a growing population. Journalists won't solve this problem. Sadly, neither will the politicians or the scare-tactic scientists on their payrolls.

Why do so many people we run into believe climate change is real — engineers, scientists, teachers and other intelligent members of the community? Because we've been told that 95% of scientists believe it, so we would be the idiot if we challenged it. My sense is that [many of us] have at least done some research on the subject, but have not been in the trenches or the laboratory. If you truly ask yourself why you believe it, you might become more skeptical. Or not.
Suffice it to say I don't discuss this at cocktail parties.

Mark S. Grant
Planet Earth

Mark — To be clear, we believe in climate change. And so do you, to some degree. You said, "Any rational person could deduce that with more people on Earth than ever, Mother Nature is going to be strained to keep her equilibrium," but added, "This is why we buy into this BS so easily." You admit that common sense dictates that our planet is affected by human presence and activity, but that such common sense leads to an irrational acceptance of something that's been contrived by several powerful institutions. It seems like you're saying that we all have to draw a line between our rationality and a consensus of experts.
While we believe in a healthy skepticism of power, we don't think that scientists, journalists and the government are part of a grand, coordinated conspiracy. We don't believe in "so-called scientists" either. Is science a perfect and unimpeachable institution? Certainly not. It's made up of fallible human beings who have limited funds to pursue their research, where ever it may lead. The same, by the way, is true for journalists.

We're always curious: Who exactly benefits from a "climate change conspiracy?" Makers of hybrid cars? Elon Musk and Tesla? China? We'd like to mention here that the US military also believes in climate change, and says it will "aggravate problems such as poverty, social tensions . . . and threaten stability in a number of countries," according to a 2015 Department of Defense report (the DoD also believes that climate change already poses a measurable risk to US military infrastructure around the world).

We believe that most people are trying to do what they believe is right, and save the planet for future generations. What's more, we think that "doing what's right" represents a logical, rational evolution of humanity: To reduce carbon emissions and seek out renewable energy. Why wouldn't we want cars that get exponentially better mileage — or run on something besides gas all together? Why wouldn't we want to power our houses with solar panels? Why wouldn't we stop burning coal because we can get the same energy with windmills?

When we ask ourselves why we believe in climate change, the answer is that it's erring on the side of caution. Climate science, like any weather report, will never be perfect. If the weatherman says it's going to rain, you bring an umbrella or a raincoat. It might not rain, but you go with the weatherman's best guess. Sadly, it often takes catastrophe or panic to change our behavior. We believe that we should evolve, regardless of the degree of danger that climate change poses, and we believe that this evolution should not be thwarted by the power and influence of energy corporations because they want to maintain their bottom line. We put a man on the moon in the 1960s with computers dramatically less sophisticated than an iPhone. How is it that we can't make a car that gets 100 miles to the gallon, or that runs on dirt? We believe in climate change, because we believe that humankind can and must rise to the challenge of finding a better equilibrium with Mother Nature.

As far as data is concerned, we disagree with your assertion that it's all an "eyeblink," or that scientists don't have any long-term data. Ice-core samples and tree-ring analysis give us a snapshot of the ancient climate. No, this information is not conclusive, but it is a deeper look and understanding.
Also, the notion of climate change is actually not "new," and is not just some recent fetish of the media. In 1959, on the 100th anniversary of the petroleum industry, nuclear physicist Edward Teller warned oil executives about something called "global warming." According to an article in The Guardian, Teller gave an unexpectedly dire warning to the industry: "Whenever you burn conventional fuel, you create carbon dioxide. Its presence in the atmosphere causes a greenhouse effect. It has been calculated that a temperature rise corresponding to a 10% increase in carbon dioxide will be sufficient to melt the icecap and submerge New York."

We appreciate your skepticism, Mark, and we don't want you to feel left out as a sailor and reader. We are just a sailing magazine, but because sailing is so inextricably tied to nature — and because many sailors are doing exciting work in environmentalism — we're curious to see who will lead humanity to a better future.