HOW DID SHE END UP ON THE REEF?
Greetings from Spain! I found your article on the loss of the Lagoon 55 catamaran Emerald Jane very poignant - and such stories can't help but move a cruiser. I am confused, however, regarding how exactly they ended up on the reef. If they were miles away from Manuae Atoll, then what did they hit? Is there a reef south of the atoll that is uncharted?
Catastrophes such as theirs can be more than just 'moving', they can also be instructive. Was this, in fact, a navigational error? I'm not meaning to be judgemental. Believe me, were it not for sheer luck, I'd have lost my boat several times.
Another time you carried an article about a boat lost near Suva, Fiji. Again you failed to tell us why the boat ended up on the reef. I was, however, able to formulate my first rule when on the reef: Panic! The skipper of the boat in question thought there was no hurry, as the wind was light, seas small - but then things changed quickly and he lost the boat. So, by 'panic', I mean get the boat off the reef now!
I had an opportunity to practice this principle in the Solomons when we ran onto a reef with eyes - on the bow - wide open. I thought it had been deep enough to cross to an anchorage, but it wasn't. Fortunately, it was in protected waters. In any case, I got to work instantly: dinghy in the water, bow anchors kedged astern, full astern. It took awhile, but in the end we were afloat once again. Just getting the weight off the bow makes a big difference, and all the jerry jugs and other heavy items would have been next.
At the moment I'm waiting in southern Spain for a window to get to the Straits of Gibraltar and down to the Canary Islands for the Atlantic crossing.
Scott Bradley
Ini
Spain
Scott - We always try to report the cause of sailing accidents in the hope that doing so might lessen the chance of the same thing happening again. Boatowners, however, sometimes have reasons - usually to do with insurance companies - to be reticent. So we're not always successful.
But in the case of the loss of the Emerald Jane, John and Jean Silverwood, who were on a conference call with us, seemed perfectly forthcoming. They just don't know what happened. Shortly before dark, they saw the island, figured they were clear of it by several miles, but nonetheless steered a course further away for a greater margin of error. But a while later they went right up on the reef. They didn't recover their charts, so it's hard to say if there was a problem with the GPS, the charts, or what.

YOU PUBLISHED A CHART OF THE WRONG MANUAE
I was so sorry to read of the tragic loss of the catamaran Emerald Jane and the resulting heroism of the Silverwood family. However, it appears that the chart you published on page 123 is of a different Manuae Atoll than the one they struck.
Manuae Atoll (Scilly Island) is the most westward atoll in French Polynesia, and has a dangerous submerged reef on its south and west sides - presumably on which the Emerald Jane came to grief. The other Manuae Atoll (Hervey Island), which was erroneously charted in the Latitude article, lies several hundred miles southwest, and is part of the Cook Islands. I'm sure Emerald Jane was nowhere near this other island.
I'd also like to make a correction on another November letter. Bill Huber's recollection that I once sailed a yellow 505, the name of which was so controversial that the Los Angeles YC made me tape over it, is a good story. But he has mistaken me for somebody else.
Skip Allan
Historian, Capitola YC
Capitola
Readers - We indeed published a chart of the wrong Manuae. The correct one appears here. Our apologies.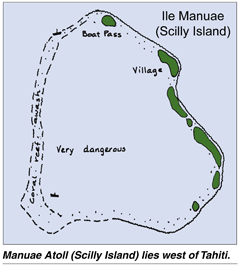 Graphic Latitude/Annie from Charlie's Charts

OH NO, NOT MORE TASTELESS BOAT NAMES!
I heard the following over the VHF radio in Newport Harbor a few months ago.
"Master Baiter, Master Baiter, this is U.S. Coast Guard, over."
Then, while still transmitting, I heard the Coastie say in a low voice, "What a stupid name!"
Rob Spakowski
Raka
Newport Beach

I WONDER IF THE WIFE KNOWS HIS BOAT'S NAME
I saw a smallish powerboat in Texas that had been christened Stabbin' Cabin. I wonder if his wife knew. If I'd seen the boat in California, I would have thought it belonged to Charles Manson.
Pat Moriarty
Reliant, Catalina 320
Austin, TX
Pat - It sounds like a single man's boat to us, as we're not sure a woman would marry a guy with a boat named Stabbin' Cabin. On second thought, some women in Texas might be stimulated by a powerboater with taste like that.

SOLO AROUND THE WORLD FROM THE WEST COAST
Do you know of anyone who has completed a solo nonstop circumnavigation that originated on the West Coast of the United States?
Thanks for the great mag. Like so many others, I read it cover-to-cover each month, and always learn something new.
Ken Barnes
Privateer
Newport Beach
Ken - We don't know of anybody who has done it from the West Coast of the United States, but 63-year-old Tony Gooch did it starting from Victoria, B.C. with the 43-ft sloop Taonui. He finished in 2003. (See Latitude Vol. 311, May 2003.)
Are you asking because you have something in mind?

THE CHAINPLATE PULLED RIGHT OUT OF THE HULL
In a recent letter, a young man wondered if a Clipper 32 would be a suitable boat for cruising out of the San Carlos area of the Sea of Cortez. In my personal opinion, a Clipper 32 is only marginally safe for sailing San Francisco Bay on a normal windy summer afternoon. And, in my opinion, it would be far from an ideal boat to use on a large body of open water such as the Sea of Cortez. The narrow 8-ft beam and the shoal keel do not provide a lot of stability for open water sailing. In addition, the rigging is only marginal for the 287 sq. ft. sail plan.
About 15 years ago, a client bought a Clipper 32 to take to Lake Berryessa for use as a weekend liveaboard. Having sailed Berryessa a number of years before, and having experienced the gusty winds out of the canyons, I warned him about sailing that design on the lake. Two months later, he called to inform me that I had been right about the rig. One afternoon he loaded two other couples onto the boat and went for a sail. A strong gust laid the boat down on her beam ends - until the port chainplate pulled right out of the hull! Then the rig came down.
In another matter, my Ham radio friends tell me that Gordon West is overly optimistic in believing the Morse Code requirement will be eliminated from the Ham test by the beginning of the year.
Jack Mackinnon, AMS®-SMS
(Senior Marine Surveyor)
San Lorenzo

Readers - Jack Mackinnon sold boats back in the '60s and has been a marine surveyor ever since. We plan to make him the subject of a Latitude Interview early next year.
Gordon West confirms that the code requirement for Ham licenses will soon be eliminated: "The FCC will likely rule on the code test drop within the next 90 days," he writes, "with an effective date this spring. Applicants for the General Class license may indeed take the written tests only, without a code test, on or after January 1, but will not be able to operate on general frequencies until after the spring date. They would need the written exam test passing certificates re-processed by the local exam team."
By the way, West will be hosting a Ham radio class at KKMI in the spring. We'll have details at a later date.

SHE SAID THAT EVERYTHING WAS GRATIS
I promised I'd write a report on the stroke incident I helped with during the Ha-Ha stop at Turtle Bay. I was in the Ha-Ha as the hired skipper aboard Hal Kraft's Dana Point-based Contest 48CS Dawn Treader. Hal is moving out of the States, wanted to bring his boat with him, and the Ha-Ha was the perfect excuse to get going. The other crew were my friend Tom Kenngott and Hal's friend Vic.
We were on the hook in Turtle Bay the morning of November 4 enjoying some early morning coffee and sunshine when there was a Pan-Pan call on VHF 69 for an offshore medical emergency. Since it was offshore, no one picked up the radio. But when the caller gave the vessel name Ulysses, and we could see a boat of the same name in the bay, I decided to take the dink over.
Tom, the owner of the Cascade 29 Ulysses, was in the cockpit, as was Don Ferrell, his crewmember who he thought might be having a stroke. I identified myself as a firefighter/paramedic who retired from the Los Angeles Fire Department after 20 years, asked permission to come aboard, and I started talking with the 73-year-old patient. Don was symptomatic, as he had some slurred speech, facial droop, and numbness to his left hand. The hand business had been going on for over three days, but he had been ignoring it. The facial business was new and scared him.
Dr. John Murphy, an ER doctor who owns the Ha-Ha entry Cadence, then stopped by to listen to Don's neck veins and heart. He deemed them to be normal. Debbie Smith, an ER nurse from Timshell, also stopped by. They both agreed that Don needed further care.
The previous night Tom and Don had met a local family and had been invited to their casa for dinner. That family came by with their panga and were nice enough to transport Don and me to shore. Then they drove us up to the little clinic in the center of town. By this time Don was really having trouble speaking, and his facial droop had worsened.
When we got to the clinic, I was able to talk with a nurse and explain Don's symptoms. She took them seriously, and immediately put Don in a bed. She took his vital signs, and he was given an EKG with a very old-fashioned - but still working - machine. His vitals and heart were all good.
Five minutes later the doctor arrived. Through translation, we learned that he was very concerned about Don, and recommended that he be flown out for more sophisticated care. That's when the fun really began. I'm sorry that I don't remember the name of the woman who recommended them, but it was suggested that we contact the U.S.-based Flying Samaritans, which is an organization of doctors with airplanes who do free medical work in Baja. I had Hal try to find their number with the Satphone and SSB on the boat.
After making sure that Don was resting well, I went across the street from the clinic to the Internet cafe and got online. None of the Flying Samaritan phone numbers were operating, and the websites seemed to only be checked periodically. I emailed the president of Flying Samaritans, but even now still haven't received a reply.
I felt it was important to get in touch with Don's family, so I asked him if he wanted me to do that. He did, and he gave me a few numbers. Unfortunately, none of numbers were current, and he was still a bit befuddled. So we had no success.
By the early afternoon, Don's facial and speech symptoms had resolved themselves. But his hand was still bothering him. At this point, he was able to give me an accurate number for his son in Portland. I spoke with the son, and he agreed with all that we were doing. He was also very concerned, and wanted the number of the hospital so he could speak with his dad via bedside phone. Trying not to scare the son, I explained that Turtle Bay is a very small town and that the clinic didn't have phones beside the beds. Nor did I tell him what else the hospital didn't have. But I explained what had happened and that the doctors wanted to get him back to the States as soon as possible.
Our next idea was to drive Don to Cabo, La Paz or Tijuana, hoping that he could catch a commerical flight from one of those places to the border and then the States. Then he could find his way to a hospital by ambulance or taxi. But we were all concerned that his mental, facial, and/or speech symptoms would return, and then he would be in a bad way. But that was the best we could come up with. We just needed to find someone with a reliable car who could drive Don out, as it was going to be four hours over a washboard dirt road before even getting to pavement. Turtle Bay is very remote.
By 4:30 p.m. we were becoming more frustrated because Don's hand and arm symptoms were worsening again, and he was becoming concerned. Finally, the local family who had had them over for dinner decided to go to the nearby landing strip and ask some questions. There they learned about a company that would fly Don up to Tijuana for $4,400 as a private charter. Don decided it was worth it and agreed.
Although the flight company - based out of Guerrero Negro - would not accept a credit card, they allowed Don's son to transfer funds into their bank account. Once that was done, the plane was sent, and arrived at the landing strip shortly before sunset. The doctor and nurse from the Turtle Bay clinic accompanied Don to the landing strip in the ambulance. I was on the phone with Don's son as they took off, and he was very relieved to get the news. He was going to try to fly to San Diego as soon as possible to be with his dad.
The other crewman on Ulysses, Alberto Castro, is a Mexican national who works in the U.S. for Cascade Yachts. He was allowed to accompany Don on the plane and then on to San Diego. When the plane returned to Turtle Bay the next day, he'd be able to fly back with it.
Everything worked out well. Don got to the hospital in San Diego, where at last word he seemed to be doing very well. Arturo caught the plane back the next day, and he and Tom were able to start the second leg of the Ha-Ha, albeit a day late.
Before Don was taken from the clinic to the landing strip, I had tried to get a bill from the clinic. After all, he'd been there most of the day and had been watched over closely. You can imagine what the bill would have been at a U.S. hospital. In fact, I was trying to see how much money I had on my credit card in hopes that I would have enough to front the money for Don. But the woman at the clinic sort of looked at me funny when I asked about the bill. She said that everything was "gratis." I was shocked and moved. Socialized medicine at its finest! Don had nonetheless left some cash for the staff to use as they saw fit.
Lessons Learned:
· All vessel captains need to have current contact info for crew's families.
· All crew/captains need to pay attention to what might appear to be minor symptoms, and get an exam and definitive treatment before heading offshore.
· Everyone should look into DAN insurance.
· Everyone needs to make fitness a priority.
Please don't get me wrong, as I have no criticism for Don, Tom or anyone. We all want to go sailing. Don and I even spoke about dying at sea. What a wonderful way to go. Unfortunately, if he'd done that, he would have been putting his fellow crewmembers at risk without their knowing it.
Since we were on the Ha-Ha, I'd like to say a few words about that event. I think what the Grand Poobah and others are doing for neophyte cruisers is wonderful. As stated, the Ha-Ha is not a "handholding" event, but a learning event. I liked that the Poobah encouraged proper radio etiquette and praised family participation.
After talking with many of the participants - the majority of whom had quite a bit of sea time - I learned that they also thought the Poobah and staff were doing a great job. We liked that the Poobah always encouraged questions - and said that the questions were all good, even though we can imagine that he sometimes shook his head. We also liked watching the Poobah interact with the locals and the participants.
By the time everybody got to Cabo, everyone was on their own. That was fine, because by that time they had all learned to network with other cruisers, find their own answers to questions, learn about repairs, and how to have fun. I hope you keep doing the Ha-Ha for a long, long time. Kudos to all of the organizers and volunteers.
By the way, I usually work the graveyard shift for the Avalon Harbor Patrol on Catalina, and I love it. I live on my boat Willow, either at Avalon or Dana Point. I'm trying to con my sis and her husband into doing the Ha-Ha next year, as my boat is ready and it would be a gas. Thanks for the great time!
Wendy Cummings
Willow
Avalon / Dana Point
Wendy - Thanks for all your great help and suggestions.
We wish we knew you were looking for Don's emergency contact numbers, as we carried those numbers for all 525 participants aboard the mothership Profligate.
Having had two Ha-Ha participants fly out of Turtle Bay in two years, we're going to provide the air evacuation information with the entry pack next year.
Thanks for the kind words about the Ha-Ha. If we do say so ourselves, we think it's a really great event also. It's not so much what we do, but that it's such a great course, both for experienced sailors and relatively new ocean sailors trying to gain more experience. And the people are just great. We sure hope you'll be able to do it again next year with your own boat.

THE COST OF CRUISING IN MEXICO
Since 1997, I've been living aboard my Coronado 35 in Oyster Cove Marina in South San Francisco. The only income I have is from Social Security disability checks - which went all the way up to the incredible amount of $1,231/month in January of this year. Nonetheless, on this amount of money I have not only been able to maintain my boat, but to improve her.
Anyone who can't lead a comfortable cruising life for themselves in Mexico on that amount - or less - needs to stop hiring people to do everything for them and actually learn how to cook and clean. That's just my two-cents worth.
Eric Thompson
Procrastinator
South San Francisco
Eric - As any number of Mexico cruising vets have reported, a person who avoids marinas and tourist restaurants and bars can cruise like a prince in Mexico and Central America on $1,200/month. And it's not like a guy would have to do his own cooking and cleaning, for with that amount of money he could be taking his chica out to eat for almost every meal.
So most people on Social Security really do have a choice. They can either live as though they were on a perpetual vacation in Mexico, or try to scratch out a Spartan kind of existence here in California. Yes, we know there are other considerations, such as being close to family members. But mark our words, the number of Americans retiring in Mexico to live the good life on a modest amount of money is going to dramatically increase in the next five to 10 years.

MORE FAKE DISTRESS CALLS
Those who frequent the maritime net frequencies know that the person who calls in the hoax distress calls was back at it a number of months ago. He has been disrupting the Pacific Seafarer's Net off and on for about three years.
The first two times we got calls from this guy, we took him seriously, with the result that on both occasions the Coast Guard scrambled a C-130 fixed-wing aircraft to the location where he said a boat was sinking. Nothing was found either time. This was a fantastic waste of taxpayer's money, and needlessly risked the lives of the flight crews.
We have since been able to recognize the perpetrator of the hoaxes immediately, and therefore have been able to avoid unnecessary Coast Guard scrambles. Nonetheless, some of the instances have been reported to the Coast Guard as "possible hoaxes."
The other problem is that many Ham operators don't recognize this person as a guy calling in hoaxes. We at the Pacific Seafarer's Net know his routine and call him on it immediately. But when he comes up on 14300 after we start our net on 14313, he is usually brought up to our frequency by an operator who is not familiar with his antics. The hoaxer will then refuse to be taken off to a different frequency, thereby initiating chaos - and accomplishing his goal of disrupting our data collecting net.
It's not any operator's fault that they don't recognize the guy as a hoaxer, but if we can get the word out about him - he shows up about every three months - maybe he can be caught sooner.
Here are some factoids about this loser:
· His reported 'sinking' locations change from incident to incident, but are generally between Monterey Bay and Cabo San Lucas.
· His reported lat/long positions are never correct. Most recently, he said he was near "Pedro, Mexico" - which doesn't exist. At first he reported his position as "6 North 32 South, by 122 West 22 East", which he confirmed to me twice. When he heard us making fun of the nonsensical position, he changed it to "16 North decimal 22, by 122 decimal 22 West". This placed him 800 miles to the southwest of Cabo San Lucas.
· His reported locations never agree with radio propagation conditions or beam antenna positions. In the most recent case, all stations could have copied him at his reported position, but I was the only one who could hear him. Our best hearing stations couldn't hear him at all. I heard him on backscatter propagation pointed away from him, but heard nothing while pointed at his location. His reported distance from me was ideal for that night, and other stations were loud at that distance. For this reason, an attempt to get beam headings on this guy is a must from all who are capable. We can't pinpoint him, but we can get a general idea of where he is. From past experience, we think he is somewhere between Los Angeles and San Francisco. His transmissions are pretty short, so operators have to get on it as quickly as possible.
· His "distress situation" always develops at an unrealistically fast pace. One time he said he was sinking, then he saw a boat a few miles away, and then five minutes later he said he was being rescued by the same boat. The whole thing only took about 20 minutes from beginning to end. So beware of impossibly fast-developing situations. In every case, he reports that his boat is taking on water and sinking fast.
· He often gives bogus Ham call signs and boat names. Sometimes he doesn't give a call sign at all.
· He refuses to change frequency from the net frequency - even though he usually comes to our 14313.0 frequency from 14300. He changed to our frequency, but after disrupting our net, refuses to be taken off.
· His signal is light, suggesting he deliberately reduces his power output.
· He is easily agitated. Most distress vessel operators are very open to complying with requests. This guy is not agreeable to most requests.
· He usually ends his last transmission by saying, "I'm leaving the boat!" After hearing his voice a few times, you will be able to recognize it easily.
· He hoaxes on Thursdays and Fridays, with three of them occurring on the Fridays of long holiday weekends. It's gotten to the point where I will tune into the MMSN 14.300 on the Friday afternoon of a long holiday weekend just to try and catch this hoaxer.
· His Maydays have been made between 3-5 p.m. Eastern Time.
· To my ear, he's an old gentleman, already lacking voice resonance from age, which throws his voice a couple of octaves higher.
· On more than one occasion I got the distinct impression that he was manipulating the output power to create a fade while "taking on water." He always says "Mayday" and always says he's taking on water. Of all the legit maritime emergencies I have worked, I've yet to hear anyone else use the term "Mayday."
In closing, we need to treat all distress calls seriously, but if you get ambiguous answers to your queries to someone calling in distress, it might be the guy. It would be great if we could catch him.
Robert Reed
Pacific Seafarer's Net Amateur Radio Station N6HGG
Humboldt Bay, California

Readers - According to the Coast Guard, it costs taxpayers about $4,300/hour for a C-130 sortie. Hoaxes on the long distance HF bands hurt the cruising community by increasing the possibility that real distress calls might get missed, ignored, or not responded to. They also put a tremendous amount of stress on net controllers.
Any amateur or professional shrinks want to take a crack at what compels this loser to play his game?

DESPITE THE HORRORS, I HAVE NO REGRETS
I'm a former researcher in high energy physics who, at age 50, decided to escape the 'civilized world' by spending my life sailing my 46-footer Zao. For the last seven years, I've been cruising around the Western Caribbean, so I've been around the block. Nonetheless, I can't believe what happened to me in January and April of this year. I write to caution your readers.
Starting about 20 months ago, I'd been living in Cartagena, Colombia, for about a year, married to a marvelous women named Adelaida. I didn't have much money, so about once a month I used to transport backpackers between Cartagena and Colon, Panama, making about $1,000 a month. In Colombia, that kind of money makes you rich.
In May of '04, we decided to spend some time in the States, so after a number of stops and 20 days of sailing, we cleared in at Miami. By Christmas, we decided that Adelaida would fly back to Colombia while I would sail the boat back.
While in Fort Pierce, Florida, I met a couple of nice young folks - Tyler Bullock and his wife Julie Allaire - who wanted to sail down to Colombia with me. Fine. So we sailed down the coast of Florida, against the wind to the Bahamas, and then south toward the Windward Passage between Hispaniola and Cuba. Running low on diesel, on January 23 I decided to try and find some fuel at Cayemite, Haiti. While looking for a place to drop the hook, the police and some other officials with guns came by and said we needed to go through the standard clearing procedure. So we welcomed them aboard.
But once aboard, the officials commandeered my boat and wouldn't let me near the wheel. They brought Zao so close to shore that about 75 Haitians came out and climbed aboard! I asked the authorities to suspend the proceedings until the people could be driven off my boat. They sent one policeman on deck, while the others continued their work with me down below. The policeman on deck couldn't or wouldn't deal with them, and our stuff was being stolen right and left. I asked the officials to let me move my boat, but they wouldn't. Before it was all over - and it took five hours - we'd lost the following items:
Liferaft, two solar panels, anchor with 200 feet of rode, a gennaker in a sock, about 15 blocks, all of the running rigging including the halyards and sheets, all of the safety equipment including a GPS and portable VHF, luggage containing $2,000 and Julie Allaire's passport, a water purifier, a digital camera, and many personal effects.
Despite having so much stuff stolen in their presence, the police chief and other officials told me that I now needed to pay them for clearing me in - and for protecting my boat against thieves! This was outrageous, but I asked the officials how much they wanted. With Tyler and Julie as my witnesses, the police chief said their fee was $2,000 U.S.! When I pointed out that he and his men had already allowed people to steal $2,000 of our stuff, he said that they would have taken more if they hadn't been around! Finally, I had to take them to the dock in my boat, during which time we were followed by dozens of little rowboats full of people. After more theft, we managed to sail away in the middle of the night. What a horrible experience!
After sailing south in bad weather, and being tired and stressed, we decided to anchor at Cape des Irois for the night. But after dark, a group of about 20 people pulled up our anchor and towed my boat toward shore! So Zao's bow ended up on the beach, with people clamoring aboard to grab the stuff the previous thieves hadn't gotten. When we came out into the cockpit to drive the thieves away, people started shooting at us! Meanwhile, their friends continued stealing - and even took my Carib dinghy and outboard motor.
I put out a Mayday on VHF 16 and activated my 406 EPIRB. While the thieves were taking my dinghy, I managed to apply full throttle to the main engine. They continued to shoot at us, but we got away. Some of them followed in their boats and before long began to circle us. Thankfully, the container ship Rio Miamia, under the command of Capt. Tonio Trigoso, arrived in response to the EPIRB. His crew returned fire so the pirates fled. Capt. Tonio also had some of his crew lower diesel and water to us.
With no choice but to use dock lines I'd hidden in the bilges to replace the stolen halyards and sheets, we sailed on to Kingston, Jamaica, the nearest harbor. After five days in Kingston rigging the boat with docklines and such, we sailed - without any safety equipment - the 500 miles to Cartagena. Thanks to the sustained easterly trades, we arrived four days later.
Broke because of my troubles in Haiti and Jamaica, I needed to make some money. Alas, I soon fell into another bad situation. Having been back in Cartagena for a couple of weeks looking for passengers to take to Panama, I was approached by seven people from Peru. They agreed to pay me $300 each to be taken to Panama. Everyone in the marina at Cartagena told me that people from Peru and Ecuador were not welcome in Panama, but I really needed the $2,000. If you've ever had to anchor out without a dinghy, you know that I really, really needed the money.
Partially heeding the warnings of the people in the marina, I made sure all the Peruvians had valid passports and visas. Their passports looked valid, and their visas - good for two more months - had been issued by the Panamanian Consulate in nearby Barranquilla. So I didn't see any reason to not take them to Panama.
After finishing the clearing out procedures, we set sail on March 11 for Colon, Panama, with my boat in the same unsafe condition. We arrived at Porvenir in Panama's San Blas Islands the next night at 6 p.m. The local immigration office was closed, so I dropped the hook in front of their office to spend the night. I obviously wasn't trying to sneak anyone into the country.
I still didn't have a dinghy - so it was only with the help of some fishermen that was I able to get the Peruvians to the immigration office the next morning. The officials stamped my passport, gave me the usual three-month visa, and sold me a cruising permit for $60 U.S. That was the good part. The bad part came three hours later, when the Panamanian police seized my boat and arrested me and the Peruvians! Our hands and feet were handcuffed. For the next several days, I was the subject of stories on prime time television and on the front page of the newspapers.
What had happened? I ultimately learned that there was a problem with the Peruvians' visas. I'm Italian, so while in custody, I was able to call the Italian embassy. All they did was give me the number of a lawyer. They wouldn't call her for me - which really hurt because I was only allowed one phone call a day for a maximum of five minutes - nor would
they give me any psychological comfort.
You never want to be incarcerated in Panama. I spent the first three nights with three other men in a cell that measured six feet by four feet. Two of them had been indicted for murder and the other for drugs. But they treated me better than the police did.
The next day I managed to contact the lawyer, Giulia De Sanctis, a very nice Italian woman who specializes in civil affairs. She told me that I'd been indicted for being a 'coyote' - or trafficking in undocumented people! If convicted, I would be sentenced for five to 10 years!
De Sanctis enlisted the services of a colleague who is a specialist in criminal affairs. He told me that under Panamanian law, I wasn't even eligible for bail because I faced the possibility of a sentence longer than five years! He warned me that of the 10,000 people incarcerated in Panama, just 4,000 had been found guilty by the courts. All the others were just being held. In addition, the average time between being arrested and going to trial was 11 months! My situation was terrible.
After three days in the police jail, I was transferred to the Nueva Esperanza prison in Colon. I was very lucky to be placed in the La Clinica part of the prison. This was a 40 by 40-ft room that housed about 25 prisoners. There were no beds, sheets, eating utensils, or any other niceties. But for exorbitant prices, one could buy a mattress, bed sheets, a pillow, and a mosquito net - the latter of which provided some privacy. The man in the mosquito net next to me had not only cut off the head of his friend with one whack of his machete, he'd run off with it - and was proud of having done it! In the bad part of the prison, 15 people had to somehow survive in cells that were just six feet by 10 feet!
I have big problems remembering and being able to describe what my life was like even in the better area of the prison, but I'll just say it was common to find mice and lizards in our food. And during the night rats walked over us. I understand that a person guilty or suspected of being guilty of committing a crime must be deprived of his/her freedom, but I will never accept that even the worst criminal should be deprived of his/her human dignity.
After about 15 days in this 'club', and having sent many letters and passed out generous 'tips' to prison guards, I was visited by someone from the Italian embassy, and was told that the Italian ambassador would speak to the judge on my behalf. It was so difficult for me because I still couldn't understand what crime I had committed. Was it my responsibility to determine that the Peruvians visas were false? Had I not brought them right to immigration in Porvenir rather than try to sneak them into Panama?
At least I learned more about the circumstances of my arrest. The exit papers from Cartagena weren't all accurate. For example, the zarpe indicated that there were four of us, not eight. And somehow a signature was missing below one of the eight visa stamps. I had cleared out of Cartagena so many times that it never occurred to me to doublecheck the official's work.
There were other factors. The Panamanian Consul in Barranquilla was selling visas for $120 - the monthly salary of a university professor - under the table. Everyone but me seemed to know that Panama won't give visas to Peruvians and Ecuadorians. Nonetheless, when Panamanian immigration in Porvenir saw Peruvians with visas, they knew something was wrong. While my case was being discussed, the Panamanian Coast Guard caught a fast boat from Cartagena close to the Panamanian shore. It was carrying 20 Peruvians who didn't have passports or visas. The Panamanians thought I was part of that, too.
Lastly, the ambitious head of the immigration department did all he could to try my case in the press and on television. I was presented as the head of the trafficking of humans between South America and North America! This was all just an allegation, of course, but it served to get him a promotion and me to spend a month in prison.
I cannot describe the horrors of my life in that prison. Having to pay enormous tips to the wardens so I could manage to keep in touch with my daughter was bad enough. How valuable it was to get a book to read! Being buoyed by my relationship with my lawyer was important. The showers, the homosexual activities that had to be done for money . . . no, no, I cannot describe how horrible it was!
After a month, Giulia came by to tell me to gather my stuff because I would be released in a couple of hours! And she was right. It wouldn't be accurate to call her just my lawyer, she's the third woman in my life after my daughter and wife. She will remain in my heart for all my years. Just as she predicted, I was found innocent of all charges. The judge even came to the prison to get me released, and to apologize for the welcome that Panama had given me. That's fine, of course, but who will repay the money I lost and for all my suffering?
Unfortunately, my troubles weren't over. My boat had a small leak when I was apprehended. After a month of leaking, the water was a foot over the cabin sole and the engine was submerged. Saltwater got into the engine, which meant that at the very least it had to be taken apart and reassembled. All the batteries were dead, and all the bilge pumps were ruined. Between the prison charges, the lawyer fees, and money spent to fix the engine, I am completely broke. While I'm no longer in a prison cell and happy to be back on my boat, in reality a boat without a dinghy is like a prison. I have no safety equipment, no radio, no bilge pumps, no possibility of sailing away - and therefore no chance of making any money.
In short, I lost about $30,000 because of that stop in Haiti and the time I wrongly spent in prison. And now I'm stuck with a boat I can't work to make a living. If any Latitude readers or advertisers might see fit to help me replace some of what's been stolen - even used or broken stuff - I would very much appreciate it. I can be reached by email.
As terrible as this has all been, I have to say that, even during the darkest hours of horrors, I never felt any regret for having left the 'civilized word'. I didn't miss the prestigious position in physics research, the cars, the airline travel, the nice hotels, nor the subways. And I sure didn't miss the stupidity and lies on radio and television. The sea offers the truth and freedom to all who seek it.
Leonardo Cerrito
Zao, 46-ft sailboat
Panama

WANTING TO KNOW ABOUT SAILING TO HAWAII
I'm looking to find possible past articles or publications that would help me to plan a voyage to Hawaii from San Francisco and back. I want to know the best time of year to go, the best routes to and from the islands, and the possibility of getting a slip or mooring at Lahaina.
Larry Patterson
Fresno
Larry - You'll get by far the best knowledge for a trip to and back from Hawaii at the seminars put on by the West Marine Pacific Cup and Singlehanded Sailing Society, both of whom have events from San Francisco to Hawaii next summer. But basically, the best time to sail from Hawaii to San Francisco is late June or July after the Pacific High has established itself. The High is what creates the classic trade wind conditions - although they can vary greatly from week to week and year to year. A course in the shape of a reverse 'S' usually allows you to take maximum advantage of the High, although you have to monitor it. Slower boats sometimes do well sailing a more rhumbline course, but some years that can result in sailing into a gigantic hole that's hard to get out of.
Most boats return from Hawaii in August or September, although it's usually pretty safe to do it through about mid-October. Although it seems crazy, on the return trip you head almost due north from Hawaii for a number of days until you can reach over the top of the High, and only then start heading for San Francisco. So it's like a big 'L'. The High moves, of course, so you always have to adjust your route in relation to it. Cut the High too close and you can end up becalmed for a long time.
You don't want to sail to Hawaii too early in the year - say before May - or come back too late in the year - after the middle of October - because it greatly increases the chances of really getting your ass kicked. And don't try to sail between Hawaii and the mainland during the winter.
Be warned, however, that a sailing trip to Hawaii is rarely the pleasure cruise that many novice sailors expect it will be. You have to assume that you'll be smacked by very strong northwesterlies the first two or three days, during which time you'll be sailing on your ear, be cold as hell and getting drenched. Some or all of the crew are likely to be seasick. After the third day, the boat will be sailing more upright and the crew will start feeling better - but don't expect to see the sun for another week. Once you get into the trades, strong squalls in the middle of the night can create unwanted excitement. The last couple of days tend to be glorious, but the last few miles down the Molokai Channel can be like riding down a roller coaster.
The real joy of sailing from San Francisco to Hawaii is doing it as part of the West Marine Pacific Cup, and with a crew of good sailors who know how to fly the chute and can drive in strong winds. If you've got the right boat, gear and crew, it can be one of the grandest sailing experiences in the world, with the potential for long surfs down big waves. On the other hand, if you've got the wrong boat, wrong sails and inexperienced crew, it can be more like an ordeal - even though it's almost all downwind. If you've got a 40-ft boat and would only be flying chutes during the day, it would probably take you 15 to 20 days.
The trip back would probably take 17 to 21 days. The first couple of days out of Hawaii are often pretty rough because you have to beat directly into the trades. The last couple hundreds miles out of San Francisco - 'gale alley' - can be pretty nasty, too.
You don't want to sail to or from Hawaii in a boat that isn't in excellent condition, as it's over 2,000 miles, and if you have a breakdown halfway across, you'll be in the middle of nowhere. And if you lose a mast or rudder - not that uncommon in trips to Hawaii - the Coast Coast won't come and get you until the health of a crew becomes a serious issue. Those who have had to try to drift 800 miles sideways to Hawaii at half a knot report that it's not all that much fun.
Hawaii itself is no sailing paradise. The winds and seas between the channels can be very, very rough, even during the summer. In addition, there are only a few good anchorages in the entire chain, Hanalei Bay being the most spectacular. Most of the very limited facilities are owned and managed by the state, and they are generally in very poor condition. Hawaii is one of the most anti-boating states in the union. The best facilities are the privately owned Hawaii, Waikiki and Kaneohe YCs, which are great, and the Ko Olina Yacht Harbor on Oahu, which is excellent. Asking about a slip or mooring at Lahaina is like asking where you might pitch a tent in Beverly Hills. You're going to have to anchor, and it's not the best anchorage in the world. Consider anchoring off Mala Wharf, a few miles out of town.
Sailing to, around, and back from Hawaii is not easy, which is why probably 20 times as many non-racing boats sail to Mexico instead. The only way we'd consider sailing to Hawaii is as part of the West Marine Pacific Cup or Singlehanded TransPac. Even if you'd just be cruising over, we suggest that you check out their seminars.

WASTED DAYS AND NIGHTS AT ENSENADA
Ensenada now has a much-heralded 'unified services building' so that it will be easier - at least in theory - for U.S. cruisers to clear into the country and start spending much-wanted dollars. So when I arrived there to clear into Mexico one Saturday morning in October, I thought it would be a cakewalk.
The 'unified services' building is about 2,500 sq feet, and has four sections, one each for Immigration, the Port Captain, Customs, and something called bancera - which I had to visit three times for reasons I still don't understand. There is also a window where you can buy fishing licenses.
I arrived fresh that Saturday morning to do what John and Pat Rains call the "paperwork cha-cha." Speaking in only English, I told Garcia, the agent behind the bulletproof glass, of my aspirations. If he understood, he didn't let on. He just kept repeating a word in Spanish that I didn't understand. So I went to the Port Captain's window, where I was stone-walled by the same word. I gave up hoping for better results when I returned on Monday.
Come Monday, Garcia, a lumpy man who seems to have been born on his stool, provided no more help than he had two days before. I did, however, seem to detect a glimmer of a smile when he saw me wince. Unsure of what to do next, I visited the other windows. The officials behind each window looked at me as if I were a mackerel who had flopped my way into their building. They gave me no help or guidance.
Frustrated, I began to consult the tourist guides and Charlie's Charts to Mexico, hoping to determine what it was these people wanted. There were no forms for me to fill out in the office, so out of desperation, I filled out a piece of paper that obviously had nothing to do with my situation. And finally, I yanked out a form from the back of Charlie's, hoping it might initiate the process.
When I took these forms to Garcia, he indicated approval of the crumpled mess - and proceeded to fill out yet another form with the information I'd provided and from my passport. As he did, he indicated that I needed cuatro - four - copies. Despite the fact that he had a copy machine right behind him, he suggested I go to the Port Captain's window, 14 steps away, to get the necessary copies. When I got to that window, I was informed - after a significant wait - that I indeed needed four copies. But they didn't volunteer to let me make copies.
Garcia indicated that I couldn't just leave the building to get copies, not without going to bancero and paying some money. So I did that, then walked three blocks to a 'tourist friendship' office. They allowed me to make four copies for free. When I returned, Garcia stamped the copies with flair. He then sent me to the Port Captain's office, where I and my stamped forms first had to wait for a considerable amount of time.
Finally, the person at the Port Captain's office told me I needed Mexican liability insurance. I asked where I could buy it, but they didn't know. So I walked the three blocks back to the tourist information place, and they referred me to a business two blocks further away. When I got to the business they told me they didn't sell insurance. I returned to the 'unified services' office discouraged. However, a kind fisherman took pity on me and said there was an insurance office several blocks away. I walked there and was able to obtain a policy quickly and easily.
The Port Captain then started to process the four copies of my despacho and the like. Things went swimmingly until it came time to pay. They asked for a credit card, and I gave them one. It didn't work - even though it had worked at the bancero two hours earlier. The three women and one man in Port Captain's office pulled out a manual and consulted it at length while trying my card over and over again. It still didn't work. Nor did a second credit card. They read the manual some more, consulted amongst themselves, and made some phone calls. Frustrated, I asked if I couldn't just pay in cash. I could not. It was like a Mexican standoff.
The situation was resolved about a half hour later when they called over the Customs guy, who spoke some English. He told me the bank was having problems processing the Port Captain's payments, and I'd have to go to the bank in person. The bank was about 10 blocks away. I was pretty pooped by the time I got there, and when I did there were like 40 people in line. In time I was taken care of, and then marched 10 blocks back to the unified office to complete the process.
After a flurry of stamping and more paperwork, I was sent to Customs, where I talked to the kindly person who gave me instructions on going to the bank. I could sense that victory was close at hand. The Customs guy told me that I needed more copies of the documents. But happily for me, he actually went over to the Port Captain's office and made the copies of my documents, including a copy of the insurance, a document that the Port Captain had already managed to lose. Customs then told me to go to bancero and pay some more money.
That seemed easy enough, so I took the 15 steps to bancero, credit card in hand. But no, bancero needed more information. He wanted the serial numbers from my engine block - or at least I think that is what he wanted. So I went back to the marina and dove into the engine compartment, extracting every numerical bit of information I could from the engine. Thus armed, I returned to the bancero - and to eventual victory.
I then had a tourist visa in hand, a Customs clearance for the boat, the Port Captain's blessing, and some other stuff that I don't understand. I felt blessed. Pushing my luck, I went to get a fishing license. The official looked at me without comprehension for a moment or two, and then indicated that I needed photocopies of all my documents. I mentally flipped him 'the bird' and left licenseless. I think he also had a copy machine.
Norman Conrad
Anya, Vancouver 27
Ensenada, Mexico
Norman - Welcome to Mexico, where things have improved in recent years, but where many minor officials still think their primary responsibility is to waste your time. However, we think that many of your problems stem from the fact you'd never cleared in to Mexico before, and you don't know how to speak Spanish. See the next letter. It also would have helped if you were a woman with large breasts.

LESS THAN TWO HOURS TO CLEAR IN ENSENADA
While at Baja Naval in Ensenada, we saw your request for the experiences cruisers were having clearing into Mexico at the new facility in Ensenada. Based on our experience, if you arrive with the appropriate information, it's easy. All of the offices are contained in one large room, and there is a notice in the entry which explains the order in which one should approach the booths. The following documents are required:
· Passport/Visa Crew list (names of every person on the boat) - original and three copies
· Copy of registration of your vessel
· Copy of your boat insurance policy
· Engine serial number
· Original and copy of driver's license (to show the physical address of where you live)
If you are staying at a marina, you need to take a receipt of your stay with you. We were anchored out, so didn't need this document.
Bring the photocopies with you, as the nearest photocopy place is about three blocks away and each copy costs 10 cents. Always take more copies than required. Mastercard and Visa are accepted by most of the offices. However, you will need some cash for your fishing licenses (each person on board is required to have a fishing license, as is your boat). The amount varies depending on the size of your boat. This time they did not require a license for our dinghy, as we assured them we would not be using it for fishing.
A lot of people are concerned about taking food into Mexico, as it has been said that meat and some other products might be confiscated. No one asked us about provisions or firearms onboard, and no one boarded our boat.
We found that an attempt at speaking Spanish, using sign language, and humor was greatly appreciated. Most officials spoke English, and there is usually someone around who will help if there is a communication problem. The officials were generally helpful and friendly when treated with respect.
It took us under two hours to complete our documentation. If we had taken enough copies of the documents, the process would have been much faster. As in dealing with any government office anywhere, patience and a sense of humor are necessities to take with you.
Lionel Dobson & Laurie McDonald
Sea Whisper
Ladysmith, British Columbia, Canada
Lionel and Laurie - Thanks for the report, as the Ensenada facility seemed to work well for you. We agree that it's important to bring all the right stuff, and to have the right strategy for dealing with officials.
Down in Cabo, fresh red meat, chicken and eggs were being confiscated - even some all-beef hotdogs in a pack. As for guns, you don't want to be caught with them in Mexico unless you've got the right permits - and they aren't easy to get.

ONLINE AND FREE
Latitude readers should be advised that Coast Pilot 7 is now online in PDF format - and is free. Visit http://nauticalcharts.noaa.gov/nsd/coastpilot7.htm.
Jeannette Heulin
Con Te Partiro, Bristol 32
San Carlos, Mexico

Readers - Jeannette is absolutely right. And as we all know, Coast Pilot 7 covers the entire West Coast of the United States from British Columbia down to the Mexican border. What a wealth of information - and at no cost!

ROCKET SCIENCE AND EVAPORATING OCEANS
I'm writing in response to the Canadian who claimed that global warming was evaporating seawater and causing coastal rocks to be exposed and/or moved. Such ignorance can be excused in Canadians, but how can a well-regarded American periodical such as Latitude perpetuate such nonsense? To set the record straight:
1) There are numerous causes of global warming, but Hummers and air-conditioners are an insignificant part of it. The major culprits - which are generally not mentioned because of political correctness - are the gaseous expulsions of cattle, lawyers and citizens of France.
2) The Canadian coastal seawater is not evaporating, although it is receding from the shore. To prove this to yourself, simply look at a picture of the earth. Canada is near the top, while the Pacific Islands are near the bottom. The seawater is merely running downhill - just as anyone who studied hydrodynamics could have predicted it would.
3) Canadian coastal rocks are indeed moving. As the water recedes, the attached barnacles, mussels, and starfish that depend on wave-spray for their livelihoods push their home rocks into deeper water. Wouldn't you?
Sheesh! It's a good thing you guys went into the magazine business instead of rocket science.
Frank Lee
DeRanged
Vallejo
Frank - While a majority of scientists may believe that we are experiencing global warming, and that it's primarily caused by the effects of man, there are those who disagree. For example, William Gray of Colorado State University, perhaps the nation's foremost authority on the prediction of hurricanes, says that the major cause of global warming is that we're coming out of a little ice age. He expects cooling to resume in six to eight years.

BAREBOAT CHARTERING FOR TEACHERS
My wife is a teacher in San Mateo, and it's unrealistic to take off on a multi-week bareboat outside of the District's summer vacation. We did it once, but it just created problems at school and for her. So, are there bareboat destinations that you can recommend for late June, July and the first three weeks of August? Hurricane-free, of course. We expect to fly to/from the location.
Advice along these lines would be most valuable for us and others with teachers in the family.
Tony & Judy Hitchings
San Mateo
Tony and Judy - Julie, our Charter Editor's wife, is a teacher also, so we understand your situation.
First off, we'd strongly recommend that you go wherever you go in June or July as opposed to August, which is when the greatest number of people - and all Europeans - take to boats en masse. Your possibilities include the Med, French Polynesia, the Caribbean, the Sea of Cortez, and the Pacific Northwest.
For culturally-minded teachers, the Med, Agean and Adriatic Seas are great, and we particularly recommend Turkey, which is a fascinating place to visit, even though some Americans still seem afraid of it. Of course, the Med basin is packed from one end to the other, including in June and July, but you'll find far fewer sailing tourists in Turkey.
There is indeed a risk of hurricanes in the Caribbean, but in June and July it's actually quite small. Summer is not the high season in the Caribbean, so everything from air transportation to charter boats is less expensive. In addition, the winds are more gentle and seas more mellow than in the winter. It's a good time to go.
June and July are prime time in French Polynesia also, but again, avoid August, which is when just about everyone who is French goes on vacation. The east coast of Australia is another great place for cruising during our summer.
If you'd like to stay closer to home, the Sea of Cortez can be spectacular in June, but would probably be way too hot in July and August. The Pacific Northwest offers spectacularly beautiful cruising, although weather there is always 'changeable', and even the sunny spells are often punctuated by rain or drizzle. There's also the Northeast United States, although there's a risk of it being cool and foggy as far down as Newport. You just have to take your chances.
If there are any teachers out there who would like to add or amend our list of suggestions, please write.

WHERE WILL WE FIND YOU?
We have another all-woman crewed charter we're going to do out of St. Martin January 13-20 on a Sunsail boat. We're going to try to visit Gustavia, St. Barth, and know that the Wanderer and Doña de Mallorca go there most every New Year's. Will you still be there on the 13th? If so, how can we find you? And where is a good place to anchor?
Back when Sunsail was Stardust, we used to Med-tie to the quay. Apparently that was prohibited, but we didn't know because the briefings were given in French, a language we didn't understand. In any event, I used to keep our boat about 10 feet off the quay and make the crew walk across the dinghy to get to shore. This made them cranky, but kept the boat safe from being slammed into the bulkhead by the surge.
P.S. The color photos in the magazine look great!
Erik Westgard
Minnesota
Erik - Thanks for the kind words about the color photos. We like the way they look also.
Of course, we'll be back in St. Barth for New Year's - and as long as we can after that. Unfortunately, our current plans call for us to fly to the Seattle Boat Show to give a Ha-Ha presentation on January 13, so we may be gone when you get there. But you never know. The best way to find us is to go to Le Select bar and ask the bartenders if they've seen Doña. They all know her from the special type of Bloody Marys she has them make. We like to kick around the harbor in the mornings and evenings, seeing what boats and friends are coming and going. It's a great place for sailors to relax.
The best place to anchor depends on the direction of the easterly trades. If they have a lot of south, the really cool thing to do is anchor next to the Eden Rock Hotel in Baie St. Jean. Assuming, of course, you can withstand all the glamorous people at Nikki Beach Club. If there's a lot of north in the wind, tucking up close to Publics, or Shell Beach, or going to Grand Saline works best. If the winds are straight out of the east, the regular Gustavia and Publics anchorages are fine.
Because Profligate is a cat, we didn't have to worry about rolling, so we loved to anchor in about seven feet of water between the base of Fort Oskar and Le Petit Saints. It's too shallow and often too rolly for monohulls, and most multihulls like to anchor closer in, so it was like our private paradise. You might try it.
We never tie up at the quay, as it's more beautiful, private, and quiet out between Fort Oskar and the Petits Saints, but lots of other boats do. You do always have to be aware of the surge, particularly on the west side when there's a north swell running. The sound of one-inch lines snapping is something you just have to hear.
St. Barths got a tremendous amount of rain in October, so the island should be as green as she's ever been by the time you and your female crew get there. Here's our two tips for our favorite island: 1) If you don't have a great time, it's your own damn fault, pure and simple; and, 2) even though St. Barths is by far the most upscale and money-soaked island in the Caribbean, you don't need to spend a penny to have the time of your life. Not if you love sailing, swimming and nature. Have a great trip!

ANOTHER FLOATING CRIME AREA
Latitude's ongoing critical coverage of the Ala Wai Yacht Harbor in Honolulu is spot on. One of these days I'll try to swing by Keehi and get some photographs of the mostly busted-off pilings that are a hazard to navigation. The rest are falling in. The low rents do nothing but subsidize another floating crime spot.
Keehi's location beneath the flight path of the Honolulu Airport and adjacent to the Sand Island container port means it will never be a premiere marina, but that's no excuse for it being the way it is.
Tim Dick
Kaneohe

Tim - Shortly after Roy Disney wrote his gentle and constructive criticism of the dilapidated mess the Ala Wai has become, a person in the employ of the State of Hawaii called us to complain. He explained that the letter had hurt the feelings of the sensitive Hawaiian legislators, some of whom apparently have inferiority complexes. That's too bad about their feelings, of course, but based on what the legislators have allowed to happen to the Ala Wai, their inferiority complexes are well deserved.
That such a monopolitistic 'sure thing' as the Ala Wai has been allowed to fail is such an epic example of governmental bungling that one has to look all the way to Africa for comparisons. We'd put it on par with what that numbskull Robert Mugabe has done to Zimbabwe, a one-time economic shining light of Africa that he's destroyed in just a few years. And, just as Mugabe can't fathom why anybody thinks he should give up control, the Hawaiian Legislators can't see any reason why the Ala Wai shouldn't be turned over to professional management. Idiots.
If you think we're being too hard on the Hawaiian legislators, consider this. About 10 years ago, a fish processing facility was approved for Maalaea Harbor on Maui. So the state leased a 1.2 acre adjacent lot for a site. The deal fell apart, as deals do, but the idiot state had already committed itself to a 30-year lease! That single bonehead blunder costs the state marine department $1,000 a day on an inflation-adjusting lease that will continue to run for another 20 years. In other words, all of the slip income from the marina - the dummies only charge $2.80/ft per month in the packed marina - doesn't even cover the payments to the guy in South America for his empty lot.
Any more questions about whether the State of Hawaii should be in the harbor and marina management business?

AND THE ROCKETS' RED GLARE . . .
The Coast Guard is absolutely correct in demanding that every yacht be equipped with up-to-date flares. However, the number of flares they require mariners to have aboard versus the number that many experienced seamen feel a prudent mariner should carry are two different things.
The shelf-life of flares right after World War II was short because the propellant would deteriorate. So the International Maritime Organization decreed that flares were only good for two years, and at three years were no longer reliable. However, the propellant was changed in the '60s, so that flares now have a practically unlimited life - if the mechanics of the flare don't corrode away. But that's another matter.
When my flares reach their expiration date, I buy new ones. As such, I always carry the correct number of current flares. But I also save my outdated ones, so my Iolaire usually carries about 30 flares.
This certainly might sound like an extreme number of flares to have aboard. However, when I recommended this practice in the Caribbean Compass, my old friend Bill 'Billy Bones' Pringle wrote back to say, "No way should you carry over-aged flares." He explained that he'd been delivering a boat down to the Caribbean, had more than a full stock of current flares, but, like me, had some out-of-date flares as well. The Coast Guard stopped him and fined him something like $5,000 for having the old flares! The fine was reduced to something like $1,500 - despite the fact that he had more than a full complement of current flares. Is this not idiocy?
The fact that the U.S. Coast Guard should allow outdated flares to be kept on board is illustrated by two stories I heard in a bar in St. Thomas, USVI, last year. In that story, the guy told about a time about 20 years ago when a small fleet of bareboated powerboats was fishing the 'drop off' ledge north of the Virgins, and were so far out they only had a vague idea of where they were when their engine failed. When they called the charter company's home base, the manager told them to be cool and that he'd come out to get them. He just warned them not to use up all their battery power trying to start the engine or talking on the radio.
The base manager knew that the boat carried more than a dozen outdated flares - he'd been collecting them from a liferaft re-packer - in addition to the required ones. And all of the old flares were the rocket type that go up to about 1,000 feet. Because the powerboat had all the flares, the base manager instructed the people in the disabled boat to fire a flare one hour after sunset, and then additional ones every half hour after that. then he got into his chase boat, saw the first flare, and headed for it. He altered his bearing every half hour when he saw the new flare to home in on the distressed boat's location. It wasn't until about midnight that he pulled alongside the bareboat - where he managed to get the engine started. But he'd only been able to find them because they had a good supply of outdated flares. Without those flares, he probably wouldn't have been able to find them, and the Coast Guard would have had to start an expensive air search.
A further complication of the prohibition against carrying old flares is how you legally get rid of them. The Coast Guard won't take them. You can't legally throw them in the dump. (Someone did that in the United Kingdom, the dumpster caught fire, and it caused a major conflagration in a well-known boatyard.) And in the U.K., they won't let mariners get rid of their outdated flares in parades. So what can a mariner legally do?
I've written an email about the situation to every senior editor of every major yacht magazine in America to urge them to band together and solve this Catch 22. Hopefully they will convince the Coast Guard to let mariners keep their old flares aboard - so long as they have also have the prescribed number of legal ones.
D.M. Street, Jr
Iolaire
County Cork, Ireland
Donald - We love you and you are indeed a legend of the Caribbean, but your letter has more holes than most old wooden boats.
First, your Caribbean bar story lends no credence to your argument because it's so dated. If a charterboat skipper couldn't get his engine started off the Virgin Islands these days, he'd simply look at the GPS to get his/her position to within about 20 inches, and then radio that to the base manager so he could come and fetch them. In this instance, using a flare to indicate one's position would be prehistoric.
Second, you and we - but especially you - have spent enough time in Caribbean bars to know not to put much credence in the stories told there. For example, in the story you told, there was a group of powerboats. If one lost her engine, why wouldn't the buddyboats tow the disabled boat back to the base?
Third, we don't believe there is a fine for carrying old flares. Mark Caplin, Safety Officer aboard the local yacht Pegasus, reports that the Coast Guard Auxiliary recommended that they keep their outdated flares onboard. And in all the times our boats have been inspected by the Coast Guard, nothing has been said about the old flares.
Fourth, Caplin said that they did a test with outdated flares, and 50% of them did not function properly. When we used to have the Crew List Parties at the Corinthian YC, the Coast Guard encouraged attendees to bring outdated flares and set them off on the club's back porch. We experienced a similar rate of failure.
Lastly, Caplin also reports that Northern California mariners can legally dispose of old flares at the Alameda County Household Hazard waste disposal office at 2100 E. 7th street in Oakland. They are only open on specific days, so call (800) 606-6606 for details.

PREVENTING SHALLOW WATER BLACKOUT
I'd also like to make a comment on the dangers of free-diving, which is deep diving without using tanks. Free diving presents many fewer hazards than does scuba diving, as no new nitrogen is introduced into the body. Of course, neither is oxygen, so when coming up from the depths the expansion of the lungs is considerable, starving the brain of oxygen, particularly when 10 to 15 feet beneath the surface.
However, there is a way to prevent this peril of the shallows. If you are wearing a wetsuit - and you should be, as all but the very warmest water saps the energy way before hypothermia sets in, and for protection against coral cuts and such - you will also need to wear a weight belt. If you feel you may be in danger of a 'shallow water blackout' while surfacing, you need to release the buckle of your belt and hold it in your hand. Should you blackout, your hand will relax, causing you to drop the belt. The uncompensated buoyancy of the weight belt will bring you to the surface, and the body's need of air will cause you to take a breath immediately. As you have not added pressurized air to your system via a tank, there is no danger of getting 'the bends' or air embolism as with scuba. But don't forget that the wetsuit also expands as it rises, increasing the buoyancy. So intentionally dropping a fairly heavy belt at depth causes the 'Polaris missile effect'. The above technique has been proven on many occasions by spear fishermen.
Another way to add a safety factor to free-diving is to clip a Spare Air bottle to your belt. These small bottles contain enough air for one emergency resurfacing. But as with any other compressed air system, you must be a certified diver, the system must be maintained and checked, and you have to breath normally on the way up because it's compressed air. In California, some types of spear fishing - including for abalone - prohibit the use of any 'bottled' air.
One big advantage of free-diving over scuba diving is the lack of noise. Far from the 'silent world' Cousteau first envisioned, the underwater realm is one of noise and pressure disturbances, and the slow loud noise of a scuba diver immediately warns everything of your presence. Fish may not be terribly intelligent, but they are definitely into self-preservation, and until proven otherwise, you are a predator! (Garibaldi, the orange guys, are an exception, as they are perfectly aware that they are a protected species.)
So skip the old UDT/Mike Nelson falling-off-the-dinghy backwards or giant-step-into-the-water entries. If you want to see more than stupid fish, stealth is the key. What you will find down there is that the great majority of life is within the upper light-filled water, and in California, the kelp-beds are as magic as the redwood forests. But caution requires a cool head and a sharp knife in case you get entangled in the kelp.
In conclusion, free-diving is an extremely safe sport, but the 'foreign element' demands attentiveness and caution.
As for the lions (sea) of Newport Beach, I, having witnessed the infestation in Monterey Harbor, suggested that a few underwater loudspeakers and a recording of an orca might be used to herd them out of their environs. Unfortunately, they felt that using such a technique might violate the law preventing panicking this protected species, resulting in injury to some of the herd. And once you've been around aggressive 600 to 800-lb male sea lions during mating season, you become a bit more aware that they can not only become extremely dangerous - particularly to children, pets and adults with cameras, but once they establish a beach head, be it a dock or boat, they'll do everything but pay taxes to keep it up. It is legal to use a hose or water gun on them, and it does work. But the big males are territorial and will remember you - so be careful out there!
James Wolff
Sausalito

PRIMITIVE CRUISING, DEFINITELY
In a recent 'Lectronic, you posed the question of what readers might prefer, primitive or First World cruising. Since you asked . . . definitely primitive cruising. I think the best part of cruising is seeing places that aren't easily accessible. And where you can meet people who are excited about visitors and who invite you to experience their culture. If you're going to cruise on a boat, why not go where a boat is an asset?
After a nine-year circumnavigation -'78-'87 - via the Red Sea, my husband Buzz and I both agree that the best part was the South Pacific. Even more special was the western part, specifically Vanuatu, the Solomons and Papua New Guinea.
Maureen Hatheway
Gambit, Lapworth 36
San Diego

SEEING PEOPLE IN THEIR TRADITIONAL WAYS
I would opt for primitive cruising, as, in this ever-changing world, the chance to see people and their traditional ways might not be available much longer.
When I was a sophomore in high school, I spent three weeks among the Kuna Indians at the San Blas Islands building a church. We lived among the people, sleeping in hammocks in their huts, and going to the mainland for water and produce that is grown along the river. We really got a taste of their life long before the area became a popular tourist and cruising destination. I was even inspired to try rigging my cayuco at home for sailing, as they did theirs, but mine was less beamy and more prone to putting the lee rail under. I also didn't have the old flour sacks to make a proper 'Kuna sail', so I had to use an old one from a Sailfish. It might have been too large.
Boode Swain
Carmichael, CA
Boode - Playing the devil's advocate, how do you feel knowing that encouraging a traditionally primitive way of life results in a disproportionate number of children needlessly suffering and/or dying. It sort of makes us feel as though we are patronizing them - but maybe we just think too much.

IT'S NOT AS IF IT JUST HAPPENED, BUT . . .
In 2002, my cousin Nils from Stockholm invited me and my youngest son Eric to join him and Birgitta Bodin for a three-week cruise among the Dalmatian Islands of Croatia. I'm writing because we had an incident while sailing that we still can't explain. Fortunately, nobody was hurt.
It happened while we were cruising the Nyad 36 Cordula from Dubrovnik toward the Kornati National Park, island-hopping through the Dalmatian Islands. On this particular segment of the trip, we'd left Hvar for Drvenik, and were sailing in a 12 to 15-knot northerly that was about 75° off our starboard bow. We were sailing under a full main and genoa. It was a sunny, sparkling day, and I was at the helm monitoring the Furuno autopilot and the crosstrack on the Furuno GPS.
Suddenly and inexplicably, the compass swung 90° to starboard - so the autopilot naturally turned the boat 90° in the same direction. Oddly enough, the GPS wasn't affected. The boat was knocked over so far that water rushed over the port rail. I quickly hit the autopilot disconnect. It was a good thing, too, because the main and genoa were both dragging in the water. Fortunately, the boat had swung into the wind rather than downwind, or we might have had an uncontrolled jibe and somebody could have gotten hurt.
We quickly resumed our proper course, but hand-steering and using visual references for navigation. After about five more minutes, the compass started reading normal again, agreeing with the GPS. We reengaged the autopilot, with was also behaving normally again.
What had caused such a sudden and dramatic change in the autopilot compass? We hadn't hit bottom or anything because we were in 300 feet of water. It's true that we'd been sailing in what had been naval battlegrounds in both of the first two world wars, so possibly that could have accounted for the strong magnetic anomaly that had impacted our standard issue binnacle compass and autopilot compass. Then, too, we might have passed close to a nuclear submarine, which has a huge mass consisting of the hull and reactor. Or maybe we'd sailed over an undersea power cable when it was at peak load.
We could never figure out what had happened, and none of the people we asked on the nearby islands had any explanation for the strange occurrence either. I'm a professional navigator, and personally feel that the nuclear submarine explanation is the most likely. After all, the locals would know if sunken ships were causing magnetic anomalies, and if there were electrical cables on the bottom.
Nonetheless, after three years we're still puzzled by the incident, and would be interested to hear from any sailor who has experienced something similar.
P.S. When I get each new issue of Latitude, I try to pace myself so that it will last an entire week. But I'm rarely successful.
Roland Larson
Sacramento
Roland - We've never had an experience like that - at least not while sober. But we seem to remember a couple of somewhat similar reports over the years from readers. Maybe someone will write in with some possible insight.

THE CASE FOR CRUISING CATS
It goes against my California upbringing to say this, but I believe that Californians are behind the curve when it comes to cruising catamarans. It's surprising, too, because we Californians are into luxury and comfort, and cats are the most luxurious and civilized way to cruise.
I'm a member of the Santa Cruz YC, and for nearly all my life I was a mono-hull owner and sailor. But for the last few years - first down the Pacific Coast and then in the Caribbean - I've been cruising on catamarans. And I must say, you see a lot more cruising cats in the Caribbean than the Pacific.
I recently met a couple of delivery crews that were taking a pair of brand new F/P Bahia 43 cats through the Panama Canal. Having already brought the cats all the way over from France, once they got through the Canal, they would be taking them to Bora Bora and Tahiti respectively. I got to inspect the cats and even do a test sail on one near Colon. Although the one I sailed on still had plastic covers on the cushions and woodwork, I found her to be easy to sail and extremely functional.
While in Panama, I bumped into former Northern Californian John Hawke of the 55-ft trimaran Lady Hawke. He says the only way to charter profitably is with a monohull over 70 feet or with a cat over 40 feet. Handling is one of the reasons.
I've done a lot of cruising in the last couple of years aboard Bruce Schwegler's Portland-based Mayotte 47 catamaran Delphinus, which has four spacious staterooms and four baths. The way Bruce sees it, monohulls are one boat, trimarans are a boat-and-a-half, but catamarans are really two boats. Nonetheless, I could have comfortably and quickly singlehanded Delfinus to her next destination, even in a blow. That's not something I could easily have done with a monohull. A cat is also comfortable when there are a lot of people aboard because you have all the room that comes with two hulls, a big main salon, and a huge cockpit. And there are lots of places for people to 'get away'. No wonder catamarans are so popular with the charter fleets.
While in Panama, I also bumped into long-distance catamaran cruisers Richard Brooker and Grace Spencer of the Winnipeg-based Mystery Cove 38 Crocodile Rock. The couple built their little rocketship over a three-year period from a set of plans. They then did the Ha-Ha four years ago, and ever since have been out cruising as far as the East Coast and Eastern Caribbean. Although the cat is only 38 feet, Grace has a large area set aside for her crafts work, Richard has a workshop, and there are still two staterooms with queen-size bunks. Richard says the only problem they have sailing the boat is that she goes too fast! He says he constantly tries to slow her down to meet the sea conditions. The couple are putting their cat up for sale while they establish a sail loft and rigging business in Panama. The only thing they would change on their next cat is having another head.
There are a lot of other advantages to catamarans. That they don't heel is a big one, as the crew doesn't get as tired. They have shorter rigs than similar-length monohulls, which makes them easier for singlehanders and couples - who make up most of the cruising fleet - to handle. Despite the shorter rigs, catamarans are usually faster than similar-size monohulls. It doesn't hurt that cats draw less than monohulls, as it makes them easier to maneuver around reefs and capable of anchoring closer to shore.
Redundancy is yet another virtue of catamarans. They usually have two engines, so if one craps out, you can still make it to port with the other one. They can also sail or motor quite well with just one of their two rudders. But there's only one mast, so it's best to take care of that.
It's commonly believed that one of the big drawbacks of cats is that they are so wide - usually about half their length - that it's hard to find slips for them. This is true in California, where all slips are in short supply, but not when out cruising. For one thing, when out cruising, most boats spend most of their time on the hook, where cats excel because they have so much room, don't roll, and can tuck in close, out of the swell. It's been my experience that marinas charge by the foot, not by square foot, so it makes no difference if the boat is a monohull or multihull. And the marinas are good about clearing monohulls out of end-ties to make room for catamarans.
In my estimation, there are only three real downsides to cruising catamarans. First, they don't sail as well to weather as monohulls. Second, catamarans with low bridgedeck clearance get slammed by the seas. To alleviate this problem, you'll notice that many modern catamarans have higher freeboard and bridgedeck clearance so they can do what they do best - sail fast. Third, the biggest obstacle to the popularity of cruising cats is that they cost quite a bit more than similar-length monohulls. Of course, for a similar length they actually have three or four times as much room. The good news is that there are finally more used cats on the market, which will help keep the price down a little.
I have no idea why it's taken California cruisers so long to take to cruising cats. Maybe it's because we're so far from France, where most of them have been built. But I think that as more California sailors get a taste of cruising cat luxury and comfort, we'll be seeing more all the time. Because if cruising quickly and in comfort is your goal, and if money is not a problem - as is the case for Californians who sell their homes to go cruising - catamarans should be at the top of your list.
Randy Sparks, Crew
Delphinus, Mayotte 47
Santa Cruz

THE DINGHY WAS THE 'PROXIMATE CAUSE'
I'm an Australian-born cruiser who lived in Canada for 35 years, and who has spent another 10 years cruising the Pacific Coast, the Caribbean and the Eastern Atlantic. I grab a copy of Latitude whenever I can to see what the sailing attitude is like on the West Coast. Your magazine is refreshing, absorbing, and a delight to read.
I'm behind the times a bit, as it wasn't until recently that I picked up a copy of the March 2005 issue - the one with the Small Claims, Big Victory letter. Because the letter appeared so long ago, let me remind everyone that it was about the owner of a San Diego-based Islander 30 who sued one of his guests. Why? Because he had the guest at the helm while they pulled into the slip, and when the guest put the boat into reverse to stop it, the dinghy painter, which hadn't been brought in tight, wrapped around the prop. The result was a bent shaft and an estimated repair bill of $1,500. So the owner sued his crewmember! The small claims court judge ruled in the owner's favor, saying his guest had been guilty of negligence.
Although the incident is dated, it's so outrageous that I still had to write. The owner of the boat obviously had enough money to purchase a boat, but he certainly doesn't have the knowledge necessary to be a captain. On a boat, the captain is where the buck stops. He is responsible for everything that occurs on his vessel, be it good or bad. Allowing a guest to take the helm of a boat not prepared for docking is the ultimate in negligence on the part of the owner.
Having spent some 35 years in the insurance industry resolving claims, the first thing that always needed to be established was the 'proximate cause' of an accident. The 'proximate cause' is the primary or moving cause that produces the accident and without which the accident could not have happened - assuming, of course, that the accident could have reasonably been foreseen. Since I've never worked in the United States, 'proximate cause' may not be the correct terminology in the United States, but since U.S. law is based on common law, I presume the principle is the same.
In any event, the proximate cause of the $1,620 in damages to the guy's boat was his own negligence in not seeing that the dinghy painter was snugged up prior to entering the slip. It had nothing to do with his friend putting the boat into reverse. I'm surprised that the judge didn't inquire as to the 'proximate cause' of the damage. Perhaps if the defendant had shown up in court, he could have explained it to the judge and the decision would have been different.
It's a pity that we - and I use the word 'we' collectively - are becoming a society in which we want to blame everyone else for our mistakes and problems. Hopefully the strong in character will survive.
Name Withheld By Request
Mazatlan, Mexico

N.W.B.R. - In our estimation the judge's decision was a travesty of justice. Had he any kind of experience with boats, we believe he would have tossed the claim for being frivolous - and maybe even fined the owner for wasting everyone's time and money. As you pointed out, the proximate cause of the damage was the owner being negligent in not securing the dinghy painter, not the guest putting the engine in reverse.
We also agree that we've developed a society in which nobody wants to accept responsibility for their actions. One of the great joys of singlehanded sailing is that there is never any question of who is responsible when something goes wrong, and that's a very good thing.

I NEVER CONSIDERED CHECKING IN A HASSLE
My crew and I did the '98 Ha-Ha aboard my Whispering Si, and found it to be a truly marvelous and educational experience. This was especially truly for me, as I'd never been down the coast before. However, I'm writing about clearing into ports and associated fees in Mexico.
As the owner/skipper of the boat, it was my responsibility to see that we followed all the rules for clearing. So I took it upon myself to search out the various offices involved with the clearing procedure. But I have to admit, I never once considered the responsibility to be a hassle. In many cases the various offices were far apart, but rather than take a taxi or bus, I usually walked between them. Doing this required me to walk through some diverse neighborhoods that I otherwise wouldn't have seen. And if I hadn't had to do that, I would have missed the opportunity to meet a number of locals, and wouldn't have seen the sights that I did.
And even when I took a taxi or bus, I got to see things I otherwise wouldn't have. After all, why do we go to places like Mexico if not to see new and different things? I don't mean to imply that going to the various offices is the only way to enjoy the people and various parts of towns, but it does seem more spontaneous than if you didn't have to do it.
In addition, none of the required documents were such that I ever felt the need for a third party to help with them. All were straightforward and concise enough to be completed in a matter of a few minutes. Sure, there was sometimes a line to wait in, but there was usually a place to sit and rest up from my walk - and sometimes there was a nearby place to buy a beer or other refreshment and enjoy the shade of a palm.
I also don't really understand the complaints about the fees. What's $20 or so, which is what it is if you do the clearing yourself? Oh, yeah, and it was another $20 to clear out. My guess is that there are many cruisers who, like me, spend many times this $20 to get a slip, and thus avoid the inconvenience of hanging on the hook. Throw in going to restaurants so we don't have to cook onboard, liquor and nightclubs, and on and on, and you'll see that the clearing fees were only a tiny cost of being able to enjoy a wonderful and exotic country. Admittedly, it was my first time doing any of this, and I can see where after a number of trips it might get tiring, but I don't think it was that much of an expense.
I can also see where it will be nice to be rid of domestic clearing, but by the same token, haven't most of us also snuck into the theatre when the chance allowed - only to spend $5 on the ridiculous cost of popcorn minutes later?
Sorry to be so windy, but I think you see my point. Maybe one day I'll write about the trip itself and the trip home. We lost the prop and shaft in the shipping lanes on a foggy night off Conception where there wasn't a breath of wind. So we had to lash our inflatable to the side of the boat and use our small outboard to power us to Anacapa Marina in Oxnard, where we were able to make repairs.
Don 'Captain One-Eye' Fly
Whispering Si, Cal 36
Monterey
Don - All along our argument has been that the old domestic clearing procedures for Mexico were a monumental waste of cruiser time and money, and furthermore served no purpose whatsoever. We still believe that was the case.
Perhaps it's a philosophical thing. In our view, government exists to serve the people. So, for example, if San Francisco suddenly imposed a law that required everyone who arrived by car to get out, spend four hours jumping through hoops while walking to three different offices that may or may not be open, and forking over $20, maybe you'd think that was fine, enjoy the walk, and all the really, really wonderful people you met along the way. Not us. We'd demand a justification for expenditure of our time and money. If there wasn't an adequate one - and there wouldn't be - we'd raise hell.
Since Mexico is a foreign country and we cruisers are guests there, we've been willing to cut them a little slack - but not much. After all, pissing off tourists, even ones who arrive by boat, is not in Mexico's interest. Not when tourism contributes more to their GDP than does the export of their oil.
We're reasonable, so we understand the need for clearing in and out of Mexico, we understand the need for tourist cards, and we understand the need for carrying passports. But there was never any need for the domestic clearing rubbish, other than to make a wonderful living for a few 'ships agents'.
Perhaps if you only moved between port captain districts once in a month, the four to six-hour waste of time may not have seemed like much. But if you did it twice a week, or sailed the 10 miles from La Cruz to Nuevo Vallarta to Puerto Vallarta, in which there are no less than three port captains, it became a major waste of time and money. Often it became an overnight process.
In addition, because one or more of the official offices or banks that had to be visited were often closed or busy, it often meant that people who needed to catch planes on weekends couldn't do it - at least not legally. As such, the needless rules screwed up many vacations and/or forced mariners who wanted to comply with the laws to break them.
We also disagree that domestic clearing involved an insignificant amount of money. Sure, if you rarely moved between port captain districts, it might just be $40 a month, so big deal. But if you were active and checked in and out of two port captain districts in a week, you were looking at a minimum of $80 - and that didn't include the incidentals such as the cost of taxis. But don't forget that various port captains illegally insisted that cruisers use ship's agents to do the incredibly simple paperwork. Ship's agents who often charged $40 a crack. As such, it could easily cost $120 to check in and out of a port, or $240 to clear in and out of two ports in one week. If that's an insignificant amount, you're in a different financial league than we, and most other cruisers, are. Which is why, of course, the time and expense of domestic clearing drove so many cruisers - and their money - away from Mexico prematurely.
It's to Mexico's credit that the rules have been changed, for they benefit not just cruisers, but Mexico, too. Viva Mexico!

THE REQUIRED SCHOOLING COST ME $35,000
It's great to see how Latitude has only continued to improve under your guidance! We last met when I was the captain of the Sausalito-based Swan 651 White Knight, and later captain of the 122-ft (sparred) replica of the 1812 privateer Lynx.
Somewhere along the line you mentioned being interested in what it's like to go 'back to school' and complete the 26 courses required under the Coast Guard's new OICNW licensing requirements. Well, at age 49, that's exactly what I did. I left San Francisco in my '87 T-bird and drove to Fort Lauderdale, where I enrolled at the Maritime Professional Training School. What follows is a list of the courses that I had to take:
GMDSS, Celestial Navigation, Radar, Terrestrial & Coastal Navigation, ARPA, Electronic Navigation, ISPS Security, Advanced Fire Fighting, Gyro & Magnetic Compass, Bridge Resource Management, Medical Person In Charge, Watchkeeping, Search & Rescue, Meteorology, Medical Care Provider, Ship Handling & Steering Control, Emergency Procedures, Stability & Ship Construction, Crowd Management, Cargo Handling & Stowage, Survival Craft/Life Boatman, Crisis Management & Human Behavior, and Visual Signaling/Flashing Light.
After 18 months, I completed the 26 classes. Then I sat for the Third Mate Unlimited Oceans test, which I passed on the first go. The Coast Guard then required me to go back to sea for 157 sea days (on a vessel over 100 GRT), which I did on the marvelous 118-ft sloop Whisper as mate/engineer. I then had to retest once again, and was rewarded with a 500-Ton Master Oceans ticket with a 3,000-Ton Oceans Mate endorsement.
The schooling process cost me around $35,000, but overall I feel that it was worth it. Now I am trying to find a captain's position that will assist me in crawling out of the debt that I have created chasing down these licenses!
David Hare
Ft. Lauderdale, Florida

David - And we thought medical school was expensive. But at the rate people are commissioning megayachts, we can't imagine you'll have trouble landing a position much longer.
Anybody know what 'OICNW' stands for? We had to look it up on the net: Officer in Charge of a Navigation Watch.