DEEP DRAFT ALL THE WAY TO THE CITY OF NAPA

We enjoyed the 'Cruising In Your Own Backyard' article in the July issue. But we wanted to let you know that it's now possible for a keel boat to cruise all the way to the city of Napa! We did it over the Fourth of July holiday and never saw less than double digits on the depthsounder. Also note that the bascule bridge shown on the chart at Napa has been replaced with a fixed bridge with around 60 feet of clearance.

We sailed with the flood all the way up river, anchored opposite the Napa Valley YC, and had a spectacular view of the fireworks. They reflected off the water very well. It was a wonderful trip.

Ken & Katie Stuber
Sand Dollar, Bristol 32 Ketch
Sausalito
Ken and Katie - That's terrific news, as the Napa River is a wonderful cruising destination that isn't quite as far as the Delta for Bay Area boats. There are not many places in the world where you can cruise through world class wine country. We take Profligate up the river every Fourth of July Weekend and anchor off the Napa Valley Boatyard. We'd go further up, but our mast is 90 feet off the water, so we can't make it under the Highway 12 fixed bridge. This means we have to dinghy the last five miles or so. But 95% of the sailboats in the Bay Area could easily clear the bridge all the way into town for a big time.

WHAT'S THAT SMELL IN SAN DIEGO?

With regard to the "cheap entertainment" in the Cruising In Your Own Backyard feature in the July issue, those sea lions at Pier 39 may be beyond earshot, but certainly not beyond 'noseshot'! When the wind is blowing out of the north, I think I can smell them here in San Diego. Good thing Latitude isn't a scratch 'n sniff publication.

Scott Mac Laggan
San Diego

MORE SAD TO PLACE 3RD THAN LOSE THE HANDLE

I just read the San Francisco Chronicle obit for Derek Baylis. Latitude 38 has been wonderful to the Baylis family, and the Baylis family has made a wonderful contribution to sailing in the Bay Area. But there is one more thing that you could contribute.

The Chronicle obit makes it sound like Derek was sort of an odd jobs man at the Barient plant. The truth is that Tim Mosely and Bob Keefe made virtually no contribution - other than money - to the design of the historic first two-speed winch at Barient. The technological breakthrough was all Derek's, as it was his concepts, his drawings, his prototypes and his molds. The Chronicle obit obscured that fact, so I was glad to see you cleared it up in 'Lectronic's 'Eight Bells for Derek Baylis'.

Derek also designed the first ratchet handle for a winch. I had the dubious honor of dropping the prototype for that winch handle over the side of Molly B. during a tacking duel up the Cityfront in some inconsequential YRA event in the late '70s. Derek didn't lose his temper, but he did mention that the handmade brass handle had been the star of the New York Boat Show the year it was introduced. That we finished third in the race made Derek much more unhappy than my losing the prototype ratchet handle!

Steve Schaffran
Northern California

JOHN WALTON'S ENERGY WILL BE SORELY MISSED

We're sorry to hear about the death of John Walton, who bought our catamaran, as a result of his ultralight airplane accident in Wyoming.

My husband Jim and I did the '96 Ha-Ha aboard Joyous, our 36-ft Corsair cat, which had just been introduced. Our two years of cruising that catamaran - with summer on the hard at Grossman's Marina Seca in San Carlos - were indeed joyous. And they ended with every boat owner's fantasy - a phone call while on the quay at Papeete with a broker saying they had a buyer for our boat. The broker was Gary Helms of Helms Yachts in Alameda, and he called to say that John Walton wanted to buy our cat. It wasn't exactly a sight-unseen deal, as Walton had owned a Corsair for some time and had only recently sold it to Paul Koch, the Aussie boatbuilder of Ostac Yachts in Brisbane, Australia.

The only condition of sale was that we have the boat back to San Diego by mid-September so that Walton, his wife Christy and son Luke could have it for the fall of '98 cruising season in Mexico. That seemed like an easy enough request, as it was only the end of July, and my husband had two great crew - young engineers from Newport Beach - arriving in a few days to do this leg.

(One of them, by the way, was Donald Sandstrom, who at the moment is aboard the Sandstrom family-built and twice-circumnavigated 40-ft Cross trimaran Anduril in the Marquesas with his bride Erica.)

Anyway, I flew back to San Francisco, not expecting to hear from 'the boys' for two or three weeks, until their arrival in Hawaii. But 2.5 days out, in some snarky weather, the compression post suffered a crack that went two thirds of the way around. After much discussion and scheduling considerations - the two crew had to get back to work and Joyous had to get to San Diego - they disappointedly headed back to Papeete. Fortunately, Jim discovered a great boat repair shop, where they welded stainless steel flanges between the deckplate and the compression post, making it "stronger than dirt."

With time running out and no crew, Jim placed Joyous on a cargo list for a freighter running to Long Beach. Gary Helms and Jim met the boat and motored it to San Diego, where they met John Walton. Gary and Jim had both sailed with Walton, and, while on one of the San Diego to Ensenada races, had stayed at the Walton's home in Costa Mesa. Jim remembers John meeting him and Gary in San Diego, arriving in an old dinged-up beater van, and saying it wasn't necessary to take the boat out for a test sail. He just tendered the check for the boat.

I remember taking the check in to the Wells Fargo bank here in Bend, Oregon, and the young clerk being flustered by the amount and by the fact that it had been drawn on an account from a bank in Bentonville, Arkansas. She stated that she needed to take it to her supervisor for approval, and there would be at least a five-day hold on the money. A few minutes later, the supervisor came out and said there was no problem about the check and that we could consider the money available that day!

A few days later, I got a call from Christy Walton, thanking me for the way we had set up the galley and for how we had left everything. In our book, the Waltons were 'class' people, and John's energy will be sorely missed. He really was a Renaissance man. Thank you for having done the piece on him in 'Lectronic Latitude.

Carole Bradfield
Bend, Oregon
Readers - For those who may have missed the tragic news, 57-year-old John Walton - heir to part of the Wal-Mart fortune and reportedly the 11th-richest man in the world - died last month when the ultralight plane he'd built crashed shortly after takeoff at Jackson Hole, Wyoming. The John Waltons had owned several modest sailboats that they cruised to Mexico, where they were well-liked by members of the cruising community. Earlier this year, John contacted us hoping to get enough boats for a multihull division in the TransPac. When that didn't happen, he emailed us to say that he would be going to Mexico this winter, either by sailing the family's Catana 47 catamaran Bright Wing or by flying down with his ultralight plane.

SAILING IS SAFER THAN FLYING

I noted Latitude's quote in 'Lectronic regarding the death of John Walton, the Wal-Mart heir and TransPac hopeful: "We regret to have to say this again, but we know far more pilot/sailors who have died flying rather than sailing."

It does seem that light airplanes are less safe than sailboats - including multihulls - and ultralight airplanes are even worse. Comparative statistics on safety have been hard to come by, but with over 2000 Farrier designs of various types now sailing, there are enough to get an idea. The capsize rate appears to be averaging around 0.2% - or three or four per year for racers. The rate is more like 0.05% among cruisers.

Light aircraft are a good comparison, and the current serious accident rate - meaning resulting in death or serious injury - amongst U.S. light aircraft is 1.13% per year. This is down from a high of 10.2% in 1948. Thus for multihulls such as mine to have an equivalent safety record as light aircraft, we should be seeing around 22 capsizes or serious accidents a year, with the boat and crew also probably being lost as a result. We don't see anything like this.

Nonetheless it was sad news about John Walton. We had our disagreements in the end over design, but F-boat trimarans would not have had the success they have had without him taking the risk to back them.

Ian Farrier
Farrier Marine, Inc.
Australia

ALLOW TITLE TRANSFERS OF ABANDONED BOATS

In the May 25 issue of 'Lectronic, you ran a photo of what you said was the Catalina 25 Sue Pullan having gone up on the beach at Santa Cruz. Actually, she's a Catalina 27, one built to be equipped with an outboard rather than an inboard.

Lots of people would like to 'rescue' abandoned boats like that or ones that owners no longer want. But many times the taxes, registration, and storage fees that the new owner would have to satisfy in order to obtain title are so high that it precludes one from even making an inquiry or attempting the process. Sometimes the money owed amounts to several times what the hull is worth.

If local or state governments would allow an individual to economically transfer title of such abandoned vessels, perhaps photos such as those of Sue Pullan wouldn't appear as often.

John Barreiro
Los Angeles
John - If the state government would allow an individual to economically transfer title of such vessels, we fear the waters of Richardson Bay, Santa Barbara east of Stearns Wharf, Marina del Rey, Newport Harbor, San Diego Harbor, and other places would be even more littered with abandoned and derelict vessels. Particularly in the winter, such boats tend to wash up on beaches, forcing taxpayers to pay to have them pulled off before they're destroyed.

Do you think California roads and freeways would look better and be safer if people could just walk away from their vehicles when they stopped running? We don't either. That's why we are in favor of the state having the right to, after 90 days, remove all unregistered and nonnavigable boats from state and federal waters. To our way of thinking it's a no brainer.

DENTISTS AND DESTINY

We've been planning to write for six months but never got around to it. The reader who asked about dentists in Puerto Vallarta finally got us to do it.

A good dentist in Puerto Vallarta that we and many other cruisers use is Dr. Fernando Penalva. His brother is a dentist in Los Angeles, so he comes up once a year to attend dental seminars with him. He has all the latest equipment and knows all the new techniques. He speaks English, although most of his staff do not. His office is just in front of Commercial Mexicana at the Marina Vallarta Plaza. The bus from anywhere to the west - including Punta de Mita - drops you off right in front of his office. We've always been able to get appointments in just a couple of days, but you can also try emailing his office.

We're also writing to report that we've gotten another boat. Peter does not like winter in the Bay Area, so once the dog died, he began looking for boats once again. We were looking for a reasonably priced 40-footer that we could just leave every summer. Most of the boats we saw were very old and tired, so Peter was happy to find a 1988 C&C 44 in Punta Gorda, Florida. She was equipped with just about everything you would want for cruising, including a self-steering vane. Well, thanks to a hurricane, she no longer had a mast, but those can be replaced. We even liked the fact that her layout down below is very similar to our previous boat, the Swan 46 Destiny. We spent six weeks back in Ruskin, Florida getting our new boat in sailing condition.

Since our old Swan was in St. Petersburg, we spent some time with her new owners. Steve Smith, the boat's rigger, was raised on a boat in Alviso, and his wife comes from Hayward, so we felt right at home.

We left Tampa in the middle of February and headed to Key West to visit Paul and Theresa Rothaus who did the Ha-Ha in '96, and then the owners of the first Destiny, which was named Pressure Drop in '96.

From there we sailed to the Bahamas, where we eventually stopped at Hurricane Hole Marina in Nassau. The first person to greet us was Mary Messenger. Because of the articles in Latitude, many readers will know that she and her husband Rob did the first Ha-Ha in '94 on the custom 46-footer Maude I. Jones and then spent the next 10 years doing 9/10s of a circumnavigation. She came by because she'd noticed the San Francisco hailing port on our stern and because we were one of the few sailboats in the marina. I told her that we'd read all about her and Rob in Latitude when they were with the Wanderer and Doña de Mallorca in St. Barts. She and Rob have sold Maude I. Jones and are running an 82-ft motoryacht for some people out of North Carolina. I think Mary really misses cruising and the cruising community.

After a few weeks in the northern Exumas, we headed north to Spanish Wells and then Marsh Harbor. While at Marsh Harbor, we met the builder of Saga Yachts and the builder of the Manta 42 catamarans. The Manta man said he owns the Chula Vista Marina, and I think he also did a Ha-Ha. We are glad we saw the Bahamas, but Peter said there are very few good anchorages, and the good ones are too crowded. This is especially true in the winter, where you get a norther every couple of days and boats begin to drag.

Our C&C 40 is now on the hard in Charleston because our insurance wouldn't let us keep our boat in Florida for the summer. They said we had to be north of 30N.

Our plan is to return to our boat in the fall and then continue on to the Caribbean. We will keep the boat in Venezuela for the summers. When we decide we're too old to sail long distances, we'll either sell her on the East Coast or bring her back to the Bay Area to use on the Bay and in the Delta.

What would make cruising perfect? If the Caribbean islands were populated by Mexicans.

P.S. The color pictures in Latitude are wonderful!

Peter & Nancy Bennett
Destiny, C&C 48
Northern California
Peter and Nancy - We didn't think you'd be able to get along without a sailboat for very long. As for Rob and Mary missing cruising and the cruising community, we know it's true, as they commiserate with us about it from time to time. In fact, if anybody needs a great couple to run their sailing yacht, Rob and Mary would be worth interviewing. It goes without saying, of course, that any employer would have to be accepting of Rob's ZZ Top-style beard.

OUR TIME WAS A WEEK LESS THAN YOU REPORTED

I'd like to clarify an old mistake in Latitude regarding our Outremer 55 catamaran Gryphon's performance in the 2000 Atlantic Rally for Cruisers (ARC). Our finish time of 21 days, 13 hours was, I suppose, technically correct, but hardly painted an accurate picture of what happened.

The truth is that we were late to the start. This was because I insisted that we stop to get enough fresh food for the entire Atlantic crossing, and that we also see some of the Canary Islands. As a result, we sailed into Las Palmas as the ARC fleet - including our sistership Baradozig - was departing. We didn't leave the Canaries until one week after the official start. So while it's true that our official ARC time was nearly 21.5 days, our actual passage time was only 14 days and seven hours.

I've felt bad for several years that Latitude suggested that our crew was the cause of our supposedly taking so long to cross the Atlantic. There were four of us, one of whom didn't have much ocean experience. We had moderate conditions most of the way, and flew the small spinnaker. For what it's worth, we did have fresh vegetables all the way across. We also would have been even slower had I succeeded in persuading the others to detour to the Cape Verdes or Brazil.

We took delivery of Gryphon from the Outremer factory in France in October of 2000. She was the first of the 55-footers to be equipped with a carbon fiber mast. Although we don't race, she's a fast cat. I can remember one night in the Med when we often surfed at 20 knots.

Kathy Duncan
Gryphon, Outremer 55
Northern California
Kathy - We feel bad that you feel bad. We wish you would have written us a, "Hey Dummy, here's what really happened . . ." letter. It was an honest mistake on our part, as we were comparing the times that various sisterships took to cross the Atlantic, and noted that there was often a significant difference. Since they were sisterships, we deduced - and normally this is true - that the time difference could be attributed to the quality of the crew.

We have particular reason to be sympathetic to mitigating circumstances. When we did the ARC back in '95 with Big O, we also started several days late because of a magazine deadline. When we got to the finish at St. Lucia, a couple of bystanders said something to the effect that our boat or crew must not have been very good because some smaller boats had finished earlier. Overhearing them, we explained the late start, so naturally they understood.

As for the Outremer 55 being a fast cat, we have no doubt. When in the Eastern Caribbean two winters ago, we met the Chris and Carolyn Bridge family of Corona del Mar, who had also bought their cat Cheval from the Outremer factory. Chris and another fellow sailed the cat from St. Martin to the Panama Canal, a distance of about 1,200 miles in something like 5.5 days. That's fast, particularly considering they never hoisted the main and only flew a small jib or small spinnaker. At last word the Bridges were cruising the South Pacific.

TEXTBOOK-PERFECT WOMAN OVERBOARD RESCUE

On the evening of July 15, I was sailing in the Berkeley YC's Friday night beer can race. Less than a minute prior to the start of the race, our J/24 crew had an equipment problem that we were working feverishly to correct. In the heat of the moment - and in the blink of an eye - I ended up going overboard.

As a recent BK and BC grad, my mind started racing as soon as I hit the water, recalling all of the things that I had learned about the dangers of hypothermia, exhaustion, and so forth. Before I could really start to worry, however, the Merit 25 Loose Lips came along and literally plucked me out of the Bay in what had to have been a textbook-perfect man overboard rescue. I was in the water no more than a minute.

I am greatly indebted to Loose Lips skipper Phill Mai and his crew: Nina Bohlen, Tim Nelson, Carolyn White, and Robert Williams. I could not have asked for a finer group of folks to come to my rescue. I give them my sincere thanks - and look forward to seeing them on - not in - the water again soon.

Jennifer Sechrist
San Jose
Readers - On that same evening, owner/skipper Rich Korman was ejected from his Moore 24 JR during a broach after rounding Yellow Bluff in a windy Corinthian YC beer can race. Korman spent several minutes swimming in the very chilly waters of the Bay before he was rescued. Take this as a lesson - please be careful out there!

CAN I BUY A GUILT-FREE POWERBOAT?

Let me start by saying what an excellent job you all do of producing Latitude. I've been reading it since 1987, when I lived aboard my Cal 25 at Kappas Marina in Sausalito with my girlfriend. It was an intimate existence, but what the hell, we were 19 and very much liked being intimate. And as you know, there's nothing like living on the water.

Anyway, after several years of being landlocked, I'm interested in getting back on the water and doing some cruising. However, my new partner insists we get a trawler so we can have more space. I've always been against the idea of a primarily power-propelled boat from an ecological standpoint, but with the advent of bio-diesel, I'm wondering if owning a powerboat could be guilt-free. Have you been hearing of folks using bio-diesel in their boats - or even better, doing the conversion and running straight used veggie oil?

Dedalus Hyde
Boatless In Berkeley
Dedalus - Thanks for the kind words about the magazine. It's just our opinion, but we think guilt - which has been running at epidemic levels in Berkeley ever since we studied philosophy at Big U there in the '60s - is overrated as the basis for any decision or action. We prefer to be motivated by passion.

For example, the three things we really enjoy in life - other than our kids, of course - are sailing, travelling, and reading. So we indulge heavily in all three without any guilt. But otherwise we enjoy living a relatively simple life - at least by Marin County standards. We don't care about clothes, haircuts, jewelry, home furnishings, road trips, no-tell weekends in Vegas, cruise ship adventures, second homes in Tahoe, fancy coffee, drugs, fine wines, motorcycles, movies - or anything that can be found advertised in a Sunday newspaper or bought at a mall or in a department store. Furthermore, our next car is going to be one of those 49 mpg VW diesels. And if Profligate didn't have to be elsewhere most of the year for editorial purposes, we'd be thrilled to live on her rather than in our house. In other words, we indulge in the few things that are really important to us, pass on the rest, and sleep well at night.

So we say if a boat is something that will bring you a lot of pleasure, buy the damn thing! This is particularly true if she doesn't burn 20 gallons an hour, for in just a few years we think the more sensitive owners of those boats will start feeling as frowned upon as smokers, parents of big families, and owners of Hummers. We spend every three-day weekend sailing, and think those who get on the clogged highways and bridges are not just wasting fuel, they're wasting their lives. For those with boats, the Bay is a fantastic place for recreation and relaxation.

Our understanding is that bio-diesel works great, but the drawback is that it's not universally available. Hopefully, it will be some day. Of course, if you've owned a home in Berkeley and made out like an equity bandit, we have an even better suggestion than a trawler - buy a sailing catamaran. True, they cost more money than a trawler, but they have much more room, cost less to operate, don't rock and roll - and are a hell of a lot more fun. If you've got a cat on San Francisco Bay, you hardly ever need to visit the fuel dock. For example, we bet we don't burn more than half a gallon of fuel during a typical Profligate outing on the Bay, and we've often got a group of people along with us. As such, on those days we're probably as green as a bunch of eco-activists driving an old Volvo from the Berkeley flatlands to Tilden Park for Earth Day.

By the way, if anyone is suffering from guilt, we stumbled across a possible solution on the internet. Sufferers should visit www.organic-pharmacy.com and purchase a small bottle of - we're not making this up - Release Guilt & Shame lotion or tonic or whatever it is. The manufacturer says "this essence powerfully cleanses the psyche, dissolving all sense of guilt, shame, or remorse." Since it sells for - and once again, we're not making this up - $12 per half ounce, which works out to $3,048 a gallon, we assume the marketers must need to swim in the stuff every night.

10 YEARS AND YOUR OUT OF YOUR BERTH

Someone posted a notice of warning in the Santa Cruz Harbor about a proposed state bill that would limit berth occupancy to 10 years in California harbors that have waiting lists. After 10 years, the slip would have to be made available to others. This sounds terrible. Have you heard anything about it?

Patrick Boole
Santa Cruz
Patrick - We called several harbor masters and RBOC (Recreation Boaters of California), but nobody knows anything about it. We agree there are problems at harbors with waiting lists, but don't think such an approach would be an intelligent solution.

THE KINDEST, MOST HELPFUL PEOPLE

My family and I went sailing last month on our 28-ft gaff sloop Pearl. As anybody who was out that day would agree, there was a pretty good breeze. Unfortunately, this played a part in our discovering that Pearl has some rot in her stem. We learned this when the stem pulled apart from the rest of the boat, and, three seconds later, the mast went by the board.

We've been restoring the boat for the last year, and it just made me sick to see my pride and joy falling apart. Luckily, no one was hurt in the dismasting. I guess we now have the chance to make another part of Pearl better and stronger than before. I also want to give my endorsement to tabernacle masts, since this unusual base acted like a fuse of sorts, allowing the mast to fall over but not be damaged.

But the real reason for my letter is to thank others. For not two minutes after the mast went over, the Sausalito-based sloop Nai'a was alongside making sure nobody had been hurt and offering a tow. At the time, we were still trying to get the rig back on deck and secure. We hadn't even come close to radioing for help or anything. But it was such a relief not to have to worry about how to get back to safety.

Nai'a towed us through the heavy chop all the way from Angel Island to the mouth of the Oakland Estuary. At that point we were transferred to another sloop, Pacific High of San Francisco. The latter boat was good enough to take us all the way to our berth at Embarcadero Cove Marina.

The help of the two skippers has reinforced my belief that sailors are among the kindest, most helpful group of people I have ever associated with. My family is so grateful to these good people for their help and concern. Now we only have to worry about fixing a mast, and not the injuries that could have occurred had we not gotten any help.

Nick Haines
Pearl, De Vries Lentsch sloop
Oakland

IT'S A GREAT WAY TO LEARN TO SAIL

My girlfriend and I are just learning to sail, and we're thinking about buying our first boat. So far we've been getting our instruction from the folks at the Vallejo YC. We've already completed the United States Power Squadron BoatSMART course at the YC from the Carquinez Power Squadron, and are now in the middle of dinghy sailing lessons at the same club. Both of these courses are unbelievable values! The BoatSMART course was $30 each for two weekends of instruction. All the money goes for course materials, and the instruction itself is free! The dinghy sailing lessons are an even better deal - six days of on-the-water sailing instruction over six weeks for $100 each. That's $17/day for 5-6 hours of instruction. There are no extra costs for course materials, we just have to bring a PFD. It's a great way to learn to sail.

And we can't say enough about how impressed we are with both groups of instructors, as it's clearly a labor of love. And the Vallejo YC is wonderful for promoting and hosting it.

Since we'd like to continue having this much fun each weekend, we're now thinking about buying a small starter boat. We're also going to sign up for more classes, including the expensive ASA keelboat, coastal cruising and bareboat courses. But we've got two questions:

1) What kind of boat should we look for? We're young and don't have a lot of money. Our budget is between $3,000 and $5,000. We would probably never leave the Bay on this first boat, but would rather be daysailing and taking the occasional overnight trip down to San Francisco or up to the Delta. We would like to be able to entertain and sleep another two or three people. We want to feel safe, but we also want to race and not get left behind. We're thinking that we would probably own the boat for one to three years, then upgrade to something we can take to Mexico. Should we look for something with a trailer to reduce storage and maintenance costs? Do we need anything bigger than 23 to 25 feet? Is smaller cheaper? Does having a keel mean a boat is safer than a centerboard?

The recommendations we've received so far are for the Ranger 23, O'Day 22, Catalina 22 pop-top, and so forth. Can you help steer us in the right direction?

2) What keelboat classes can you recommend? We need to keep learning, as our current plans have us Ha-Ha-ing and cruising Mexico for a year or so. We would like to learn on our own boat, but other boat experience would also be nice. Again, we don't have a lot of money to spend, as we're saving every penny for cruising.

Tradewinds has a Sail With A Friend course that covers keelboat, coastal cruising, and bareboat courses for $1,000 each. Is that a good option? Do different schools have different agendas? Is certification worth it or should we just get out there an do it?

If any readers want to offer suggestions, they can reach us at: email.

Will Sitch
Northern California
Will - It was nice to get your letter because it lets people know that yacht clubs aren't at all like what Rodney Dangerfield 'visited' with his powerboat in the movie Caddyshack. Most clubs are super casual and have terrific learn-to-sail programs and, as you've learned, in many case don't require yacht club membership. So it's always worth calling a club up and seeing what they have to offer. When it comes to more advanced instruction, we think all the sailing schools have excellent programs. But you need to contact each one to find out who offers the program that's most suitable for your needs.

We hesitate to be too specific about recommending boats, because they are so much a matter of personal taste that it would be like recommending a woman for you to marry. However, there are some guidelines. First, you have to realize that the real cost of a boat is the difference between what you pay for it and what you sell it for. For novices, this means it's usually better to buy a boat that's relatively well known - i.e. has a strong class association - rather than a boat that's a relative white elephant. You also want a boat that you're absolutely certain can handle the rough conditions on San Francisco Bay. That would once again tend to direct you to boats that have or have had an active one-design racing fleet. Two boats that really fit this bill are the Santana 22 - see the following letter - and the Ranger 23, although the latter hasn't had an active one-design racing class in many years. It would not apply to the Catalina 22, a wildly popular design that perhaps has a little bit more accommodation than the Ranger or Santana, but one that isn't quite as suited for the rigors of a summer afternoon on the Bay. And trust us, those are the kinds of conditions you want to learn to feel comfortable in.

The other thing that's great about boats with active one design associations is that you get a built-in set of sailing friends and experts on the boat you buy or are just thinking about buying. For within those associations are folks who know everything there is to know about those boats and how to get them to sail to their potential. And these folks are more than happy to share that expertise. If you even express an interest in something like a Santana 22, the association will be happy to show you the boats, take you out sailing, and line you up as crew for some races. And as you've probably heard, there's no better way to learn how to sail a boat well than one design racing in small boats.

One design associations also inevitably become gateways to a much wider world of sailing. For after a month or two of racing or cruising with the class, you'll no doubt be asked to crew on some evening beer can races - which will open up a whole new world of friends and sailing opportunities. It's no exaggeration that a couple who really applies themselves to sailing this year could easily be crewing across the Pacific on a 45-ft boat next year. Assuming, of course, you're not axe murderers.

A final thing to keep in mind is that many older sailors really like young couples who have big sailing dreams. So at some point you might find a boat that really appeals to you, but is for sale at two or three times your budget. If the boat has been on the market for a long time, or if you spot one covered in moss and looking particularly dejected in a marina, you - or more preferably your girlfriend - should call the owner and tell the truth. Specifically, she should say that you're a young couple who have cruising dreams that are bigger than your budget. You'd be surprised at how many older owners would be happy for their boat to go cruising - even if they aren't on it. And therefore would be willing to sell you their boat for a fraction of her real value.

This is what happened with a friend of ours and his very young daughter, who managed to acquire a lovely 27-ft Wylie Hawkfarm for within your budget range. A Hawkfarm might not be the most luxurious boat in the world, but they are near sisterships to Wild Flower, the boat Skip Allan has spent the last 25 years racing and cruising from California to the South Pacific to Alaska with great success. A boat like that would be perfect for a young couple looking to have a blast cruising Mexico on an itty-bitty budget.

If you make the effort to become good and helpful sailors, it won't be long before you realize that money is the least of the obstacles in the path to fulfilling your sailing dreams. Good luck! And don't hesitate to write for help if you seem to get stuck along the way.

SANTANA 22 FLEET MEMBERS ARE EAGER TO HELP

I want to thank Michael Beers and the editor of Latitude for their nice comments about Santana 22s on San Francisco Bay. Yes indeed, the 'Tuna' remains a San Francisco Bay icon, and yes, most of us - especially those in the racing fleet - sail without reef points in the main.

Beers is right about the great feeling of a 22-ft boat designed for San Francisco Bay's sailing conditions accelerating as it reaches out into 25 knots of wind. It's truly exhilarating to sail upwind in 25 knots, the full main sheeted in, the traveler down, the boom vang cramming the mast forward, and the mainsheet in one hand. Several generations of Bay sailors can attest to that feeling of exhilaration, since the design has been around for 40 years now, and since many of the Bay's best sailors cut their sailing teeth in a Tuna. The class remains active in Yacht Racing Association's One Design Classes Association, the Singlehanded Sailing Society, and most other club races in Northern California. Every year other new sailors are introduced to Bay sailing in Santana 22s, both through local sailing programs and as a first Bay boat for new sailors. The Santana 22 surely must be the most economical boat of its type around.

Santana Fleet #1 welcomes visitors to its website at santana22.com. There visitors will find several bulletin boards, info about sailing Tunas on the Bay, and various other Tuna contacts. Fleet #1 members are anxious to answer questions, help solve problems, and mentor new Santana 22 sailors. Give us a try!

Pat Broderick
Former Fleet #1 Captain
Elaine, Hull #245
Santa Rosa

WE WERE VERY FRUSTRATED BY THE LOSSES

We were saddened to hear about the loss of the boats between New Zealand and the South Pacific islands in mid-June. According to reports on the internet, there were four boats lost and their crews rescued. Some suffered pretty serious injuries, and lives were turned upside down. We know a little about this kind of thing, having narrowly escaped the infamous Queen's Birthday Storm in 1994 in the very same area.

We are also very frustrated by these losses, as they simply didn't need to happen. Putting aside the issue that cruising boats really do need to be able to withstand 50-knot winds and 25-foot seas, weather forecasting has also gotten much better and much more widely available. In 1994, no one saw the Queen's Birthday Storm developing until a couple of days before it hit. The signs were there, but we didn't recognize them, the computer models didn't pick them up, and the official forecasts weren't issued far enough in advance to provide guidance for people taking off for the islands. But things are different now.

For example, Bob McDavitt, a senior forecaster with New Zealand Met, issued the following warning in his Weathergram issued on June 5, a week before this year's storm hit:

". . . As this high cell moves off to the east, its back end brings a zone of falling pressure into the tropics. This is a traditional area of development and, yes, three out of five computer models are picking (at this stage) that a low or two will form at the back end of this High somewhere between New Caledonia and the Kermadecs, deepening near 27°S, and causing a gale easterly squash zone near 30°S to 33°S around Fri -Sat 10-11. By this time, a High is expected to have formed in S[outh] Tasman and S[outh] Island (following that second front), so there'll be a squash zone of easterlies between the Low and High, especially between 30° and 35°S from 160°w to 170°e. Avoid."

Bob McDavitt's Weathergram is distributed by email from the Yotreps website, and has also been available for years from our SailMail Saildocs server, indexed under 'South Pacific' and 'Tropical'. I suspect it is also widely discussed on the nets in the area.

We are also very fortunate to live in a country which makes the very best of its weather forecasting available to the public - for free. The NOAA (National Oceanic and Atmospheric Administration's) GFS (Global Forecast System) computer model is one of the half-dozen worldwide computer weather models run by major met centers around the world. It is a monster, running for an hour on IBM's fastest supercomputer, and is one of the best in the world. NOAA is the only outfit which provides global model data without charge.

NOAA's output is grib (gridded-binary data) format, and because there are 300 megabytes of data to sift through, it's definitely inconvenient. So five years ago, we at SailMail put together a grib-server as part of our Saildocs project to download data from NOAA. The grib-server slices and dices the data to order, delivering custom files formatted per each user request. So the files - and areas covered - can be as small or large as one wants. SailMail has had this operational for four years now.

Since NOAA did the hard part in creating the forecast model, we at SailMail didn't think it was appropriate to charge the sailing community to simply have the data made available. So we provide the files for free as well as the viewer to look at the files. We are fortunate that the Sailmail Association has the resources to make this possible.

The accompanying graphic is the grib-forecast chart for June 14, 2005. This image is a 7-day forecast from Saildocs grib-file that was available June 7, and is looking out a full week (the 'VT' box at the top is 'Valid Time', i.e. forecast-time of +168 hours). It's not a pretty picture, as it shows average winds in the 40- to 48-knot range between New Zealand, which is at the bottom of the graphic, and Fiji and Tonga, which are at the top. The peak winds were forecast to be as much as 30% higher.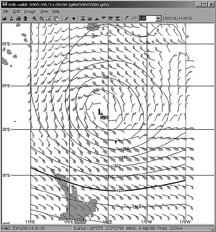 A seven-day forecast from Saildocs
Graphic Courtesy NOAA/Saildocs

This picture is one day from a file covering 40°S to 15°S, which is Auckland to Fiji and Tonga, at 24-hour intervals out to 192 hours (8 days). The total file size is 14K. This is easily sent via Sailmail or Winlink radio-email, or via satphone (the cost would be about $1) or any other email connection. Much more detailed files can be obtained via email from any cybercafe prior to departure. All paint the same ugly picture: a stationary high over New Zealand, and a low developing in the tropics beginning June 10, creating a squash zone for the waters between New Zealand and the islands building through the 14th.

Seven-day forecasts aren't always accurate, but most are. This one was. So were Bob McDavitt's comments on June 5.

Remember that grib-model data is raw computer data, the same stuff that the forecasters use. So it needs to have 'human intelligence' applied, and that's the job of each cruiser. Learn about the weather, get all the data you can, and check everything. Weather is important.

Jim & Sue Corenman
Heart of Gold, Schumacher 52
Friday Harbor, Washington

KEEP TAXPAYER-FINANCED WEATHER INFO FREE

As Latitude suggested in last month's Sightings, I wrote Senators Feinstein and Boxer about S-786, the bill proposed by Senator Santorum that would eliminate public access to much of the information currently provided for free by the National Weather Service. I've attached one of the letters - they're identical except for the names - if anyone wants to use it as a template. I strongly suggest that people write paper letters, as they're given much more weight than calls and emails.

Senator Barbara Boxer
United States Senate
112 Hart Senate Office Building,
Washington, DC 20510

Dear Senator Boxer:

I strongly oppose S-786, the bill proposed by Senator Santorum, that would eliminate public access to much of the information currently provided by the National Weather Service (NWS). Many of us use this service, which is paid for with our tax dollars, and those who cannot afford private services will be without the service if this ill-conceived bill becomes law. Even those who can afford it should not be forced to pay twice.

The NWS has done research and development, gathers data, and hires forecasters to interpret the data - all at taxpayer expense. Now, Senator Santorum's bill proposes that companies like AccuWeather, which is one of his campaign contributors, be allowed to sell us the information already gathered and interpreted by the NWS. If passed into law, this bill would be one of the worst forms of corporate welfare, allowing a private company to take services already paid for by our tax dollars and sell those services back to us. This would be nothing short of theft!

Furthermore, many of us rely on the NWS forecasts. Whether it's merely to determine whether to carry an umbrella, how to dress for going outside, or for more serious decisions like whether we need to put on sunblock or whether it's safe to go sailing on a particular day, loss of this service would be a detriment to many people.

The NWS is the most popular federal agency, and we like it just as it is. We don't want to be forced to either pay a private company for these important services or be left without the important services that NWS provides. Because we have paid for these services, we are entitled to them without paying a second fee to a private company that stands to make an illegitimate profit by getting free weather gathering and interpreting services from NWS, then selling us the information that it's merely distributing. Please do everything you can to see that S-786 is defeated and please let me know what you intend to do about this important issue.

Thank you.

Jeff Hoffman
San Francisco
Readers - It goes without saying that Latitude encourages everyone to write similar letters to their legislators to ask them to fight the proposed bill.

A FOREIGNER LOOKS AT CRUISING IN THE U.S.

A couple of issues ago, the editor asked foreign sailors to compare paperwork procedures for the United States with those of Mexico. I'm a British citizen, and before sailing my 32-ft catamaran Eclipse to Central America, we spent '03 sailing from Florida to Maine and back. And by the time you read this, we'll be in Alaska, sailing south to Oregon - albeit on someone else's boat.

Before sailing to the U.S., I had sailed to more than 40 countries - including the Soviet Union, South Africa, Brazil, most of the West Indies, and so forth. However, I haven't actually visited Mexico, as we bypassed it on our way south, calling at Belize instead. The only reason we didn't stop in Mexico was because of the old clearance procedures.

Although I haven't visited Mexico, I think I'm still in a good position to make the requested comparison - especially as very few foreign yachts visit the U.S. (In this context, I'm afraid Canadians count as honorary Americans.) Being an Englishman, I obviously have a passport - as do the majority of Europeans. Although I have the right to travel freely throughout Europe as a British citizen, I need a passport to prove I'm a European resident - in the unlikely event that I'm ever asked. I must say, it does seem very strange to us Europeans that U.S. citizens think they can travel outside of the U.S. without proper travel documents.

What are the requirements for foreigners sailing to the U.S.? First off, foreign yachtsmen have to have a U.S. visa before they can even enter the States. These aren't easy to get, particularly now that the authorities consider every foreigner to be a terrorist. (By the way, in the United Kingdom people are considered innocent until proven guilty, while currently there are many British citizens imprisoned in the U.S. without charge or trial. The latter explains the strong feeling in the U.K. against travelling to the U.S. despite the favorable exchange rate.)

A U.S. visa costs $100 and is good for one year. I got mine in Barbados in December. Since I didn't arrive in Florida until June, half of it had effectively been wasted. The U.S. embassy in Barbados is one of the few that processes visas, so while I was there I met people from many other West Indian islands all queuing for their visa.

So the difficulty getting a visa is the first difference between the U.S. and Mexico. How many Americans would travel to Mexico if they first had to fly to a completely different country - say Canada - just to get a visa for Mexico? I can honestly say that it was easier to get a visa to sail in the USSR than to get one to sail in the U.S.

When a foreign yacht arrives at her first U.S. port, she has to get a Cruising Permit. These cost $37 and are good for one year. It's about the same price as you'd pay for Panama or Guatemala. However, it costs $5 to clear in to Honduras and $2 to clear out. As far I as know, it's free in Europe. In any event, we can't really complain about the cost.

So now we have our visas valid for 12 months and a cruising permit valid for 12 months - meaning that we can sail in the U.S. for 12 months, right? Wrong! An alien is only allowed in the U.S. for six months before they have to leave. No, it doesn't make any sense to me either!

It's also a requirement that foreign cruisers check in - by phone or in person - at regular intervals while cruising in the U.S. I would phone in each time I got to a new state, and occasionally in between. But to be honest, I could never work out when I was supposed to check in. So I think the U.S. requirements for checking in are about the same as for Mexico now.

As you all know, the U.S. Coast Guard now spends little of its time saving lives, spending more of it on Homeland Security patrols. You may be forgiven for thinking that would make the U.S. a safer place, as that would be very wrong! At no time during my sail from Florida to Maine and back was I ever boarded by any official from Customs, Immigration, or the Coast Guard. Worse still, when I phoned to check in - maybe 30 times total - I was only asked my name and my boat name. I was never asked for my passport number, my boat registration number, or how many people I had with me!

I flew back to the U.K. after my six months were up, but I left my boat in Florida. Thus when I later flew back to the U.S., I had no apparent way of leaving the country. I asked the airport immigration officer how I could eventually prove I had indeed left the U.S., as I was going to sail to the Bahamas. He didn't know, so we asked a supervisor. "Oh, just mail the exit papers to us when you get back to the U.K." Ridiculous! As I wasn't going back to the U.K. for a year, I sent them to a friend in the U.K. who sent them to the U.S. In any event, I reckon I could have easily smuggled goods and other foreigners into the country, then disappeared in the U.S., and nobody would have been any wiser.

It's all done differently in Europe. There we rely on spot-checks and tip-offs to find people, and officials are out there patrolling rather than pushing forms in offices. Surely getting out and meeting people is more rewarding and also more effective. I remember one time about 50 yachts had raced from Plymouth to Falmouth, which is about a 40-mile daysail. When we arrived, a Custom launch approached us to ask where we had come from. "We raced here from Plymouth," we replied, "just like all these other yachts." But that didn't stop the launch from going to every other yacht and asking the same question.

Although Immigration procedures in Europe are easier than in the U.S., there is a really big catch if you plan to sail to Europe. We want your money! Remember that the European Union now includes the whole of the Mediterranean and all of the Baltic except Norway. So that's a big cruising ground. However, it's all considered one country when it comes to import duties.

I know that you can bring a boat into Mexico for 10 years by paying $50 for a Temporary Import Permit. But in the European Union, we have VAT or Value Added Tax. In the U.K. it's currently 17.5%, while it's 25% in Denmark. We pay this tax on basically everything we buy except food. So a $100,000 boat would cost $117,000 in the U.K. and $125,000 in Denmark. The catch is that if you stay in Europe for more than 18 months, you - despite being Americans - have to pay VAT on what our officials - not you - figure is the value of your boat.

I believe there are ways and means of extending that time - I have an Australian friend who has been sailing in Europe for eight years without paying VAT. But France, in particular, is very strict on collecting VAT from yachts that have overstayed the 18-month limit. If you feel you must pay the tax, I suggest you go to the Azores, where I gather it's only 7.5%.

You will also find that cruising in Europe is very expensive. Fuel is typically $6/gallon, while a cup of coffee is $5 - with no refill. And I copied the following from a U.K. discussion board:

"Just considering bringing our little 16-ft cabin boat down to watch the Round the Island race on Saturday, looking at launch sites/car parks, such as Hamble Point at $50 U.S.! Thought about launching on Friday night, but charges at Mercury for Friday night are $3 U.S. a foot." Marina prices in the Bay Area are far less than in the U.K.

Finally, if anyone wants to know more about Immigration and Customs requirements, I suggest you visit www.noonsite.com, which lists the requirements for around 190 countries. Good sailing to all, no matter what country you're in!

Richard Woods, Plymouth, United Kingdom
Jetti Matzke, Oakland
Eclipse, 32-ft Woods Cat
Richard and Jetti - Very interesting stuff, but we have a couple of corrections. First, while the Coast Guard has been given tremendous new Homeland Security responsibilities, that doesn't mean they've reduced their commitment to lifesaving. We don't agree with all Coast Guard policy, but when it comes to SAR, we think they've proven time and again that they are the best in the world.

Yes, your boat can stay in the U.S. longer than you can. But that's not unusual around the world. For instance, Americans can keep their boats in Mexico for 10 years, but the longest visa for an individual is one year.

We don't know of any Americans who've had a problem getting around VAT being slapped on their boats. And now that the French and Dutch have screwed the European Constitution pooch, a trip to Turkey - a great place to cruise - is all that will be needed to reset the 18-month VAT timer.

All foreign cultures will seem curious in some respects. It's true that the U.S. treats some suspected terrorists as guilty until proven innocent - but thanks to Napolean, our good friends the French treat everybody like that all of the time. On the other hand, we Americans wouldn't stand for European-style spot checks to determine if someone was in violation of immigration laws. We'd find that as offensive as asking a young Middle Eastern man about to board an airplane with a ticking bundle to kindly step aside for a security check. Above all we don't want to offend anyone, so our security people are restricted to searching grannies, infants and others who don't fit a risk profile.

Plus, we Americans don't have to go searching for our illegal aliens. We know they're working - and working hard! - in every restaurant, mini-mart, construction site, and farm in the country. While we don't have any trouble finding them, we're just collectively unsure if it's a good thing they're here or not.

All in all, it's a very interesting world, particularly at this time in history. Enjoy!

ISN'T IT IRONIC?

If memory serves, didn't the Davidson 50 Great Fun - which sank last month off Pt. Arguello during a delivery back to Northern California after the Coastal Race - suffer an attempted scuttle in the late '80s? It seems ironic that she would ultimately sink.

Alan Taylor

Alan - Nothing was ever proven, but Great Fun nearly sank out by the Lightbucket under what many considered to have been suspicious circumstances - such as all the winches having been removed. Less than a month later, she was nearly lost off Santa Cruz, once again in what some thought were curious circumstances.

FOR $30 IT'S CHEAP INSURANCE

I was saddened to read of the loss of the Davidson 50 Great Fun. But I'm also always shocked at how many boats are only discovered to be taking on water when the floorboards are awash. By this time the source of the leak may be submerged, making it very difficult to find.

On Jolly Mon, our previous boat, we mounted an inexpensive bilge alarm similar to the one in the attached schematic. The cutout switch is on the electrical panel, and is normally left closed (on). It's there to turn off the alarm, because in a real emergency the last thing you need is a headache from the alarm. The float switch is mounted an inch or two higher than the bilge pump float switch. That way the alarm goes on with very little water in the bilge, and only if the pump can't keep up. The siren can be an expensive 'marine' version or a basic $5 item like Radio Shack part #273-079. The whole thing shouldn't take more than a couple of hours to install, and the cost shouldn't be more than $30. Cheap insurance.

We also used the float switch to turn on a large, emergency bilge pump so we'd know when the big gun turned on.

The only time that the alarm sounded was when we were doing an overnight motorsail from Zihuatanejo to Manzanillo. The bilge pump had been turned off accidentally, and the drips from the stuffing box had accumulated. You wouldn't believe how quickly my head went into that bilge looking for the problem.

David Kramer
Mountain View

I DO GIVE THE COAST GUARD CREDIT

I was recently boarded by the Coast Guard for the first time - and without any apparent reason. It happened at the mouth of the Estuary on a Friday night about 9 p.m. as I was on my way to Clipper Cove for the night. I've probably made the same trip over 20 times in the last few years and have never been stopped.

It was clearly a training event for the junior member of the boarding party, but I just figured that was how they did these things. It was the first time I've had any contact with the Coast Guard and, while I was surprised that it was my turn, I do have to give them credit for being quick, to the point, and professional.

They did leave one of their big mag flashlights behind, though, and it was kind of fun speaking to Coast Guard San Francisco on 22A to ask if they wanted it back.

Mike Joyce
Interlude, Catalina 36
Marina Village Yacht Harbor, Alameda

ANCHORING IN THIN SAND OVER HARD CORAL

My wife and I recently chartered a 45-ft Island Packet in the U.S. and British Virgins for 10 days. We had a wonderful time with good friends, good rum and great sailing.

We were able to spend most nights tied to mooring balls or harbor docks, but on three of the nights we had to anchor. Our first attempt at anchoring was in Great Harbour at Jost Van Dyke. The bottom looked sandy enough, but the anchor just wouldn't dig in. After several attempts, I asked some locals on a dive boat that was moored nearby why the anchor wasn't holding. They said that the bottom was hard coral with a few inches of sand over it, and that our anchor would never stick. They advised me to let the anchor out until it touched bottom, and then to slowly back up while letting out the entire amount of chain in the anchor locker. They said that the weight of the anchor and chain would hold us - and it did. We had to do it again at Marina Cay and Johnson Bay on St. John. At Marina Cay we had a strong headwind and a lot of surge, but the anchor held fine all night.

On all three occasions, I snorkeled down to check the anchor after letting it out. I always found it lying on the bottom and not dug in, just as the guys on the dive boat had said. So the technique works, but I know that you and many of your readers have chartered in the Virgin Islands, and I'm curious as to how others have dealt with this situation.

Bob Adams
Mountain View
Bob - When you've got just a few inches of sand on top of a hard bottom, it can be almost impossible to get a good grip. It's a problem at Great and Little Harbours on Jost van Dyke and lots of other places in the sailing world. For example, parts of Turkey can be difficult, so can Columbie on St. Barth, and, to a lesser extent, Punta Mita on Banderas Bay. Sometimes you're faced with the choice of having to either rely almost entirely on the weight of your anchor and rode to keep you in place or having to leave for another anchorage.

When we had Profligate in St. Barth for the winter two seasons ago, we reanchored frequently, and we usually dove on the hook because the water was so warm and clear. It was a real education. For one thing, if you're only anchored in 10 to 15 feet of water, and you've got a good-sized chain, you don't even need an anchor in up to about 12 knots of wind. We know, because in such conditions our chain never pulled tight and our anchor was often off at a 90 degree angle.

So yeah, the weight-only 'technique' works - but with some major limitations. The biggest limitation is that if the wind blows hard enough to overcome the weight of the anchor and chain and their friction on the bottom, there's nothing to keep your boat in place. So when you use this 'technique', you're never more than one good squall from being a runaway charterboat. This means that you and your crew have to be prepared to bail out of the anchorage at any time - even in the middle of the night - to perhaps motor in circles until things settle down. If it's a crowded anchorage - as many of them are in the Virgins - and if you've got a lot of chain out, it could be a real challenge to get out of the anchorage without hitting any boats, especially as several of them have probably dragged, too.

The other thing we learned from diving on Profligate's hook in St. Barth is that, when the wind blows hard, it puts a tremendous strain on the chain and anchor. In fact, one day when it was blowing about 25 knots, we spent about an hour with a snorkel watching how the chain swung from side to side and was jerked in the gusts. We can't do much about our default anchor, as it's the biggest Fortress they make, but when it comes time to replace our chain, we think we'll go up a size and add another 100 feet in length. It would allow us to sleep more soundly.

ðTHE ALA WAI SHOULD BE A WORLD CLASS FACILITY

We have lived in Hawaii since the mid '60s and have had a sailboat from the early '80s until about four years ago. Initially, we were partners in a modified Cal Cruising 36, and then in '86 we purchased Apathy, a new Catalina 34. We kept both boats at the Ala Wai Small Boat Harbor and sailed a lot among the Hawaiian Islands, except for the Big Island. We moved from Oahu to Kauai in '94 when I retired from the FAA. We kept Apathy for a while longer, bringing her to Hanalei Bay two or three times, but ultimately we decided to sell as we were only using her as a motel in Honolulu. We never had a slip on Kauai, and, in my opinion, the sailing isn't very good here.

In the '80s, I served on something called the Ala Wai Small Boat Harbor Advisory Committee. At the time it was chaired by the venerable sailor, writer and world traveler, Earl Hinz. But what a waste of time! Initially the State Harbors Division controlled the Small Boat Harbors. We lobbied to get them transferred to the Department of Land & Natural Resources. It made sense to us, as Land & Natural Resources also controlled the state parks and other recreational facilities. Eventually they were transferred, but nothing changed, and the same bureaucrats moved with the function. I finally gave up when Hinz moved to Las Vegas, but I understand the committee or its successor may still function.

The goal of our committee was to try to communicate with the state people and express our concerns about the harbor and its operation. A lot has been written about it in Latitude, and I'd like to share my opinions.

First, the Ala Wai - even with its cheap slip rates - was the cash cow for the whole program, as it subsidized the Small Boat Harbors on the neighbor islands. This kind of arrangement seems common to the political system in Hawaii. Attempts were made to privatize the Ala Wai and also to raise the slip fees - but this was always fought against by the people in the slips. But, in my opinion, the failure to raise slip rates is largely responsible for the Ala Wai's current state of disrepair.

A few years ago, the state proposed allowing commercial boats to operate from the Ala Wai. This was apparently a pet project of then-Governor Ben Cayetano. He was not happy with the slip holders opposing this proposal. Cayetano has historically been a very vindictive person when he hasn't gotten his way. My suspicion is that, as a result of the slip holders' opposition, he just told his people to let the Ala Wai deteriorate.

My old floating F Dock is gone, as it - like quite a few of the fixed concrete dock positions - was condemned as being unsafe. In the past, feeble attempts had been made to repair the docks. These were done by politically connected contractors, and as such there seemed to be little or no quality control. Currently, G Dock has been replaced, and they are doing something in the old F Dock position - although I'm not sure what. But they may be installing used dock components provided by the Waikiki YC.

In any case, it's very sad to see what's potentially such a beautiful facility in such a deteriorated state. I have not been involved lately, and I am not sure what the current Governor and her administration's position is on the Ala Wai, but hopefully it can one day become the world class facility that it deserves to be.

John H. Gordon
Princeville, Kauai, Hawaii
John - We share your frustration. The Ala Wai could and should be a jewel of Honolulu, and indeed be one of the great marinas of the world. That it's in such disrepair and so poorly serves the mariners and the people of Honolulu can only be attributed to decades of mismanagement on the part of the state. We bet you a nickel that the state couldn't break even on a shave ice stand even if they granted themselves a monopoly at Waikiki.

Some of the management mistakes are so elementary that it's ridiculous. It doesn't take a genius to know that it makes no sense for a marina in one of the most expensive places in the world to be charging some of the lowest slip fees in the world. Small wonder it's falling apart and hasn't seen an improvement since prior to the invention of the fiberglass boat. We think the Ala Wai ought to be privatized right now. The scary thing for Hawaii taxpayers is that the rest of their state government has probably been run just as foolishly and inefficiently as the Ala Wai.

STICKS AND STONES

After spending a good number of years and a fair sum of money, the wife and I were able to cut the lines and go cruising. As those who have done it know, it's not cheap and takes a firm budget to stay out there. And you get called some funny things.

The first time I heard a term that seemed to strike me the wrong way was at the first marina we pulled into. Having sold our home and spent our life savings on a boat and the cruising lifestyle, the harbormaster called me a "transient!" What gall, I thought to myself. Then I figured out that's what they call all cruisers passing through.

After taking several months to get used to that term, we heard another one. One the way back up from Mexico, we stopped at Ventura, where I went to Beacon Marine to buy a few things. After browsing through the goodies, I approached the register. The man at the counter asked if I had an account with them. When I said, "No," he asked me to step over to the next register - the one that was used for "No-Accounts."

So here we are, living in our boat, loving the lifestyle, but not sure if we like the stigma of being "no-account transients."

Randy & Ramona Garrett
R3
Coos Bay, Oregon
Randy - It's ironic that in a letter complaining about the terms being used to describe you, you refer to the woman in your life as "the wife." Were you to say that out loud in Northern California, you might get told off by any number of women, who would forcefully explain that such a form of reference objectifies and dehumanizes the woman to whom you are married.

Not to be endlessly nitpicking, but we also can't resist a remark on your "cruising isn't cheap" comment. We know people who cruise on less than San Francisco's recently reduced welfare payments, and we also know people who couldn't cruise for less than $10,000 a month. It's all in how you do it. Curiously, the people who do it on less money often seem to have more fun.

I HAD ALWAYS HOPED TO SEE HER AGAIN

Back in February, you reported on the sinking of the Newporter 40 ketch Maxine. I was wondering how the couple who owned it are doing? I am a prior owner of that wonderful boat and was sorry to hear of her sinking. Many in Long Beach may remember her from back in the '70s and '80s when she sailed around Southern California and Mexico under the name Holly Ann. I had always hoped that I would see her again, but alas.

Tommy Germany
Tommy - At last report, Greg and Mai - they didn't want their last names revealed - reported they'd given up the cruising life, had bought an RV, and have become road warriors. They didn't seem to have any lasting injuries.

It's not been a good year for Newporter 40 ketches. You may have read in last month's edition that William Peterson's Newporter 40 Kamera was abandoned some 800 miles from California on a passage from Panama that would have marked the end of a nine-year circumnavigation. Dismasted and out in the middle of nowhere, Peterson felt he had no choice but to abandon her.

We did the Long Beach YC's Long Beach to Cabo to La Paz Race in '81, and, if we remember correctly, there was a Newporter 40 entered. We wonder if she might have been Holly Ann?

IT'S TIME TO PASS SAILING ALONG TO MY BOYS

I saw your email link in the June 22 'Lectronic Latitude wanting to hear from people planning on making this year's Ha-Ha. You can add us to your list.

My family of four - Juli and the boys, Jake, 11 in October, Zack, 8, and I, plan on making it down to San Diego from Portland for the event. It will be the kickoff of our planned 15-month sail down the coast to Mexico, maybe Central America and Ecuador, then across to the Marquesas, then back across the equator in November to start our trek back to Oregon.

Our Capaz is a custom Perry 48 center cockpit cutter with a pilothouse. She's 10 years old, and we bought her last December just for the voyage.

I grew up racing on San Francisco Bay, racing in MORA, and doing coastal cruising in the late '60s through the '80s. I haven't sailed consistently since moving to Portland in '85. Having grown up sailing on San Francisco Bay, sailing on the Columbia River seems pretty boring. But it's time to pass sailing along to my boys - in a big way!

We'd love to hear of other families with kids doing the Ha-Ha and beyond.

Tod Cordill
Portland, Oregon
Readers - For information on the coordinator of 'kid' boats in this fall's Baja Ha-Ha, see this month's Cruise Notes.

CAN YOU MENTION MY WIFE, AMY, TOO?

I just got the July Latitude and I noticed that our boat Sandpiper is listed on page 114 as being one of the entries in the Ha-Ha. Could you please add my wife Amy's name as being one of the owners of the boat? She's freaking out that maybe I'll go without her or thinks I'm trying to send her a message that maybe she shouldn't go.

Tom Larson
Sandpiper
Oakland
Tom - What an unfortunate omission on your part! Ladies, give us some guidance here, what's the appropriate penalty for such a blunder?

As for you, Amy, we wouldn't worry at all, as we're certain it was just a normal oversight on the part of a typically insensitive male. Sort of like the time we didn't think we had to get a Mother's Day present for our ex-wife. Our man-type thinking was that, since it wasn't Step-Mother's Day, a present wasn't required. According to women that we know, we were wrong.

TIPS FOR FOLKS HEADED ON THE HA-HA

We sailed our Irwin 37 center-cockpit sloop Luna Sea in the '03 Ha-Ha and had the time of our lives! We ultimately stayed in Mexico for two seasons, putting our boat on the hard in San Carlos for the summer of '04. Then, after cruising as far south as Barra de Navidad, we beat it back to the Bay Area, where we now have the boat in a slip in Vallejo.

We're just writing to recommend that anyone heading south this year do it as part of the Ha-Ha. Doing it gave us the chance to meet a lot of wonderful people, and we felt safer being part of a pod of cruisers. Of course, the Ha-Ha reminds everyone the event is not an offshore hand-holding service.

Having put some 6,500 miles on our trusty Luna Sea, she's now up for sale. We want to move up to a 45-footer. Nonetheless, if I can find the time, I'm going to try to sail on a Ha-Ha boat as crew this fall.

You might also get a letter from our friend Allen on Just Us 2, who did the Baja Bash with us and some other boats. We all got hit with hurricane-force winds at Cedros Island north of the village. We were hiding behind the 1,900-ft mountain, but the wind blowing 65 knots on the other side sent katabatic winds down the canyons toward us with some gusts over 100 knots. Some of the people in the village said they'd never seen wind like that before.

Our tip for new cruisers headed to Mexico is to carry at least three anchors. We had a 45 CQR, 35 CQR and 25 Danforth - and lots of chain. If we had to do it over again, we'd have gone for one heavier-than-recommended anchor, plus 300 feet of chain, plus 100 feet of nylon rode. As it was, we lost our 45 pounder and all our chain at La Cruz. The problem was that we let out all 100 feet of our chain, then about 40 feet more of nylon. Well, the nylon chaffed through on something, and we lost our big anchor and chain rode.

Next time we'd also bring more spares of all kinds: toilet kits, water pumps, an alternator, a regulator, hoses, filters, and so forth. We had a hell of a time getting water pumps. Fortunately, we found a pump rebuilder in La Paz who had all of the parts for our Perkins 4-108 raw and freshwater pumps. He had them rebuilt in two hours and we were off.

I, Tim, hope to see everyone on the Ha-Ha this year. Judy, The Admiral, has to work!

Tim Harmon, Deck Ape
Julie Duffy, the Admiral
Luna Sea, Irwin 37
Sonoma
Readers - Thanks for the tips and kind words about the Ha-Ha.

HOW TO SIGN UP FOR HA-HA

We've been all the way to New Zealand and back up the East Coast. Now we'd like to return to Mexico with the Baja Ha-Ha group. How do we find out about it?

Sylvia & John Parr, and Nube the cat
Sonrisa
Sylvia and John - A basic description of the Ha-Ha and instructions on how to get an entry packet has appeared in every Sightings section since the May issue - but we're happy to repeat it: Send an $18 check and a 10"x13" self-addressed envelope to Baja Ha-Ha, Inc, 21 Apollo Road, Tiburon, CA 94920.

GETTING CHEAP PHONE SERVICE IN MEXICO

We've read many letters from cruisers in Mexico who have struggled with the issue of phone service. We had this problem also when we began cruising Mexico, but it was solved when we found the right cell phone company and the right cell phone.

Cingular has a plan called Cingular North America that gives you cell phone service throughout Canada, the U.S. and Mexico as part of your basic monthly charge. The last time we checked, the service was about $60 per month for 450 minutes of air time and $70 per month for 850 minutes of air time. And it has rollover minutes. There are also plans with more minutes. Making a call within Mexico, from Mexico to the U.S., or from the U.S. to Mexico uses your plan minutes with no other fees. And you have a U.S. number so friends can call you from the U.S. without incurring international charges!

The North America plan requires that you have a GSM phone. (We made sure that we got a GSM phone that was 'unlocked' so it could be used in other parts of the world as well.) This plan provided us with cell phone service anywhere in Mexico where there was Telcel service. We've had service in every medium and large city from Tijuana to Huatulco, and also in many small towns and rural areas.

We have taken time off from cruising to return home in the summer, and our phone plan was perfect for this, as the same service works in the U.S. and in Mexico with no interruption and no need to contact the provider. (We initially had what was purported to be similar service from Verizon, but our phone never worked in Mexico. Maybe they have fixed their problems, but they were so uncooperative that we would never suggest anyone try Verizon.)

Now we have left Mexico and our boat is in El Salvador. Because we have an 'unlocked' GSM phone, we were able to remove the Cingular chip from the phone and purchase a chip and prepaid minutes from a cell phone company in El Salvador at reasonable rates. When we returned to the U.S., we simply replaced the Cingular chip and had their service again. (This was practical for us because we were in EL Salvador for only a short time before leaving our boat for the summer. After the summer we will cancel Cingular and will rely on local service as we continue cruising.)

We're keeping our fingers crossed that Cingular will come up with a Central America plan. For Mexico, we recommend Cingular's North America plan without hesitation. If you talk to Cingular, however, you may speak with someone who has never heard of the North America plan. It takes some persistence to find this plan which, when we got it, wasn't included on their website and wasn't well publicized - although they often have brochures for it in their stores.

Portia Igarashi & Steve Stecher
Dream Caper, Venezia 42 Catamaran
San Rafael / El Salvador
Portia and Steve - Funny about the timing of your letter. We just called Cingular a few days ago, and they insisted that they no longer offer the North America Plan. As they are a cellphone service provider, we're not sure we believe them and/or that they know what they're talking about. Anyway, for about $4/month extra to our regular plan, they claim we can now call the States from anywhere in Mexico for six cents a minute. If this is really true, it would be an excellent deal, because some street phones down there still charge you about $6/minute for the same call. The bandits!

ANY THOUGHTS ON OUR RETIREMENT CRUISE?

My wife and I have decided to put Moon-Glade, our beloved Wauqueiz 33, up for sale here in the Bay Area. As soon as she's sold, we'll replace her with a larger boat, which we plan to purchase here on the East Coast where we presently live. We only moved here to Washington, D.C. two years ago from San Jose because of my job with Homeland Security.

We will be retiring in July 2007. At that time we will sell our East Coast assets and head back to the West Coast by boat via the Panama Canal. Another sailing couple will be retiring with us at the same time, and plan to accompany us on this trip. We will all be going to the Annapolis Boat Show in October to start looking for our new boat.

As you can imagine, the anticipation of this trip is causing the days to drag for all of us. We would appreciate any advice you can give us on cruising guides, routes, and so forth for this kind of trip. We're not sure about taking the ICW down to Florida, as it sounds shallow and crowded - yet kinda fun. Or, maybe we'll buy our new boat in Florida. Any thoughts?

Randy & Ellen Hasness
Washington D.C.
Randy and Ellen - It's hard for us to give you much advice without knowing a little bit more about your interests, ages and how much sailing you want to do. But if we were retiring on the East Coast in July of '07, here's what we'd do:

We'd head up to the Northeast for a last opportunity in those waters. After all, you don't want to miss Maine, do you? Come November, we'd enter the West Marine Caribbean 1500 Rally from Virginia to Tortola. We'd spend at least the next two or three years cruising various parts of the Caribbean. During the height of the hurricane and humidity season in the late fall, we'd fly to Europe for some land travelling just to make sure we didn't want to take our boat to the Med for a couple of years before heading to the West Coast. You know, with a little luck it's almost all downwind to Europe, and it's almost always all downwind coming back across the Atlantic. The next fall we'd take a couple of months to explore South America by land and air.

If we ultimately decided against the Med, when we got to Panama we'd do some serious thinking about the South Pacific. After all, we could have a wonderful six-month cruise across the Pacific before having to duck into New Zealand to escape tropical cyclones in the South Pacific. At that point, it might make sense to ship the boat to the Pacific Northwest to do those wonderful waters. Of course, with Australia so close, how could we forgo a cruise up the east coast to the Great Barrier Reef? But geez, by that time we'd be too close to Indonesia and Thailand to pass them up. So ultimately we'd ship the boat to the Pacific Northwest from Singapore. Then, in about 2015, we'd sail down the West Coast to San Francisco . . . for a few weeks of Bay sailing . . . before heading to San Diego just in time to participate in Baja Ha-Ha 22.

All right, all right, maybe that's a little too ambitious for most people, but it's how our mind works. If you have more modest cruising dreams, you could obviously eliminate some parts of our itinerary. But no matter what, if we were retired, we wouldn't bring a boat from the East Coast to the West Coast without spending at least a full season in the glorious waters of various parts of the Caribbean. It's got a lot more going for it for sailors than does the ICW, Florida, or the Bahamas. So please, don't settle for pretty good cruising when you can enjoy the best!

A SOLO, NONSTOP LAP VIA THE NW PASSAGE

In 1980, my wife Pip and I crewed up from New Zealand to Hawaii aboard the 50-ft steel yacht Astral Rose, which was owned by Graeme Kendall, another Kiwi. Graeme and crew continued their Pacific loop home via the western Pacific, while we settled here in San Francisco.

Many years have passed, but now Graeme has a new boat, Astral Express, and has headed off from Auckland to do a singlehanded non-stop circumnavigation via the Northwest Passage. Check out his website: www.astralexpress.com. He's been out 10 weeks now, and has progressed westward to the north of Australia. After briefly taking shelter just east of Port Elizabeth, he turned the corner and is now heading northward toward St. Helena Island in the South Atlantic. So far he's called here by phone a couple of times and seems to be in fine shape.

We thought his efforts might be worth mentioning in Latitude.

P.S. I'm a longtime cover-to-cover reader of Latitude and have developed a pattern of monthly insomnia until all the pages of the most recent issue have been read.

Evan Marks
San Francisco
Evan - We're glad you mentioned it. Although 25 years have passed since he last came through, we wouldn't be surprised if some cruisers and West Coast sailors still remember him. As for the Northwest Passage itself, does anyone know if it's been affected one way or the other by 'global climate change'?

PERHAPS IT WAS A BASKING OR WHALE SHARK

Regarding Suzanne and John Pew's suggestion that the Rawson 30 they were aboard was attacked by sick or mating dolphins, damaging the rudder, we'd like to propose another possible explanation for the Sea of Cortez incident.

We experienced rudder damage to our boat in November of 2002 when our J/130 Argonauta was brought to a virtual halt after we'd been doing 8 knots about 30 miles from New Zealand on a passage from Tonga. As Howard rushed below to see if we were taking on water, I rushed on deck to try to see what we'd hit. There was great swirling in the water, and I just caught sight of a large tail fin - which I later identified as that of a basking shark, which is a coastal pelagic species found throughout the world's arctic and temperate waters. These creatures can reach 40 feet in length and swim slowly at the water's surface.

The force of the impact sheared a bracket off our autopilot, which jammed our rudder to one side, so we effectively had no steering. The impact was so strong that it also bent a 1-inch pipe that acts as a rudder stop. Fortunately, Howard was able to disconnect the bracket and free the rudder so that we could get into Opua. During a later haulout, we found that the upper rudder bearing had been shattered.

In May of '77, shortly after we left Cabo San Lucas for the Marquesas aboard our S&S 40 Gamin, we had a similar encounter. The force of that collision knocked the tiller out of Howard's hand. We were able to identify the perpetrator as being a very large whale shark. It wasn't until we were able to haul out in Papeete that we were able to straighten the bent trailing edge of our rudder.

As such, I suggest that the presence of the dolphins was coincidental to there being another docile sea creature at hand, possibly a basking shark or a whale shark. Our only direct contact with dolphins to date has been to have them rub their backs on our bow as they play in our bow wave.

P.S. Thanks for the great magazine.

Susan & Howard Wormsley
Argonauta
San Diego
Susan and Howard - Thanks for the kind words - and the other possible explanations for the creature that collided with the Rawson 30. For all we know, it could have been a big manta ray. In '98, we were motoring Profligate at 10 knots in Banderas Bay not far from Yelapa, when there was suddenly a tremendous collision that almost brought the cat to a halt. One of the daggerboards was jammed so far back into the crash box that it remained impaled for the entire Baja Bash until we got to Santa Barbara. In our case there was no question we'd hit a large manta ray. Why that might have happened remains a mystery to us.
GETTING FROM COSTA RICA TO ENGLAND

My father, who lives in Costa Rica, has asked me to help him find passage to England on a boat this August. We thought he might be able to board in Panama on or near the Canal. He used to sail as a boy in the South of England, but is now willing to travel on any kind - within reason, of course - of boat. Is there any information that you can give me that might make my search easier? Any help is greatly appreciated!

Vanessa Henderson
Planet Earth
Vanessa - We have bad news for you. If you've been following the news, you know that this is hurricane season - and a very busy one, too - in the Atlantic and Caribbean. As such, not very many smart skippers will be heading north or east from Panama until the season is over on December 1. Your father may be able to catch a ride leaving the Canal in December, but we think he'd regret it. The 1,200-mile trip to the Eastern Caribbean at that time of year is one of the nastiest in the world of sailing. It's best done by 21-year-olds who think there are hundreds of horny young folks waiting for them on the beaches of St. Martin. But even if your dad did make it to St. Martin or Antigua, he'd still have to wait until April or May for a passage to England, because nobody with any respect for life would try to sail across the North Atlantic in the winter. Sorry.

THE CONVERSATION MUST HAVE BEEN COLORFUL

Latitude 38 only gets better and better, and your first-time color spreads in the printed version are stunning.

Last month I raced singlehanded in the In-The-Bay Race, and Latitude's spy-on-the-Bay caught me in the background of the photo of Borderline that was published - in color - on page 100 of the July issue. My Ragtime! is a dark blue J/92 with a white bottom, not to be confused with Frank Slootman's light blue J/90 that appeared in larger form in color on the same page. I would have been much closer in the Borderline photos, but I was OCS (on course side) at the starting gun and had to restart. If you are going through that batch of photos and spot any good ones of my boat, I'd probably buy one.

By the way, I sailed alongside Profligate for much of the lighter part of the race. The Wanderer and Doña de Mallorca, who were doublehanding, were putting on a demonstration of how to set and douse their screacher. And getting a real workout in the process. I couldn't quite hear the conversation between helmsman and crew, but I have a hunch it was more colorful than the sail.

And speaking of color, the new color photos are bringing out the visual appeal of sailing and the surroundings like nothing else. Thanks for taking that next step, it was really worth it!

Bob Johnston
Ragtime!, J/92
Bob - Thanks for the nice words about the color photos. We were very happy with them, but believe we can do even better in the future.

Actually, there was no dedicated Latitude photographer out for the In-The-Bay Race. The Wanderer managed to fire off about 150 photos between steering, yelling at the foredeck crew, raising and lowering headsail halyards, and trimming the main. It's much easier than it sounds.

Certainly the conversation was colorful between the Wanderer and de Mallorca. No matter if they are discussing what to have for dinner or screwing up two screacher sets in a row, their conversations are always colorful. But it means nothing, for you won't find two people who love doublehanding more.

DISPOSING OF FLARES

How do I dispose of the multitude of expired offshore flares I have accumulated over a decade of yacht racing? I would prefer a safe and environment-friendly manner.

Shepard Kett
Octavia
Santa Cruz
Shepard - We understand that some fire stations accept out-of-date flares. Does anyone out there have further info?

IT'S A MATTER OF PRIORITIES

A very handy email feature for on land but even more so on a boat is some sort of way to preview the incoming messages. Ideally, you'd be able to preview how big they are and then download just the ones you select as opposed to an automatic download of all of them. Here's an example of why, based on my receiving email on a boat in Corsica. My inbox contained:

1) Interior photos of your boat for upcoming article - 5 MB
2) Spreadsheet of your company's last Q1 results - 2 MB
3) Urgent - Your swimming pool is leaking, please review and advise - 2KB

Since I didn't have selective download - or whatever it's called - it took us a lot of time to get to the most important message at the time, #3.

As Jim Corenman said, you want to be in control of your communications, and a tool like that would really help.

P.S. Latitude 38 only gets better and better - the color spreads in the printed version were stunning.

Mike Chambreau
Cal 34, Impetuous
Los Altos
MORE TOILET PAPER, PLEASE

Blair Grinols' enthusiastic support for his 'toilet paper' oil filter system parallels my own experience. We shared the same introduction to the Frantz oil filter, which uses a roll of toilet paper as the filter element. My dad had me install one of those systems in a 6-cylinder Chevy back in '63. It kept the oil in 'clean as new' condition, and I think we only changed the oil once a year. The filter element - toilet paper - does absorb a good deal of the oil, so you do add some new oil every time you replace the toilet paper in the cannister.

The Frantz oil filter is still available online. I just checked it out, and the system is essentially the same as it was back then. I've also heard that some oil experts believed that the constant heavy duty filtration from the dense, toilet paper 'cartridges' removed - or at least reduced - the all-important oil additives. But as far as I know, neither the automotive industry nor Frantz has performed any independent long-term tests. But Blair's current, real-time experience with it speaks for itself!

Steve Reed
Solar Coaster
Santa Cruz

EVEN IF OIL LOOKS NEW, IT MAY NOT BE GOOD

As I designed and developed internal combustion engines for many years, I found the stories about toilet paper oil filters in your May and June issues quite interesting. I have investigated such filters, and have even used one. I would like to add the following:

Such toilet paper oil filters are bypass type filters. They are in addition to the 'full-flow' engine oil filter - which filters all the oil all the time that is supplied pumped from the oil pump to the engine oil gallery. The optional bypass filter taps off a small amount of oil from the pump, filters it, and returns it to the sump. Eventually, of course, all the oil will have passed through the bypass filter.

Because of the toilet paper's ability to remove submicron size particles, it does a fine job of particulate removal. But because of the well-known absorbent properties of toilet paper, this medium also removes water - and with it some acids as well as fine sludge. So much for the good news.

However, because of the aforementioned positive properties, the toilet paper filter also removes some of the useful additives - dispersants, inhibitors, etc. - that are blended into modern engine oils. So just because a user's oil appears as clear as when it was new after thousands of hours of use isn't an indication of overall quality. Fortunately, new oil is added to the engine every time a 'full' toilet roll is removed and replaced with a fresh one. (By the way, I found it difficult to determine when it was time to replace the roll of toilet paper.) Such a full roll contains approximately one quart of oil. The added new oil replenishes at least some of the lost additives.

As for the claim that the toilet paper filter makes the oil last "indefinitely," just don't count the quart you add with every new roll!

P.S. I really like your magazine and the helpful contributions from your readers.

Gerhard Kuhn
Cypress

MY BELOVED TILLERMASTER IS BROKEN

I live down here in San Diego, and can't find anybody to repair my Tillermaster autopilot. Is there anyone up north who can fix my beloved 'Mr. Data'? As I am disabled, I cannot singlehand my beloved Tjuringa without him/it. The problem is electronic. It is boxed & ready to go. Can anybody help?

Michael Burkhart
Tjuringa
Mission Bay, San Diego