---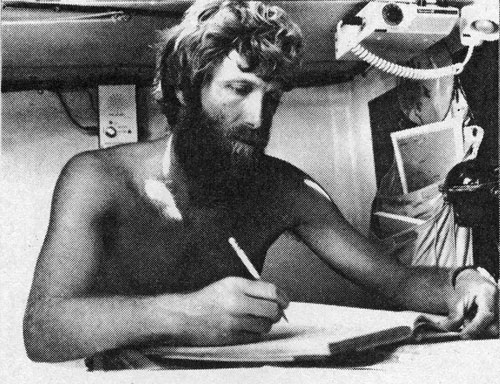 The following is an unabridged transcription of a tape Skip Allan made for Latitude 38 while competing in the recent Singlehanded TransPac. There was no planning on what to say, it's just whatever occurred to him at the time.
Skip sailed his Hawkfarm prototype, Wildflower, to a third place finish overall; he was the second small boat on elapsed time.
We asked Skip to make the tape because he has made the crossing so many times before: '61 on the original Kialoa, '63 on Ticonderoga, '65 a record breaking run on Ticonderoga, '67 he skippered his dad's Cal 40 to overall victory, '71 on Windward Passage on her record run, and '73 on Improbable.
Here's Skip:
This is Skip Allan aboard "Wildflower" for the singlehanded race to Kauai. It's the evening before the start; tomorrow is June 15, and we will start at 1 o'clock. Right now Wildflower is moored at the St. Francis YC along with part of the singlehanded fleet. Alongside me is Norton Smith's Santa Cruz 27, Solitaire; astern of me is Bill Cannon's Moore 24, Flyer. these three boats make an interesting contrast with the other boats here because they are so light. There is a very wide variety of people who are sailing in the race. Some boats will be cruising over. I've seen several boats who probably haven't cleaned their bottom in months, point out the discrepancy of what it's like to race in a singlehanded race.
Norton Smith's boat is interesting. Norton has obviously done his homework and his boat is well-rigged out for this trip. l would say at this date that Norton would have to be my favorite for first-to-finish at Hanalei Bay. Astern of me is Bill Cannon's Moore 24. Bill's boat is the lightest in the race, at a little over 2,000 pounds - it's a real small boat. Although speed-wise it is probably about as fast as Norton's boat, l'm afraid that it is so small that Bill may lose time due to physical fatigue.
My boat, Wildflower, next to these lightweight flyers, looks like the Westsail 32 of ultralights. My boat weighs about 2 1/2 times as much as Bill's boat — close to 6,000 pounds.
Anyway, tomorrow is the start. It has been an incredible rush preparing for the race; I've had the help of a lot of friends and without their help I certainly would not be here.
Weather wise we are looking for quite fresh winds. The high pressure area is quite strong right now and the winds off the coast are forecast to be at 20+ knots for the first 300 miles. So, we're looking for a quick start. We start at 1 o'clock tomorrow afternoon at the last of the ebb, so hopefully we'll be quickly away. That's it for now, we'll fill in as we sail along to Hanalei Bay.
[Unidentified voice] Skip, l just talked to weather central at Monterey and Bill down there, who does all the ships for the Navy, checked again this morning and he says that the Pacific High is now perhaps the most dominant he's seen in 50 years of weather maps. He said it should hold at least 7 days and for the next 72 hours they don't see any movement at all. The winds should hold, they're a minimum steady at 20 knots and probably 25 or better ["Whoooo!" — background voice] seas are a minimum of 9 feet and probably 12 feet.
[Skip] Well, thanks a lot.
Well, we wish you good luck to Hanalei, Skip, this is Marta.
Have a hell of a sail Skip. [Unidentified female voice].
Bye. [Kid's voice]
Good-bye, Skip. [Another voice]
This is Skip here again. It's half-past 9 o'clock and I am close reaching here in 25 to 35 knots of wind [audible in the background]. The seas are quite large at the moment. I have up my No. 3 jib; my working staysail, and a double-reefed main.
It was an exciting start. Norton Smith made a good start. l was a little late starting but I was able to pass Norton right before the bridge. But ahead of us at the bridge was Robert Whitney in his Ranger 29, "Gypsy", and Gypsy and Norton and I and Hans Vielhauer in the Scampi, "Mach Schnell" had a great race out the entrance. It was about 15 knots at the start with a little less wind outside and we went on for a few hours and it started to blow. Ever since it has been blowing like stink out here and l've got water all over the boat; luckily it's pretty dry down here inside. I'm starting to feel a little bit better.
Earlier l was a little bit worried about my self-steering vane. It seems the bracket is trying to pull it's way through the transom of the boat. We hope it stays in. If it doesn't, l'm going to have to do a fast stuffing job because if that thing rips out I'm going to have a 5"x8" backing plate rip out and there would be quite a hole . . . anyway . . . all's well here and l hope everything is all right with the rest of the fleet. It's amazing how knotted up your stomach can be when one is leaving friends and shore and it's rough and you haven't sailed your boat in heavy weather a long time. Well anyway, this is Skip, off and clear.
It's noon, Friday, June the 16th, the second day of the race. Last night was pretty exciting . . . l ended up finally having to drop the main and just reach along with the working staysail and the No. 3 jib and we were really moving. Finally this morning the wind lightened a bit and swung abeam and I have now set the No. 2 jib and working staysail and we're reaching along under partly cloudy skies doing about 7 1/2 knots. It's a heck of a lot nicer than it was last night and l'm looking forward to further improvement.
This morning l finally had to stop the boat by lowering all the sails, and remove the steering vane from the stern of the boat. It was flexing the transom quite a bit and I was afraid of it breaking a hole in the stern of the boat. Right now the boat is steering along with the Tiller Master autopilot which is a little slow but we aren't wandering too much. I'm going to probably try and catch a little sleep now. This is Skip, off and clear.
It's Skip here once again and it's nine o'clock Friday evening. We're reaching along with a wung-out jib on a spinnaker pole and the main and a working staysail up and it's blowing about 20 and we're on a reach making a good steady speed. Today's run was GREAT! From the start yesterday to one o'clock today we ran 177 miles for an average of a little over 7 knots. It's been pretty nice today, I've been able to get the boat a little cleaned up and I'm eating, a matter of fact the first meal I've had since the start. Everything is much improved.
An interesting thing, about an hour ago I had a freighter cross my bow about a mile in front of me and I was unable to raise him either on the radio nor did my Ra-Alert radar alert work — which makes me wonder if my radio and Ra-Alert are working. Anyway, that means I'll have to look around every 20 minutes or half an hour; l just don't trust freighters. That's the bow wave you can hear in the background; we're really creaming along here now, and everything is looking up. This is Skip.
Hello once again, it's Saturday morning, June 17th. I'm almost two days out and we've averaged about 6.8 knots which is moving right along. This morning the sky is overcast with only a few clear spots — not enough to take a sight, so I'm relying pretty much on my dead reckoning.
The Tiller Master autopilot is working out up there — it's slow but it's steering the boat so l have a chance to eat and work a few figures and play a little music. Not much else is happening here. l got a good sleep last night, about 5 hours worth — although I did have to get up every hour to have a look around. The wind is very puffy, we'll be reaching here in about 12 knots of wind and then it will pick up to 20 and so l've thought about putting up the spinnaker, but I think l'm going to wait a little bit and see if it holds. Anyway, it's a nice morning and I'm having Marta's special brew for breakfast — yeast and protein powder with apple juice and some hard-boiled eggs and even a piece of chicken which was left over; I'll talk with you later again, this is Skip, off.
Good evening, it's really been a super evening out here on the ocean, just glorious. We're sailing, reaching along . . . about noon the overcast cleared up and I was able to take a noon sight and we've been reaching along in 15 to 20 knots of wind. We're 54 hours out now and averaging 6.95 knots which is all right. We're 375 miles from the start. If this wind holds, l don't know how any of those big boats are ever going to catch up.
How do singlehanded sailors eat? Well, l don't know how the rest of the fleet is, but l know l'm not very concerned with how I eat it; it's what I eat. This evening we had meat loaf and some pea soup and some cheese and the Appalachian Suite [?] on the tape deck.
The sun is about to set here, but it's warming up so I don't have to wear as much clothes now. Last night it was about three sweaters worth — now l'm down to two sweaters at night. We've got little fluffy clouds overhead — we're not in the trades quite yet, when we see the flying fish we'll be there. But right now we're still up around latitude 33 North, and longitude is 128 55 West.
What else is there? Mostly it's been the Tiller Master steering all day and that's all right. He's working out up there and he seems to be a good crew. We're wandering about 10 degrees on either side of the course, which at the moment is 225 magnetic, so he's been doing pretty well. I've been working out a few sights, reading, and just playing around.
One thing I'm sure l'm going to do this trip is to have a really fun time. It might be strange to hear that, but in racing you often lose track of what you're out here for and that's to be one with the ocean . . . so I'm trying to pick a point of sail where the boat moves fast and balances out, luckily that's about where we're heading . . . We still have up the No. 2 high-clewed jib which reaches nicely and the working staysail and the full main. Any questions? . . . then that's all, and we'll see you later on.
It's the 18th of June, Sunday, and we're still moving right along averaging 6 1/2 knots. I've remounted the steering vane on the stern of the boat as we're not reaching quite such high speeds which might lever it loose. I've been experimenting all day with different sail combinations: with the jib wung out to windward and the spinnaker to leeward and now I've got twin jibs up and the No. 2 wung to weather and the No. 1 wung-out to leeward and it seems to be working out pretty well.
I've had a really nice day today. I played a lot of music thanks to Linda — she made up some really nice tapes and that's been great. The wind has been steady from the NNW at about 15 knots and with some clouds. I haven't seen any other ship or boats out here, nothing much at all. The radio works, I put the shortwave on tonight and tune in the AM and there was the radio station from my hometown in Santa Cruz — loud and clear. Makes me wonder what the folks back home are doing. Makes me wonder what the folks back home are wondering what I'm doing.
Well, I'm having a nice time out here, it's interesting and I've been able to relax a bit. I sleep mostly at night and wake up about every hour to look around and it seems I wake up pretty much automatically without even having to put on the alarm which is pretty nice.
Today was also the day I began to make inroads into the food. I'm really stocked for this trip and it's certainly a pleasure to have a lot of food onboard. For lunch it was fresh avocado with mayonnaise with lemon juice and that was really tasty. I'm still eating a big piece of meatloaf that Marta made and we've got the sprouts up in the sprouting jar and overall it's been a pretty relaxed moving-right-along sort of a day. Talk with you later.
[Reveille is whistled into the microphone] It's Monday, June 19th and today the big boats have started. In other words those boats over 30 feet overall, which includes the trimaran "Triessence" which I suspect will be up with us before we reach Hanalei. [Ed. note: Triessence was a no-show]. But, I don't know how much hope there is for any of the other boats to catch up as Wildflower is now 650 miles out and we're averaging 6.9 knots.
I spent all morning working on the stern. As I mentioned earlier the windvane was trying to pull the brackets off the transom of the boat, so I made a new backing plate and spent all morning crawled up underneath the back of the boat in the transom and installed a new backing plate. It may not be a whole lot stronger, but it does give me some peace of mind. I'd hate to see the other backing plate get pulled through and end up with a hole; that would be unpleasant for sure.
We're still moving right along, we've got twin jibs up and I've finally come up with a workable situation. That is the No. 2 wung out to leeward and either the No. 1 or No. 3 wung out to weather. The No. 1 works pretty well if the winds are under 20; if there is more I wing out the No. 3. I haven't steered since last night, the boat's been trucking right along steering real close to what l want to steer which is about 235.
I had a lot of action last night and ended up not sleeping a whole lot — only about three hours. This morning I felt pretty tired. Those three hours last night were interspersed with quite a few wake-ups so I'm trying to catch up on a little sleep right now. Not much else to report, it's been overcast most of the day. This morning it was blowing pretty fresh and looked like it would blow fresh all day long, but about noon it lightened up a bit and now it's down to about 20 knots. That's all for now.
[The following was spoken in a very strange voice]. Ha, ha, ha, ho, ho, ho, ho mmmmmmmnnnnnnn, mmmmmnnnnn, welllllllllllllllll . . . . I'm into the brownies folks, it may be all over for this boy. We're just cruising along here with twin jibs up and it almost looks like a tradewind sort of a day. Blue sky overhead, clouds. all around, and the water is real nice. Last night | was even able to get more than two hours of uninterrupted sleep — for about six hours — which is 4 hours more than previously. Mmmmmmmmmm, mmmmmmm these brownies are sure tasty! I haven't even made up my bunk yet. Geez, what would Marta say? Ho, ho, ho, ho.
I heard an interesting weather report on WWV this morning. The high pressure area of 1040 millibars is way north - it's up at 45 North and it looks like if any boat is sailing the great circle route, that that would be the best way right now, because I think there is going to be wind for the whole trip, although I'll have to knock on fiberglass there - let's hope anyway.
The other interesting item on the radio was that hurricane Carlotta, which is a Mexican hurricane now located at 12 North and 115 West and it has winds of a mere 115 knots so that would be exciting that moved up here. l don't know what I'd fly if it was blowing 115 knots, probably nothing at all. Back in 1965 when I was on the regular TransPac race on a beautiful ship, named "Ticonderoga" we ran into one of those Mexican storms. It probably wasn't a full fledged hurricane, but we did have winds upwards of 45 or 50, knots and that sure made us scoot along. But l'm way north of hurricane Carlotta so it's just me and the tradewinds.
This is the fifth day out now and everything is real hunky out here — no problems. My head's in order, my stomach is in order, I haven't yet brushed my beard this morning but l shall soon see to that.
Hmmmm, there looks to be blood on the Ra-Alert, I wonder how it got there? That Ra-Alert, I don't know if it's worth it. It rings when I switch on the light, it rings when I turn on the radio, but it hasn't rang when I saw the freighters earlier in the trip. I don't know if it's presence of mind, but it's staring at me with its little red eye going "un hum, I'll ring if you put the radio on." That's the Radar Alert.
That humming you can probably hear "eeeeeeeeehhhhhhhh, uuuuuuuunnnnnnnn, eeeeeeehhhhhhhhhhhhhh" well, that's the Tiller Master autopilot working out up there. It's moving around a lot, l don't know if it's actually steering us or what, but it seems to be pretty well balanced out.
On the stern of the boat is the steering vane. Up until now I haven't mentioned its make or model, not knowing whether it would work or not. It called a Sail-O-Mat, made in Sweden, a very beautiful looking piece of equipment and it seems to work pretty well; at least it's steering us and I haven't steered at all for the last 24 hours. Every once in a while I go up and take a few licks, but mostly the Tiller Master and the steering vane handle the boat.
Well, today might be library day, I'll have to see what reading material l've got. It looks like l have quite an interesting selection to choose from. Let's see, there's "Roots", which looks a little long so I don't know if I'm going to read it this passage. Next to it is "Childhood's End" by Arthur C. Clark, which might be interesting; and next to that is "Voyage" by Sterling Hayden, that sounds like it might be good; and then there's da, da, da, da, ta, da! [rising to a crescendo] "Snowblind", the story of a cocaine smuggler; and then there's a present from my dear neighbors next door, the Foxes. Peter, David, and little blonde, beautiful Susie Fox. They presented me with this book at the send-off dinner, a book that was voted the most read book on the yawl "Blackfin" during the 1971, Transatlantic Race, it's called, "The Summer of '42". Hummmmm. And quickly there's — Oops! there went a wave that just about threw me off the bunk here — John Fowles "The French Lieutenant's Woman", which I have read before and enjoyed. Then last but not least is a very light selection called "The Great Train Robbery", Marta coo-cooed that one when l bought it, but who knows what that one holds?
Well, it sure is a big ocean out here, miles and miles of water and not much else. I have seen a few birds, one was an Albatross, it was quite large although not as large as the Albatrosses which l have seen in the southern ocean. This one was brownish black. Then I saw a much smaller little bird sort of flapping along, and I must look it up when I find a bird book. I've not seen much in the water, although this morning when I was making a jib change I saw a passing milk crate and the only other thing which l've seen was a barnacle covered tire. Otherwise they've pretty well swept up out here, it's pretty clean, at least that's my impression at the moment. But l am three feet off the water and not swimming in it so it's really hard to say what I'm floating past.
Thank you Linda for those wonderful tapes you've made for me. It's realIy nice to have music out here. Boy, I can't imagine making a sailing trip without music and I have, but I it's wonderful to have it. Well, I'm running down to the end of this tape, there's not much more here.
Looking at the chart, if the wind holds we might make Hanalei in 14 or 15 days — I sure hope it holds because that would be real nice. This has been a pretty nice sail except for the strong winds the first night out. It hasn't been too strenuous, although admittedly you can work as hard or as little as you want. Wonder how my friend Bill is doing on "Flyer"; I've heard nothing from any of the other boats since the start so I really don't know what's happening to the rest of the fleet. I hope everyone's fine and will make Hanalei in fine style.
[Begins to whistle a fine long tune] Breezin' on, sailing along on the yacht, ship, boat named Wildflower — actually she's my old lady. Hang in there Fleur. This is Skip, bye.
[With the sound of rock music in the background] Howdy! This is Skip and we're running along here with the twin jibs - boy what a great rig! I've had this spinnaker up all afternoon and we were moving right along. But, that spinnaker, I don't know, for a singlehanded race a spinnaker is . . . well, frankly you have to steer with the spinnaker up and it makes it hard to pee and hard to eat and if you want to walk around the boat a bit or navigate you just can't do it. I had the chute up for 5 1/2 hours this afternoon but then dropped it just as the sun went down and luckily because a nice squall went through just after it came down and it was nice not having to worry about it being up. So, now we got the twins up, which is probably about a knot slower and the boat rolls more, but boy it's a nice rig for cruising.
Well, as my, old friend John Rumsey used to say "it musta been hell on shore", but actually it's pretty nice out here. I just changed down the No. 1 jib for the No. 3. The wind is blowing probably 25 out here, the seas are quite short and steep; they are the biggest ones I have seen on the trip. Not much else has happened.
I've started to read "The Great Train Robbery". It's been cloudy all day and I haven't really seen the sun to do any real navigation, so mostly I'm relying on dead reckoning. I log in usually every hour when l'm up. We're averaging about 6.3 knots — nothing outstanding. We're not really riding any waves, but l'm sailing a conservative race, there's no need to be a hero out here. Arriving in good time is my goal, and I'm not going to be doing any radical sailing. Like to put the spinnaker up right now would be real exciting, but you might also break something which would be unfortunate out in the middle of the ocean. So anyway, that's all. l had peanut butter, sprouts, and mayonnaise sandwiches for lunch — um yum!
[With ominous piano in the background] Well, we're really moving right now; it's Wednesday evening, half past nine, and the winds have increased. It's blowing 25 right now, the seas are getting pretty big again, the boat is steering by itself and we're just CREAMING along here. It's pretty amazing just to stand here in the hatchway watching it all happen, not having to steer. The sails are trimmed with the big No. 1 jib wung out to weather, this helps to keep the boats from luffing out high, and we're only wandering about 10 degrees to either side of the course, except for the occasional big one that throws the stern up. We haven't broached and I don't think we will broach. If we do broach, all that will happen is that the jib will go aback and we'll have to go up and steer us off again. [Music increases in volume].
It's really a nice evening. [Music continues for several minutes with the sounds of the wind and the ocean in the background]. All right, Eric! Whooooo!
Well, it's Wednesday night, June 23, and it's the solstice — happy solstice everybody! The sun's standing still — well, not really, but . . . Good evening folks, this is Skip on the big ocean.
[Radio voice] Looks like it will be buffeted by 5 to 8 foot waves through the day. The National Weather Service says that the high surf is being whipped up by hurricane Carlotta 1200 miles to the south of San Diego. The Los Angeles County Lifeguard, Dick Haddick says no major damage expected. [In another voice] Most of the south facing beaches, not Zuma here we face West, but some of the beaches in the south bay and of course down to the Huntington and Laguna areas and parts of the beaches in the Santa Monica and at Surfrider Beach here in the Malibu area. [Skip speaking again]. Yeah! yeah, ride, ride, ride the wild surf! Wow, we're really riding it right now, it's 2 am. Thursday morning and the boat is JUST SURFING ALONG here, really moving. It's like we're on rails, rocking right along, running square off.
We're sailing wing-on-wing with the twin jibs up forward and we're probably averaging about 8 knots. A little rain squall just went through but the wind is pretty steady at 25 to 30 knots. I got this little news item about the hurricane created surf in L.A. but we have a few of those waves out here, too. It's Thursday, June 22nd, 1:00 in the afternoon and we're halfway. Yep, we're having a halfway celebration here — we're having sprouts, we've got more sprouts than we could possibly eat. They've taken over the forepeak and we have to clear 'em out of here, so step right up folks, we're having a special on sprouts. We've got alfalfa sprouts in quantity, in bulk quantity. I'm sure this is one of the few boats in the race that has grass, yes, moooooooooo type grass growing in the forepeak.
It's cleared up, the sun is out and I've just switched the No. 3 to the No. 1 on the starboard side and we remain with the No. 2 on the port pole. The trysail is sheeted home flat amidships but we're still blowing our guts out here. This hull just loves to roll, but, we have what you call acclimatization which is, well it means you get used to it after awhile. I hardly notice the roll anymore except when the jar of peanut butter flies across the cabin and smacks me in the shoulder.
To date we've averaged over 6 knots, almost 6 1/2, knots which is quite respectable. However, I wonder how the lightweight flyers are doing? I've heard not one thing over the radio, so I don't know how anyone is nor have l seen any of the other boats out here.
[Singing into the microphone] Rock a bye baby on the ocean whooo whoooooaaaaaaa. We're rolling a lot folks. I haven't rolled this much in a long while. We're running straight downwind, whoooooaaaaaaaaa see those waves go by!!!
It's Friday, June 23, it's evening now and I'm still wearing my woolies and here we are at latitude 28. Boy, it's not been a warm trip. I've not seen the wind under 20 knots most of the trip, and right now it's back up again.
I had an interesting happening earlier, I heard a sort of "crack", I was working at the chart table and jumped upstairs to see the steering vane rudder float out of sight astern. So, l'm without the steering vane, I don't know what made it break off, if we hit something or it just broke. I'll have to find out when I put the broken half of it off the stern.
We're still really moving, averaging 6.8 for the last hour. I'm hoping that I'll be able to get the Tiller Master to steer us for the rest of the way. It's been coming through until now, though it has a tendency to to wander a lot and it's pretty slow. We're about 800 miles out and it looks like if we keep up this high speed — whoooaaaa! — that we might make it under two weeks which would be pretty amazing. We're still moving right along. It's Friday, June 23.
Splash, splash, ripple, slurp, slop, . . . slosh. If you're wondering what this sound is, it's the sound of the bow wave of Wildflower as we're surfing along here 800 miles out of Hanalei Bay. If you're wondering who's steering as I'm talking to you, let me introduce you to my mate the Tiller Master. Here, I'll let him say a few words, "deeeeeeeeeeeeeaaa, bruuuuuuuunnnnnn, deeeeeeeeeeeeaaaaa, brummmmmmmmmmnnnnnnn . . ."
He gets more talkative when the wind increases and he starts having to work harder and harder. Right now we've got just a pleasant, breeze, about 15 knots and we've got partly cloudy skies. Pretty much tradewind sailing. Earlier I had a school of what looked like mahi mahi try and steal my last log spinner. Luckily I noticed them after it and I pulled it in before they were able to take it away.
I spend about 3 hours each day navigating, both taking sights, working sights, plotting sights, plotting my DR, and speculating. Even with the cloudy skies we've had this trip, I've been pretty much able to be certain of where we were. No problems although the seas as we approach Hanalei get steeper.
l haven't seen any jet trails overhead; I haven't seen any ships either. The only thing that tells me where we are, are these numbers in the book. If you're a person who is not real trusty of numbers, like l am, it makes you wonder, we may be steering off to someplace else. Who knows?
Right now we're steering about 230 magnetic, doing 6.3 knots. It's 6 in the evening and we're running along under twin jibs. This morning l heard Hilo radio; it's the first radio station from the islands that I've been able to pick up, although we should be picking up more and more now as we approach the islands.
l mentioned about my steering vane rudder breaking off and indeed that is what happened. It went with at snap which I heard and quickly stuck my head up to see it drifting out of sight astern. I wasn't sure whether it broke off because we hit something or because of it's own structural failure. The shaft which runs down the forward part of the rudder clearly snapped. So, now we've gone electric; we're on the solar cells running the Tiller Master or should I say the solar cells are charging the battery which is running the Tiller Master, and hopefully there is just enough power being put out by the solar cells to keep us in electricity for the Tiller Master. I'm sure I don't have enough juice to run my masthead tricolor running light, so at night I have my strobe light which l have lashed to my backstay, and put my strobe light on when l'm not up. I usually look around about once an hour; it makes for pretty heavy dreaming while I'm asleep. But, I haven't felt like I've gotten overly tired, so I reckon that's all right and I'm just going to keep on with my present routine of working and sailing during the day and sleeping at night.
Well, that's it here from latitude 26. It's warming up and hopefully last night was my final night wearing wool pants — it certainly hasn't been a warm trip, and with that we'll say good evening.
It's June 25th, this is the 10th day. Actually it's evening right now, the clock reads midnight, but in reality it's only about 9 according to the sun. We're reaching along here in light wind at the moment, probably only about 10 knots, and much influenced by the squalls that are all around us at the moment. We've had squalls off and on for the whole trip and they usually bring some rather radical wind shifts — like an hour ago we were running and now we are reaching.
I finally said the hell with the clouds and went up to the foredeck this afternoon and took a salt water bath and seeing as how we've got plenty of water, I washed off with fresh water and that felt real nice.
l worked the stars tonight and have a pretty reasonable cross with Spica and Vega and with Polaris. It's pretty smooth so it was much easier than when there are larger waves. Taking a sight reading your watch, and writing down what the time is, all singlehanded — it really takes two people.
This morning was real exciting, we had the most wind of the trip. We were surfing quite nicely, just riding off waves and whoooossssshhhhhh! Really creaming along!!! For a couple of hours there according to the log we were averaging over 7 knots so that's really cruising. l wonder what's happening to the rest of the fleet, still not having seen anyone or heard from anyone. The VHF radios, l don't think are good for more than line-of-sight, and certainly I have none in sight. It's a nice evening.
It's Monday evening June 26th, and I've just seen my first sign of human existence in ten days. It was the passage of a jet high overhead, although all you could actually see was the vapor trail. But it looks like we're heading in the same direction.
Today has been a frustrating sort of day, with a lot of squalls around. Between squalls there is not much wind at all. A squall would pass and that meant jibing or changing sails — lots of work. When the wind was lighter, l would have to raise or lower the spinnaker — did it three times for squalls in the last three hours. Right now we're running right off on a course of 240 and we're about 395 miles out.
Looking at my log I've recorded up to today the mileage run from noon to noon — it makes some interesting reading. On the first day 167 miles; then 175, 170, 163, 150, 144, 150, 155, 155, 157, and today 149. As you can see we've been moving right along for this little boat. 144 miles a day means a 6 knot average, so we've averaged over 6 knots for most of the trip. Anyway, not much else right at the moment, we'll talk with you later.
[Hawaiian music on the radio in the background, then the voice of a DJ from Honolulu…] This is Skip, it's three in the morning, we're moving well, beautiful night out, tradewind clouds, and it's warm. We're making 6 1/2 knots steady with a wung-out No. 1 on starboard and the main on port. Everything is looking up and up and up and up. I'm looking around every hour with my little egg timer waking me up every half hour with a ringgggggggggggg!
[More Hawaiian music with a blurb for Shakey's Pizza in Honolulu] Well folks, that's how it is this evening at latitude 24 and it's warming up all the time. Those Hanalei beauties have us by a nylon tow rope now and we're being pulled right in there.
[Rock & Roll music in background] The radio station we have on here is radio Lihue, which is on the island of Kauai. We're homing in on it and we're 290 miles out — we ought to be there sometime Thursday afternoon or evening. If we average 6 knots we'll be there Thursday afternoon at 5 o'clock, so all is well here.
We've had plenty of wind all day here. We're running right along with the No. 1 to windward and the main to leeward. It started out as a pretty nice clear day and slowly it's gotten cloudy and now overcast with squalls around. l changed down to a No. 3, but we slowed down too much so I compromised and put the No. 2 out to weather with a pole. Under it is the staysail and the main is up with a single reef in it. We're ticking off 6.33-6.4 knots here.
I had an interesting situation happen here at noon, the sun was right overhead, at exactly 90 degrees, which made it hard to take a sight as it was on either side of the boat. Luckily there is a way to deal with that and what you do is take a pre-noon and a post-noon sight and draw arcs of circles which intersect you are at noon, hopefully. Well, anyway that's it very simplified.
l heard an interesting radio report on a sports show this morning, they said that six singlehanders have dropped out of the race, but they didn't mention who they were. So, I wonder who will be at Hanalei ahead of me. I think there are three, possibly four boats which may beat me there. Norton Smith in his Santa Cruz 27, Bill Cannon in his Moore 24, a young guy 21 years old whom l haven't met, but he's sailing a 24-ft, 3,000 pound boat called Radical. The other boat which might be there is a trimaran called Triessence, a Brown 37.
There have been lots of flying fish around, just squadrons of them. l even saw one do a barrel roll. And there's lots of little ones all over the deck where they get washed up and then dry out. You have to go around and pick them out of the scuppers before they get too sticky and hard.
I saw more planes or more vapor trails; they are now about 30 miles to the south of me heading to Oahu. It's unlikely that I will see Oahu, landfall should be on Kauai. I hope I'm right because if I miss Kauai there is a lot of open ocean between here and the Asian mainland. I don't want to have to turn around. So, we're crossing our fingers and blessing our sextant. That's all for Tuesday evening.
Wednesday, June 28th. Today has been a real fiasco. There's been what the radio has termed a 'tropical depression' moving through, and that is certainly the right term. For Wildflower it was most tropical and most depressing. Everything seemed to break or go wrong all at the same time. Plus it was raining; it just rained most of the day, and wearing topsiders was like wearing a slab of bacon on each foot — they got that wet.
There's lots of small stuff that broke and I was always on the wrong jibe and small stuff like the compass light burning out — it was shorting out there was so much water. Then the matches wouldn't light because it is so wet, the oilskins which are supposedly waterproof are not waterproof, my new lock-in winch handle broke locked-in so I haven't been able to get it out of the winch when I needed it. And worst of all, well, ask me some other time and l'll tell you what was worst of all.
Anyway we're 120 miles out and it looks like the rain will stop here pretty soon and will clear up if this tropical depression moves westward as it's forecast. They always say the last 100 miles are the hardest and that's certainly true. This has been no pleasure cruise, not with the overcast skies and strong winds and almost constant marching by of squalls. We've had squalls almost everyday, every hour. Talk to you later.
Thursday, June 9th. [Dramatic change in tone of voice from last entry]. It's pretty exciting, we've got land ho! Up ahead, Kauai is about 10 miles ahead. I was a little anxious, but it showed up right on time. Last night we were moving right along with the usual squalls, but we were running along at about 6 1/2 knots most of the night. We're going to be there in 14 days and about 3 hours maybe. Marta's waiting there and I'm pretty excited, so we'll talk with you later.
This is Skip, we're at anchor at Hanalei Bay. This is truly paradise. It is also the birthplace of rainbows. My elapsed-time was 14 days, 3 hours, 18 minutes, and 17 seconds. l was the second boat to arrive here. First place overall and on corrected-time was Norton Smith in his Santa Cruz 27, Solitaire; his time was 13 days, 2 hours, 34 minutes, 31 seconds. We were followed by Mach Schnell, Caballo Blanco, and Joshua H.
First of the Class A boats was Jim Gannon's Freya, the "Golden Egg", he had the great time of 13 days, 2 hours, and 44 minutes; just 10 minutes slower than Norton Smith. Jim was followed by Alan Rutherford in the Cal 40, Quest.
[More Hawaiian music] That's the end of the tape. It's been a pleasure. This is Skip Allan, over and out.
- skip allan

---
Please note: After a few years, the actual issue may no longer be available, but we will still be able to make photocopies or PDFs of it.