Part I June 2017 Edition of Latitude 38
Privateer — Hans Christian 33
Lila Shaked and Chris Jahn (from Redlands and Tucson, Arizona)

You've all heard of 'Semesters at Sea', where college students spend four months on the ocean as an alternative- learning environment. As parents-to-be rather than college students, we spent two of my three trimesters at sea.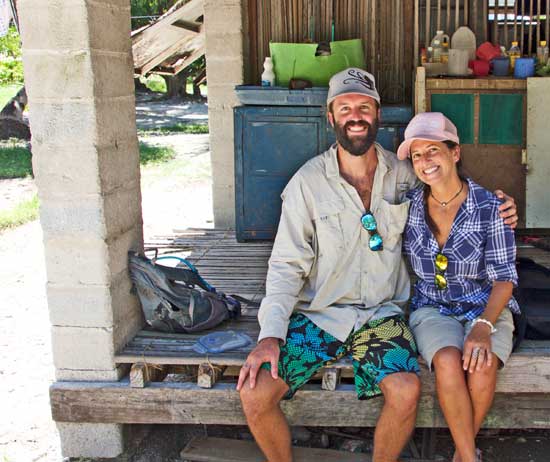 Chris and Lila at Fanning Island, 900 miles south of Hawaii in the middle of nowhere, wondering if she's pregnant.


It all started with my missing a period at Tabuaeran (aka Fanning) Island 900 miles south of Hawaii. Anyone who has been there knows it's not the place to find a pregnancy test kit. The stores are small huts that are only open when the owners feel like opening them, and they only sell goods such as our, rice (usually with weevils), corned beef hash, single cigarettes, and pens and paper to school kids.

Concerned that I might be pregnant, I tried not to think of all the raw ahi sashimi I had been eating for the past few days, or the beer, liquor and kava I had been consuming in celebrating our second time cruising the Pacific. Until we knew for sure whether I was pregnant, I decided to switch to cooked fish and juice.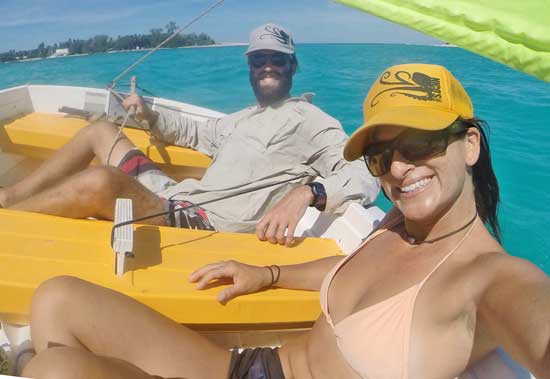 Before you're pregnant, you can live a little more carefree lifestyle.


As days passed, I felt more positive about being pregnant, but really wanted a test to be certain. But winds were strong from the SSE, and we wanted to wait until they turned more easterly to make our trip from Fanning to Niue/Tonga/Samoa — we weren't sure where we would land — more pleasant. We ended up departing from Fanning on June 19.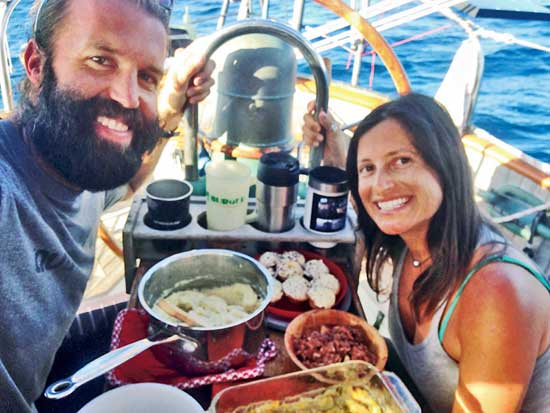 Once you suspect you're pregnant, you eat more carefully.


On our sail down we talked about the three possible countries we might land at in 10 days to two weeks' time. Did Niue have a hospital or just a clinic? I thought I'd read American Samoa's maternity ward was under construction, but wasn't sure. Would Vava'u's pharmacy have an ultrasound machine? The answers to most of our questions were mere speculation, since the cruising guides do not address those who need prenatal care.

I was sick pretty much every day of the passage. For someone who had already logged 13,000 ocean miles sailing from California to Hawaii to New Zealand to French Polynesia and back to Hawaii, and had never been seasick, I was pretty sure I had morning sickness. All the many forms of ginger I had onboard were no match for my daily nausea.

It didn't help that we had to cross the Intertropical Convergence Zone, which featured days of squalls. After crossing the equator to the South Pacific, we were greeted by the South Pacific Convergence Zone. We again had squalls for days, and when we weren't dodging squalls, we had either no wind or 30 knots.

It seemed like one of the longest passages of our lives, although we had done some that were twice as long. We arrived in Neiafu, Tonga, on the morning of the Fourth of July — only to find it was a national holiday. No, they weren't celebrating America's Independence Day, but rather the Prince's birthday. Everything was closed.

We returned to the pharmacy on the 5th to buy a pregnancy test. We went to the nearby Mango Café to use the Internet and drink soda until I had to pee. Soon the time came for me to go.

"So this is it!" Chris said, looking around the Mango Café and at the boats moored in the water just in front of us. "This is where we find out if we will be parents!"

After three minutes in the bathroom, I ran out waving the indicator stick. "We're having a baby!" I hugged Chris.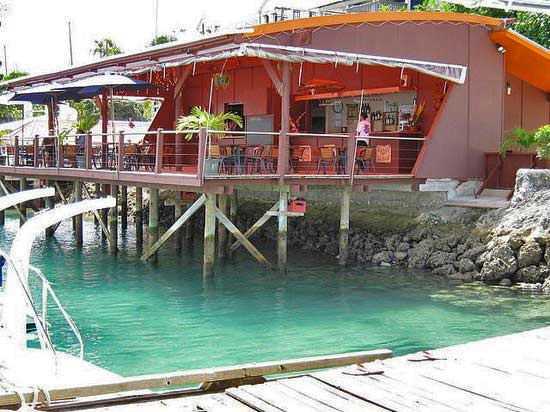 It was in Tonga that Lila was able to finally find a pregnancy test. She administered it at the Mango Cafe at Neiafu in the Vava'u Group.


We returned to the pharmacy to make an appointment with the doctor who, because of a lack of government funds, only works three days a week. We met Kiwi Dr. Julie, last name unknown, who was to be the general practitioner for the town for the next few months. Luckily she was an OB-GYN, so she was able to answer all of our questions.

Our main concerns were Zika, and what I could eat. We learned that Zika hadn't really been present in Vava'u, but nonetheless decided it would be best for me to cover up for the first 18 weeks of pregnancy just to be safe.

We also learned that I couldn't eat a lot of foods — lunch meats and soft cheeses among them — due to Listeria bacteria. Since we were on an island that got its food from a bigger island, which in turn got its food from New Zealand, the doc told us to be extra, extra careful with any meat and cheeses we bought. Most of the meat is frozen when it leaves New Zealand, defrosts en route to Tongatapu, is refrozen to be shipped to Vava'u, and then is more likely defrosted and refrozen once again. Perhaps you have enjoyed the well-known Tongan delicacy known as 'Square Chicken'.

So we had to skip purchasing all meat and cheese while in Tonga. Anyone who has been pregnant can understand how hard this was for me. Luckily Chris is great at spear fishing, so he was able to provide protein in the form of goat fish, parrot fish, grouper and other local fish.

The highlight of our visit with Julie was when she rolled out the ultrasound. "I think this thing works!" she said.

Since she had only been in Tonga a few days, I was her first patient who needed the machine. I plugged it in for her, she booted the system, and then scanned my belly. After 31⁄2 weeks of wondering, we finally had certainty. Julie showed us an ultrasound of a tiny — about the size of a grape seed — future sailor. We could see the tiny heart beating. It finally felt real.

Julie told us the next milestone in prenatal care was the 18th-week anatomy scan. This is a more in-depth ultrasound that will show us the baby's vital organs and make sure everything is forming as it should. But Julie was not sure if there was a doctor in Vava'u that could perform the scan. Our other options were flying to Tongatapu or Fiji.

While at the hospital, we inquired about this scan, and we were told to find Dr. Atomi, again last name unknown. We were led to another room with a sign that said 'X-ray' on it. We knocked and waited. The same woman in a coat from before walked by. "Just knock and go in," she said. Things are different in Tonga.

We entered and found the doc sitting at a desk looking at an X-ray. We introduced ourselves, explained that I was expecting, and wanted to know if she could do the anatomy scan.

"Sure!" she said happily. "I have the machine right here. It can show me everything. Just come back any day in October after 1:30 p.m. I will remember you." We were sure she would remember us, as she couldn't be seeing many palangi couples.

So far our journey in pre-natal care in Vava'u had been quite adventurous. While on the surface the pharmacy and hospital may have seemed less organized than in the States, we were able to speak directly to the doctors and nurses. As everyone knows, this is something that is nearly impossible to do in the average health care system in America.

In the States, we typically would have had to sit in urgent care or an emergency room for hours, and then pay a huge co-pay to be able to get seen. And then possibly receive a bill for what our insurance didn't cover. It might have even taken weeks to get an appointment with an OB-GYN in our insurance network. The access to professionals in Tonga to answer our questions was refreshing.

At this point we had spent 80 pa'anga on our first pharmacy visit, 142 on blood tests, and 30 for prenatal daily supplements. That's a total of $175 US dollars. Considering we didn't have health insurance care in Tonga, this was a bargain.
It was about this time that we hauled our boat out at the boatyard in Vava'u. We needed to redo the bottom paint and put in some new bronze thru-hulls. Due to my pregnancy, we decided I should stay away from sanding, painting, and anything that involved harsh chemicals. So I kept Chris fed and did what small projects I could. Unfortunately, deep cleaning the head and holding tank were tasks that I was allowed to do.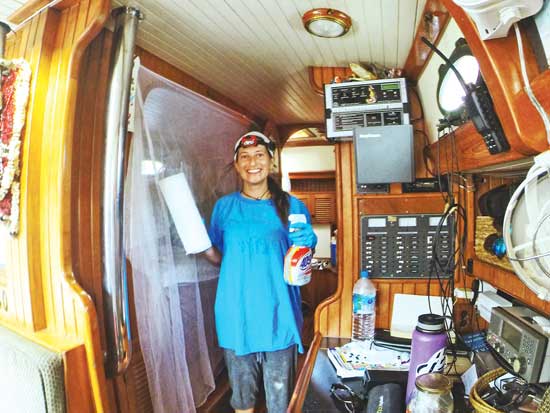 Because of harsh chemicals, the pregnant Lila couldn't sand or paint the bottom. Fortunately, she could still clean the holding tank.
Fortunately, I was offered a job back in the States for four weeks, so I left Chris to finish the bottom while I flew home to make some money. Chris painted a surprise message for me on the bottom on the hull. Upon my return to Tonga, we went snorkeling. While inspecting Chris' handiwork on the bottom paint, I found the surprise message — his marriage proposal! Being six months pregnant with his child, I decided to say 'yes'.
— lila 4/18/2017

Part II – July 2017 Edition of Latitude 38
Privateer — Hans Christian 33
Lila Shaked and Chris Jahn (from Redlands and Tucson, Arizona)

One day after I returned to Tonga to see, while snorkeling, Chris' marriage proposal written in anti-fouling paint on the bottom of Privateer, we attended a bonfire party on the beach. While dancing the night away, I ran into Dr. Julia, who told me the doctor who was to do the anatomy scan the following week no longer did them. Not the best news to get at a rave. Luckily, I had options.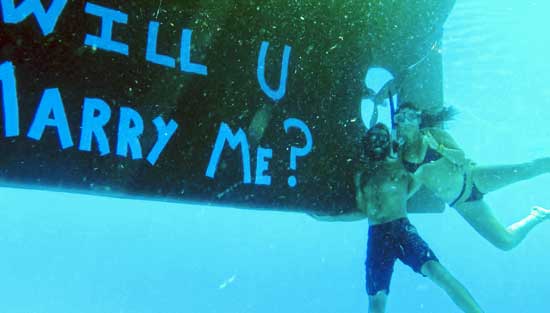 Chris' surprise marriage proposal on Privateer.


Some new mothers in Vava'u told me they'd flown to Tongatapu to get scans there. I called the doctor, who referred me to a second doctor who did scans at the radiology department at Vaiola Hospital in Tongatapu.

When I got off the plane, a taxi driver asked which guesthouse I was going to. When I told him why I was headed to the hospital, he got excited and led me to his car. He told me that his four kids had all been born in the hospital. When I told him I'd call him when I was done, knowing it might, as in the States, take all day, he laughed and said he'd wait.

After 20 minutes I was back in the cab! I had been taken straight to the doctor, who knew who I was from my luggage. She immediately got started with the ultrasound machine, and went over each item one by one, and gave me the diagnosis; the baby was healthy.

The next big event in our pregnancy was our passage from Tonga to New Zealand. It's one of those passages where cruisers often spend more time talking about the best time to take off than they do on the actual passage. In all fairness, the trip from Vava'u, Tonga, to Opua, New Zealand is about1,000 miles, so it can take a full-keel double ender such as our Privateer at least nine days. And in November, a gale typically blows from west to east between Tonga and NewZealand every 7-10 days. So we had to expect we'd get hit.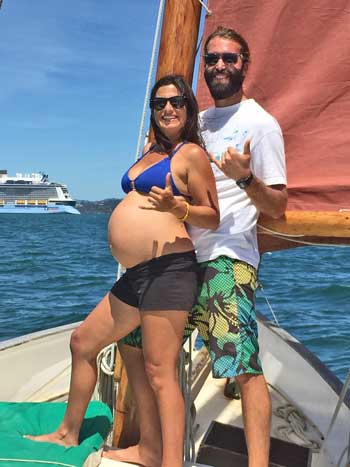 Chris and Lila in her pregnancy.


We typically don't do deadlines when planning a passage, but as I was 6.5 months pregnant, we felt I needed to get to New Zealand sooner rather than later. Though chances were low, women have gone into labor at seven months. We had the book Where There is No Doctor on board. The four-page section on how to deliver a baby was less than comprehensive. And Chris didn't feel comfortable if he had to follow the " five easy steps".

We had an amazing rhumbline sail until the wind died 250 miles from New Zealand, at which point we decided to motor. After about 30 minutes the engine made a strange sound and died. We did all the troubleshooting we could before deciding it was a problem we couldn't solve at sea. So we waited for wind. And waited and waited. After five days we got a puff, the start of the wind that would take us all the way to the Quarantine Dock in Opua.

After getting settled into Opua, we were quickly able to find a pair of midwives in New Zealand who had dealt with foreigners in the past. I explained that sometimes I could be on the boat in Opua, or Paihia, or Russell, depending on the weather, and wouldn't know until the day before the appointment. The midwives were completely understanding, even when I had to cancel appointments because it was too rough to make the 30-minute row to shore.

Instead of meeting in the comfort of a house for my checkups, we met in the computer room of the Bay of Islands Cruising Club, outdoor cafes, or the grassy lawn near the library. I always brought my yoga mat along so I could lie out while the midwife took my vitals, measured my tummy, and felt the baby.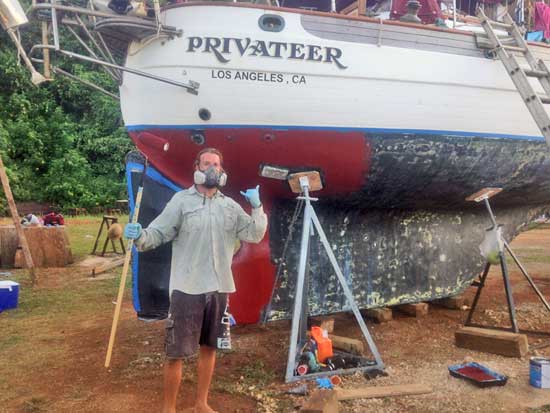 While Lila briefly flew home from work, Chris worked on 'Privateer'.


New Zealand is very into natural births. While I was hunting for a house to have a home birth in, both my midwives insisted that we could give birth on the Privateer! In fact, I think they were excited to add a boat to their list of places they have delivered.

As my pregnancy progressed, we learned that mine was a high-risk, and we would have to deliver at the hospital in Whangarei, about an hour away from Opua. We would still try for a natural birth, but would be in a hospital in case any complications arose.

We spent weeks 34-38 on a mooring in Opua near the boatyard. While Chris worked to keep up our cruising kitty, I stayed busy doing yoga, walking, and just passing time in the amazing Bay of Islands.

As I was tying up my dinghy on the wharf one day, a woman came up to me and asked which boat was mine. I thought I was in trouble for using the wrong dock for my dinghy. "No," she laughed, "I've been watching you dock here for over a week now and I just wonder how far you have to row!"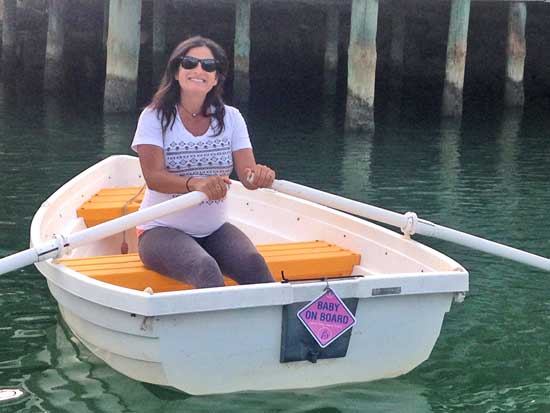 On weeks 34-38, Lila did a lot of rowing between the boat and shore. After watching her, a female paramedic got 'Privateer' a slip in a 'full' marina.


She went on to explain that she was a paramedic, and couldn't help but keep an eye on a pregnant woman rowing a dinghy. Along with being a paramedic, she was also the manager of the boatyard. She insisted we get a slip for the final weeks of my pregnancy. She was able to help us get all set up, even when Bay of Islands Marina claimed they had no slips available.

In all our time cruising we had never paid for a slip. But we figured this was a month that it would be worth it. While I had never been in labor, if it were to happen while Chris was at work, I would probably have found myself rowing to shore between contractions. So we figured we could afford the slip for one month.

I went into labor on the boat at 1 a.m. on February 21. After a quick car ride and 22 hours, our little boy Chance entered the world. Incredible!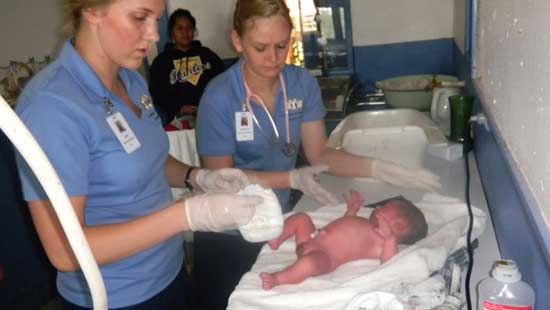 Chance got excellent care in New Zealand.


Thanks to the extreme generosity of a Northern California couple who have circumnavigated, we were given the use of their New Zealand home for the first two month's of Chance's life. Then family came to visit and help us get started.

We—three of us now—are now moving back onto the boat and prepping for our next crossing — from New Zealand up to Tonga.

Having a baby in New Zealand was a wonderful experience. Several Maoris have walked right up to us and asked if they can hold our child. We love to let them, and pass our child off to as many strangers as possible. We know this will only be more and more common as we return to the islands around Fiji and Tonga.

One of the most interesting things that I found as a pregnant American in New Zealand was how easy it was to get the predicted cost of my medical care in advance. New Zealand has free health care for all of its citizens, so while hospitals, birthing centers, and midwives all charge fees, they have a set price list nationwide, and they bill the government. The price list is just one page long, and the items include: first trimester prenatal care, home labor and birth, hospital birth, C-section birth, and so forth. Each item has an exact cost that does not vary. As an American, I was shocked!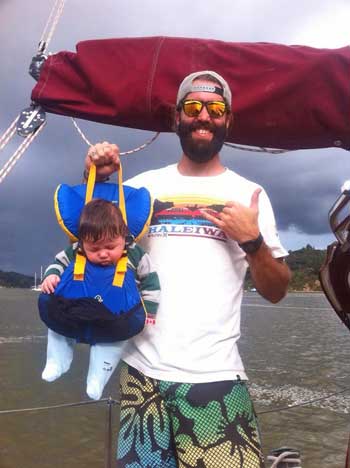 Chris has no trouble hoisting new crewmember Chance. The couple don't have any plans to stop cruising now that they have a son.


While we were deciding if we would have the baby in the United States or New Zealand, I spent days trying to speak with my insurance company in Hawaii to get any sort of idea of what a birth would actually cost me. But to no avail. If we'd wanted to travel to California to be closer to family for the birth, I would have been 'out of network' and thus not necessarily covered by my insurance company.

We did the math, including the price for hauling the boat out in New Zealand or Tonga, paying for six months in a yard and flights for us round-trip from New Zealand or Tonga to Hawaii or California. And a big X factor was not being able to get an actual estimate of how much a birth in the US would cost. Then we looked at our little one-page piece of paper from the New Zealand government, with the exact prices of a birth, and decided this was the way to go. My final bill for the birth was one page long, and the total came to $5,000. Not bad for being a country with the second-best-ranked maternity care in the world. While there were many things we enjoyed about our trimesters at sea — cheap costs, easy availability of doctors, etc. — there were definitely cons as well. When I did turn up in New Zealand, I handed my midwives my paperwork from Tonga showing my scan results and blood tests in Tonga. While it was clear I had no hepatitis, HIV, and such, the tests didn't actually say what my blood type was, and my rubella results were sent in a separate email where the doctor just wrote, "Negative!" My midwives made it clear that these results would not fly in New Zealand, and I needed to be retested.

The most important thing that we took away from this experience was seeing the cruising community come together, as they always do, and offer to help us in any way needed during our pregnancy and afterward. Boat neighbors assured us their VHF would always be on in case we needed to contact then while we were still on the mooring. Complete strangers who resided in Opua offered us cars in the event that we needed to go to the hospital before we had our rental car sorted out. And an amazing pair of cruisers we had never met offered us their home in New Zealand for the first few months of Chance's life!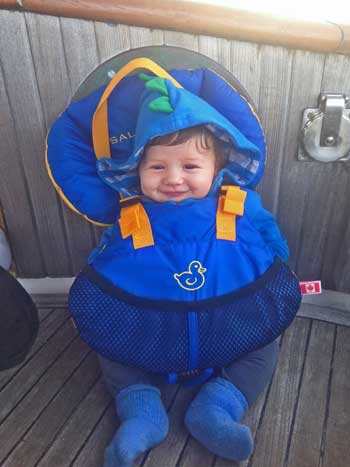 Young Chance is happy with the way everything turned out.


We look forward to this same community helping us raise our little boy and being a part of his life at sea.

— lila 5/15/2017


To read our complete current or back issues click HERE.
---