From the Charter Section of our May 2017 issue.
Things don't always work out exactly the way you assumed they would; sometimes better, sometimes worse, sometimes a bit of both. Such was the case last August when four friends and I stood on the dock of Alimos Marina in Athens, Greece, looking at Hellenic Sky, a Bavaria 44 that had been our home for the previous six weeks.
We had just completed a rough circle around the Cyclades and Dodecanese Islands of the Aegean in search of fair winds and tall limestone walls to climb. It had been a whirlwind of a charter, sometimes filled with moments that passed by agonizingly slowly, yet on the whole, it flew by much too fast.
Reflecting back on that moment, aside from feeling sad that it was all over, I think we were also feeling surprised that we had successfully pulled off this six-week bareboat charter in the first place.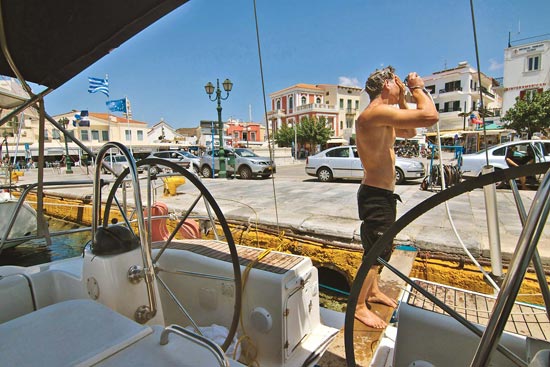 While Med-moored to a seawall in typical Grecian harbors like this,
dining, shopping and nightlife were all a few steps away.
Two years ago, in the fall of 2014, the idea of doing a long and complicated sailing and rock-climbing expedition in the Aegean was first conceived. The five of us, close friends and future close friends, jointly daydreamed about what it would be like to spread our sails and cruise under the power of the wind, anchor in remote coves, enjoy the stillness of a sunset while in harbor, climb until our hands could take no more, and dance the nights away on exotic foreign shores. It was a vision sweet in its simplicity and intoxicating in its promise, and we reveled in the idea.

We came up with the summer of 2016 as a timeline; just far off enough not to be pressing, but close enough to look forward to. It would be perfect. There was only one rather large problem with our collective daydream: None of us really knew how to sail. Most of our experience came from experimentally sailing San Francisco Bay aboard a Catalina 22 that was docked at Loch Lomond in San Rafael. Some of our group had never set foot on a sailboat before.
This fact cast a shadow over our visions for the trip, leaving us thirsting for the adventure, but perhaps not fully believing it would happen; tantalizing but just out of reach. Regardless of our doubts, we felt the idea of the trip sounded too good to give up on, so it lived on, stuck up on the shelves of our minds for the next year and a half; not actively planned for, but not forgotten.
As fall turned to winter, winter to summer, and summer to winter again, the summer of 2016 drew quickly nearer. It was time to get down to business or let go of the idea. We investigated what it would actually take to charter a boat for six weeks in Greece, both skill-wise and financially. We determined that while it would challenge us, our plans were possible if we prepared ourselves appropriately. As we were running short on time, instructors at Pacific Yachting and Sailing in Santa Cruz worked hard to find the time to provide ASA 101, 103 and 104 certifications to two members of our group, the minimum certifications necessary for a bareboat charter in Greece.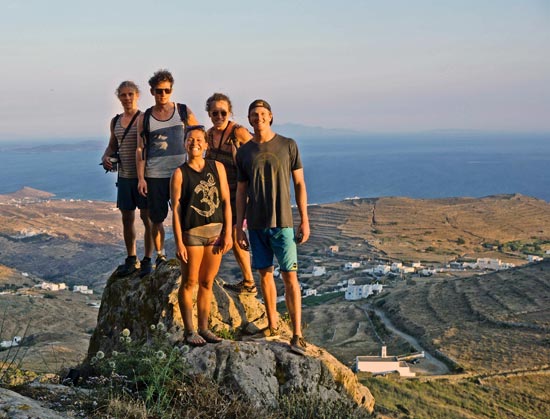 Meet the intrepid crew: In order to get off the boat and stretch their sea legs, the young explorers would occasionally scale nearby peaks.
We contacted more than 20 Greek charter companies and received a wide range of quotes, but we eventually settled on a small, family-operated company named Sail Ways. As more of the pieces of our plan were put into place, the daydream came to feel more and more feasible, until it moved solidly into the realm of the inevitable. All that was left was to hop onto the plane and find out what was in store for us.
Perhaps it is impossible to know how a first-time experience will turn out, or perhaps we got carried away in our daydreams, but the expedition had more in store for us than we had originally anticipated. Our route took us from Athens to Cape Sounion, Kythnos, Rhinia, Mykonos, Tinos, Patmos, Archangelos and Kalymnos — the main climbing destination of the trip.

to receive emails when free digital editions of our monthly magazine are posted.
The second half took us to Kos, Astypalaia, Santorini, Ios, Cape Sounion again and back to Athens. All in all, we saw much less than our originally planned voyage (which had included Crete and the Peloponnese), but we still covered a fair arc. We spent nights in remote anchorages in Cape Sounion, Rhinia, Archangelos and Santorini, with nothing but ourselves, our dinner, and the stars.
We ate our fill of Greek food everywhere we went, enjoying the unique twists each island put on the customary dishes. On Kalymnos, we zipped around on scooters exploring the amazing limestone crags the island is famous for, climbing until we could climb no more, and still only visiting a tiny fraction of what the island has to offer. And yes, on Mykonos and Ios we danced the night away, finally returning to the safety of our boat with the rising sun.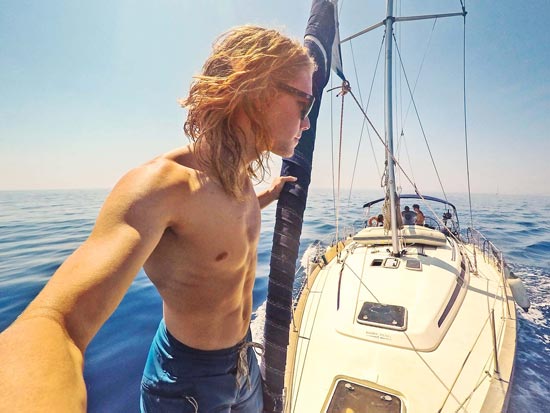 When you're not used to being confined to small spaces, several weeks on a boat can be a challenge. It helps to be young and fit.
Our daydreams were fulfilled. But we had anticipated only part of the trip, in reality. We didn't picture the seasickness that came from two-meter, short-period waves hitting our port hull for 13 hours as we crossed from Tinos to Patmos in 30- to 40-knot winds. Nor did we anticipate the feelings that come from a stalled engine coinciding with no wind; spending hours belowdecks in cramped quarters, sweating and fighting nausea, hands wet with diesel as we bobbed slowly past our destination. The stress of Med-mooring in a busy harbor with a strong crosswind was challenging, as was waking up sweating in bed on a particularly hot day, or failing to fall asleep while the boat was on an exposed and windy side tie. These are not things one daydreams about in anticipation and are definitely not enjoyed in the moment, but nonetheless serve to make the trip a more rich and full experience. In retrospect, we even came to regard some of these challenges in a positive light. Such is the nature of certain things: not all fun at the time, but later you are glad you did them.
Committing to such an ambitious expedition as beginners presented a challenge, but also provided us a unique opportunity to learn how to sail based largely on trial and error and critical thought instead of instruction. The ASA 101, 103 and 104 courses provided our team with just enough skill to reasonably attempt the charter, but each new day at sea was filled with teaching moments. A conversation would ensue each time we pulled up to a harbor or anchorage, sometimes lasting 20 or 30 minutes as we did circles, buying time as we figured out the best way to address the problem at hand.
While sometimes stressed and uncertain, I'm happy to say that we didn't make any drastically wrong decisions, as all five of us and the boat came back in one piece, which is more than we can say for some yachts we saw along the way. As the trip wore on and we internalized more and more lessons, living on a boat became more and more enjoyable. One of the biggest lessons we learned — an unanticipated one — is the importance of getting off the boat and away from each other every once in awhile to recharge our own batteries, so to speak.
Another big lesson, learned on our Tinos-to-Patmos crossing, is the importance of choosing our sailing days according to the whims of nature, as opposed to our plans for where we wanted to be on any particular day. While it may have been easier to learn all of this through instruction from a knowledgeable sailor, there was also something very poignant about learning these lessons by ourselves. Knowing the 'why' behind each action or decision is an important part of the learning process, and with the world as your teacher, the 'why' is a central component of every lesson.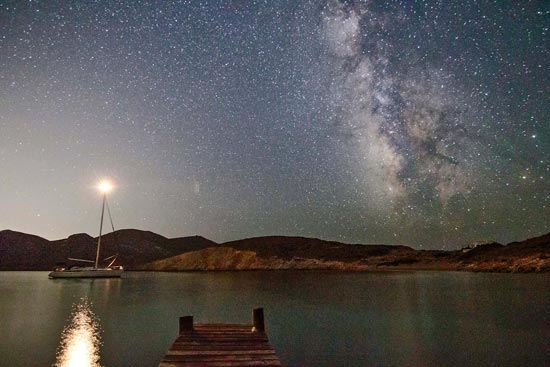 Although it may be hard to see in the magazine, this night shot captures a brilliantly clear sky, heavily salted with stars and constellations.

Standing on the dock in Alimos at the end of our charter, we were much more competent and comfortable as sailors than we had been at the beginning of our voyage. In some ways, it felt as if we were just getting to the good stuff, and could feel the itch to just keep cruising the world with no time limit in sight.

The lessons we had learned were numerous, but perhaps the greatest lesson was not specifically about sailing. We discovered that if you set your aim high and dream big, experiences that seem a bit too good to be true, experiences that perhaps seem a bit too far out there to become reality, can indeed come to fruition. And that with the right combination of focus, planning and hard work, you can live out your daydreams. But when your daydreams do come alive, they might be accompanied by a whole slew of experiences that you hadn't anticipated, but that ultimately made the entire experience that much richer.

As we walked away from Hellenic Sky we were filled with a sadness that the trip was over, but also a small but quickly growing feeling that this was not really an end, but just the beginning of our relationship with a new sport, a lifestyle and a source of adventure that could take the span of many lifetimes to fully explore: sailing.

tyler drogin

To read our complete current or back issues click HERE.



to receive emails when our free blog is updated.
---