---
Rolex St. Francis YC Big Boat Series Special Edition
September 17 - San Francisco Bay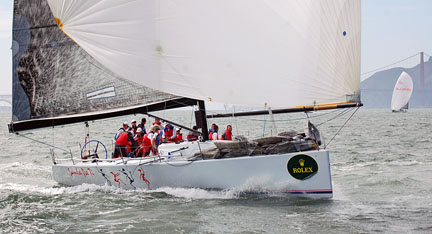 (Click on the photo to enlarge it.)
John Kilroy's Samba Pa Ti on the way to winning IRC A.
Photo Latitude / JR
© 2007 Latitude 38 Publishing Co., Inc.
Dear Mike, Brack, Peter and other Southern California 70-ft sled owners:
It's a real shame that you couldn't get your fleet together for this year's 43rd annual Big Boat Series, as it was the most participant-pleasing one in recent memory. Forget the strong, cold winds and big chop that you normally associate with a Big Boat Series, as the thousand or more crew on this year's 112 entries were treated to a seven-race event that was all sunshine and 10 to 18-knot winds. And thanks to it being a rare flood tide series, most of the boats didn't even get water on their decks. The weather was so Newport Beach-like that Adrian Vallera of the J/122 TKO even went swimming, foul weather gear and all. Owner Dave Kirby would have preferred that he'd not done it with just 60 seconds to go before the start of the critical sixth race but, as Shakespeare noted, all's well that ends well, and TKO did take her class. In fact, we can only think of two things that went wrong with this year's series. First, on the last leg of the last race, Dana Sack's J/105 Hazardous Waste almost became just that, ending up on the rocks right in front of the club. Ouch! And second, all three of the St. Francis YC's P.A. systems were inexplicably DNS for the awards presentations, leaving Norm 'Can You Hear Me Now?' Davant sounding like the spokesman for Verizon wireless.
Top honors in IRC A went to John Kilroy of Malibu and San Francisco's Marina District, who was sailing in his 42nd — no typo — Big Boat Series. He drove his year-old B&C TransPac 52 Samba Pa Ti to a hard fought victory. "The Big Boat Series is the only non-tradewind sailing series I really like," Kilroy noted, "as it's got the perfect conditions, the scenic venue and a great yacht club." Second in class, and a winner in his own right, thanks to correcting out first in the last three races, was Roger Sturgeon and his Northern California and Ft. Lauderdale-based Rosebud, the first of the STP65 class. Although helmsmen Jack Halterman of Santa Cruz never did get the beautiful Westerly-built Farr design up to the 27 knots they'd hit on the Bay in practice, Sturgeon was all smiles about his new ride. It's hard to replace anything that had been as wildly successful around the world as his previous Rosebud, the R/P TransPac 52, but his STP65 seems like the one to do it. Even Larry Ellison, better known for his America's Cup campaigns, had something to cheer about, as he drove the R/P 45 Sjambock to victory in the third race.
Lani Spund's turbo'd SC52 Kokopelli2 bested the other nine IRC B boats to take class honors, but it wasn't easy. The racing was so tight with Spund's biggest competitors, Mike Diepenbrock's Sacramento-based Swan 45 Rancho Deluxe and 86-year-old Sy Kleinman's Schumacher 54 Swiftsure II, that the three boats corrected out a total of 18 seconds apart in the fifth race. Three very different boats, one very close Rolex Big Boat Series finish.
For most skippers, a Rolex Big Boat Series win is the culmination of an entire season - if not years - of getting the crew in sync with the boat. That wasn't possible for Dave Kirby's TKO, as his French-built only-second-J/122-on-the-West Coast wasn't even ready to sail until just six days before the gun sounded to start the first race. But Kirby and crew overcame the very brief acclimatization period and crewman Vellera's natatorial ambitions to correct out first in IRC C. Mike Garl hung in to the very end with his Beneteau 40.7 White Dove, sailing a consistent series, but had to settle for second by a mere point. After an unprecedented run of ruling whatever Big Boat Series class she was in, John Siegel's Wylie 44 Scorpio finished third in the 13-boat fleet.
We'll have extensive coverage of the entire event in the October issue of Latitude but right now here are some snapshots of the other seven divisions. For full results, go to www.stfyc.com.
- latitude / rs