---

Photo of the Day

July 9 - Long Beach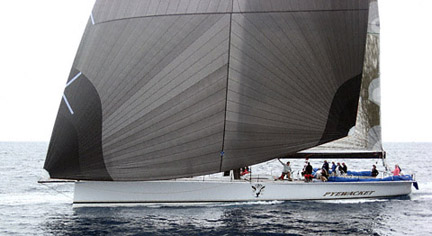 (Click on the photo to enlarge it.)
The much modified Pyewacket doing about 11 knots in very light and sloppy conditions. That's Hank Easom second from the back with the hat. He won't be racing to Hawaii, but his nephew Scott, a long time member of the Pyewacket crew, will.
© 2007 Latitude 38 Publishing, Inc.
We were out on the water yesterday when we saw Northern California legend Hank Easom out sailing. What's unusual about that, you might wonder. Well, he wasn't aboard his beloved 8-Meter Yucca, as he is most weekends, but on a 94-footer with a 140-ft mast. The explanation is that we were on our way from Catalina to Long Beach for the TransPac kick-off festivities, and Easom, with his nephew Scott, were along for sail testing aboard Roy Disney's spectacularly modified Pyewacket, which starts the 2,225-mile run to Honolulu next Sunday. Actually, Disney previously owned Pyewacket, donated her to School of Sailing and Seamanship at Orange Coast College, then came out of ocean racing retirement to charter her for one last TransPac.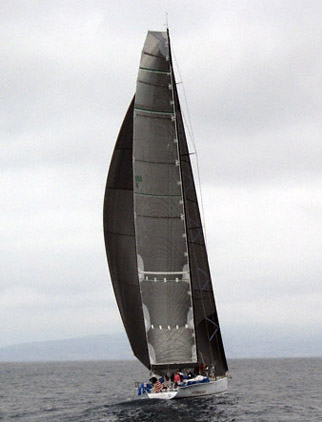 Pyewacket's mast is 140-ft tall, which means it would reach two-thirds of the way up to the roadbed of the Golden Gate Bridge.
© 2007 Latitude 38 Publishing, Inc.
Even in the zephyrs, it was easy to see that the boat is astonishingly fast. We raced aboard her last year in her detuned mode, and she would sail upwind at 11 knots in just 6 knots of wind. Based on her rating, her current configuration should make her 22 hours faster to the islands than her previous MaxZ86 racing configuration. Most boats want a lot of wind for a fast crossing, but Pyewacket is so powerful that her team would be content with 15 knots - which has been the mean wind speed for the last several TransPacs - or a little more. With an untested towering rig and enormous asymmetrical spinnakers, and no real contenders for 'Barn Door' honors, Pyewacket isn't looking to be tested by strong winds.
The bad news for the boats in the first start, which leave Pt. Fermin today at 1 p.m., is that there's going to be very little wind for the first week. In fact, the Pacific High is so poorly formed that it won't even get its act together for the second start, and that winds for the third start on Sunday, while forecast to be considerably better, aren't going to be giving any helmspersons white knuckles. The bottom result is that the boats in the first two starts have drawn the short weather straw, and it's almost certain that most of the honors will be going to boats in Sunday's last start.
While the weather gods may not be smiling on them, we met some folks in the unfortunate first start who aren't going to let a lack of wind stop them from their fun. For example, the nine-person, largely family affair aboard the J/145 Raincloud, owned by Lorenzo Berho and Manuel Villareal of Mexico City and Puerto Vallarta. We doubt they are going to finish high in the standings, but they are sure to have an extended family adventure that will be cherished for a lifetime.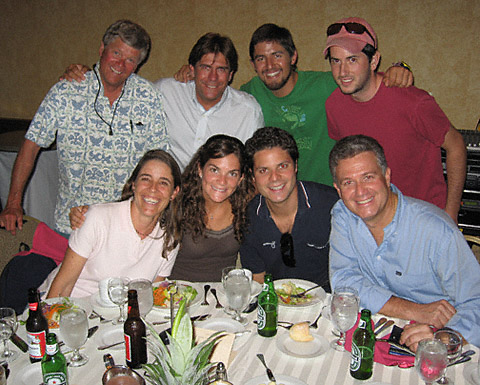 Viva Mexico! The Raincloud entry is a sort of an intergenerational extended family affair.
© 2007 Latitude 38 Publishing, Inc.
Another entry that probably won't finish in the top of it's class is Cirrus. She's a '73 Standfast sloop owned by William Myers of Kaneohe, Hawaii, who decided to take an all-women crew. Actually, it's more like the women are taking him, as the skipper will be 22-year-old Lindsey Austin of Hawaii, a licensed captain who is as lovely and poised as she is enthusiastic. And get this, she'll be giving orders to her mother Donna, who is one of the crew. For all kinds of reasons, this isn't going to be the most competitive TransPac in history, but thanks to the 74 entries - not far from the all-time record - it can't help but be one of the most enjoyable.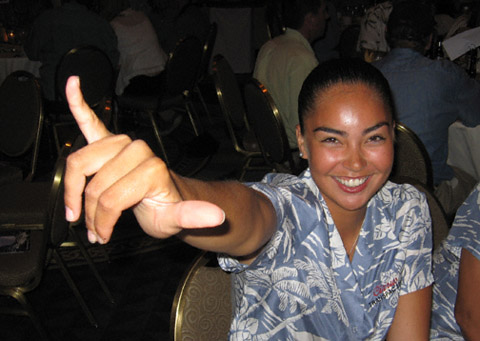 Just 22 years old, Lindsey Austin, skipper of Cirrus, was loose as a goose the night before her start.
All Photos Latitude / Richard
© 2007 Latitude 38 Publishing, Inc.
The one bummer of the TransPac to date has been the often ignorance-based assault on the reputation of Roy Disney who, for many years, particularly in the lean times, did so much to keep the historic event viable. The accusations are that he has all but bought the line honors in the race and that he has the Transpacific Yacht Club in his hip pocket. To date, most people have been basing their feelings on misinformation and rumors, and have no idea of all the trouble Disney went through to prevent the current situation from coming about. We'll give you all the facts in the Wednesday 'Lectronic, with perspectives from both sides, then let you decide. It's actually a pretty entertaining tale.
- latitude / rs
---
Big Wind Weekend
July 9 - Tiburon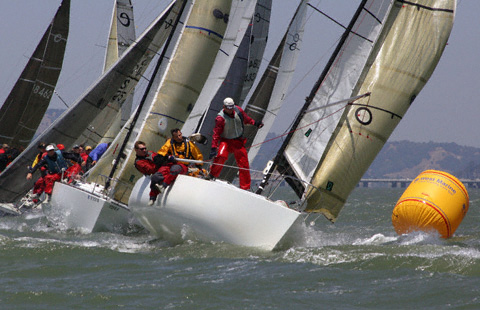 The Express 27 fleet barely maintained control as they rounded the first windward mark of the 2007 Nationals in the North Bay. Friday proved to be the windiest day of the three-day event, but the wind didn't back off much Saturday and Sunday either.
© 2007 Ralph Deeds
If, after a light winter and fairly moderate spring, there's any doubt that the Bay Area deserves its reputation for big breeze, this weekend nailed that question. Off Paradise Cay, where the Express 27 fleet held its national championship - an event promoted beforehand as a pleasant alternative to the "heavy air Berkeley Circle and Cityfront conditions" - gusts reportedly peaked at 40 knots on Friday, and high 20s and low 30s on Saturday and Sunday. By the last race on Sunday, the count among the 21 boats entered included one dismasting, a broken boom, a busted spinnaker pole, more than a few swimmers (all recovered) and countless ruined sails. An expensive weekend, to say the least. Perennial winner Will Paxton and his crew on Motorcycle Irene won the survival of the fittest and were crowned national champions for the third time. The fleet looks forward to returning to the more calm and collected Cityfront next year for its big dance. Full results from this year's regatta is at host Tiburon YC's website: www.tyc.org.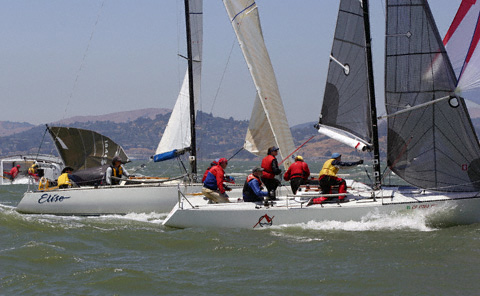 New Wave before its rig came tumbling down on Friday. That's Attack From Mars in the background, en route to a spectacular round down that fully exposed the boat's rudder and sent the helmsman and another crew member into the drink. Thankfully, the crew on each boat survived unscathed following their respective episodes.
© 2007 Ralph Deeds
Meanwhile, on the other side of the Tiburon Peninsula in Raccoon Strait, the conditions appeared to be more moderate - just 12 to 18 knots - for the Mercury fleet's Hart Nunes Regatta. However, the damage list tells another story: another broken mast, not to mention broken shrouds, tiller extensions and more. Eternal winner Doug Baird claimed yet another victory in the event, with 'B' fleet top dog Dan Simmons and Merc newbie John Skinner claiming second and third respectively. Results at www.mercury-sail.com.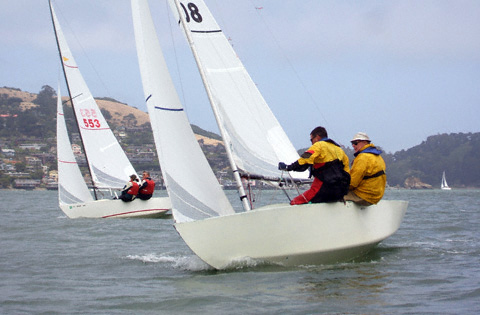 Doug Baird and Chris Messano en route to overall victory on a deceptively calm Raccon Strait during the Hart Nunes Regatta.
Photo Latitude / LaDonna
© 2007 Latitude 38 Publishing
And lest we forget one of our favorite events, the Midnight Moonlight Maritime Marathon, we're sorry to report that we couldn't be there this year. But all accounts report a pleasant and fairly quick evening sail to the Carquinez Bridge and back. Results were not yet online when we posted this, but check back with www.sfyc.org later in the day to see who came out the maddest of them all.
- latitude / ss