Not an American to Be Found? Better Look Closer
June 20 - Palma de Mallorca, Spain
Reader Chris Tucker just returned from a "glorious week of chartering" in Mallorca, the largest of Spain's Balearic Islands. "There was not an American to be found anywhere, which was certainly a breath of fresh air," he said. "Coming back to Palma, we found out that it was the maxi racing weekend, which made for quite a show, including these two boats tied up at the dock. The one on the left is Maltese Falcon, the one on the right is Limitless."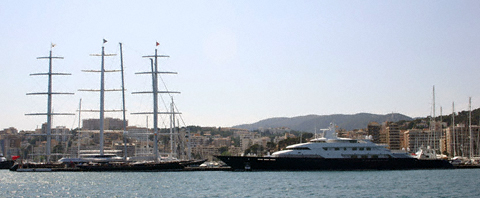 The football-field-length Maltese Falcon snuggles up to 315-ft Limitless in Palma.
© 2007 Chris Tucker
You're right about the boats being Falcon and Limitless. Latitude readers know that Falcon is owned by Belvedere's Tom Perkins, that it's 289 feet long and has the unique DynaRig. Not as many may know that the 315-ft Limitless was built by Leslie Wexner of Columbus, Ohio, in '97, and is generally considered to be the yacht that started the megayacht trend. For several years it was the largest private yacht in the world.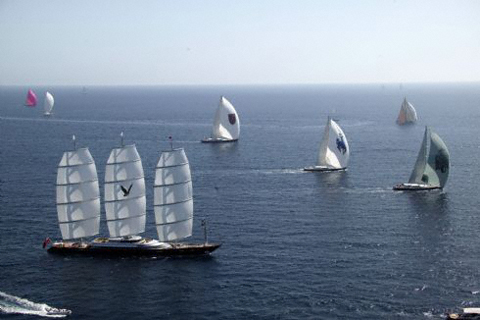 Just how big is Falcon? Compare her to the other 130-ft boats racing against her in the Superyacht Cup race in Palma.
© 2007 Kos Photography
For those of you who love to hate the rich, consider that both Perkins and Wexner started with nothing. In fact, when Perkins started out with Hewlett-Packard, he had a special arrangement with them that allowed him to work nights at his own company based on University Avenue in Berkeley. While he worked on developing lasers, he shared a loft with a guy who made life-size psychedelic colored gorillas out of papier-mache and Augustus Owsley Stanley III, who back then was known for making the best LSD in the world. This info comes from Mine's Bigger, David A. Kaplan's soon-to-be released terrific book on Perkins, Falcon, and the other super sailing yachts of recent years. As for Wexner, he started out with $5,000 to open a small clothing store in Ohio. He grew his company and, lately, one of the biggest profit centers has been Victoria's Secret. Who knew you could make so much money getting into young women's knickers?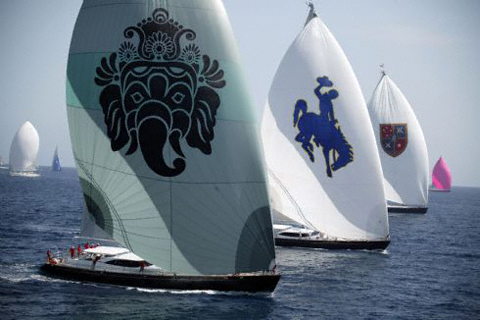 The center boat is NorCal-based Janice of Wyoming whose owner prefers to remain anonymous.
© 2007 Kos Photography
It turns out there were a number of Americans in Palma when Tucker was there, because it was the Superyacht Cup Palma 2007. In fact, if you thought the really big sailing event in Europe this summer was the America's Cup in Valencia, you were mistaken. The really big event was actually the Superyacht Cup, as a total 52 sailboats, all but a couple over 100 feet - the biggest being Falcon - went at it in a series of three fun races and lots of high-end social activities. Northern California boats that participated were Falcon and the 128-ft Dubois designed Janice of Wyoming, whose owner prefers not to be identified. There was tremendous variety in the fleet, as it included two J Class Yachts, including the American-owned Ranger, classics such as Elenora, various Wallys, two boats named Kokomo, and Hasso Plattner's Baltic 145 Visione. Now that the fun regatta is over, all the boats can head back to Valencia for the start of the America's Cup action.
- latitude / rs