Louis Vuitton Cup - Return of the Black Magic
June 6 - Valencia, Spain
Emirates Team New Zealand completed a five-race sweep of Italy's Luna Rossa team this morning, which is game-set-match for the Louis Vuitton Cup challenger elimination series. In addition to winning the handsome Louis Vuitton Cup itself, Emirates more importantly wins the right to face Cup defender Alinghi at the best-of-nine America's Cup match races starting June 23.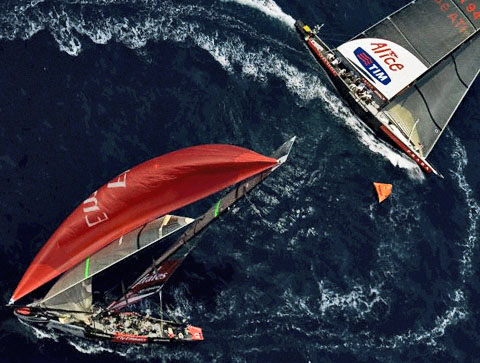 Back in Black - The Kiwis trounced the Italian Stallions in the Louis Vuitton Cup.
© ACM 2007

Emirates' shut-out of the Italian team came as a surprise to most. The Prada boys had just come off a decisive 5-1 victory over BMW Oracle in the semi-final round, and even the low-point Spanish team had beaten the Kiwis twice in the semis. But the mighty Ferrarri of the earlier LVC inexplicably turned into a hapless Fiat at the end. Even in their 'favored' conditions of 12-15 knots and the few times they were in the lead, they never seemed to make the right decisions to stay there.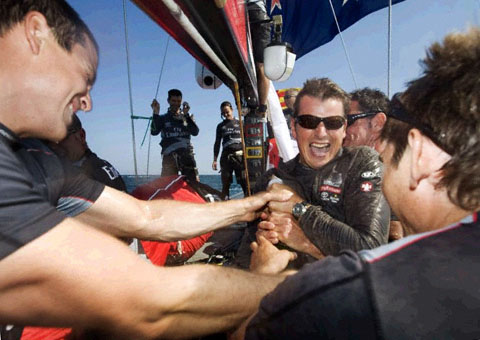 The boys on ETNZ fight over the celebratory bottle of champagne.
© ACM 2007/Carlo Borlenghi
The Kiwis are back, which is probably not such a surprise. And so, perhaps, is that old black magic that won them two America's Cups. This time led by sailing legend Grant Dalton, they will once again face the same team that crushed them 5-0 in the last America's Cup, Ernesto Bertarelli's Switzerland-based Alinghi. Don't expect this one to be so one-sided.
Log onto www.americascup.com for all the latest news and updates.
- latitude / jr