Photos of the Day: Rumble to and from the Jungle
March 28 - Banderas Bay, Mexico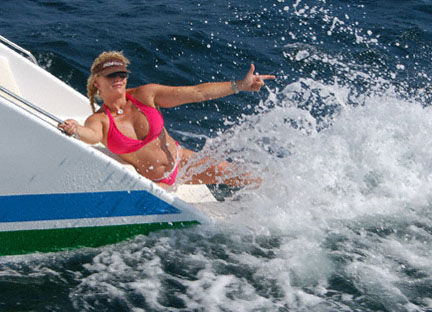 Alicia is a hardcore surfer, so she couldn't help but play in the waves at Profligate's transom.
©2007 Latitude 38 Publishing Co., Inc.
About 30 years ago, somebody came up with the saying, "I'd rather have a palapa in Yelapa than a condo in Redondo." Apparently, you can't always get what you want, because there are only about 2,000 people in Yelapa, which is a village around a cove on the south side of Banderas Bay that's surrounded by thick jungle, whereas Redondo has a few more people - and condos - than that. Maybe it has something to do with the fact that Yelapa is only accessible by boat, that it only got electricity - and not much of it - about a week ago, and it's hard to take a call there.
Nonetheless, the intrepid skipper of Profligate, accompanied by about 15 folks from the just-concluded Banderas Bay Regatta, decided to risk a visit. Yelapa is still surrounded by thick jungle, but since the rainy reason ended months ago, it was a little brown. Yet some things never change. For example, the deep to the beach anchorage, which once claimed the 82-ft yacht Windward, was as steep as ever. So we took a mooring for $20 from a guy who claimed to own it. And then the 'Pie Lady' was there to greet us the minute we stepped ashore, just as she's greeted everyone who has arrived for the last 30 years. When she agreed to creating a combo pie - a single pie made up of slices of her five different varieties - we agreed to buy. It was about $15, which is twice the price of the average lunch we had on the beach. By the way, the lunches were delicious and, at about $7-$8 for a whole plate, inexpensive.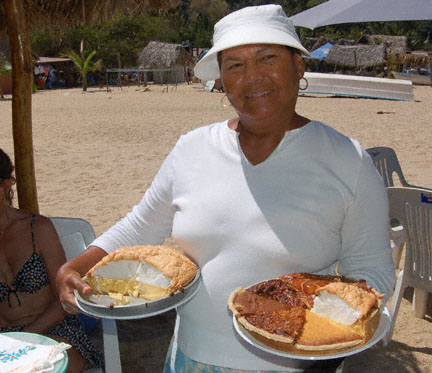 The Pie Lady has been flogging her goods for 30 years in Yelapa. By the way, our waiter, who attended school in Long Beach right through college, has also been working in Yelapa for 30 years. He claims it's what makes him look like he's still 25.
©2007 Latitude 38 Publishing Co., Inc.
There were so many crew on the cat that we can't remember everyone's name, which is why we can't tell you which of our crew took his paraglider up the jungle hills for a sail down. There wasn't much wind, so it wasn't the longest ride in the world, and he was flying so little low that he almost got his bottom tickled by the tops of the palms. But he cheated death again.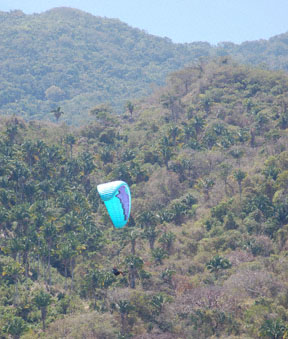 One of the Profligate crew flying high.
©2007 Latitude 38 Publishing Co., Inc.
Girls, of course, just wanna have fun. So when Alicia Bickham - who is into surfing, sports, aromatherapy, Swedish massage, health, yoga and crewing on a big powerboat - and Lisa Zittel, - wife of J/World Sailing School owner Wayne Zittel and an energetic spirit who can't wait to do the Baja Ha-Ha with an "all women plus two guys" crew this fall - were offered some after-lunch tequila, they didn't hesitate.
As you can see from the accompanying photo, the liquor had no effect on them whatsoever.

Alicia, left, sucking a lime, and Lisa, right, with that post-lunch tequila smile.
Photos Latitude/Richard
©2007 Latitude 38 Publishing Co., Inc.
The sail back to Puerto Vallarta was perfecto - an 8-10 knot spinnaker run in flat blue water with a bright sun above. You shoulda been there. In fact, if you ever bring your boat to Mexico, you could be there.
- latitude / rs