Pirates Raise a Couple of Grand for Pupils
March 23 - Punta Mita, Banderas Bay, Mexico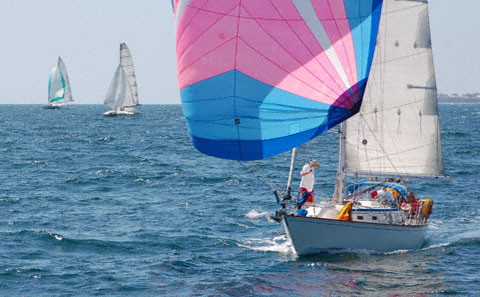 A trio of boats enjoy the fine Pirates for Pupils weather. That's the 70-ft cat Humu-Humu in the back, the 40-ft cat Feet next, and, and, and . . . dang, the name of the boat in front slips our mind.
©2007 Latitude 38 Publishing Co., Inc.
Pirates never did get a lot of schoolin', so the numbers aren't precise, but something like 75 'pirates' on 10 boats showed up for the fourth Pirates For Pupils Spinnaker Run from Punta Mita to Paradise Marina. The event started with lunch at El Dorado Restaurant on the beach in Punta Mita, was followed by a guest appearance by a flock of kindergarten kids - who will benefit from the event - who were all decked out in their 'first day of spring' togs, followed by the spinnaker run.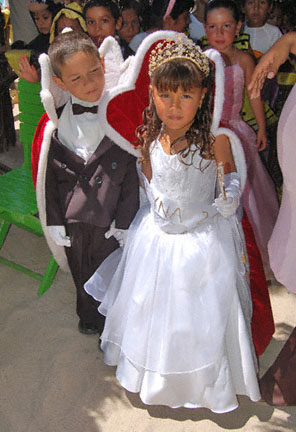 The Mexican kids really know how to dress for the first day of spring. Who would have thought it would be such a formal event?
©2007 Latitude 38 Publishing Co., Inc.
The fleet started with a moderate breeze that went light about halfway through the 10-mile course. Nonetheless, Profligate managed to sacrifice one chute to the nylon gods.Here's how it went down.
Wanderer to helmsperson Caren Edwards. "The wind is kinda light and there's not too much chop, so go ahead and sail with the apparent ahead of the beam."
"Hey Wanderer," said Barritt and Renee of Serendipity, "did you know you've got two small tears in the chute?"
"Ah yeah, don't worry about them."
Two seconds later, a little more than normal beam chop rocked the boat, shock-loading the already strained chute, which resulted in the SC70-sized chute going "Riiiiiiiiiiiiiiiiiiiiiiip!"
But it was all for a good cause.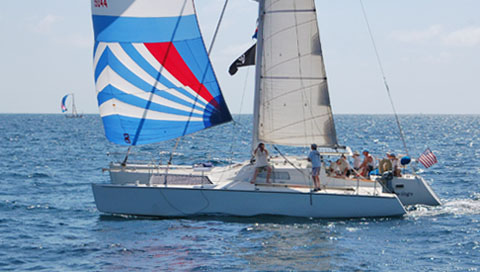 The trimaran Seawings looked just fine.
©2007 Latitude 38 Publishing Co., Inc.
Ronnie 'Tea Lady', CFO for the pirates, reports that individual pirates forked over a total of $1,100 U.S., the Baja Ha-Ha chipped in $1,000 U.S. on behalf of last year's participants, and hopefully there will be a little more money flowing in. About half the money will go to the special needs school in El Pitillal, and about half will go to the kindergarten, case comunidad and health clinic in Punta Mita.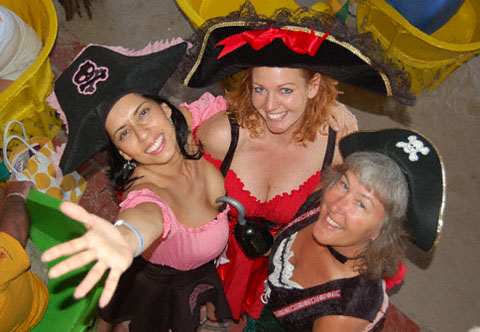 Cleavage for Pupils?
©2007 Latitude 38 Publishing Co., Inc.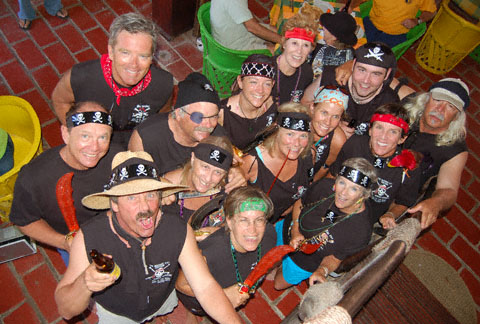 Twice Grammy-nominated songwriter Don Von Tress, far right, who penned the lyrics to Achy Breaky Heart, and his scurvy crew participated aboard Sugar Bird (ex-Mistral).
Photos Latitude/Richard
©2007 Latitude 38 Publishing Co., Inc.
- latitude / rs