West Coast Cats All over the Caribbean
February 9 - The Eastern Caribbean
While standing in line to fly out of the British Virgin Islands yesterday morning, we got into a conversation with the couple behind us - who turned out to be Steve Dilbeck and Carolyn DeBoer, who have the Express 37 Escape in Santa Cruz. They were in the BVIs because they also have a boat there, a Voyage 440 cat named Skedaddle. It's actually their second cat in the Caribbean. Their first was a Lagoon 42 that was destroyed by Hurricane Ivan, which hit Grenada in '04. They first heard about that while in the wilds of Canada when the Coast Guard called to ask if they knew why their EPIRB had gone off.
Anyway, Lloyd's paid off in about three months, and they ordered the owner's version of a Voyage 440 cat built in South Africa. They've been loving it ever since taking delivery about 18 months ago. They are also fortunate in being able to get enough time off to really enjoy the cat. "We go for about 3.5 weeks about five times a year," says Steve. "Three and a half weeks is nice because it makes the long trip to the Caribbean seem worthwhile, and after that long Sharon and my business partners like me to come back to Santa Cruz for awhile."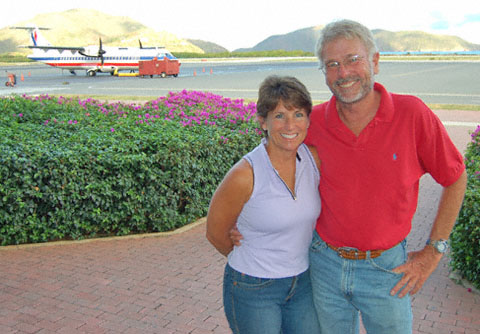 Carolyn and Steve, heading home . . . but only for a bit.
©2007 Latitude 38 Publishing Co., Inc.
The couple tell us that on an upcoming trip, they'll be joined by a Monterey Bay couple who, like them, have a monohull in California, but are thinking about buying a cat for the Caribbean.
If you've read the February issue of Latitude 38, you probably know that we've put the new-to-us Leopard 45 'ti Profligate in the Tortola-based B.V.I. Yacht Charter management program. As we eased her back into the slip not far from The Moorings base in Road Town a couple of days ago, we couldn't help noticing that the Leopard 45 next to ours was Dreamcatcher from Los Gatos. And that another Leopard 45 in the program is Sognare from Sacramento. That means that three of the company's four biggest cats are owned by Northern Californians. If anybody wants a great deal on a eight-person bareboat charter in the British Virgins, call B.V.I. Yacht Charters at (888) 615-4006, and they'll set you up with any of these Leopard 45s. Rates for eight people vary from $4,350 in the off-season to $6,550 in the high season. Based on personal experience, we can assure you that these are great cats for eight, featuring four cabins with heads/showers en suite, and have enough room for someone 6'4" to stand in the front of the salon or comfortably crash in the bunks.
A few hours later we had dinner with Tim Schaaf, former dockmaster at Cabo Isle Marina, and his lady Marsha McCoskrie. A couple of years ago they bought a Leopard 45, christened her Jetstream, and have totally tricked her out. They do crewed charters in the BVIs and can be reached at www.jetstreamsailing.com. Tim, by the way, knows everything there is to possibly know about the Leopard 45s, and how to dress them out for personal use.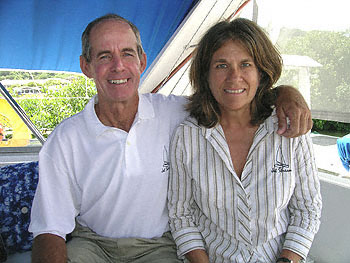 Tim and Marsha
©2007 Latitude 38 Publishing Co., Inc.
A few days earlier, while dinghying across St. Martin's Simpson Bay Lagoon to get some great Indian food at the place on the water across from the airport, we spotted what looked to be a brand new Chris White designed 48-ft cat called Katzenjammer. We don't know who the owner is, but the good-looking cat showed St. Helena as a hailing port.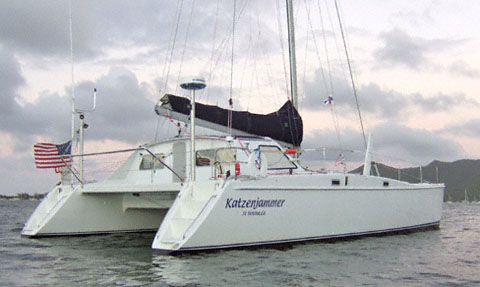 Katzenjammer

©2007
Latitude
38
Publishing
Co.,
Inc.
We're sure there are more West Coast based cats in the Carib; these are the ones we just happened to come across in our limited travels.
Of course, a lot of cats in the Caribbean hail from places other than the West Coast. Such as Allures from the famous ocean sailing country of Luxembourg. Allures is a Bluebay 102, and makes the Privilege 48 to forward and port of her look like a dinghy.
- latitude / rs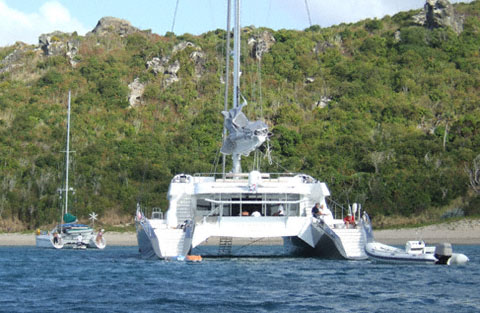 Allures can be chartered for about $70,000/week.
Photos Latitude/Richard
©2007 Latitude 38 Publishing Co., Inc.