A Different Kind of 'Around the Horn' Sailing
January 17 - St. Barth, French West Indies
Last night we sat down and heard some more tales from our friend Marius Stackelborough, the 83-year-old owner of Le Select, the most famous sailor's bar in not only St. Barth, but the entire Caribbean.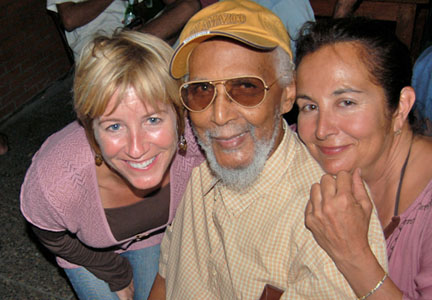 The three in the photo are Kitty Gardener, Marius and Doña de Mallorca. In deference to his age, Marius now drinks apple juice instead of 'ti punch.
Photo Latitude/Richard

What a lot of people don't realize is that prior to opening Le Select 56 years ago, back when the now extremely affluent island was an impoverished backwater, Marius was a sailor. "I was a seaman from 16 to 26, and then I started the bar."
If you can't imagine what being a seaman was like in the Caribbean back then, one of Marius' stories will give you an idea. Back in those days, they used to transport cattle on the hoof aboard sloops and schooners from St. Barth to places like St. Kitts, Guadeloupe, and the U.S. Virgin Islands. A couple of guys would get in a rowboat, wrestle the angry cow down into the water and alongside the sloop or schooner. And then - PETA members should stop reading now - they would put a line around the horns of the cow and hoist it on deck with a block and tackle from the top of the mast. "It was a horrible way to treat the animals," says Marius, "but that's the way it was done back then. Eventually, that kind of treatment was outlawed by the British, and the practice was stopped everywhere. After that, we used a harness to lift cattle aboard ships."
Life didn't get much better for the cattle once they were sailing on the often rough waters of the Caribbean Sea. Marius says it was not uncommon for cows to be lost overboard. There were no cow overboard procedures, so unless the waters were unusually calm, cows that went overboard bought the farm, so to speak.
"Usually there would be a pen for animals on each side of the boats, and the boats themselves were only about 15 meters long. As a seaman, one of my jobs was to keep the cows on their feet, because once one of them laid down, they all would. So if a cow laid down, I'd have to beat him with a stick or hold his air passages closed until he got mad enough to get back on his feet."
But if these were hard and dangerous passages for the cattle, they were just as hard and dangerous for the crew. "In rough weather, we had to work like crazy to keep the deck scuppers clear and draining. But it was difficult, because they'd get clogged with hay and cow shit, and the combination of that with cow piss made the decks very slippery. It wasn't nice work having to keep those scuppers open, but if you didn't, the boats would become unbalanced and roll over. In addition to cows, we used to carry horses, mules and other animals as deck cargo. It was a hard life. It's a wonder I lived to 20, let alone 83."
And it's no wonder that Marius started Le Select, which Jimmy Buffett made famous in the song Cheeseburger in Paradise. But back in '49, about 25 years before the first tourists came to the island, Le Select was hardly the busy watering hole it is today. Things were so slow that Marius and his friend Maxi used to run fishing lines out of the bar windows into Gustavia Harbor. And with patrons few and far between, Marius had other jobs. He was the only photographer on the island for 35 years, and he also used to work for the French Meteo, and remembers the island being hit by a hurricane in February.
Le Select was also the kind of place where you could get just about anything you wanted. "It served as the first and only record store on the island for many years, we sold children's schoolbooks, and for older folks, we used to sell books by the likes of Henry Miller. If you were too shy to buy condoms from the pharmacy, you could buy them at the bar. If you needed a pill for your wife to have a baby, you could get that at Le Select, too. About the only thing we never sold was drugs. I'd never allow that."
The irony, of course, is that Le Select was probably patronized by more drug smugglers than any other bar in the Caribbean, at least back in the happy-go-lucky amateur pot smuggling days of the '70s.
- latitude / rs