More on Our Month in the Islands
January 10 - St. Barth, French West Indies
Yesterday the easterlies, among the most reliable tradewinds in the world, particularly in the winter, took on a major southerly component and went light. Suddenly the water visibility in the harbor increased to about 40 feet. It would have been the perfect time for anyone way down island to work north up the island chain. For those of us on the fringes of Gustavia Harbor, it just meant that a mild chop rolled through and that all the boats swung 90 degrees. It was fine with us, as everybody got a new perspective on their surroundings.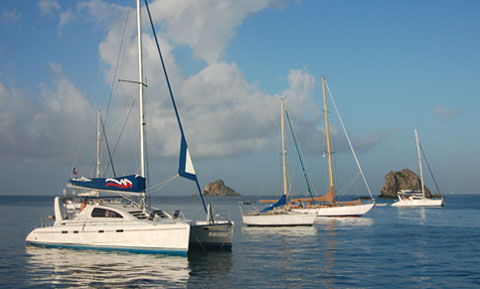 The trades are anything but 'reinforced' today.
Photo Latitude/Richard
It also meant that the various southerly-facing anchorages, such as Saline, Gouverneur and Shell Beach, had become mildly uncomfortable lee shores, while the more northerly-facing anchorages, such as Colombie and Baie St. Jean, had become particularly calm. We're guessing that none of these anchorages are more than eight miles from each other, and some are less than a mile apart, so finding a calm anchorage around the island usually isn't too difficult.
It's against the law for boats with cabins to anchor in Baie St. Jean, but that doesn't seem to stop anybody from doing it. We're still sorting out what laws are taken seriously on the island, and which are merely suggestions. For example, we're pretty sure it's illegal to smoke pot, but the aroma of burning weed is certainly not an unusual smell. And after particularly busy periods in one restaurant, the chef pauses to come out and roll a fatty on the bar and share it with his patrons.
St. Barth doesn't have a casino, which is not to say that there isn't a lot of gambling going on. For example, last night we had dinner with a woman from Newport, RI, who told us that she trades commodities - a form of gambling - above a cigar store during the day, then goes sailing at 4 p.m. every afternoon. The woman says she makes most of her commodity profits on the five or so days a month when the male traders, of which there are many more than female traders, get overamped on testosterone and lose their minds.
But according to this woman, a much greater form of gambling goes on a few doors away, where some very talented game players spend most of the night taking on other game players from around the world, thanks to the Internet, in video games such as Spiderman. Apparently a system has been developed where the players can gamble with others, and we're told that the really good players, who come over from France for the winter, not only make quite a bit of money, but are famous as well. Are we the last to know about this phenomenon?
- latitude / rs