Special Edition
June 8 - Istanbul, Turkey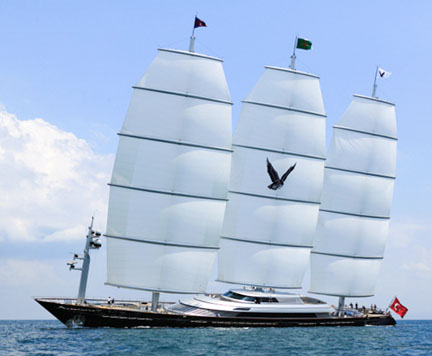 Today's special mini-edition of 'Lectronic Latitude is to celebrate the successful sailing trials of Tom Perkins' astonishing 287-ft yacht Maltese Falcon off the coast of Turkey. It took a lot of money to have the boat built, of course, but it took just as much courage and faith. Who else but a man with a hands-on science background and a lifetime of backing technological innovations would have had the courage to put a unique and untested three-masted rig on a boat that took seven years to complete?
Here is the report from Perkins on the first sea-trial:
"If we could have ordered wind exactly to our specifications for sailing trials, it could not have been more perfect. In the morning it was a smooth eight knots, gradually building to 16 knots - an offshore breeze with no waves. The boat's performance satisfied our highest hopes and expectations. The Maltese Falcon has written a new page in the history of yachting, as the DynaRig is no longer an experimental concept - we had a day of stunning success!
"Everything worked as engineered, and Falcon achieved some remarkable numbers: Hard on the wind in 15.8 knots true, at 38 degrees relative wind angle, we sailed with no fuss or strain at 10.5 knots. On a close reach at 60 degrees relative angle, the speed (still at knots 16 true wind) climbed to 14 knots. The balance was essentially perfect, with weather helm never exceeding 0.6 degrees on the wind, or 2.5 degrees on a fast reach. The angle of heel was around 15 degrees, but in a puff, once touched 20 degrees. The leeway angle was well under 5 degrees without the daggerboard in place. It was our first day out, and we wanted to be careful, so these results were achieved with the topgallants and the royals furled. So we expect even better numbers in further tests. The maximum loading on the masts never much exceeded 50% of our very, very, conservative limit, so, we have plenty of room for some even better results.
"There were no untoward effects from the revolutionary rig. The automatic tacking worked smoothly in all wind strengths. Tacking only takes 1.5 minutes, and curiously, she tacks quite readily in light winds - perhaps even easier than in heavier air. This is because the wind force against the rigs, when backed, increases with the square of the wind velocity. Jibing is almost trivial and, to a passenger, virtually undetectable.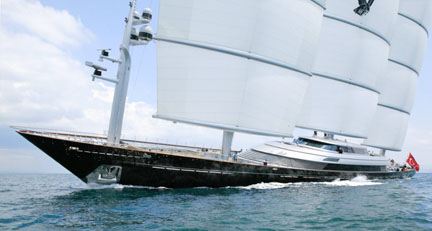 Photos © Boat International / Roger Lean-Vercoe
www.boatinternational.com*
"The photos were taken from our tender, whose crew got soaked keeping up with the gliding Falcon. The day proceeded so perfectly that we finished all our tests and returned to the harbor a little earlier than planned. We had 85 people aboard, some guests, but mostly technicians of all types, who found little of concern, and thus, had a great day out. Special credit must be given to Gerry Dijkstra and Jereon de Vos, the naval architects, whose work has led to performance so closely adhering to their theoretical predictions We all are delighted with this beautiful yacht, and we look forward to our debut in the Mediterranean.
"Falcon's interior is now 100% finished, and is beautiful. The 'look' is luxury-machine. It has been suggested that I write my next novel in my new study, and perhaps I will - the plot is about the struggles of the poor."
*"These images cannot be used for any further publicity by anyone or any publication, including all Web sites, or for any other usage without our permission. If this happens, we will take action for breach of copyright."