Cruisers Face Dilemmas, Too
May 10 - Central California Coast
Doña de Mallorca and crew on Profligate spent last evening at the Cojo anchorage just southeast of Pt. Conception, hoping to get some rest and for the Central California sea conditions to mellow out prior to the last 270 miles of their delivery trip north to San Francisco from La Paz. Alas, both Commander's Weather and Buoyweather.com report 10-ft seas at about 10 second intervals, with winds expected to 25 knots by late in the afternoon. And because the Pacific High has settled in, there apparently won't be any relief on the California coast in the near future.
So what are the options for a crew that has other obligations in a few days? 1) Backtrack 140 miles to Newport Beach, where moorings are just $5 a night. Alas, it's first come, first served, so it's not certain there would be any space when the cat got there. In addition, the sea lions are reportedly back in greater numbers than ever, and are crawling all over the boats. 2) A short term guest berth is available in Ventura, but that would require backtracking 80 miles, and guest berth fees there are $1/ft/night. 3) Slog it out to the north at low speed for as long as the crew can take it. The boat has made something like 16 SoCal to NorCal trips in 10 years, and only had to turn back once, that when encountering 45-55 knot winds and 23-ft seas just south of Pt. Sur. But still, you want to be as nice to your crew and boat as possible.
So what was the decision this morning? They headed north. "The seas are big and the fog is very thick," reports Mallorca, "but there's not much wind yet. The harbormaster at Avila Beach, a really nice guy, says they've got plenty of good mooring buoys, but that the sea lions have started climbing all over boats there, too. So if it gets too rough to continue, we might have to pull into Morro Bay until the weather improves."
When Profligate came north last year, the seas were flat and there was no wind all the way from San Diego to just 15 miles from the Gate. So sometimes you're lucky and sometimes you're not.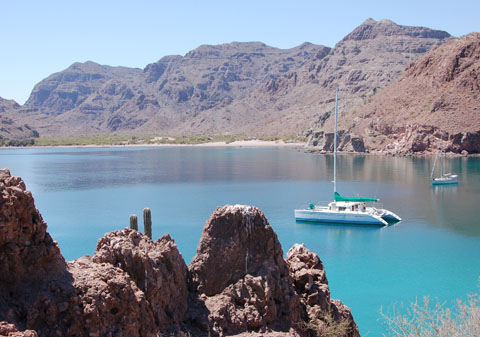 Just 10 days ago at the Agua Verde anchorage in Baja, Profligate and her crew enjoyed much warmer air and water temperatures, and even a little smoother water.
Photo Latitude/Richard