Photos of the Day
April 7 - Istanbul, Turkey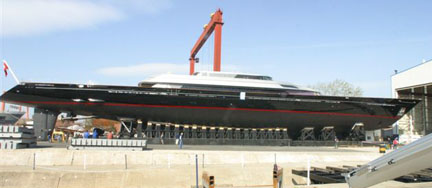 Today's Photo of the Day is of what will soon be the largest sailing yacht in the world, the 289-ft Maltese Falcon, being backed out of the Perini Navi building shed in Istanbul, Turkey. She's owned by Tom Perkins of Belvedere, who took the photo and reports, "We are just beginning the sixth year of this project, and now the end is in sight. We hope to sail from Istanbul by the end of June, and formally introduce her in Italy on July 28."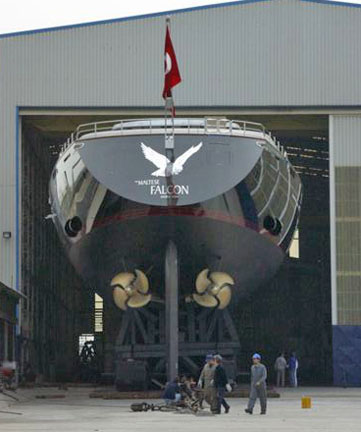 The size of the men standing at the entrance of the building shed give you some idea of the massive size of Falcon.
Throughout his life, Perkins has been willing to take calculated risks, first with the hands-on development of lasers, then in the computer industry, and finally with the pioneering of modern venture capitalism in Silicon Valley. He's taken a huge risk with Maltese Falcon by giving her unstayed mast with a unique sail arrangement that's never been tried before.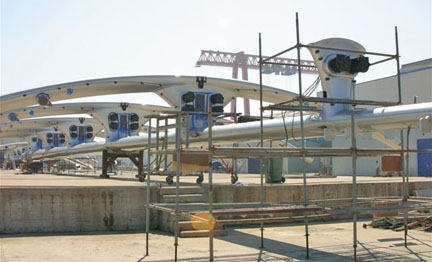 You've never seen a rig like this on any sailboat before - let alone one that is nearly 300 feet long.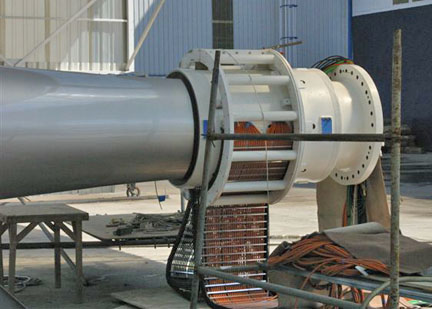 The rotating base of one of the masts.
Photos Tom Perkins
Perkins is an experienced sailor, having owned and cruised several Perini Navis in the 150-ft range, and having frequently raced his classic 130-ft Herresoff schooner Mariette, primarily in Europe and the Caribbean. We expect he'll cruise Falcon in the Med this summer and the Caribbean this winter. He's previously told us that at some point he would very much like to bring his new yacht to San Francisco Bay.
When Maltese Falcon is launched, Northern Californians will own the largest sailing and motor yachts in the world, the latter being Larry Ellison's 450-ft Rising Sun. For those keeping score, Northern Californian Jim Clark's clipper ship Athena is a few feet longer than Maltese Falcon, but is significantly smaller in all other respects.