Puddle Jumpers Are Leaving Mexico
April 3 - Pacific Ocean
While at least one Pacific Puddle Jumper has already arrived in the Marquesas (see Friday's 'Lectronic), the bulk of the fleet is just now leaving the Mexican mainland for the South Pacific. Here is a report from the crew of Ohana Kia on their second day out:
"The major job these first two days is simply adjusting, which I have to say this crew is doing very well. Since we are only heading in one general direction, the boat is eternally heeled over to the port side. Learning to function that way is a chore which I liken it to holding a Pilates position forever. It can be fun if you just roll with it.
"Next one must adjust to all the new smells, sights and sounds of being aboard and underway for so long. The warm fresh air is so nice but even that is barely enough to cover the smells of produce that goes bad faster than you can eat it. The water out here is the deepest, most beautiful royal blue. It makes even the most ominous swells look not so bad.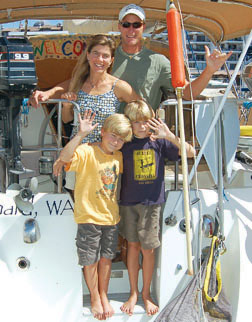 Lisa, Bruce, Matthew and Tristan Martin are adjusting well to their ocean passage Photo Latitude/Andy
"A lot of people had asked us what would it be like to not be able to see land, and personally I love it. It's an amazingly peaceful feeling, not fearful at all. We have a brown boobie bird constantly flying around with us though no hitchhikers yet. And this morning I saw a turtle go floating by. Listening to the water run by can be very soothing. Hearing the boat slap down hard past the steep side of a swell will startle me out of the deepest sleep.
"What still is the most amazing to me is the sheer power of the wind. By no choice of its own it's being harnessed to propel all 15 tons of us through the water and in a specific direction nonetheless. It's awesome to feel the force that wants to turn the boat up into the wind and the keel and rudder fighting back to maintain a course. Impressive."
Check out the April issue of Latitude 38 to read about the Martin family and several more of this year's Puddle Jumpers.