Not Just a Croc
January 30 - Nuevo Vallarta, Mexico
In the Friday edition of 'Lectronic, Baja Ha-Ha vets Dennis and Janet Knight of the Plymouth, England-based Oyster 435 Shilling of Hamble needed to use both of their bodies to indicate the length of Pablo, the local croc that swims behind their boat in Paradise Marina. Then yesterday we got a photo of Pablo from Maret Nowicki of the San Pedro-based Dreadnought 32 Raireva. The crocs inhabit all the lagoons up and down the coast of mainland Mexico. But don't worry, a waiter at a restaurant told us that crocs prefer the taste of dogs and cats to that of humans.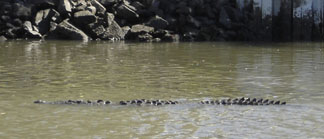 Photo Maret Nowicki
For those who are interested in nature, Nowicki also recommends a visit to the turtle hatchery just down the beach from Marina Paradise. They release these little guys into the wilds of the ocean when they are just a day old, and it's really something to see. The mortality rate of turtles in the first year is about 98%, as they have many natural predators. So they need all the help they can get.
Flash! This just in from Bob and Karen O'Hara of Promises: two photos of Pablo. In the first one, he's awakening from his shoreside slumbers. In the second, he's heading for the water with an 'I'm hungry' expression on his face.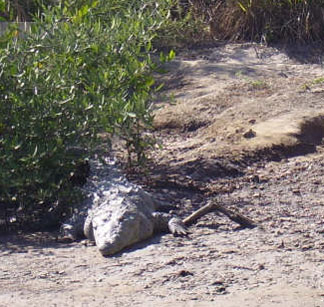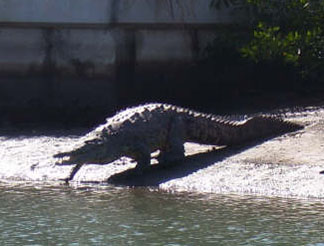 Photos Courtesy Promises
Speaking of sea life in the Banderas Bay region, it certainly could be doing worse. During our recent 12-mile trip from Paradise Marina to Punta Mita, we saw six whales, none of which were part of the same pod. In fact, one big guy surfaced just off our starboard hull and started pacing us on a parallel course.
Our friends Russ and Karen Milleson report that while on their boat on the south side of the bay, they came across a very large number of big rays - big as in 15 feet from one wingtip to the other - in one large group. They also report they've seen a lot of big turtles in the bay and out on the ocean. In fact, they came to the rescue of one who had a flipper caught in some fishing line. They carefully netted the big fella, and snipped the line, allowing him to swim freely again. Neither Russ nor we are big fishermen, but he reports that a friend of his caught a tuna in excess of 300 pounds about 15 miles outside the bay.
Photos Courtesy the Millesons
Do you hear the sound of all those birds? It's coming from about 500 pelicans and other winged beasts that are about 50 yards away. For the last two days they've been squawking their brains out while diving for some kind of small fish that have been schooling near the shore.