Finally, Some Good News out of Panama
December 12 - Shelter Bay, Panama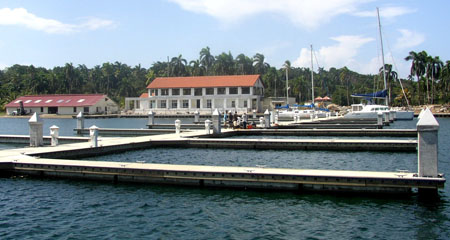 The Marina Bay facilities look to be world class.
The Winship Family of the Alameda-based Crowther 33 Chewbacca report that finally there is a 'real' marina being built in the Panama Canal area. They are referring to the Shelter Bay Marina, which is located at the former site of Fort Sherman at Limon Bay just behind the breakwater that protects the entrance to the Panama Canal from the onslaught of the Caribbean Sea. This used to be the jungle combat training center for the U.S. military's Southern Command, and it's just a few steps to the real wild stuff.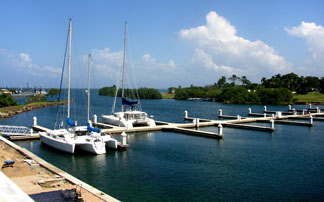 The first boats are now in their berths at Marina Bay on the Caribbean side of the Panama Canal.
Forty-eight berths are already in place, with the first boats already having been welcomed to the not-yet-completed facility. Some 160 more slips are planned. Vessels to 225 feet and 25-ft draft will be able to be accommodated, and the facility is being built to meet or exceed all U.S. standards.
Shelter Bay is located beneath the hurricane zone. In fact, the U.S. weather service in the Canal Zone says they have never recorded winds in excess of 59 mph.
According to the Shelter Bay Web site, "A true Caribbean port, our water is clear, the monkeys visit, the beach is nearby, and the forest is breathtaking. In short, it's a great place to visit even if you don't need a thing for your boat. The 14,000 acre national park which surrounds us is home to more than 700 species of birds. Two beaches and a great reef complete the picture."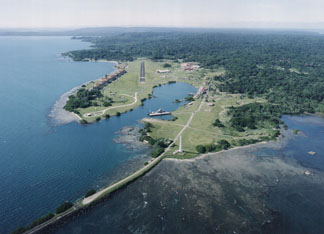 An aerial view of Fort Sherman, with the airport runway, prior to marina development. Notice the jungle, and in the lower left, the breakwater that protects the Panama Canal from the onslaught of the Caribbean Sea. The lighthouse was built by the French during their failed attempt at building a canal.
Photos Courtesy Chewbacca

In addition, there will be a boatyard, including a lift that can haul catamarans of up to 33-ft of beam, and a five-acre boat storage yard capable of accommodating 200 boats.
We expect that Shelter Bay, at a crossroads between the Atlantic and Pacific, and not far from the San Blas Islands, will be a major success. More in the January issue of Latitude 38, which will be published December 30.