The Cruising Colors of Mexico
December 2 - Punta Mita, Mexico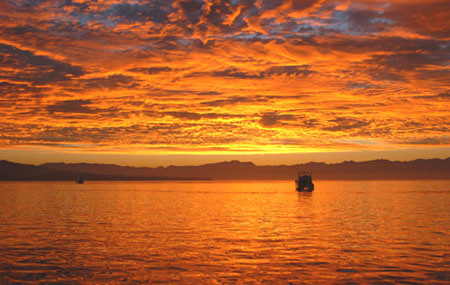 There are lots of good reasons to cruise Mexico, but one of the most underrated are the colorful skies. The first photo was taken just before dawn yesterday while at anchor at Punta Mita looking toward Puerto Vallarta. The sun, still beneath the horizon, illuminated the bottom of clouds with brilliant yellows and oranges. Sunrises such as this are not at all unusual.
Moments after the sun had risen, all of the orange and yellows had vanished. During the course of the day, it was sometimes cloudy and gray, sometimes cloudless and blue - you never knew what to expect. The second shot was taken at sunset from ashore at Punta Mita, when the horizon - this time in the west - featured some dazzling yellows and oranges. Again, this isn't uncommon. There are similar sunsets up in the Sea of Cortez, but for reasons we don't understand, they usually have a lot more purple.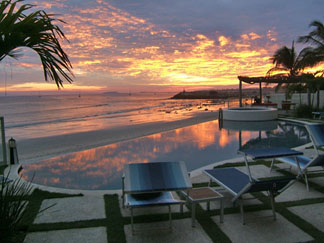 How much does it cost to enjoy these kinds of spectacular sunrises and sunsets? You can spend at much as $5 million for one of the remaining lots in the gated Four Seasons Resort area of Punta Mita - or you can do what San Diego surfer/sailor Robert Crozier did some 15 years ago. He showed up with a Columbia 24 and some surfboards, and lived on the hook, spending as little as $30 a week. He and his partner Marta Mijelman now live aboard a Kendall 32 - a design that later became a Westsail 32 - and are up to spending about $120 a week. Still, that's pretty cheap. We'll tell you all about them and where they are headed now in the January issue of Latitude 38.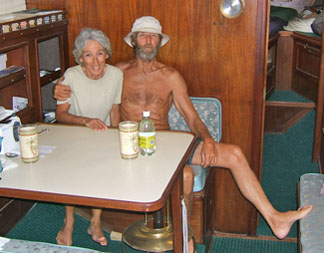 Photos Latitude/Richard