Snap, Crackle and Pop at Transat Jacques Vabre
November 9 - Bay of Biscay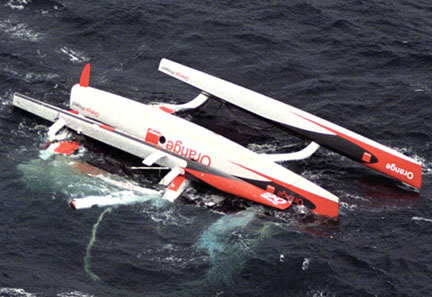 The infamous Bay of Biscay claimed three more victims Monday, whittling the 35-boat fleet which started the Transat Jacques Vabre over the weekend down to 29 in just two days of racing.
As if starting the biennial doublehanded transatlantic race in 25+ knot, on-the-nose winds and rough seas weren't enough for the 19 monohulls (Saturday start) and 16 multis (Sunday start), Sunday night a cold front rolled in, blasting primarily the multihull fleet with 35 to 45-knot winds and reported 20-ft seas. In the wee hours of Monday, EPIRBs went off on the 60-ft trimarans Sodebo and Orange Project. The former snapped off its port ama and capsized. The latter suffered a broken main beam and also went upside down. Three hours later, at 0615, a report came in that Foncia had also capsized. With the retirement of Brossard earlier on Sunday with a cracked main hull, that takes four of the ten 60-ft multis out of the running. The six co-skippers of the three capsized boats were rescued, some more banged and bruised than others but all okay. At this writing, their smashed boats were all either under tow back to land, or about to be.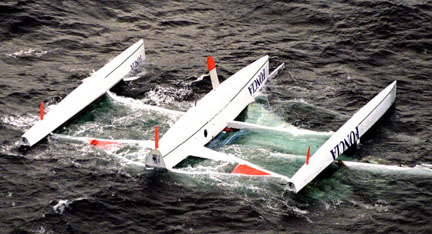 Photos Courtesy RAF St. Mawgan
Also retiring were the Open 50 multis Victorinox (broken bowsprit) and Branec (broken port hull), and the Open 50 monohull Adecco-Etoile Horizon (reasons not specified). Either in port for repairs at this writing, or headed in, were the Open 60 monohulls Galileo (broken boom) and Cheminées-Poujoulat (steering problems). Boats headed back out after stopping in port for repairs included the Open 50 monos Artforms - one of two entries with American sailors aboard - and Defi Vendeen.
Official rankings as of this morning show that Virbac Paprec (Jean-Pierre Dick and Loïck Peyron) has nabbed the lead in the Open 60 monohull class from Sill Et Veolia (Roland Jourdain and Ellen MacArthur). In the Open 50s, Gryphon Solo - with American Joe Harris Briton Josh Hall - leads the pack. Over in what's left of the Open 60 multihull fleet, Groupama (Franck Cammas and Franck Proffit) leads the way, while in the 50-ft multihull division, Crepes Whaou (father/son team of Franck-Yves and Kevin Escoffier) has a 112-mile headlock on that 6-boat fleet.
There's still a long way to go to the finish at Salvador de Bahia, Brazil - the 4,500 mile race generally takes two weeks. The good news is, the wind is finally clocking to the west and moderating, allowing the tired crews to both get some rest and to crack off and start the long, warm reach to South America.
For more, check out the Web site at www.jacques-vabre.com.