The Best Ha-Ha Start Ever for 130 Boats
November 3 - Turtle Bay, Baja California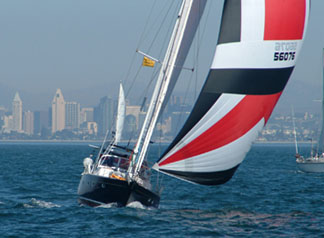 Aquarelle, an MT-42, sails out of San Diego in style.
Some 535 sailors started the 12th annual San Diego to Cabo San Lucas cruisers' rally on October 31 in surprisingly excellent conditions. The sun, blue skies, and warm weather had been expected, but the good wind hadn't been anticipated. It was calm until 10 minutes before the 11 a.m. start, at which point the wind filled in nicely, allowing crews to set spinnakers all across the horizon. It was the best Ha-Ha start ever. South of Mexico's Coronado Islands, the wind filled in at 18-20 knots, with the Santa Cruz 50 Rocket reporting hitting 15 knots several times. Robert Sutherland, at the helm of the mothership Profligate, racked up a burst of 17.7 knots. This on an afternoon when few expected much more than 12 knots of wind.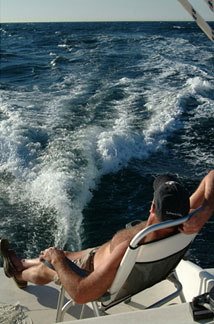 Chris, one of the crew aboard Profligate, enjoyed the mid-teen sailing speeds on the way to Ensenada.
It was a good afternoon for seeing sea life, too. First there was a pod of smaller whales by the Coronado Islands that we couldn't identify, then hundreds of porpoises for about an hour near the shore north of Ensenada, and finally a large whale that breached superbly directly in front of Profligate off Todos Santos Island.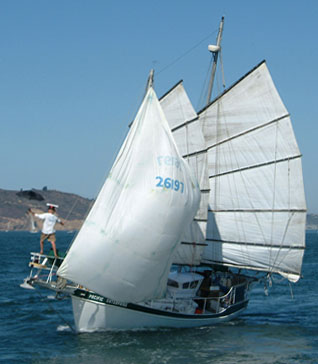 Only in the Ha-Ha would you see a junk-rigged entry with a crewmember standing on the bow pulpit holding an umbrella. This is the Colvin 52 Pacific Enterprise.
Alas, the wind didn't last. The more inshore boats seemed to lose the wind shortly after dark, while the more offshore boats seemed to have at least a reasonable breeze until midnight. But the later it got, the lighter it got. Only about five boats sailed through the night, one of them the full-keeled Bounty II Linda.
Tuesday it was light all day long. But at least it was sunny and warm, and gave all the crews a chance to decompress from the busy lives they had been living in the States and while getting their boats ready for the trip.
Despite the light conditions, about four boats have returned to San Diego or temporarily dropped out in Ensenada with the usual problems involving engines, alternators, steering cables, hydraulics, and such. Hopefully they will all be able to rejoin the fleet.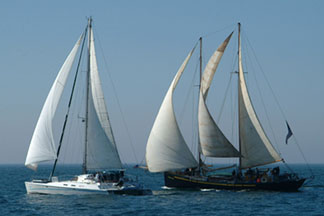 Patricia Belle, a 65-ft custom steel schooner with 19 crew (!) sails to windward of the Crowther 40 Freestyle.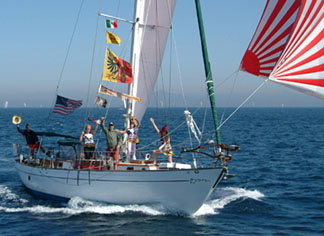 The Thomas Family and crew aboard the Explorer 45 Morning Light were in costume for a dazzling start.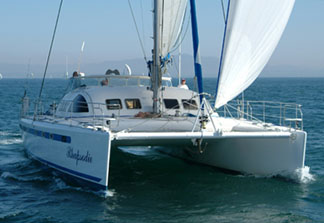 Karen Edwards drives her Marquesas 53 cat south with a pick-up crew. Her husband had to work and her kids had to go to school.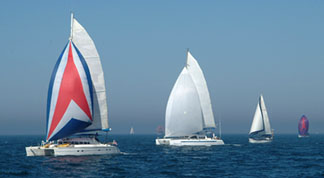 With 130 starters, there were boats lined up just about all the way from Pt. Loma to the Mexican border.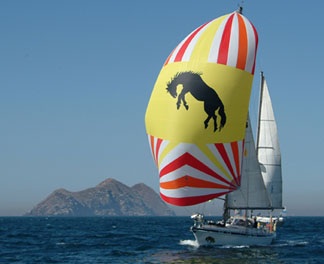 Nels Torberson off the Coronado Islands with his Morgan Out-Island 41 Bronco on his sixth consecutive Ha-Ha.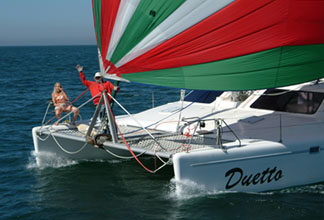 It was all smiles on the bows of Stuart and Jean Kaplan's catamaran Duetto.
Photos Latitude/Andy & Richard