Photos of the Day
October 14 - La Paz, BCS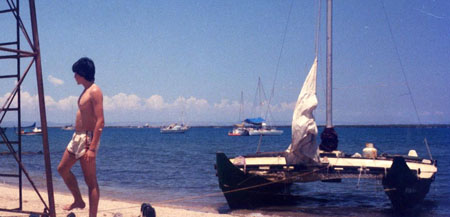 Today's Photo of the Day is of Glenn Tieman and his $3,000 homebuilt Wharram Pahi 26-ft catamaran Peregrine as they appeared about 15 years ago in La Paz, Mexico. He later spent 10 years cruising that small cat through the Pacific, living on - all expenses included - just $1 a day for the first eight years or so. After working as a substitute teacher in California for six months, he had so much money that he cruised "extravagantly" for several more years on $3 a day. In our estimation, what Tieman did is not for everyone - but was so totally cool and inspirational.
In the December issue of Latitude 38, we're going to have a report from Tieman, who is about to take off cruising again, this time on a 38-ft Wharram designed cat he's now finishing. Using "the best materials," the new boat will have cost him $14,000. No, we didn't leave out a zero. It turns out there is more than one way to skin a cat.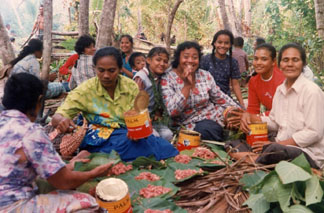 Photos Courtesy Glenn Tieman
The second Photo of the Day - which raises the Question of the Day - is of Glenn having a feast with some of his many great friends in Tonga. Tieman specialized in cruising primitive areas, which he really liked. Memorable events for him included the time he was the guest of honor at a feast in Tonga and the minister in charge knocked open the skull of a pig and spooned out some fresh brains for him to enjoy.
Ken Fairchild of Tahoe recently spent some time with us aboard Profligate, and reported that he'd been doing quite a bit of cruising in places like Vanuatu and the more remote islands of Fiji. He said that he, too, loved primitive cruising.
We have to confess that when we've sailed the South Pacific, we've never been moved by the simplicity of the culture. It just seemed so, well, simple. We love the simple life, but what really gets us excited is human achievement in its many manifestations. You appreciate that most with access to big cities. As such, our ideal cruising grounds would be the Med - if only, of course, it had warm water and consistent wind - because it offers such economical and quick access to great cities such as London, Paris, Amsterdam, Rome, Istanbul, Vienna, and such. No matter where you anchor in the Med, it's not too far or too expensive for a quick jaunt to any of these places. Heck, many of them can be afternoon trips.
So our Question of the Day is this: What stirs your imagination the most, primitive cruising or cruising with access to First World achievements?