More than Just Equipment Failure
July 11 - San Francisco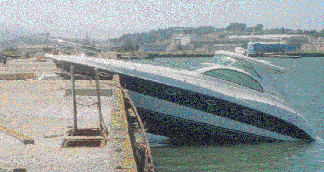 Last Friday's Photo of the Day was of the Maxum 42 About Time, her bow destroyed, at Nelson's Boatyard in Alameda. Thanks to Parker Diving Service, here are a couple of photos showing how the bow was damaged. According to Salvage Coordinator Diane Shipway, the accident happened at 10 p.m. on June 29, "due to a navigation equipment failure." Three people were seriously injured by the high-speed collision with the Hunter's Point Pier. A water borne crane had to be used to transport the remains of the boat to Nelson's Yard.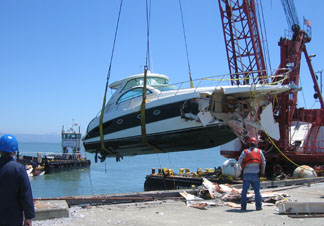 Photos Courtesy Parker Diving Service
As most of us know, electronic navigation is a wonderful thing. But we also know that it's not infallible. As such, mariners should always cross check their navigation - especially at night - using as many of the following as possible: eyes, GPS, a second GPS, depthsounder, radar. As such, it wouldn't surprise us if it was ultimately concluded that 'operator inattention' was as much responsible for the accident as 'navigation equipment failure'.
Speed really does kill, so please be careful out there.