Photo of the Day
June 22 - Two Harbors
On Monday, we asked if anyone was interested in a Baja Ha-Ha Preview on Saturday, August 13, at Two Harbors, Catalina, where the Baja Ha-Ha has reserved the bandstand area. It turns out a whole lot of people are interested. This includes the two people at the extreme ends of today's Photo of the Day. They are Rennie Waxlax and Anne Blunden of the Southern California-based Swan 65 Cassiopeia, which they will be taking on their fourth - that's right, fourth - Ha-Ha this fall. Perhaps we'll be able to get them to give some pointers on how to get your crew to wear a letter of your boat's name in shaving cream on their chest. Cassiopeia's crew's have a interesting dress code for when they finish each leg of the Ha-Ha. We'll let them tell you about it, but let's just say it couldn't be done in Alaska.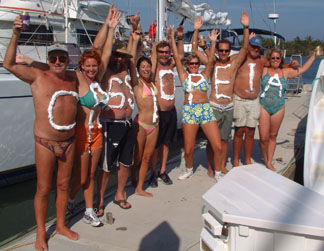 Steve Bergo of San Diego says that he and four of his five Ha-Ha crewmembers will be coming to the preview. "I actually just got back from Two Harbors yesterday, having spent five days there. The weather was excellent and the water is already warm enough to trunk it. I paddled my surfboard around and
snorkeled every day. It was amazingly clear all the way to the coast, and we could see the Palos Verdes lights every night."