Are Unions in L.A. Partly Responsible for Holding Up Your Canal Transit?
March 4 - Los Angeles County
Why does it sometimes take so long to transit the Panama Canal? It's a combination of surging trade between China and the U.S., plus the fact that the ports of Long Beach and L.A., which receive nearly 80% of West Coast shipping traffic, have become major bottlenecks. According to a report in the Financial Times, "The ports, with their powerful labor unions, limited working hours, and outdated technology" need to increase productivity to avoid further disruptions and added costs.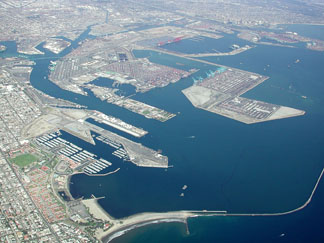 The Port of Los Angeles
Photo Courtesy www.portoflosangeles.org
What do productivity problems in L.A. and Long Beach have to do with the Canal? With ships unable to unload efficiently in L.A.- Long Beach, it's often becoming more efficient for companies to bypass the West Coast and ship their goods through the Panama Canal to East Coast ports such as Savannah and New York. This increased traffic, in addition to the traffic arising from the global economic boom, have the Panama Canal often operating at maximum capacity. And when it comes to priorities, your cruising boat, which pays $500 to $750 to transit the Canal, is way down the list compared to a big ship that might pay $100,000 or more.
Other West Coast ports, such as Seattle, Vancouver, and a couple in Mexico, have been able take up some of the load on the West Coast, but not much. This is why a huge shipping port is being considered for Punta Colnett, about 100 miles south of Ensenada. It's also why it now almost makes sense to send ships from Asia through the Suez Canal and across the Atlantic to East Coast ports rather than to L.A.-Long Beach.
What effect does the unloading of a big ship have on traffic in the L.A. - Long Beach area? A lot. The biggest container ships carry enough cargo to fill a row of trucks 60 miles long. No wonder the 405 is like it is.