Vendée into the Homestretch
January 31 - Les Sables d'Olonne, France
Wednesday is the day that sailing history will be made. Sometime in the afternoon, the winner of the Vendée Globe singlehanded, nonstop round-the-world race will cross the finish line off Les Sables d'Olonne, France, in what looks to be a new record time. Perhaps the most 'historic' part is that, at this writing, no one knows for sure which of three boats that will be. As of the official position report this Monday morning, France's Vincent Riou on PRB once again had a narrow lead - less than 5 miles - over countryman Jean Le Cam on Bonduelle, and Britain's Mike Golding was only 51 miles behind them. With changeable winds between 12 and 24 knots and 580 miles to go, it was still anyone's race. This will almost certainly be the closest finish ever for the Vendée - in the 2000-2001 race, Ellen MacArthur finished about 25 hours after winner
Michel Desjoyeaux - and possibly the closest finish for long-distance ocean racing ever.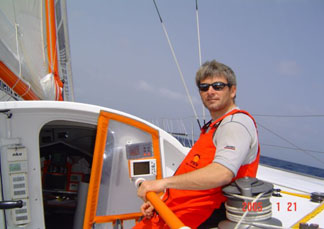 Vincent Riou aboard PRB
Photo Vincent Riou
In other Vendée news, Conrad Humphreys on Hellemoto is in trouble. Currently running in the 8th spot 3,300 miles from the leaders, one of the hydraulic rams which cant his keel to one side or the other had failed. Now it appears the other redundant system has also failed. Humphreys at first attempted to secure the top of the keel at centerline using spare jibsheets inside the boat. Now he has worked out a system where he goes onto the 'wrong' tack, lets gravity swing the keel that way, ties lashings in the top of the keel, then tacks back. He's only getting a fraction of the cant of the hydraulics, and the system only lasts a few hours before everything stretches and he has to redo it, but it's better than nothing. There is also a problem with fore-and-aft movement of the strut, and Humphreys is not sure he'll be able to finish the race. (Seven of the 20 starters have either dropped out or been disqualified.) This would really be a shame - you may recall that Humphreys was the one who anchored in a small South African port a month into the race (allowed as long as the racer doesn't go ashore or get outside assistance) to replace a broken rudder and fix rigging problems. Once back in the fray, he has made steady progress up through the fleet.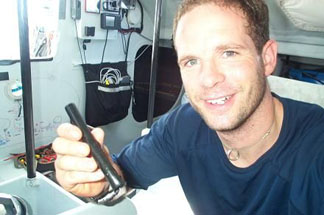 Conrad Humphreys onboard Hellemoto
Photo Conrad Humphreys
For more on the Vendée, log onto www.vendeeglobe.fr/uk/.