Photos of the Day: Key West Race Week
January 19 - Key West, FL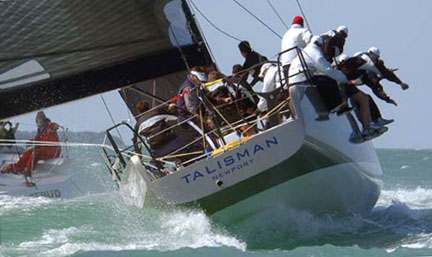 Photo Jack Hardway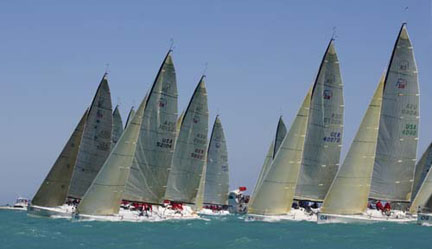 Photo Tim Wilkes
Today's Photos of the Day come from Key West 2005, presented by Nautica, which features the hottest winter sailing action in the world, as 295 boats are going at it in 21 classes. And you can't drop a winch handle without it falling on a toe of one of sailing's rock stars. We'd hoped for a report from our Racing Editor Rob Moore, but there was a hard-to-hear phone call mentioning something about a collision, a nasty boat repair job, and being covered in fiberglass. So we'll rely on the official report from the always excellent Rich Roberts:
Walk around the docks at Key West 2005, presented by Nautica, and you'd think you were being bombarded by a battalion of Berlitz instructors. The phenomenon is as much a part of the Conch Republic atmosphere this week as the 20-knot-plus northerly winds sweeping the four race courses this week.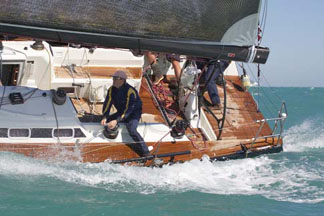 Photo Tim Wilkes
Consider this: The Farr 40 leader after three of nine scheduled races is Dutchman Peter De Ridder's Mean Machine, which swapped wins Tuesday with German runner-up Hasso Plattner, each with a New Zealand tactician, Tom Dotson and Russell Coutts, respectively. The PHRF-1 class's undefeated leader is Japanese industrialist Makoto Uematsu's Transpac 52, Esmeralda, with America's Ken Read calling tactics for Uematsu and alternate helmsman Tom Lihan.
The Melges 24 leader is Philippe Kahn's Santa Cruz-based Pegasus 575, driven by San Diego's Bill Hardesty, with Sweden's Freddy Loof and America's 48-year-old Olympic golden boy, Kevin Burnham, on the crew. At 1-6-1, they're one point ahead of Italy's Maspero Giovanni's Joe Fly, with Gabrio Zandona driving and American Morgan Larson as tactician. Kahn, meanwhile, a native of France long settled in Santa Cruz and Hawaii, is driving his Farr 40 Pegasus 80808 in fourth place, which combined with Peg 575's score puts the USA West team in first place in the International Team Competition for the Nautica Trophy.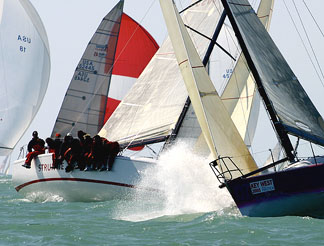 Photo Rich Roberts
John Kostecki of San Francisco, who skippered a Volvo Ocean Race victory for Germany's illbruck team in 2001-02, is calling tactics on Michael Brennan's Sjambok from Newport, RI. Mean Machine's floater is Anne Marie Kostecki, his wife since May 22, 2003. "We met during the '97-98 Whitbread," Kostecki said, "in La Rochelle, France."
Is this an international regatta or what?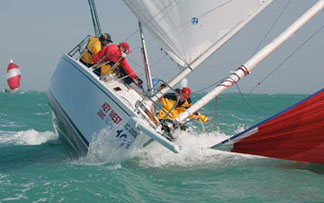 Photo Jack Hardway
All six Swan 45 owners list U.S. home ports - but the boats are built by Nautor Swan in Finland. Alice Martin's sky blue Painkiller from Chicago, with Great Britain's Chris Law at her side, shares the lead with Andrzej Rojek's Better Than, from Newport, RI, although Painkiller was facing a pair of protest hearings later Tuesday night.
For Plattner, 4-1-4 so far, Key West 2005 is a major step toward the Farr 40 Worlds in Sydney in March. Coutts will continue with the team through that event, then switch to Plattner's maxZ86 for the Centennial Transpacific Yacht Race to Hawaii in July. "We're trying to do all the little things better," Plattner said, smiling. "We're sailing well, but it's only been two days."
Esmeralda is one of five TP52s having their way in PHRF-1 with five big handicap boats, including Daniel Meyers' Farr 60, Numbers, from Newport, RI, with five Kiwi members of Alinghi's America's Cup crew on board. The TP52s are first, second, third, sixth and seventh, with Tom Hill's R/P 75 Titan 12 and Numbers fourth and fifth. Numbers tactician Brad Butterworth noted, "We do pretty well with the 52s upwind, but when they turn downwind they're gone."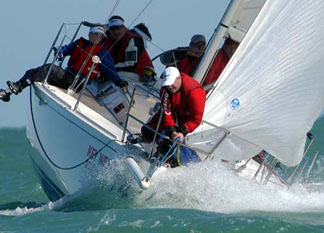 Photo Rich Roberts
For complete results, visit www.premiere-racing.com.