Cayard Talks to Chronicle
November 22 - San Francisco
In a S.F. Chronicle story yesterday written by Dwight Chapin, it was reported that, "The peripatetic Cayard doesn't figure to be idle for long. He already has a couple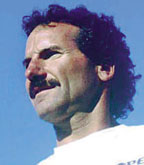 of ventures in mind, including a 'new global event in sailing' he plans to create with New Zealander Russell Coutts, the most successful skipper in America's Cup history."
"It would be a pretty big scale of boats - 80 footers - on a commercially-sponsored circuit of racing at six or eight venues around the world, and Russell and I would skipper a couple of the teams," Cayard said. "We hope to get it going by 2006."
Cayard, of course, is a veteran of many America's Cup campaigns, including the St. Francis YC-based America One campaign that came up just short in New Zealand. He most recently represented the U.S. in the Olympics, taking 5th with Phil Trinter in the Star class at the ripe old age of 45.
Global sailing events are not easy to organize, as evidenced by the fact that the ballyhooed Antarctic Cup has been 'temporarily' canceled, and Tracy Edwards' Qatar-based Oryx Quest 2005 seems to have only one possible entrant.