IKC Championships
August 23 - San Francisco Bay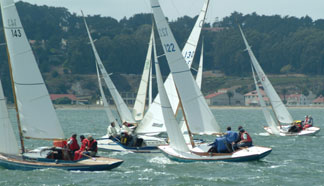 Chris Perkins, who has been on fire all year, just added another big win to his already impressive 2004 resume, winning the St. Francis YC-hosted 36th International Knarr Championship by six points over his little brother Jon. Twenty-five boats (12 American, 7 Danish, 6 Norwegian) competed in the 10-race, 2-throwout series, which is as much a social event as a regatta. Not that the racing isn't intense - the fleet is getting younger and more amped up, and people who sail in all three fleets claim that the level of Knarr racing is "better than J/105s, though not quite as good as Farr 40s."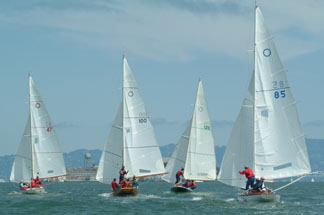 Jon Perkins - sailing once again with his 2002 winning IKC team of Melissa and Tom Purdy and Jeff Mosely - came out of the blocks with a 1,2,2,1 in the first two days and looked like the man to beat. But Chris - with brother Phil, boat partner Hans Baldauf, and Cam Gear - got better as the series went on, putting the IKCs away with a 3,2,3 record in the last three races. It was Chris' second IKC win (he previously won in '92 with John Kostecki helping on tactics).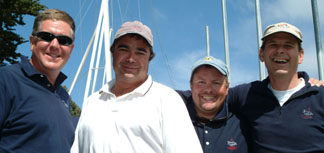 (l-r) Chris and Phil Perkins, Cam Gear, Hans Baldauf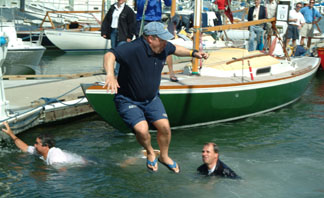 The traditional dunking of the winners
Photos Latitude/Rob
Rounding out the top ten were Soren Pehrsson (DEN), six-time IKC winner Fran Berg (DEN), Chip Nilsen, Sean Svendsen, Terry Anderlini, John Jenkins, Kim Bruhn-Peterson (DEN), and Larry Drew. See www.stfyc.org for full results.