Photos of the Day
July 26 - San Francisco Bay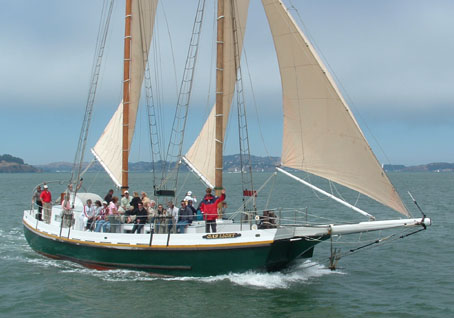 Gas Light
While out doing a charity sail yesterday on San Francisco Bay, we snapped a few photographs that demonstrate that this area not only has a variety of boats, but a variety of sailing conditions. Out by the Gate, for example, we came across Billy Martinelli's Gas Light, the lovely replica of a Bay cargo schooner he built in Sausalito. The classic yacht does charters and educational programs. While Gas Light was reaching in a four-knot flood, a short distance away and battling the flood on her way out the Gate was the Lancer 30 Friar Tuck.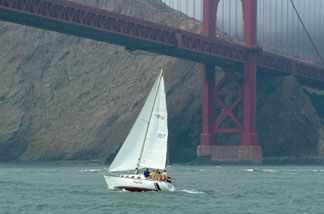 Friar Tuck
We see this boat on the Bay a lot, and have always marveled at what we consider to be the curious name. Lancer Yachts was a company put together by Dick Valdez a number of years after he made Columbia Yachts a juggernaut in the '60s.
In the Central Bay, a big Etchells regatta was underway. #1168 had a big lead over the pack in the race we happened to catch.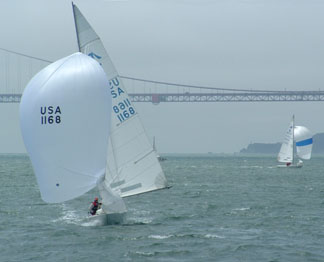 Etchells regatta
Seeking a little warmth, we headed behind Angel Island, where we spotted this sloop headed north.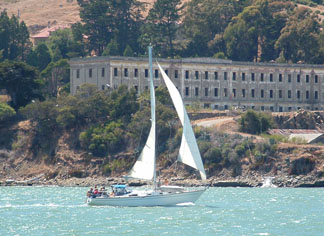 The lee of Angel Island
Photos Latitude/Richard
In the lee of the island, as well as in the lee of the Tiburon Peninsula, it was not just warm, sometimes it was hot. It felt like late August or September, not July. No matter what boat you were on, it was a day to be on the Bay.