On the Bay
July 19 - San Francisco Bay

We did the Island YC's 67-mile Silver Eagle Long Distance in the Bay race on Saturday and got the grand tour of the Bay. Well, we did a bunch of that race, and got an abbreviated tour of the Bay. The course took the fleet from the Golden Gate YC to Blackaller, around Alcatraz, and down to the San Francisco Airport where, as you can see from the first photo, everything came to a stop for about an hour, with the entire fleet regrouping. As the wind filled in in fits and starts, the fleet took off in fits and starts up the Bay. As we continued up the South Bay, we saw some folks out for a daysail on a lovely Cheoy Lee, flying the old 'jib and jigger' and looking good.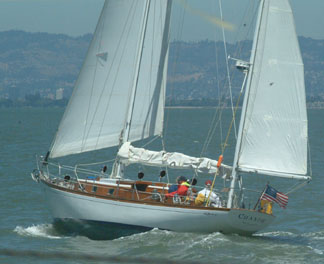 Off the mouth of the Oakland Estuary, we came across what we believe was the Plastic Classic Fleet, which was also looking pretty fine.
It was blowing pretty good as we raced across the face of Treasure Island, where a woman was riding the bow of this slightly overpowered Santana 22. We knew she was a first-time sailor, because you only do that once. We hope she had a change of clothes.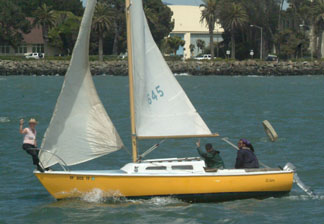 Profligate came into her own in the Central Bay, reaching at up to 15 knots under main and small jib, and able to sail beneath monohulls such as the Express 34 Two Scoops.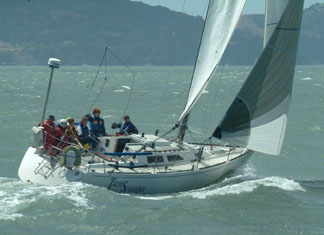 Photos Richard/Latitude
Alas, the fleet bunched up again a few miles up the Bay at Red Rock. Most boats escaped, but our big cat has lots of waterline and hates light air. So it took us about two hours to reach the Brothers. With only zephyrs and an ebb tide, we and a bunch of other boats bailed. After all, we'd sailed the remaining course the week before at the same time as part of the Midnight Moonlight Marathon.
Abbreviated as our race was, we had a great time. Sorry, no report of the winners yet. Check www.iyc.org/raceinfo.htm later, and see the August issue of Latitude 38 for results.