Singlehanded TransPac Update
June 30 - Pacific Ocean
Most of the gear-busting heavy winds and big seas are finally behind the 21 boats still racing the Singlehanded TransPac from San Francisco to Hanalei Bay, Kauai. But much of the fleet are walking wounded, as they patch up their boats and the skippers recover from mal de mer.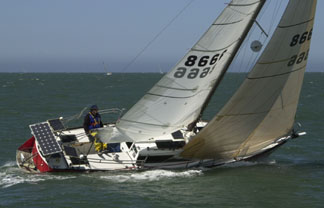 Starbuck
Three boats had to drop out. Greg Nelson on the Black Soo Starbuck was the first to go on Sunday. Having blown out too many sails to be competitive, he pulled in to Monterey. Next was Wen Lin aboard the Swan 47 Wenlemir. Wen began to have medical problems bought on by a combination of seasickness and his diabetes medication. The Coast Guard had to airlift him off his boat 50 miles from Morro Bay. Two Coasties were put aboard his boat to motor her in. Finally, Alan Hebert aboard Wisdom reported a forward bulkhead tore loose inside his Santana 3030, and the unsupported hull was oilcanning. He elected to drop out - ironically in a patch of calm 120 miles off Morro Bay.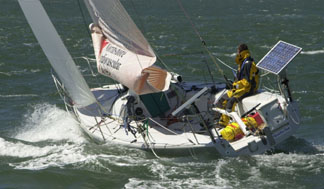 Surfinn
Photos Latitude/JR
Various acrobatics have helped other competitors tough it out. Cancer survivor Ryan Finn on the J/90 Surfinn has already broken three halyards, which required two trips up the mast in two days. Erik Schwartz's task at deck level was no less trying: a broken furler drum required Erik to lie on his back on the bow and screw small allen screws into the bottom of the furler drum while his SC40 punched through waves, drenching him with icy water every few seconds. Fun stuff!
Jim Kellam's main problem seems to be below. When his stomach finally calmed down enough that he could eat more than fruit and water, he found that the dry ice and cube ice he had added to his freezer on Haulback had turned into a glacier. "Everything is frozen solid," he reported in an email. "All I could chip out was some yogurt and cheese. I guess I'll have to wait for the rest to thaw."
Now that the fleet is through the initial nasty conditions, everyone is drying out, settling in, and strategizing. The big question, as always, is how far south to go to get around the bottom of the high and still keep good breeze. Al Hughes on Dog Bark, a 60-ft former BOC racer that is this year's biggest boat, is farthest south. Most of the rest of the fleet is physically closer to Hawaii than Dog Bark, but if they call it wrong and Al calls it right, better wind will allow him to make up the extra miles to get to Kauai first. Only time will tell who picked the best time to 'turn the corner'.
Today's quote from the fleet comes from Mark Deppe of Alchera: "They say the difference between an ordeal and adventure is your attitude. I've got plenty of attitude right now, so I guess this is an adventure."
To follow the race - which started Saturday morning - including twice-daily position reports and emails from some of the boats, log onto www.sfbaysss.org.