Photos of the Day: Hurricane Ignacio
August 26 - La Paz, BCS
Hurricane Ignacio passed through La Paz yesterday, and our Photos of the Day were taken by our old friend Boone Camp. At this point NOAA reports that the storm is weakening quickly over the mountainous terrain of the Baja peninsula. Even if it reemerges off the west coast of Baja, the waters there are apparently too cool to allow regeneration to hurricane status.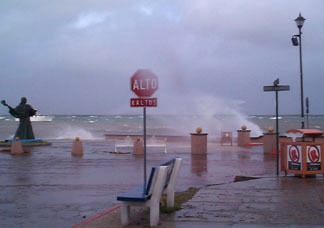 But as the hurricane approached La Paz on Sunday night and the future was uncertain, officials evacuated over 3,000 people, who spent the night in shelters. Winds topped 90 mph, but the extensive rain and flooding that was expected mercifully never occurred. The Red Cross reports no deaths or major injuries. One car accident in La Paz was caused by excess water in the streets.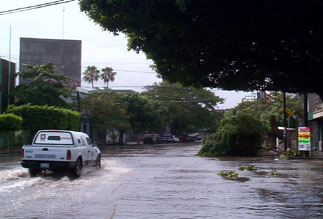 The wind came out of the north onto the bay, so a number of boats ripped loose and ended up on the shore or the rocks. At last report, only one boat was sunk in La Paz Harbor. Marina de la Paz says that there was a little damage to their outside docks, but no damage to their boats or dry storage.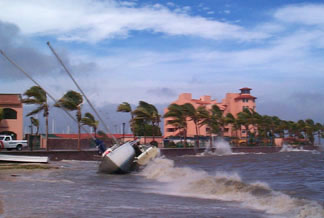 Photos Boone Camp
Boone reports this morning that the city is still suffering sporadic interruptions in electricity and water, and lots of trees are down. All evacuees have returned home, save for about 400 folks who live in shacks or dangerous, flimsy dwellings, and officials are taking care to see that they are fed and well cared for.
Hurricane Ignacio has been downgraded to a Tropical Storm and it seems as though the worst is over, and it wasn't so bad.