J/105 North Americans
August 18 - San Francisco
To no one's surprise, local hero Chris Perkins and his Good Timin' crew (brothers Phil and JP, boat partner Dave Wilson, John Collins and Amy Leroy) topped a 39-boat fleet to win the ninth J/105 North Americans, hosted by St. Francis YC on August 14-17.

The Good Timin' gang
Though not quite as big as last year's record 50-boat NAs in Chicago, this fleet was - according to virtually everyone - the toughest, most competitive J/105 fleet ever assembled. The event has come a long, long way since the last time it was held here (1999, in the Pre-Perkins Era, when just 18 boats sailed).
Good Timin' strung together a consistent 4,4,7,6,6,1,3 series, and had the distinction of being the only boat to score all single-digit finishes. Zuni Bear, sailed by Shawn Bennett and Rich Bergmann, finished second overall, six points behind Good Timin'. Jack Franco and Ed Cummins'
Newport Beach-based Bold Forbes finished third, just one point behind Zuni.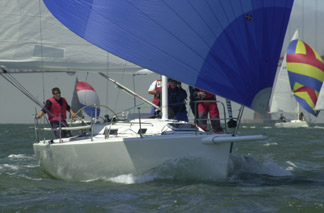 Zuni Bear the boat . . .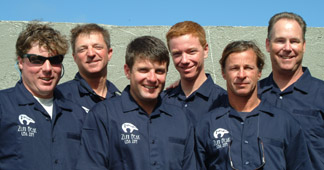 . . . and Zuni Bear the crew
Both Zuni Bear and Bold Forbes scored two bullets in the moderately windy series, while Aquavit (Tim Russell) and Blackhawk (Dean Dietrich) picked up the remaining two.
Rounding out the top ten behind GT, ZB and BF were:
4) Nantucket Sleighride (Peter Wagner); 5) Masquerade (Jim Sorensen); 6) Aquavit; 7) 007 (Phil Lotz); 8) Blackhawk; 9) Nirvana-Flame (Jim Doane); and 10) Short Skirt (Peter Lufkin). Complete results can be found at www.stfyc.com.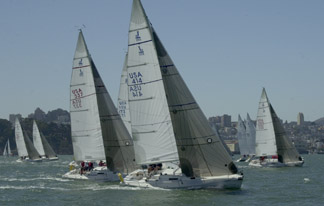 Sunday's start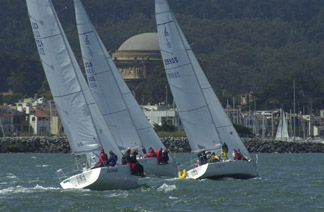 Beating past the Exploratorium

Windward leg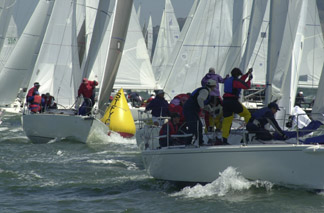 Windward mark

Photos Latitude/JR & Rob
For more, see the September issue of Latitude 38.